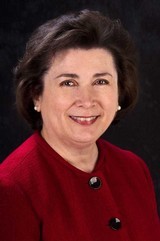 Two A&S Alumnae Currently Serve as University Presidents
Though more females attend and graduate college than their male counterparts, equality has not continued in the upper echelons of higher education administration. According to the American Council on Education in 2006, only 23 percent of presidential posts at U.S. colleges and universities are held by women.
Those numbers are reflected at the University of Cincinnati. Out of 33 alumni who have been able to call themselves university presidents, only eight of them are women. Recently, however, women are catching up with their male counterparts. Two women alumnae from UC's McMicken College of Arts & Sciences have been named university presidents in the past two years, while a third finishes her interim presidency.
Linda Bennett
President, University of Southern Indiana
2009 - Present   
Bennett, a
2010 McMicken College Distinguished Alumna
, was named president of University of Southern Indiana in 2009. A graduate of the University of Cincinnati (she received her BA, MA and PhD all from the
Department of Political Science
), she gives a lot of credit to her alma mater for her success in higher education.
"There's no question that my experience at UC is echoed in my position at University of Southern Indiana," Bennett says. As a Cincinnati native and first-generation college student, she saw UC as a local university giving students chances they may not have had elsewhere.
"I regularly hear students at USI say that if the university didn't exist, they would not have had the opportunity to do what they did with their lives. That reminds me a lot of UC—that feeling of connectedness with the community."
After graduating from UC, Bennett spent time teaching at Northern Kentucky University and Appalachian State University before joining USI in 2003 as vice president for academic affairs.
Bennett still makes time to visit UC on her return trips to Cincinnati. While a student here, she met her husband (political science professor Stephen Bennett, now at USI) and visits regularly to see her stepchildren (also UC alumni) and her grandchildren who attend local high schools.
"The campus itself, its physical look, has changed tremendously since I was a student," she recalls. "It's a beautiful, pulled together space that really sets the tone for learning. As a young institution, USI can learn a lot from the direction UC has taken."
Mary Ellen Mazey
President, Bowling Green State University
Starting in July 2011
Though she has yet to take on her role as president of Bowling Green State University, Mary Ellen Mazey is well acquainted with higher education administrative posts. Before becoming provost at Auburn University in 2009, she was dean of the Eberly College of Arts and Sciences at West Virginia University and dean of the College of Liberal Arts at Wright State University.
Becoming president at BGSU is fitting, she says, because it feels like she's coming home.
"I've spent most of my academic career in Ohio, so it's much like coming home. Ohio has been very good to me, from my times in McMicken College in the
, teaching there for two years, to my 22 years at Wright State University. I've got a lot of Ohio friends and colleagues so it'll be good to reacquaint myself."
Earning her PhD in urban geography from UC in 1977, Mazey recalls taking classes with Professor Emeritus Kenneth Ryan and learning to teach as a graduate assistant in the geography labs.
"Those were good years. I attribute UC as the place where I learned to teach."
At BGSU, Mazey hopes to continue increasing the academic reputation and create a nice balance between athletics and academics. She also hopes to improve infrastructure and facilities, she says, much like UC did in its recent campus facelift.
"If I could tell my fellow alumni anything, it'd be that I'm very fortunate in my career in higher education, which I would not have been able to do without receiving my PhD at the University of Cincinnati."
Other distinguished A&S alumnae currently in higher education are Marlene Gerber Fried (BA, '66; MA, '68), interim president of Hampshire College; Kriste Lindenmeyer (MA, '87; PhD, '91), incoming dean of Faculty of Arts and Sciences at Rutgers Camden; and Cady Short-Thompson (MA, '92; PhD, '97), dean of University of Cincinnati's Raymond Walters College.