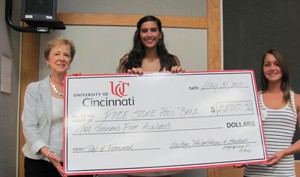 UC Clermont Class Awards $4,500 to Local Non-Profits Helping Kids
Three local non-profit organizations, selected by students in Barbara Wallace's "Writing, Philanthropy and Student Engagement" Intermediate Composition course at UC Clermont College, were the direct beneficiaries of $4,500 in "Paying It Forward" grant monies. However, the students themselves also report being greatly impacted by the class.
The service learning course is designed to enhance students' understanding of civic issues in the local community, explained Wallace. Students completed 12 hours of service learning at Boys & Girls Clubs of Clermont County locations and at Thomaston Woods' after-school program and Head Start, in addition to researching and writing compositions about the factors that put children at risk. They also got hands-on experience in grant writing and profiled area non-profit organizations that serve at-risk youth.
At the conclusion of the course, the students reviewed grant proposal requests from non-profits seeking money from a "Pay It Forward" grant, sponsored by the University of Cincinnati in collaboration with Ohio Campus Compact. Funding for Pay it Forward stems from Learn and Serve, part of the Corporation for National and Community Service.
For non-traditional student Dyane Kirkland, the experiences she's gained in the class, as well as the connections she's made, are helping her take the steps she hopes will transition her into a new career.
"I was laid off after 40 years in the workforce, and decided to pursue a writing certificate," she explained. "This class gave me a chance to learn about issues surrounding disadvantaged youth. I wasn't worried about the research and writing part, but I was terrified of the face-to-face time with the kids. I wasn't sure how they'd receive me—given my age and lack of experience with children—but they took it all in stride and it was wonderful."
Not only was Kirkland moved by her time spent at the Boys & Girls Club of Felicity, but she also gained valuable experience reviewing and comparing the grant proposal submissions.
"Having money to give away is truly the cornerstone of this class. It was great to have a practical, hands-on evaluation of the proposals with my classmates and see what worked and what didn't work." Next, Kirkland will be putting her newfound expertise into action in a three-month grant writing internship that she found through Wallace's connections. Brittany Bryant, a sophomore with a double major in history and education, took the class because it appealed to her interest in diversity issues. "The best experience of the class has to be the opportunity to give back through the grants," she said. "It's unreal how much of a difference $1,000 from us can make to a single organization."
Bryant particularly appreciated how the course has honed her critical thinking and reading skills as part of the proposal review process, something she expects will help her as she pursues a PhD. Additionally, she was so motivated by the course, she applied to the AmeriCorps' Public Allies program. "I'd recommend this class to anyone because it inspires a kind of activism within you—it really opens your eyes to the needs of our community and what you can do to give back."
Sophomore Lora Moore took the class to enhance her human social services studies. "I love that the class worked together on making the award decisions. The debates have been really engaging and passionate—everyone is very respectful, but it can get intense," she said. "Because of those discussions, my own viewpoints changed. Making the selection was really hard, because all the organizations are very deserving."
Wallace's class ultimately voted to award three area non-profits the following:
•  Free Store/Food Bank received $2,500 for one year of Power Packs for one school, which will provide food for kids to take home from school on Fridays so they don't go hungry over the weekend. "The class voted unanimously to award this amount because it will be matched by the Free Store/Food Bank," noted Wallace.
•  Cincy Smiles was awarded $1,000 for transporting children who might not otherwise have access to dental care to a dental clinic.
•  Faces Without Places received $1,000, earmarked by the class for the purchase of items such as shoes, swimsuits and beach towels for homeless children who participate in the organization's Project Connect summer day camp program.
The organizations received their grant funding at a reception hosted by the class on May 31.
1
UC Clermont to host Rapid Application Events in June
Event: June 28, 2023 6:00 PM
UC Clermont will hold free Rapid Application Events on campus Wednesday, June 28, at 6 p.m., and Friday, June 30, at 10 a.m. The last day to apply for admission to the college for fall semester 2023 is July 1.
3
UC Clermont online program receives national recognition
May 3, 2023
The University of Cincinnati's online Health Information Systems Technology program has received national recognition with Exemplary Program certification through Quality Matters. The program, designed and taught by UC Clermont faculty, is delivered in partnership with UC Online.
Debug
Query for this