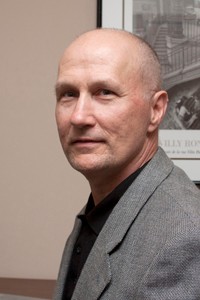 Going Digital: UC Hires Veteran Online Journalist to Head New Media Bureau
New University of Cincinnati field service assistant professor Bob Jonason has spent his entire life in journalism. Even as a kid, he was conjuring up cartoons for his elementary school newspaper.
"I've always been involved in journalism," he says. "It comes natural to me. I love news, and I love trying to find out why things happen the way they do — finding the story behind the story."
Jonason has spent the last year and a half as an instructor at Ball State University in Muncie, Ind., but has spent his entire professional career working in the news industry. Early in his career, Jonason was an editor on the staff of the News-Sentinel in Fort Wayne, Ind. when it won a Pulitzer Prize for Local Reporting for coverage of a flood that devastated the city. He spent 12 years at the Philadelphia Inquirer, acting as one of the first editors in their digital department, before moving on to the Gannett Company, where he spent 10 years handling digital operations for the Indianapolis Star. 
In the age of the iPad, Jonason thinks his experience in digital media will be a great asset to the McMicken College of Arts & Sciences
when he joins in the fall.
The department seems to think so as well.
"Bob brings to the journalism program years of professional experience and a desire to share with students what he knows and what they should know. He won a Pulitzer Prize the old school way and then excelled in the digital media," says journalism director Jon Hughes. "Both the faculty and students are fortunate to have him join the program."
As the director of the program's
, Jonason will get to put his digital experience into practice as he helps undergraduates create multimedia pieces for a variety of local publications.
"My focus will be on creating innovative, quality local journalism that other media in the market don't have the resources or the inclination to cover," Jonason says.
The New Media Bureau has been around since fall quarter 2009 but has not had a designated faculty member to run the for-credit course. Jonason was hired to head the bureau and mentor students about online journalism best practices, as well as act as the program's internship coordinator.
"There are so many opportunities for an individual to make a name in journalism now because it is so easy to produce and distribute content digitally," says Jonason. "I want to show students that they can become successful in digital media by pursuing the many tools that are available to them."
After settling in to UC, Jonason hopes to develop more contacts in the Cincinnati area and to possibly develop mobile apps and tablet-ready media for the bureau.
"I've spent 29 years in professional journalism, and nearly half of that has been in online journalism," he says. "I'm excited about this great opportunity to come to UC as a professor. I enjoy mentoring students, and I look forward to working with them as they sharpen their skills for a possible career in online journalism."