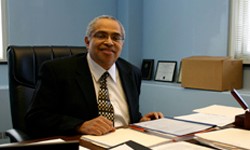 National Council for Black Studies Moves Headquarters to UC
Starting this summer, the National Council for Black Studies will call the University of Cincinnati home as its headquarters moves to the
Department of Africana Studies
.
Further action is required to make this image accessible
One of the below criteria must be satisfied:
Add image alt tag

OR

Mark image as decorative
The image will not display on the live site until the issue above is resolved.
The move is thanks in part to rallying by NCBS vice president and Africana Studies department head Terry Kershaw.
"They were looking to find a new headquarters and also find a place that is favorable to the forefront of the field. They saw what we were doing here at UC—
, developing a graduate program, doing some recent new hiring—and they thought it was the best place to host the national office," Kershaw says.
Established in 1975, NCBS is the leading organization of black studies professionals in the world and is the home of the International Journal of Africana Studies. The organization has a commitment to put theory into practice, with a guiding philosophy that education should engender both academic excellence and social responsibility.
These themes mirror the scholar-activist approach Kershaw has been putting in place at UC since his arrival in 2009. With faculty focusing on
, partnering with the
National Underground Railroad Freedom Center
and much more, Kershaw hopes moving NCBS to Cincinnati will give UC and the city an elevated status.
"It'll bring prestige and status to UC," he says. "And it'll really help the city, as they use their organization's resources to improve life chances and life experiences of the people of Cincinnati."
McMicken College of Arts & Sciences Dean Valerie Hardcastle agrees, saying the move will "only increase our national prominence and will solidify our place as a national center for Africana Studies."
To learn more about the National Council for Black Studies, visit their website at
.