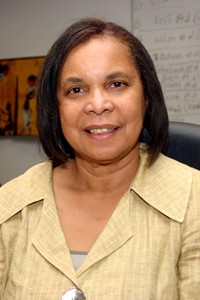 UC Psychology Professor Honored with APA Award for Mentorship of Ethnic Graduate Students
Professor Kathy Burlew of the University of Cincinnati's
was recently awarded the 2011 Kenneth and Mamie Clark Award for Outstanding Contributions to the Professional Development of Ethnic and Minority Graduate Students by the
American Psychological Association of Graduate Students
. The award, which requires a student nomination, is given yearly to psychologists who mentor ethnic and minority students in the field.
"Dr. Burlew is truly committed to the professional development of African-American psychology graduate students and psychologists. She is an amazing mentor," says LaTrice Montgomery, UC psychology graduate student and nominator of the award. "Although her professional and mentoring abilities have set her apart as a highly respected psychologist in the field, I believe that her humble, caring spirit is what is most inspiring to her students."
The sentiments are echoed at the administrative level.
"Kathy has successfully mentored a long, long line of doctoral students in psychology. She has played a critically important role in our PhD graduation rate of minority students being so phenomenally good," says Steve Howe, psychology department head.
Says Burlew: "I'm honored that my students thought enough of me to nominate me for this award, and I'm also blessed that I really do have some excellent students who help take me and my work to a new level."
Montgomery, for example, was just named UC Graduate Student of the Year by the Graduate Student Association and received her own APA award: the Division 12 Dalmas A. Taylor Award for Outstanding Research. Another student of Burlew's, Jerren Weekes, was named McMicken College of Arts and Sciences Outstanding Master's Student.
"She works tirelessly to make sure that we achieve great things," says Weekes. "She's hardworking and she cares about us not just professionally, but personally. That's rare."
Burlew, who received UC's Excellence in Mentoring Award in 2007 and the Edith C. Alexander Distinguished Teaching Award that same year, says she models her mentoring based on her own experiences as a graduate student at the University of Michigan under Professor Patricia Gurin.
"I've always tried to pay it forward," she says. "For me, it's very rewarding to see students start to believe in themselves in the same way I believe in them. To seem them blossom is quite rewarding."
In much the same way, her students hope to someday pass along the same passion to their own students.
"Dr. Burlew's excellence, professionalism and genuine support cannot be matched," says Montgomery. "As a budding mentor and professional, I would be lucky to be half as talented as Dr. Burlew."