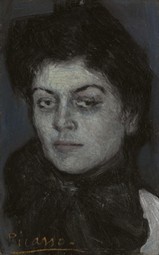 UC Exhibit Focus: Museums' Vulnerability to an Artful Dodger who Donates Forgeries
A unique University of Cincinnati exhibit titled "Faux Real" to open on April Fools' Day –
Sunday, April 1
– focuses on forgeries and the art of the unreal if not necessarily the art of the steal.
That's because the exhibit of 40 paintings is something of a one-man show, displaying forgeries created and then
donated
to museums by a prolific forger – Mark A. Landis of Mississippi – who then adopts various personas in order to gift the works.
All evidence suggests that the forger, Landis, a lifelong painter and former gallery owner, has operated under the radar for decades. And while a Landis forgery was first discovered in 2008 with others subsequently discovered, he has never been charged with a crime because he has never accepted payment for the works. Landis is cooperating with the exhibit and has lent materials – including paintings and photographs.
According to exhibit co-curator Aaron Cowan, director of galleries in UC's College of Design, Architecture, Art, and Planning (DAAP), "Mr. Landis is believed to have attempted to gift over 100 works to at least 50 institutions across 20 states for well over a 30-year period. It's an epic story of 'catch me if you can.' However, the consequences are real, the costs for small and mid-sized museums are real and the overall risks for artists, designers and the creative class when it comes to plagiarism and forgery in the digital age are real. Since we are housed within a nationally and internationally ranked art and design program, we wanted to serve the profession by looking at the issues."
Serving with Cowan as exhibit co-curator is Matthew Leininger, who previously served as registrar at the Oklahoma City Museum of Art, where he was the first to spot a Landis forgery. 
He explained, "It's no accident that a forger like Landis focuses on smaller institutions. Larger, well-known museums have the resources to carefully vet donations or purchases. Smaller institutions don't have the resources and will often accept a work at face value. They'll perhaps inspect it prior to installation but not always."
And that's just how Leininger discovered the Oklahoma forgeries, when preparing them for installation. Looking at one of the works under a special black light used to detect fakes, some portions glowed white where paint had not sufficiently covered the canvas, a sign that a work may have been altered. Leininger then slid the work under a microscope and saw pixilated dots. (It turned out that Landis works by painting over a digital copy of a work.)
"I thought it must be that he'd bought a painting he thought was real and had passed it on to us unknowingly. But, just to be sure, I decided to examine other paintings he had donated to us," recalled Leininger. In the end, the five donated paintings were all fakes, and Leininger went on to a listserv for museums to ask and raise awareness about Landis.
"Within an hour, I discovered he'd gift paintings to at least 20 museums across the country. I was just the tip of the proverbial iceberg," said Leininger, who has since tracked Landis' forged donations, which have continued since that time. According to Leininger's investigations, the earliest forgery Landis gifted was in 1985 to the DeGrummond Library at the University of Southern Mississippi, while his most recent  gift was in February 2012 to Loyola University in New Orleans, where Landis used the name "Mark Lanois" to make that gift.
"In all," said Leininger, "I've been able to determine that Landis has used at least four aliases to make his gifts – Steven Gardner, Jesuit Father Arthur Scott, James Brantley and Mark Lanois. He's often donated the same purported work to different institutions. About five institutions have received a work by and from Landis that is attributed to 19th century French artist Stanislas Lepine, and several have received the same supposed self portrait (again a forgery by Landis) attributed to French painter and printmaker Marie Laurecin."

CONSEQUENCES FOR MUSEUMS       
In a submitted bio to UC's Cowan, artist and forger Landis, who claims to have received training at the School of Art Institute of Chicago and the San Francisco Art Institute, wrote, "At about this time (referring to an event in 1986) in California, I gave a picture to a museum in the memory of my father, which I hoped would please mother. Everyone was so nice that I was soon to get into the habit of donating pictures to museums. Being treated so nicely by people was something I was unfamiliar with, and I liked it very much."
However, because of his forgeries, small museums who have been visited by Landis may have to pay for analysis of donated works and may need to conduct research into their collections to determine if other fakes exist.
"It's something small institutions are not used to doing. It's now part of the new world we live in terms of technology, what it makes possible  and questions in art, design, photography, writing and the web  as to when is a new work inspired by an existing work vs. when is it mere copying. These are questions that bring lawsuits, headlines and headaches," said Cowan.
EXHIBIT DETAILS         
"Faux Real" runs from Sunday, April 1, to Sunday, May 20, in UC's Dorothy W. & C. Lawson Reed Jr. Gallery, located in Room 5275 of the College of Design, Architecture, Art, and Planning. 2624 Clifton Ave., Cincinnati OH 45221. An opening reception is set for
5-7 p.m., Thursday, April 5
.
Gallery hours are Sunday thru Thursday, 10 a.m.-5 p.m.
The gallery and the "Faux Real" exhibit are free and open to the public.
For more information, go online or call 513-556-2839.
READ MORE ON MARK LANDIS
2
Why we still need Black History Month
January 26, 2023
While Black History Month is an opportunity for all Americans to consider concepts central to the founding of the nation — democracy, freedom and equality — the University of Cincinnati propels the diversity, equity and equality momentum by honoring Black Americans' extraordinary impact through engaging lectures, open classes, food, galas and off-campus activities.
3
UC's 1819 Innovation Hub nurtures startups
January 26, 2023
Located within the 1819 Innovation Hub — the nerve center of the Cincinnati Innovation District — the Venture Lab provides resources and mentoring to help innovators launch scalable startups.
Debug
Query for this