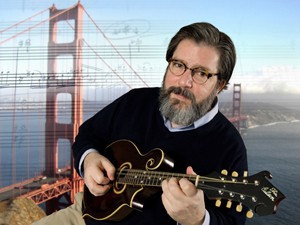 UC Marketing Professor's Music to be Played at Golden Gate's 75th Celebration May 27
James Kellaris, the James S. Womack/Gemini Chair of Signage and Visual Marketing in the Carl H. Lindner College of Business at the University of Cincinnati, can now add music composition to his repertoire of noteworthy achievements.
Kellaris, who calls himself a weekend musician, is the winner of the 2012
San Francisco Mandolin Orchestra
(SFMO) New Music Competition, besting a competitive pool of professional composers, full-time musicians and music faculty from around the world.
As the winner, Kellaris will receive $1,200 and his music will be performed by the SFMO at four public performances, including the May 27, 2012, Golden Gate Bridge
, where the piece will be recorded and distributed to various media.
This new UC connection to the Golden Gate Bridge and noteworthy UC role in the bridge's 75th anniversary celebration is most fitting since it was UC engineering alum Joseph Strauss who served as the Golden Gate's designer and builder. The landmark structure, considered an "engineering impossibility," even incorporates a brick from UC's old McMicken Hall, deliberately placed there by Strauss to mark his life's crowning achievement.
When it opened on May 27, 1937, it's estimated that 200,000 pedestrians crossed the Golden Gate to mark the occasion. And appropriately, it's expected that an audience of equal size will hear Kellaris' work, titled "Chrysopylae Reflections." In Greek, the term chrysopylae means "golden gate."
The term (chrysopylae) was used in 1846 by U.S. military officer and explorer John C. Fremont, referring to the narrow strait separating the San Francisco peninsula from the Marin headlands, the site of the Golden Gate Bridge.
"I'm told they are expecting 200,000 plus in the audience along the shore," Kellaris says.
Kellaris says he drew his creative inspiration for the eight-minute classical score composed for the plucked string orchestra from a favorite childhood memory.
"I recall crossing the bridge as a child in the back seat of my parents' car with sunlight flickering on my face from the shadows of the bridge's cables, like an 8-mm movie projector," Kellaris says. "The rhythmic pulses of the music reflect that flickering light."
Music has been a common denominator throughout Kellaris' life. He was five when he picked up his grandfather's mandolin, nine when he began formal study on classical guitar and later earned a scholarship to study music at Georgia State University. He later returned to graduate school, playing music to pay his way for master's and doctoral degrees in marketing.
"Music allowed me to pay for school­ — to earn three degrees and graduate without accruing any debt," Kellaris says.
His graduate thesis focused on music, specifically the influences of music on consumers.
As a professor, his research earned national and international press coverage when he explored the phenomenon of "earworms," the result when a catchy tune gets stuck in your head.
The weekend musician,who can play any fretted string instrument and occasionally moonlights with the Dayton Mandolin Orchestra and various other musical groups, says he plans to attend the last two performances of the SFMO on June 2 and 3 in Berkley and San Francisco. Kellaris will give pre-concert lectures to audiences on the creative process he used in writing the music.
Kellaris is pleased that his musical composition was chosen by an expert panel of professional musicians as "memorable, enjoyable for the average audience, but with sufficient depth and musical sophistication to have lasting value," according to competition criteria.
To Kellaris, the award confers "lifelong bragging rights."
1
Bloomberg: Finding work-life balance
September 20, 2023
There's not just one right way to achieve work-life balance, rather, it's a matter of personal preference, a professor in the University of Cincinnati's Carl H. Lindner College of Business told Bloomberg.
3
Newsday: Lindner professor weighs in on state-level affordable...
September 19, 2023
As New York Gov. Kathy Hochul announced a new initiative to explore state-level policies for combating the affordable housing crisis, Carl H. Lindner College of Business real estate professor Gary Painter, PhD, offered insight to Newsday on the impact of such programs.
Debug
Query for this