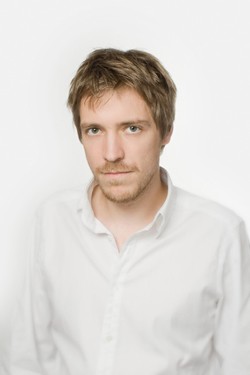 German Composer Ulrich Kreppein Receives UC College-Conservatory of Music's Prestigious Zemlinsky Prize
The University of Cincinnati College-Conservatory of Music (CCM) is proud to announce that German composer Ulrich Kreppein has been awarded first prize in CCM's Alexander Zemlinsky Prize for Composition, the third international competition of its kind for young composers.
Created at the behest of Alexander Zemlinsky's widow, Louise Zemlinsky, this prestigious prize is awarded by CCM once every six years in recognition of achievement in musical composition for artists age 35 or younger. Each applicant is asked to submit one original score – either published or unpublished – for any size orchestra, which is then submitted to a rigorous three-round adjudication process. Winners receive a cash award and the opportunity to premiere an original work at CCM.
This year's competition opened in December 2012 with entries received from more than 200 composers from 32 countries. Judges for the competition were selected by CCM's Composition, Musicology and Theory Division Head Joel Hoffman; the Alexander Zemlinsky Fund in Vienna; and the Austrian Cultural Institute in New York City. Judges included the following:
Robert Beaser, chair of the composition department at the Juilliard School;
Zygmunt Krauze, distinguished Polish composer and conductor; and
Matthias Pintscher, distinguished German composer and conductor.

ULRICH KREPPEIN, FIRST PRIZE WINNER
Ulrich Kreppein, Ph.D., a 34-year-old native of Germany has emerged as the competition's first prize winner for his original work titled
Spiel der Schatten
(
The Play of the Shadows
). For his
achievement, Mr. Kreppein receives a cash award of $30,000 and the opportunity to write a new work that will be performed by one of CCM's world-renowned orchestras in spring 2015.
Kreppein studied composition, piano and musicology at Robert Schumann Music University (Musikhochschule) in Düsseldorf. He began his doctoral studies at Harvard University in 2006 and completed his PhD in composition in May 2011.
Kreppein has received awards in several notable composition competitions. He was awarded the "Saarbrückener Komponistenwerkstatt" (Composers Workshop Saarbrücken) in 2001 and received third prize at the "Musica Sacra Competition" in Poland in 2005. In 2008, he was selected as a finalist for the International Tactus Competition in Mons, Belgium.
Kreppein describes his competition-winning composition as a musical game of hide and seek, with subtle references to the works of Schumann, Coltrane, Bach and others. "Musical phrases are followed by their shadows," he explains, "which transform into new objects, some of them seem familiar but disappear before disclosing their full identity."
"
Spiel der Schatten
is a hauntingly beautiful work for large orchestra," Joel Hoffman says. "It combines breathtaking, refined and subtle orchestration with a sense of motion that keeps the listener's attention riveted on the musical events as they unfold from the first measures to the end."
SECOND AND THIRD PRIZE WINNERS
The competition has recognized two additional composers for notable achievement, who were awarded as follows:
Second Prize: Aaron Travers (USA)
$20,000 cash award
Opportunity to write a new work that will be performed by one of CCM's orchestras in fall 2014.

Third Prize: Miguel
Farías
(Chile)
Learn more about this year's competition by visiting
ccm.uc.edu/music/cmt/zemlinsky/announcements.html
.
ABOUT THE ALEXANDER ZEMLINSKY PRIZE FOR COMPOSITION
The Alexander Zemlinsky Prize for Composition, now in its third iteration, serves three purposes: to perpetuate the memory of Alexander Zemlinsky, to find new works for symphony orchestra that are truly original and have the power to communicate with and engage a broad audience, and to promote and encourage young composers internationally.
The relationship between Zemlinsky and CCM began many years ago when Walter Levin, first violinist of the LaSalle Quartet that was in residency at CCM, discovered an unknown quartet written by Zemlinsky in a New York music store. The LaSalle Quartet subsequently performed the work in New York, where it was received with great enthusiasm by critics and Louise Zemlinsky, widow of the composer. General interest in the music of Alexander Zemlinsky followed, and CCM's orchestras and opera program have performed several of his works, including his operas
The Chalk Circle
(American premiere) in 1988 and
Der Geburtstag der Infantin (The Birthday of the Infanta)
in 2004.
Ultimately Mrs. Zemlinsky established an archive of her husband's works and a scholarship fund at CCM. Upon her death in 1992, her trust set into motion the Alexander Zemlinsky Prize for Composition to be held every six years beginning in 1998.
Louise Zemlinsky, an accomplished painter and musician, dedicated her life and efforts to the renaissance of her husband's music in whose genius and success she had a firm belief. In addition to the Alexander Zemlinsky Fund she established at CCM, she did the same at the Gesellschaft der Musikfreunde in Vienna.
For additional information, including a list of previous competition winners, please visit
ccm.uc.edu/music/cmt/zemlinsky.html
ABOUT CCM
The University of Cincinnati College-Conservatory of Music (CCM) is recognized both nationally and internationally as one of the leading conservatories for the performing and electronic media arts, composition, scholarship and pedagogy. CCM offers the benefit of a professional training conservatory within the setting of a comprehensive public university. The school's roster of eminent faculty regularly receives distinguished honors, and its alumni go on to notable success in the performing and media arts. CCM ensembles have performed internationally, recorded for major labels and won ASCAP awards for excellence and programming.
CCM's faculty, staff and state-of-the-art facilities make possible the professional training and exceptional education on which CCM believes the future of the arts relies. More than 150 internationally recognized faculty members work with students from around the world, specializing in one of seven areas: Electronic Media, Ensembles and Conducting, Keyboard Studies, Music Education, Theatre Arts/Production/Arts Administration, Performance Studies, and Musicology/Composition/Theory.
Learn more by visiting us online at
.
1
'Sweet Charity' musical rom-com runs Sept. 28-30 at CCM
Event: September 28, 2023 12:00 AM
University of Cincinnati College-Conservatory of Music (CCM) Musical Theatre opens its 2023-24 season with Sweet Charity, a zany romp through the ups-and-downs of the life of a dance hall hostess in New York City. The musical, which premiered on Broadway in 1966 and was later adapted into a movie starring Shirley MacLaine, runs September 28-30 in the Patricia Corbett Theater. Tickets are on sale now through the CCM Box Office.
2
Ariel Quartet opens season with chamber favorites on Sept. 26
Event: September 26, 2023 7:30 PM
The UC College-Conservatory of Music's resident professional ensemble, the Ariel Quartet, opens their 2023-24 season with a jovial evening of long-standing fan favorites at 7:30 p.m. on September 26 in Robert J. Werner Recital Hall. Get your tickets now through the CCM Box Office!
3
With UC, you see the world
September 19, 2023
Study abroad is back to 75% of pre-COVID levels at the University of Cincinnati, and a wide variety of international study options is available to students in any program. Where do you see yourself in the world?
Debug
Query for this