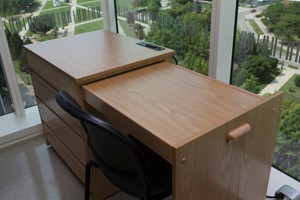 UC's New One-Of-A-Kind Furniture Unit Saves Space, Money and Students' Style
It's a familiar concern for college students living in residence halls: Getting all their stuff to fit in their room. At the University of Cincinnati, that's recently become much less of an issue.
A new dresser-desk combination designed by the UC staff will go a long way toward ensuring students have the freedom to personalize their living space without cramping their style or their quarters. UC's
(H&FS) created the first-of-its-kind furnishing in collaboration with Blockhouse Contract Furniture, which has applied for a patent on the unit.
Here's what sets it apart from anything else you'll find on the market:
Hidden within what appears to be a typical dresser is a study desk. A gentle pull on one side of the dresser allows the desktop to glide into position, and an easy push conceals the desk again.
The two-in-one combo introduces an item that is an original in the campus housing industry and is already
drawing interest from universities nationwide
. An agreement between the University of Cincinnati and Blockhouse will provide UC with 4 percent of the net sales of the dresser-desk unit for the next 10 years.
UC's newly renovated Morgens Hall will be the first residence hall anywhere to feature the innovative furniture, and Blockhouse says it already has received orders from other schools.
"Reaction from peers in housing has been, 'Wow!'" says Todd Duncan, director of H&FS.
Not only does the unique concept save space, it also saves money.
Replacing a separate desk and dresser with the purchase of one furniture item – a $200 reduction in cost – saved UC more than $90,000 on the Morgens project. The new design will hit the market in a full rollout next year and already has been nominated for recognition as Innovation of the Year with the National Association for College Auxiliary Services.
Duncan and Associate Director of Housing Carl Dieso developed the idea for the combo unit when they were looking for ways to save space and money on the Morgens renovation. They hoped to create something smaller but just as durable as the typical desk in housing units that also would give students greater flexibility with room layout. After reviewing multiple prototypes, they settled on the final design which features:
three drawers, with the top drawer capable of being secured with a private lock
a built-in surge protector with three electrical outlets and two USB ports
a 9-foot electrical cord to allow for convenient desk location
oak wood construction
a scratch-resistant laminate top

FURNITURE FEATURE PREVIEW
This
video offers a step-by-step walk-through
of the new dresser-desk combo's features.
1
Spectrum News: Rover developed at UC helps clean waterways
September 25, 2023
A University of Cincinnati Venture Lab-backed startup has developed a robot that can clean garbage, an oil spill or fish kill from waterways in a way that's safer and more effective than doing it manually, Spectrum News 1 reported.
2
How one UC med student plans to make a difference
September 25, 2023
In her heart, Keirsten White '26, knew she wanted to become a doctor. She was attracted to UC in part because of its family medicine psychiatry program, which she said will help enable her to provide whole-person healthcare to individuals who are homeless and underserved.
3
UC engineering student researching game controller behaviors
September 25, 2023
University of Cincinnati engineering student Brian Swanson wanted to stay close to home when he began pursuing his doctoral degree. With Bearcat alumni in his family and the university's renowned College of Engineering and Applied Science, UC was the right choice. Swanson is a member of the Intelligent Sensing and Controls Laboratory, a teaching assistant within the Department of Electrical and Computer Engineering and was recently named Graduate Student of the Month by the College.
Debug
Query for this