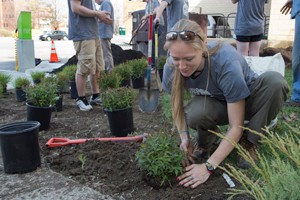 Spring 'Greening' for Earth Day: UC Earns National Sustainability Ranking
"Green" looks good on UC. So says The Princeton Review.
In fact, the annual recognition is getting to be as much of a spring tradition as painting eggs.
For the fifth year in a row,
UC was named among the nation's best "green" schools
by The Princeton Review. Just in time for Earth Day on April 22, the renowned provider of education services and college research resources has published the 2014 edition of its annual "Guide to 332 Green Colleges," honoring schools based on their commitment to the environment and to sustainability.
The book is produced in partnership with the
, a nonprofit organization most recognized for developing the Leadership in Energy and Environmental Design (LEED) system for rating building construction. A free copy of the guide is
on The Princeton Review website.
Some of UC's efforts specifically mentioned in the guide include:
-
Campus features
one LEED Gold, one LEED Silver and four LEED-Certified buildings
, and all new construction buildings on campus are required to seek LEED Silver certification.
-
A multimillion-dollar
investment in energy efficiency
improvements.
-
Research efforts geared toward developing
innovative solutions to sustainability issues
in an urban context.
-
An
provides hands-on experience in sustainable agriculture.
-
An expanded
and on-campus
allow anyone to borrow a bike for free and have easy access to repairs.
-
offers vegetarian and vegan options, and local produce is purchased for use in dining halls when possible.
-
in all buildings and at all large events on campus.
-
A series of sustainability-themed lectures, films, workshops, tours and special events is offered. Students can earn an
Environmental Literacy Certificate of Achievement
by attending events, volunteering and joining small group discussions.
The Princeton Review quantifies schools' overall dedication to sustainability via its "Green Rating" score. The rating ranges from 60 to 99 and is based on data from a survey with more than 25 fields pertaining to a school's environmental and sustainability-related policies, practices and academic offerings. To be included in the guide, a school needed a score of 83 or higher. UC earned a Green Rating of 91. Less than 40 percent of the schools that reported data for the guide made the cut.
UC is among a select group of schools
to have been included in the guide for the past five years, including Georgia Tech, the University of Illinois at Urbana-Champaign, and the University of Oregon.
Among other schools nationwide listed in the guide were Columbia University, University of Connecticut, Duke University, Harvard College, Johns Hopkins University, University of Michigan, University of Notre Dame, Princeton University, Stanford University and Yale University. Among other schools from Ohio named in the guide were Case Western Reserve University and The Ohio State University.
The Princeton Review notes that of 10,116 college applicants who participated in its 2014 "College Hopes & Worries Survey," 61 percent said having information about a school's commitment to the environment would influence their decision to apply to or attend the school.
SUSTAINABILITY AT UC
This acknowledgement of UC's sustainability efforts not only aligns with the
goal to create a deliberate and responsible approach to our environment and to UC's resources and operations, but it's another example of what it means to be
. The university recognizes its role as a leader in sustainable practice, research and education. UC seeks to consider the environmental, social and economic impacts of its decisions and is committed to incorporating the concept of sustainability into its academic and research programs; the design, operation and maintenance of its buildings and landscapes; and its organizational structure and management.
MORE UC NEWS RELATED TO EARTH DAY
UC Closer to Moving Beyond Coal
More than Just the Grass is 'Greener' at UC
Recycling Numbers Continue to Rise at UC
1
UC's growing resources for first-generation students
November 7, 2023
Nearly one in five UC students are considered first-generation college students — meaning they and their siblings are the first in their family to attend a four-year institution of higher learning. UC is attracting a growing number of first-gen students; their numbers jumped by 8% this fall on campus.
2
UC Clermont professor, alum receive patent for breakthrough...
November 1, 2023
For decades, Clifford Larrabee pursued a lofty goal: to cure cancer. This summer, with a patent secured for a ground-breaking cancer drug delivery system, Larrabee and his co-inventor have left their mark in the ongoing fight against the disease.
Debug
Query for this