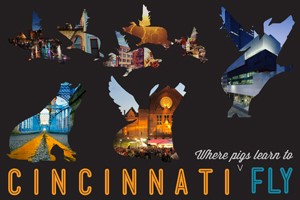 Postcard Perfect: UC Students' Cinci Selfies on Exhibit through July 27
For two years now, University of Cincinnati architecture and planning students have produced uniquely designed postcards to express their personal perspectives on Cincinnati's urban essence.
The creative output represented by those postcards is now on display at
, 1215 Elm Street, Over-the-Rhine, in an exhibition titled "Cinci-Selfies."
In all, about 160 students have produced postcards over the past two years as part of a course titled "History and Theory of Cities" taught by Udo Greinacher, associate professor in the School of Architecture and Interior Design, part of UC's College of Design, Architecture, Art, and Planning (DAAP). About 120 postcards are on display as part of the "Cinci-Selfies" exhibition.
UC's Greinacher stated that postcard projects show how well attuned students are to their urban environment: "I was especially impressed at how many international students were attuned to the city. You could not tell any difference between the postcards by native Cincinnatians and those students from other countries. Both were very aware of the city's history and strengths, with some postcards featuring unique insights into some of the city's issues that might need help or attention."