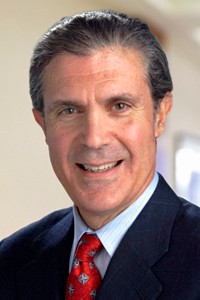 Dedicated Heart Treatment Innovator Dean Kereiakes to Receive UC's Highest Honor
University of Cincinnati alumnus Dean J. Kereiakes, a prolific and innovative investigator of heart ailments, will be given an Honorary Doctorate of Science by the university at the Fall Commencement ceremony Dec. 13.
An honorary doctorate is UC's most prestigious award. The special recognition will be bestowed upon Kereiakes and two other honored recipients during Commencement events held from Dec. 12-13 in Fifth Third Arena. The Doctoral Hooding and Master's Recognition Ceremony will be at 10 a.m. Dec. 12, and the Undergraduate Commencement (bachelor and associate degrees) will be at 9:30 a.m. Dec. 13.
Kereiakes, MD, FACC, FSCAI, is medical director of The Christ Hospital Heart and Vascular Center, medical director of the Carl and Edyth Lindner Center for Research and Education at The Christ Hospital, and professor of clinical medicine at Ohio State University.
Kereiakes received his medical degree and was valedictorian of the 1978 graduating class at the University of Cincinnati College of Medicine. His postgraduate training included internship and residency at the University of California, San Francisco, a senior residency at Massachusetts General Hospital in Boston, and a chief residency at the University of California, San Francisco. He then completed fellowships in adult cardiology at the University of California, San Francisco and in coronary angioplasty at the San Francisco Heart Institute and the Sequoia Hospital.
Kereiakes has been an investigator for most of the interventional technologies introduced in the past 25 years and has performed more than 25,000 catheterization laboratory procedures, including several first-in-man and first-in-the-United States utilization of novel, leading-edge medical devices.
In addition to lecturing nationally and internationally, Kereiakes is very active as a clinical and scientific investigator and has participated in over 1,200 clinical research protocols. He has been the national/international principal investigator on pivotal trials for U.S. FDA approval involving eight different coronary stents including the first fully bioabsorbable scaffold.
He has published over 800 journal articles, abstracts and book chapters. Kereiakes has served on the editorial boards of Circulation, The Journal of the American College of Cardiology (JACC), Journal of the American College of Cardiology Cardiovascular Interventions, The American Heart Journal, Journal of Invasive Cardiology and The American Journal of Cardiology and The Journal of Interventional Cardiology, as well as being a section editor for MedReviews (New Drugs and Devices).
He was previously a section editor for Circulation and received the Simon Dack Award for Outstanding Scholarship from JACC in 2011. He currently serves as section editor (Interventional Thrombocardiology) for The Journal of Thrombosis and Thrombolysis, and he has been a long-term associate director-program committee member for both the annual American College of Cardiology and the Transcatheter Therapeutics international cardiovascular conferences.
Kereiakes is a Fellow of the American College of Cardiology as well as the Society for Cardiovascular Angiography and Interventions. He was a member of the Joint American College of Cardiology/American Heart Association Task Force Committees to write clinical practice guidelines for both coronary angioplasty and unstable angina. Kereiakes has been selected as Outstanding Alumnus University of Cincinnati School of Medicine and recognized by Who's Who in the World, Who's Who in America, Who's Who in Medicine and Healthcare, Who's Who in Science and Engineering and Best Doctors in America. He has received the Cincinnati Business Courier Health Care Hero-Innovator award and the Ohio Valley American Heart Association's Kaplan Visionary Award for cardiovascular research.
Kereiakes and his wife, Anne, have been philanthropically and civically involved in the Greater Cincinnati region and together have co-chaired the 2006 annual American Heart Association Heart Ball, the 2007 USO Tribute Cincinnati and the 2011-12 national Miami University Parent Council. Kereiakes was also co-chairman of the inaugural Men Go Red For Women Initiative for the American Heart Association and is a prior board member for the AHA Three Rivers affiliate.
Dean and Anne have four grown children and one grandchild. Kereiakes' father, Dr. James G. Kereiakes, is Professor Emeritus Department of Radiology, University of Cincinnati, and is a former recipient of both the Coolidge Award from the American Association of Physicists in Medicine and Gold Medal award from the Radiological Society of North America; founder and past president of the American Association of Physicists in Medicine; and a 1994 recipient of the Daniel Drake Award from the University of Cincinnati.
MORE ABOUT COMMENCEMENT
UC to Celebrate Many Degrees of Success at December Commencement