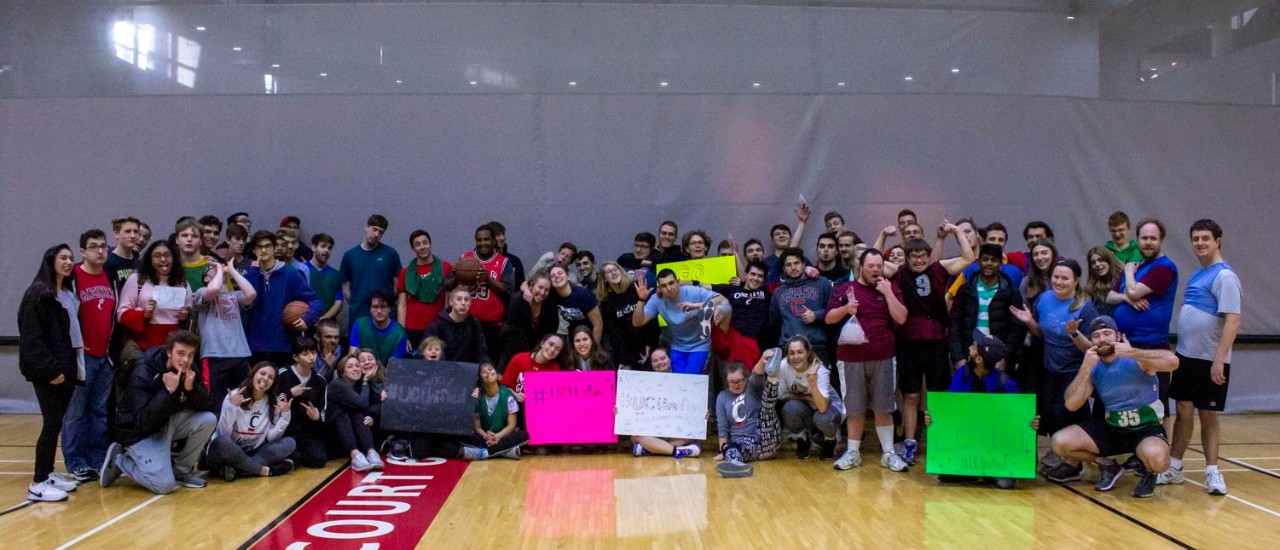 UC Club Sports organizations are defined as a registered student organization (RSO) that exists to promote and develop interest in a particular sport or physical activity while also building valuable leadership skills. The UC Club Sports Program provides a wide range of instructional, recreational, and competitive athletic opportunities, with an emphasis on student leadership, organization, and team management. The 45+ club sports organizations offer students a chance to be part of a team, run an organization, and represent University of Cincinnati while competing against and traveling to other universities. Many of our clubs compete at an elite level and contest for National Championships in their sport.
Further action is required to make this image accessible
One of the below criteria must be satisfied:
Add image alt tag

OR

Mark image as decorative
The image will not display on the live site until the issue above is resolved.
Our Focus and Why You Should Participate
Club Sports is a designed extracurricular program that contribute's the student learning experience. Therefore, by participating in Club Sports students will:

Develop and demonstrate leadership skills and competencies relevant to career-readiness
Develop a commitment to the University of Cincinnati through friendships, experiential learning as an organizational leader, student-athlete, and other engagement opportunities
Gain experience in organizational leadership, event management, and business processes
Gain a sense of belonging to UC and the community through self-discovery
Below are some resources for prospective and current student-athletes of the UC Club Sports program:
1. What are the requirements to participate in UC Club Sports?
All students who wish to participate in a RSO at the University of Cincinnati must attain at least a 2.0 semester and cumulative grade point average. 
2. Are there tryouts?
UC Club Sports is a "no-cut" program meaning that no student should be turned away from participation in the organization. However, competitive/travel teams can be formed based on skill level.
3. What is the cost to participate in a UC Club Sport?
Each UC Club Sport organization establishes "Dues" based on level of participation for their respective organization. These costs range from $50-$2,500 per year. If you have questions about a particular organization's dues, we recommend you reach out to the organization via CampusLINK.
4. When and where do UC Club Sports travel?
Our organizations primarily only travel on the weekends to events and competitions, however, some organizations may schedule away events during the week sparingly. Our organizations have collectively visited 42 states but each organization makes their travel schedule based on their respective needs. "Request for Absence" letters can be provided for those student-athletes who may occassionally miss class for a club sport event.  
5. How do I get involved?
Complete the UC Club Sports Interest Form, contact an organization from the CampusLINK Club Sports List, or send us an email!
Who are we?
We are a dedicated group of current UC Club Sport student-athletes committed to governance of our 44 active UC Club Sport organiziations by attending monthly meetings. The Executive Board consists of 5-7 students who meet bi-weekly and serve as liasions of the Club Sports program.
What do we do?
During bi-weekly executive board meetings (2nd and 4th Tuesday of the month) we work in conjunction with the Program Coordinator and Graduate Assistant to develop processes, programs, and events that make the UC Club Sports program better for all student-athletes. One of our sub-committees, Club Sports Allocation Committee (CSAC), handles the allocation process for all UC Club Sport organization, thus, giving the students a voice in the program!
How do I contact you?
We can be reached best via email or you can visit us in the SALD Club Sports Resource Center located in Steger Student Life Center 669 Monday-Thursday 10a-3p!
UC Esports Club offers an array of competitive and recreational titles for students including RocketLeague (RL), League of Legends (LoL), Rainbow 6 (R6), OverWatch (OW), and many more!
Interested and current student members should visit Esports @ UC CampusLINK page, Discord, or UC Esports Handbook for more information or check out the Esports Showcase to be held during Welcome Week 2022!