In classrooms, on stage, in the lab and in the studio, you'll find UC's most valuable assets — our faculty and staff. UC is one of the largest employers in the Cincinnati region with over 15,000 employees and offers a variety of substantial benefits as well as fabulous growth and development opportunities. Our employees consist of faculty, staff and students who contribute their individual talents and expertise to the university in a wide range of disciplines — supporting the operations of the university, serving a diverse student body and enhancing the local community.
 
UC's faculty and staff intranet that increases transparency, facilitates common business practices, and provides a platform for university-wide internal communication.
 
What is Bearcats Landing?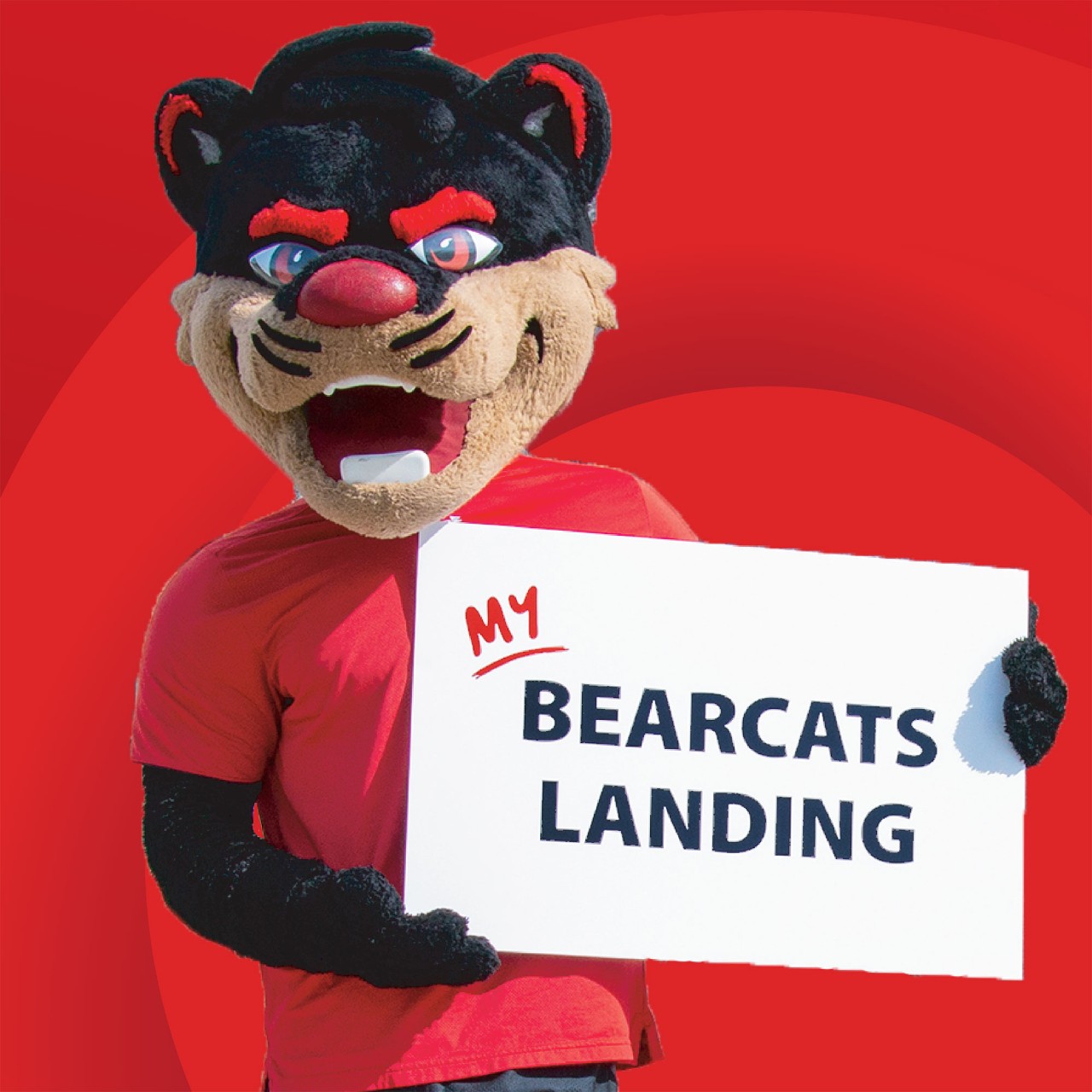 Bearcats Landing is a desktop and mobile-friendly platform that develops and strengthens university-wide partnerships to support our future-facing evolution. It provides UC faculty and staff with the role-based tools and resources they need to increase communication and engagement.
Bearcats Landing is UC's employee home base to read news and announcements, discover events and workshops, and find information essential to keeping the university running smoothly. It works to strengthen our professional community and capitalizes on our workplace diversity to empower individuals to be leaders in workplace. Even as our community grows more remote, we are still connected through the information-sharing and collaboration that takes place on Bearcats Landing.
Key Features of Bearcats Landing
Bearcats Landing includes the tools and resources to make UC's employee workday easier. Not only can employees find what they need university-wide, they can access information and resources relevant to where they work.
University-wide information sharing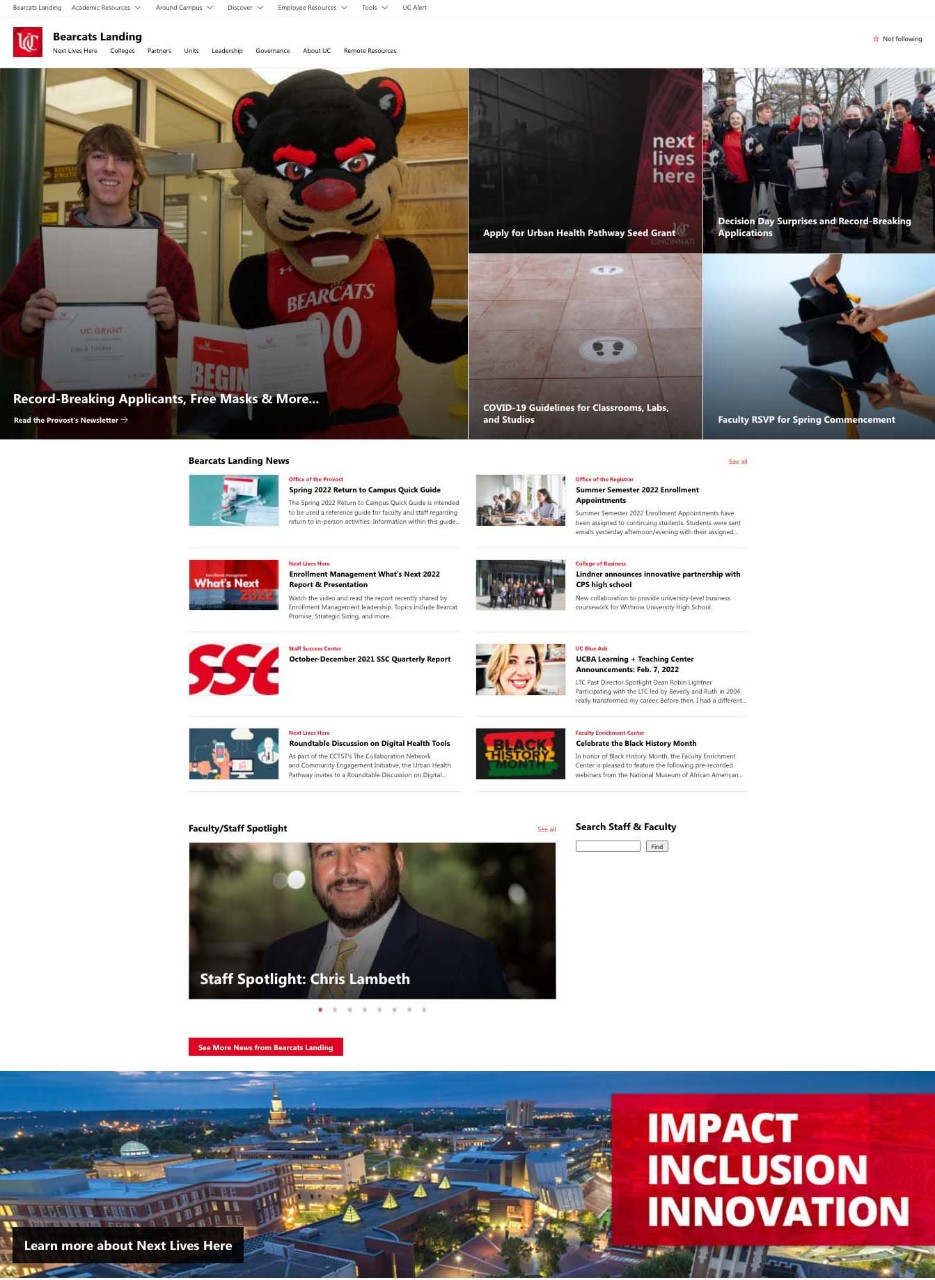 Read news, announcements, and leadership communications
Access enterprise tools and software in a centralized location
Search for people, policies, meeting minutes, and events
Keep track of procedures, calendars, and deadlines
Get help and information from HR, IT@UC, CET&L, the Faculty Enrichment Center, and the Staff Success Center
Apply for awards and research funding in one online location
Reach out to experts and colleagues from around the university to connect and collaborate
College and business unit specific information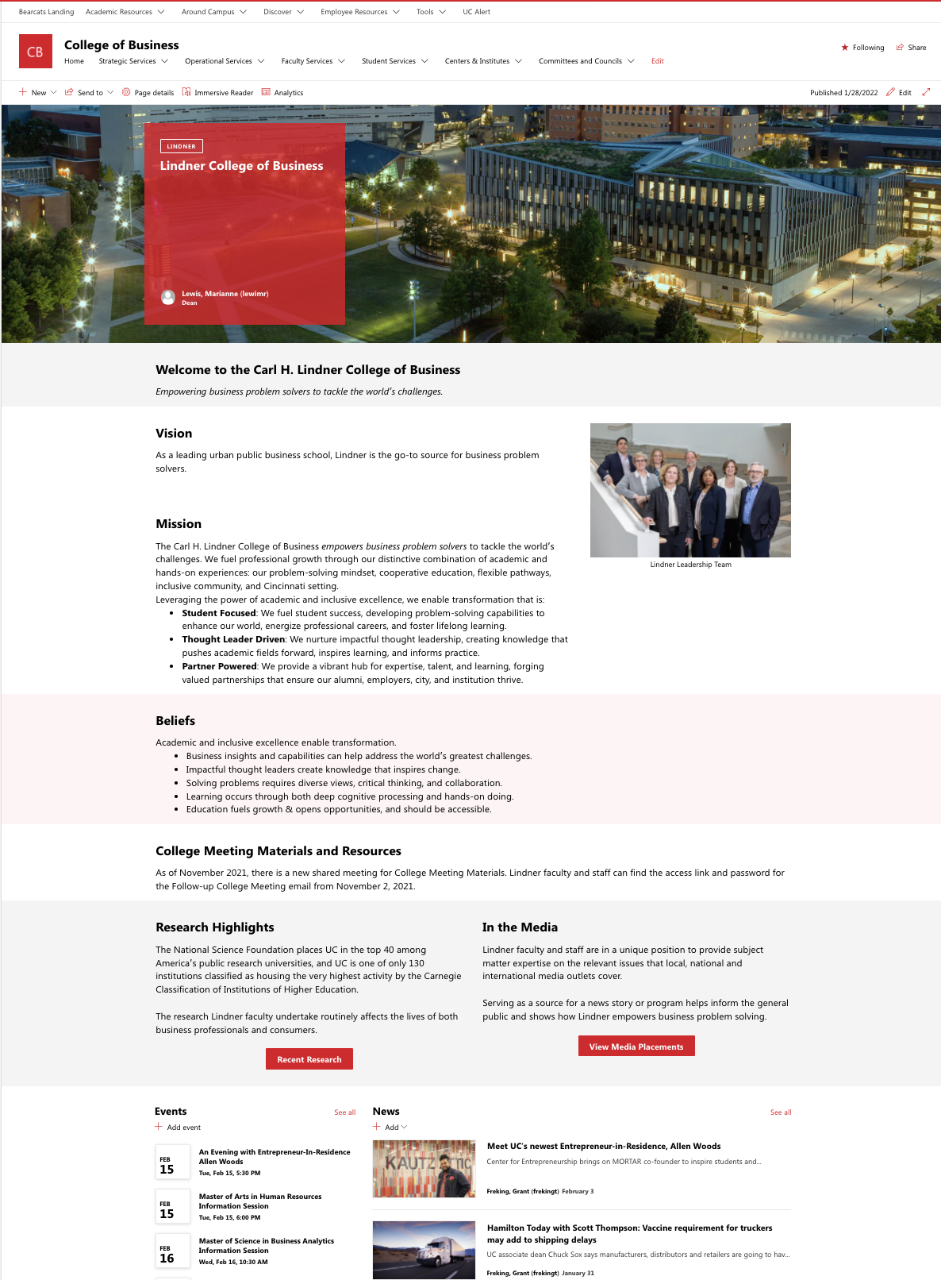 Find out what is happening in your own college or business unit
Stay up to date with teaching resources offered in your college
Access HR forms in a centralized, easy to find location
Connect with colleagues and find out what they've been doing
Find people to help you more easily get your job done
Frequently Asked Questions
Bearcats Landing is UC's faculty/staff intranet. It offers online access to critical company information, documents, tools, and resources. Bearcats Landing looks and operates much like a website allowing you to share organizational news and events as well as information about a specific project, meeting, and/or documents with other members of your department, college, or entire university.
If you are already on our public website, uc.edu, you can visit the footer at the bottom of any page. A direct link to Bearcats Landing appears under the heading "UC Tools". You can also access Bearcats Landing by typing "my.uc.edu" into your browser.
Since this is an Office365 platform, you may need to log in using your UC credentials, just like you're logging into your email. Once you are there, you can use the homepage links or the search bar to find what you need.
Find quick and convenient access to all the links and tools you need to get your job done in the navigation at the top of the homepage. Under the app launcher, access customizable quick links to all your Microsoft Office tools. On the homepage, view leadership announcements, university internal announcements, events, and college/business unit directories. Visit my.uc.edu to explore more.
Bearcats Landing is the one place to find all the tools and resources you need to get your job done. Instead of bookmarking various sites, searching for information on a personal drive, contacting several people in a row to find information, or being inundated with emails, start your day with my.uc.edu and your area's homepage to catch up with the latest in communications related to what you do.
UC faculty, staff, emeritus, affiliates, and student workers (including Grad Assistants) all can log in with their UC credentials to see the information on Bearcats Landing.
Students enrolled at UC (with the exception of student workers) and members of the public will receive an error when following links to Bearcats Landing sites and pages.
Designed for UC Faculty and Staff
While Bearcats Landing is a project that was initiated by the Next Lives Here strategic direction, the team worked hard to listen to faculty and staff from around the university about what they wanted on their intranet.
If you have an idea for what to add or improve upon, let us know! Email Michele Ralston or Andrea Rahtz with your idea or suggestion, or contact your area's site manager, which can be found at the bottom of every site's homepage.
 
What employees are saying about Bearcats Landing…
Lindner College of Business
"So many units, departments and teams within Lindner are innovating how they serve students and work together more efficiently. Launching Bearcats Landing now is the perfect internal communications complement to how we are improving our college operations. Additionally, it will create more opportunity to collaborate and communicate across UC."
College of Arts and Sciences
"Our college is excited to have a place to virtually call home, not only for the cultural connectedness, but as a unified place for internal communications."
Office of the Registrar
"Our office provides so much information to faculty and staff at the university–it's great to have a site that everyone can go to find all this information in one place."
UC International
"This is a great place for UC faculty and staff to not only learn more about what we do, but quickly access much needed information. UC is a global university, so this information affects everyone's work here. It's great to have this increased visibility for our resources and the work our office does."