Enforcement of Policy and Community Efforts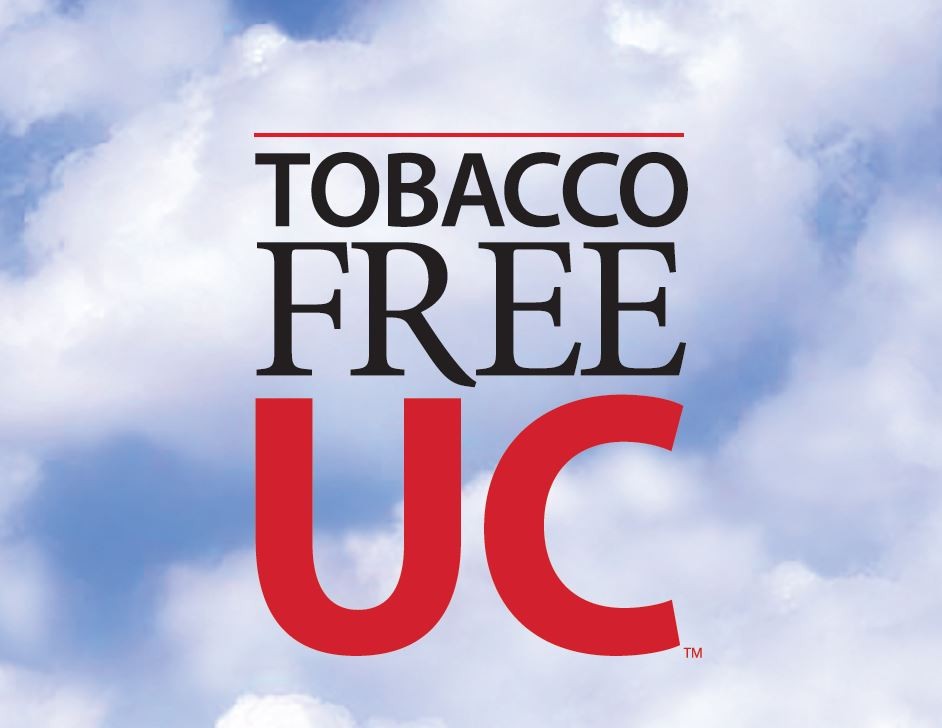 The enforcement of this policy is focused on education - informing all members of the UC community and campus visitors of this new policy and sharing information about cessation resources.
The success of this policy depends upon the thoughtfulness, consideration, and cooperation of tobacco users and non-tobacco users alike. University administration and Tobacco Free UC Steering Committee will review these enforcement strategies after the policy takes effect and determine if further enforcement protocols are necessary. All suggestions can be referred to the Tobacco Free Steering Committee at tobaccofree@uc.edu.
Please remember that UC's commitment to a tobacco free campus must be supported and embraced by all who live, work and visit here.
Understand the definition of tobacco use. For purposes of this policy, "smoking" has the same meaning as in section 3794.01(A) of the Revised Code, which is the inhaling, exhaling, burning, or carrying any lighted cigar, cigarette, pipe, or other lighted smoking device for burning tobacco or any other plant.
Make a plan to quit. If you currently use tobacco, UC can help you kick the habit. Several tobacco cessation resources are available to UC students, faculty and staff at no cost, such as classes, support, medications, and more.
Be respectful of the policy. Consider what having a tobacco-free campus means. If you use tobacco or vape, please show your respect for our community by not smoking or vaping on (or closely nearby) campus. Smoking/vaping on sidewalks or across the street is clearly not in the "spirit" of the policy. Openly smoking/vaping in these areas sends a message of disrespect to fellow faculty, staff and students in the UC community.
Show pride in our campus. UC is ranked as one of the most beautiful campuses nationwide and we are fortunate to work in such a picturesque environment. When UC becomes tobacco-free, receptacles will be removed to discourage smoking on campus. Throwing cigarette butts on the ground damages the environment and greatly diminishes the beauty of our campus. It also has a substantial impact on our maintenance staff who work so hard to keep our campus clean and beautiful.
Be safe. Throwing butts into bushes or smoking in wooded areas is a serious fire hazard. Please exercise safety and respect the policy by not smoking on campus.
Report hot spots. Tobacco use that is still occurring on campus is often localized in certain areas (hot spots).  If you notice an area of concern, you can report the activity to the Tobacco Free UC Steering Committee at this email address tobaccofree@uc.edu. Additional signage may be added to those locations where smoking is reported to still be an issue.
Remind others that smoking/vaping is not allowed on our campus. Sample scripts and videos are designed to help you approach smokers and inform them of the policy. Tobacco-free cards will also be available for distribution and provide a non-confrontational way to approach tobacco users.
The information provided 2018-2020 Tobacco Free UC Annual Report is to inform our university campuses and communities of our efforts related to this initiative, including programming, marketing, environment scans, cessation resource utilization, and online analytics. 
UC smoking policy enacted restricting smoking within 25 feet of all university building entrances, exits, windows, air intakes and vehicles on West Campus. A smoke-free environment shall be provided within the premises of the University of Cincinnati medical center.  
Ohio Board of Regents voted unanimously to make a strong recommendation to Ohio's college and university trustees to ban tobacco products campus wide. 
Joint resolution passed by Faculty Senate, Undergraduate Student Government and Graduate Student Governance Association regarding a tobacco-free campus.
Joint resolution presented to President's Cabinet.
President Santa Ono announced the formation of a committee to move forward on the joint resolution, to draft a policy, which would be subject to Board of Trustees approval.