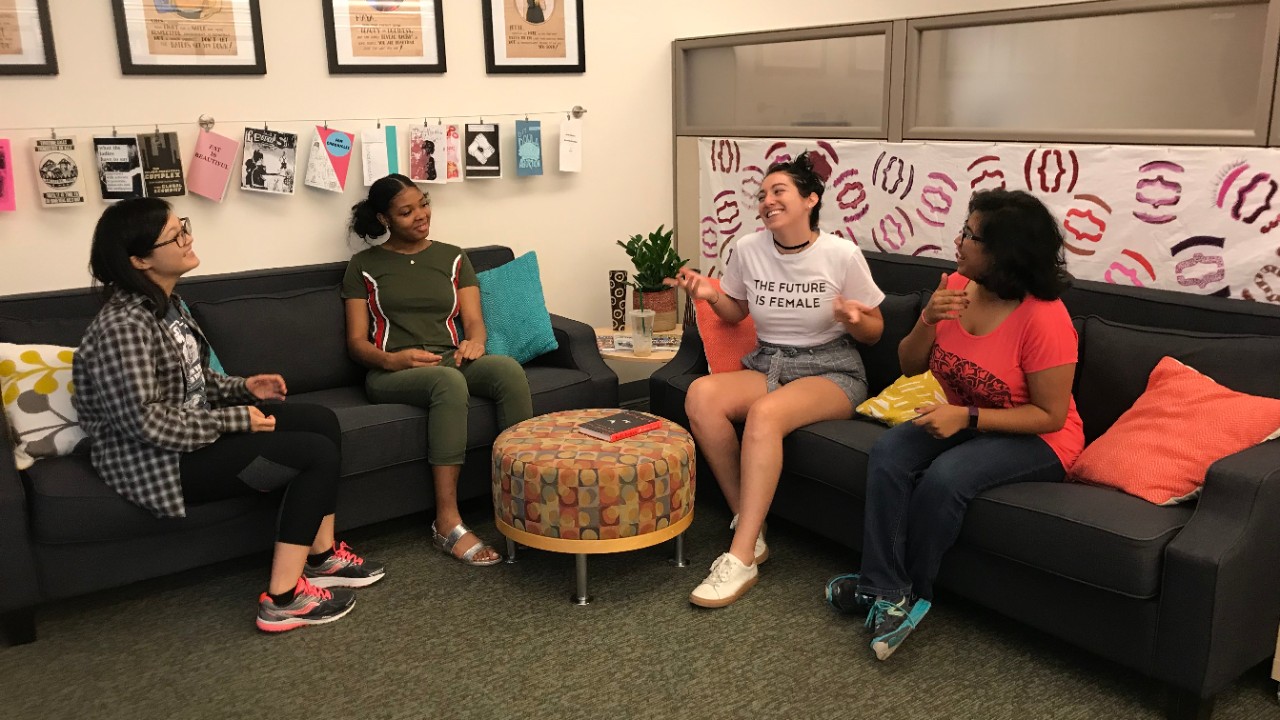 The UC Women's Center is committed to the personal and professional growth of women and gender non-conforming students by facilitating action toward intersectional gender equity, promoting social justice, and fostering connections for all students. We strive to challenge gender inequities and advance the rights of women and gender non conforming people by elevating student activism and leadership through innovative and transformative programming. 
The UC Women's Center believes that women and gender non-conforming students at the University of Cincinnati deserve space, resources, strategies, and tools to overcome inequalities and sexism, and to realize full confidence in their abilities both at UC and in the world. We do this through programming and events that fall under our three pillars: action, justice, and connection. As a result of action students will have confidence to utlize and voice their beliefs and values, becoming change-making leaders on campus and in their communities. Because of justice, students feel empowered and understand how to utilize their spheres of influence to create change. Through connection students will develop authentic relationships that inspire and empower them to be fully engaged with the UC community.

We design programming that equips students with the necessary skills to organize, manage, and lead. 
We strive to support campus and community efforts aimed at promoting gender equity and justice.  
We are committed to building a community and culture of belonging, we invite you to build community and find that belonging through the Women's Center. 

Stay connected with us: find us on Campus Link, sign up for our weekly newsletter, or follow us on social media.
Directions to the Women's Center: Located in Steger Student Life Center 571.

Enter Steger Student Life Center on the southeast side of the building directly across from Center Court Dining Center. The accessible entrence is on the 4th floor of the building. Take the elevator to the 5th floor and make a left down the hallway. The Women's Center is the 4th office on the left.
If you need help connecting with us please e-mail womens.center@uc.edu or call at 513-556-4401.