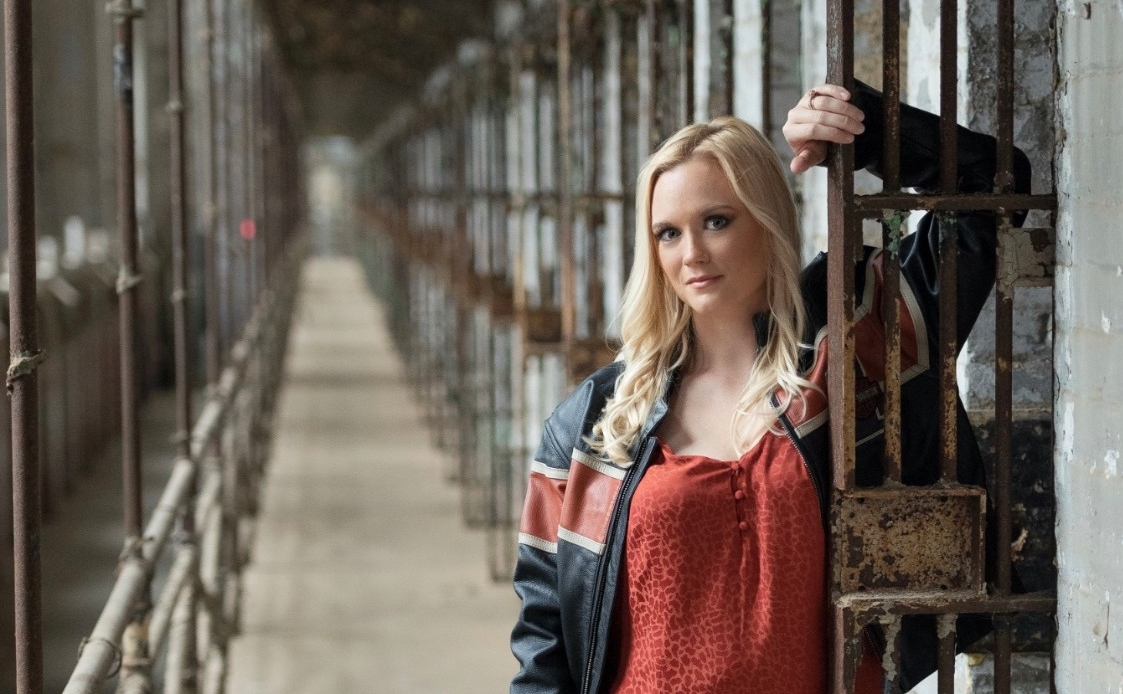 DAAP architecture graduate student researches ethical design to reshape America's prisons
PRISON REFORM LOOKS at many different aspects of the justice system, from the conditions inside prisons to the effectiveness of the penal system and alternatives to incarceration. One University of Cincinnati student is researching the emerging field of "justice design" — specifically, the ways prison architecture impacts inmates and how ethically driven design can help aid rehabilitation and reintegration.
Kristin Dillenburger is a Marine Corps veteran and architecture graduate student in UC's College of Design, Architecture, Art, and Planning. While searching for her niche in the field, she learned about the Las Colinas Detention & Reentry Facility in San Diego, California. Opened in 2014, the facility was modeled not after existing jails and prisons, but health care and educational campuses — with ample natural lighting, outdoor spaces and displayed art. Other prisons in Europe have a similar mission, backed by statistics: Studies show a decrease in inmate-on-inmate crime and repeat offenses in this kind of environment.
Intrigued by this developing concept, Dillenburger made justice design the topic of her master's thesis. Her research is supported by a 2019–20 Selected Professions Fellowship, which she received from the American Association of University Women.
She's now in correspondence with several inmates serving a range of sentences across the country. "I don't think you can design a prison unless you can put yourself in the shoes of a prisoner," she says.
One inmate shared a piece of creative writing about a small piece of furniture in his cell, titled "The Gifted Table." He uses the two-by-two-foot table to eat his meals, do his homework, write letters and as a step stool to access his bunk. "The table is worn down, it's beaten, it's bruised," Dillenburger says. "It has rough edges just like he does. People don't think anything of it, but for him, it has more meaning. He relates to this one little table in his cell."
With these insights from inmates themselves, she hopes to better understand their experiences and the impact of the built environment around them.
It makes sense to take a similar approach to the architecture of college campuses or hospitals, Dillenburger says, which are designed to be conducive to work, study or healing for people who spend a lot of time there. There are subtle ways to employ elements like natural light in a prison to create a similar ambiance without making prisoners "too comfortable."
"There's a fine line," she says.

"Why would you not want to help someone grow as a person so they can contribute to the community in a positive way?"
— Kristin Dillenburger, architecture graduate student
Justice design is still a burgeoning concept that has critics — "Don't do the crime if you can't do the time," they say. But Dillenburger argues that the benefits of humane prison design are far-reaching, from breaking the cycle of recidivism to saving taxpayer money.

"Why would you not want to make the effort to help someone grow as a person so they can contribute to the community in a positive way?"
There are even architects who have refused to work on prisons, believing it's a policy and process problem, not a design issue. "I take the opposite stance," she says.
"You're not going to change the criminal justice system as an architect. It's never going away," she says. "So how can you make an impact by changing the design of buildings? With my military background in public affairs, I have a great understanding of the structure and the policies and how to communicate. It takes a lot to change those processes, but I can change the conditions that those inmates are living in." 
— J. Kern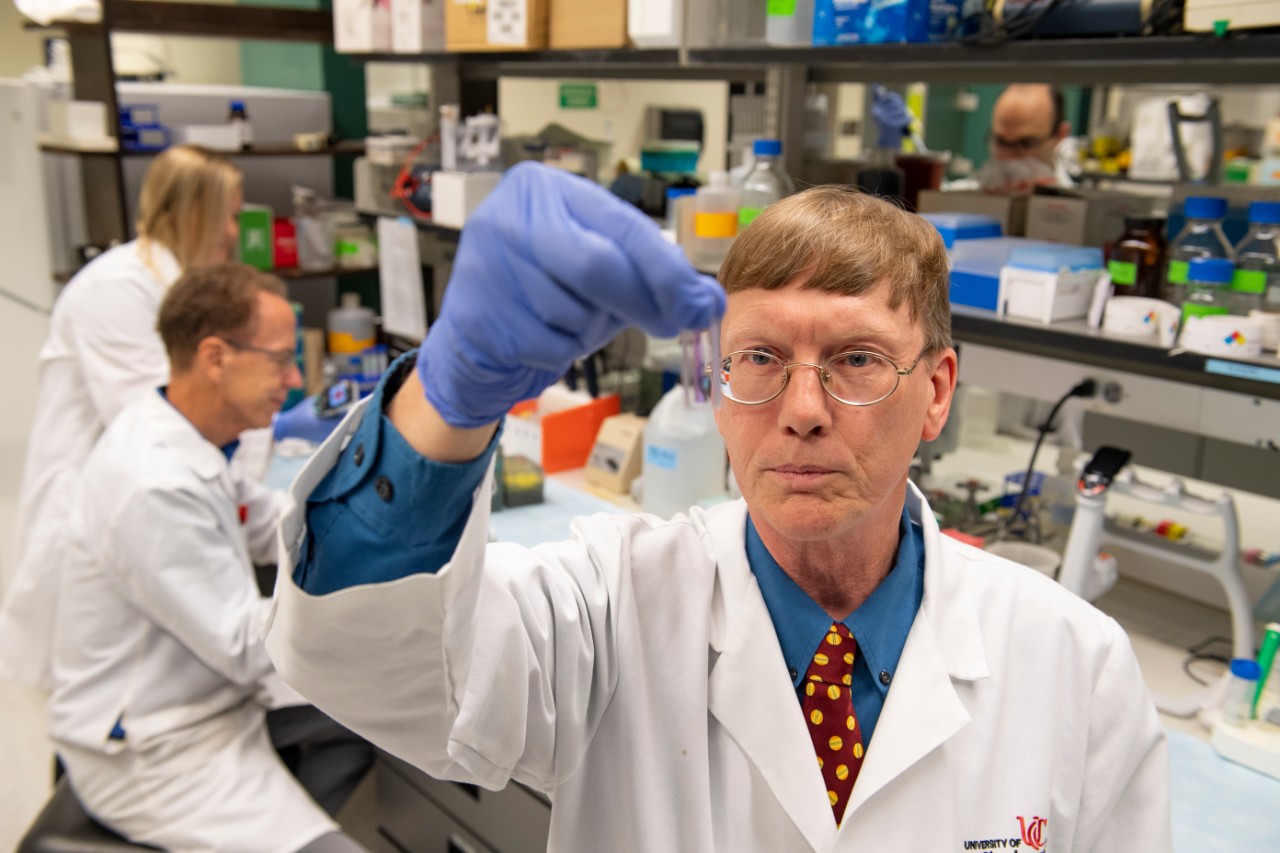 UC scientist to test antibody to block the effects of cocaine
MORE THAN 1.5 MILLION Americans struggle with addiction to cocaine. Researchers at the University of Cincinnati have developed an antibody for humans that may block the effects of cocaine and aid individuals battling drug addiction to stay in recovery.
Whether it is snorted, injected into the veins or smoked, cocaine delivers an intense high by increasing the levels of the natural chemical messenger dopamine that induces drug-taking behaviors possibly leading to addiction.
An antibody reengineered in a laboratory is now being manufactured for human trials that are expected to begin during the spring, thanks to the work of Andrew Norman, a professor in the UC College of Medicine's Department of Pharmacology and Systems Physiology. When injected into the bloodstream, that antibody attaches to cocaine, preventing it from entering the brain and limiting its behavioral effects.
Norman, principal investigator for the research, says the antibody isn't a silver bullet, but possibly another tool in the toolbox for battling addiction.
"It will work under a very specific set of circumstances," says Norman. "For somebody at risk of relapse, the antibody is onboard so if they take cocaine it will be ineffective in maintaining that relapse event. It will have no effect on the brain. It won't do anything.
"It will be pharmacologically inert, and the person will feel there is no reason to take cocaine. It will blunt the effects of cocaine," says Norman. "The hope is by the time they take cocaine and it doesn't do anything, the cravings will dissipate."
An earlier grant from the National Institute on Drug Abuse (NIDA) supported Norman's findings. A recent NIDA grant of $8.4 million for a three-year period will allow Norman to test his antibody in humans, a requirement before the immunotherapy could gain approval from the U.S. Food and Drug Administration and eventual use in treating cocaine addiction.
"This is a very important phase," says Norman. "These studies are done in healthy volunteers, not in patient populations, and just in a limited number of people. Most drugs are only in the body for a few hours, and that's why we need to take drugs like aspirin multiple times a day. This one is different. These antibodies are expected to have a half-life — that's the time it takes for half of it to disappear — of maybe three weeks instead of a few hours."
— C. Ricks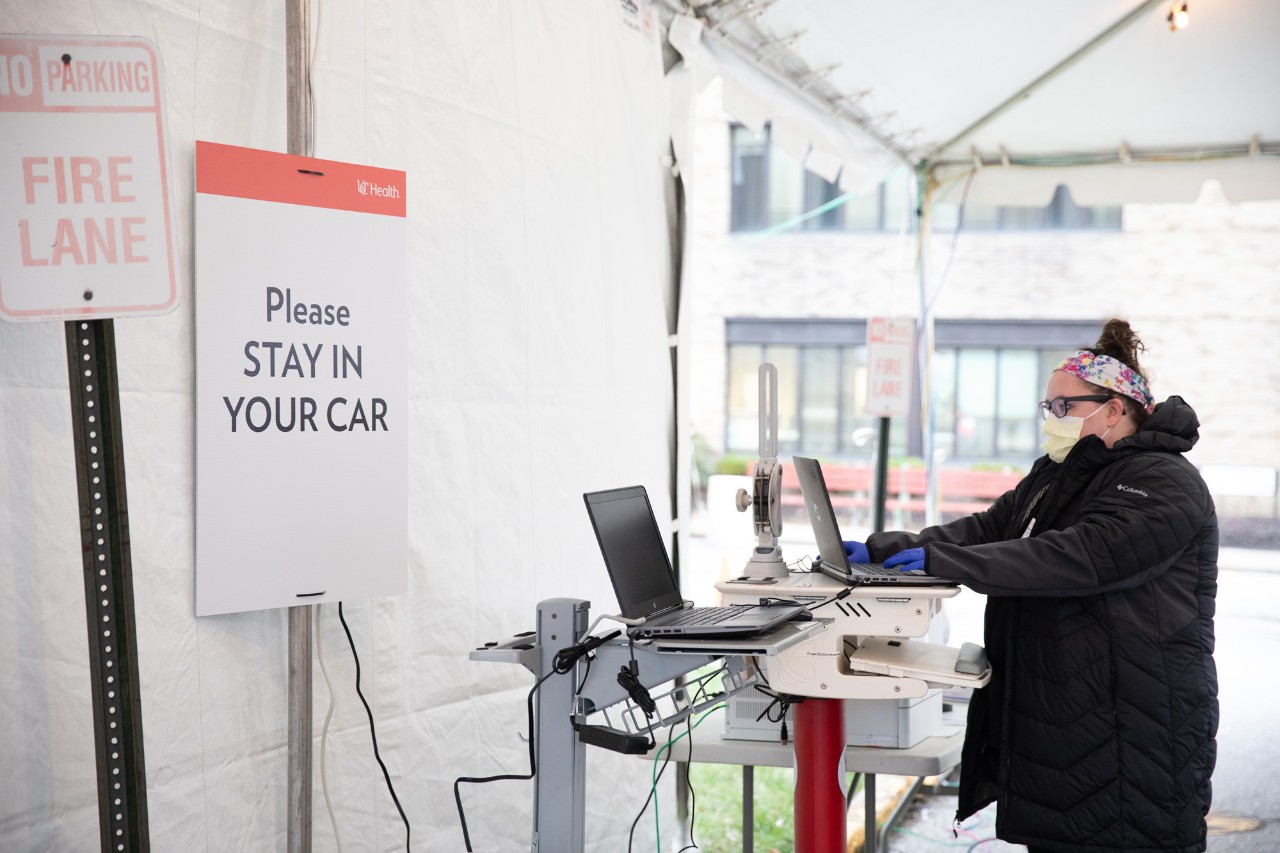 Company with UC ties offers new COVID-19 test
Firm looks to market the DNA testing device in America
A biotech firm with ties to the University of Cincinnati has developed a DNA test for coronavirus to diagnose more people more quickly than conventional tests.
Medical manufacturing company MiCo BioMed licensed intellectual property related to UC's lab-on-a-chip technology. The South Korean company has developed a DNA/RNA detection device the size of a toaster that can provide rapid and reliable results in an hour, says Jay Han, a UC graduate who supervises the company's U.S. operations.
"The portable device can test bodily fluids to quickly identify COVID-19 using a DNA amplifier. COVID-19 can be confirmed within an hour, which is faster than traditional tests," Han says.
Han earned a doctoral degree in electrical engineering from UC's College of Engineering and Applied Science in 2005 after completing an undergraduate degree at Korea University. He studied under UC electrical engineering professor Chong Ahn, whose startup company Siloam Biosciences was purchased by the publicly traded MiCo BioMed in 2019. Han was one of the founding employees of Siloam in Cincinnati.
The market for MiCo BioMed's coronavirus device includes doctor's offices, hospitals and health departments. But Han says he thinks its ability to conduct tests remotely makes it especially useful for rural or isolated parts of the United States or home care services
Han says his experience in UC's Department of Electrical Engineering and Computer Science prepared him for the challenges of running a biosciences company.
"UC provides a lot of opportunities to learn new things. I was in electrical engineering, but at the same time I learned biology and chemistry in departments of biomedical engineering and chemistry," Han says. "It's a very good interdisciplinary program."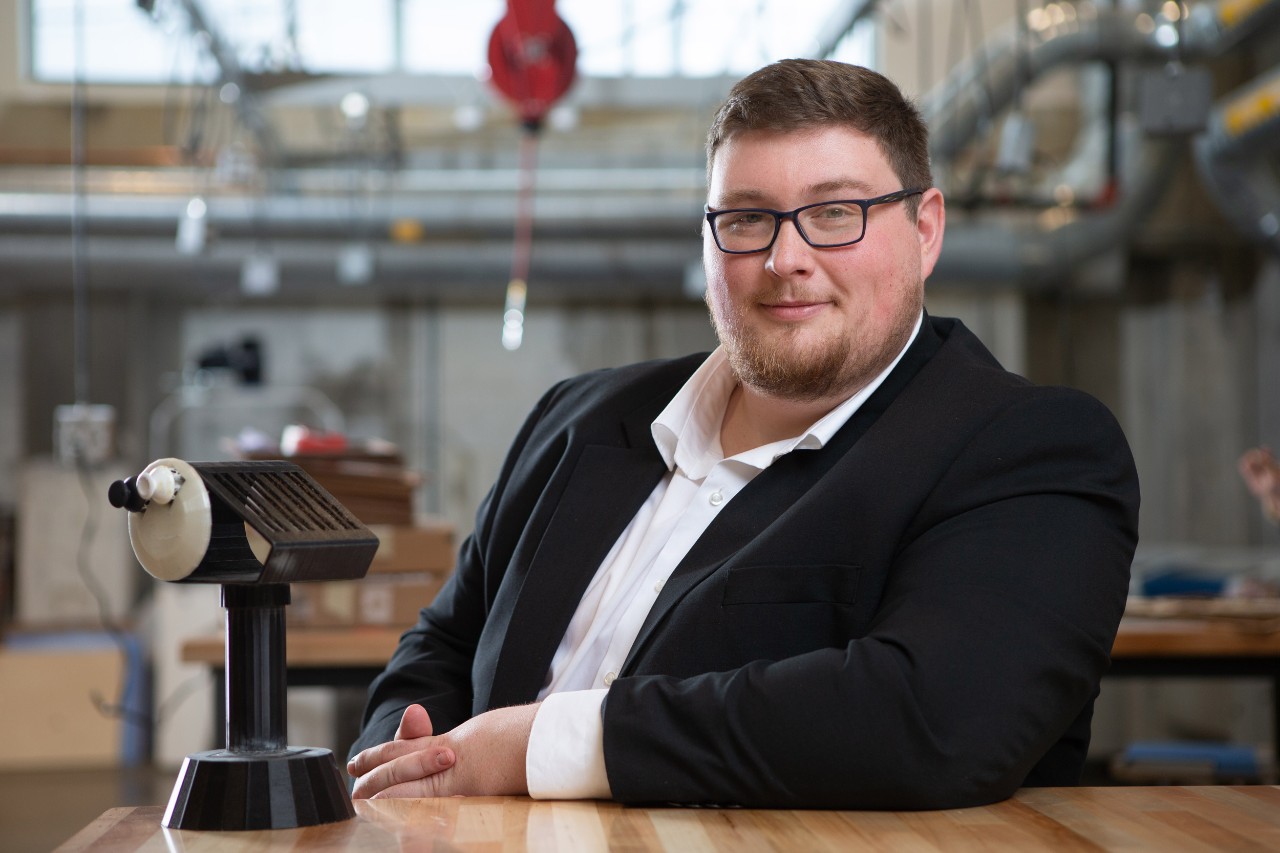 Recent UC graduate is set to launch a one-handed video game controller
ONE MOMENT, ADAM ZUST was running on a treadmill at home. An instant later, he was no longer able to enjoy any of the things he loved.
At age 17, a stroke robbed him of the use of the right side of his body. The impact the stroke had on his communication and cognitive abilities forced him to stay in high school for a second senior year.
"Not only was I dealing with a disability," Zust recalls. "All of my friends were leaving me."
Before his stroke, Zust had been a fanatical video gamer with a love for first-person shooters and racing games. He tried to find comfort in his hobby, but only more frustration awaited him. The more accessible game genres did little for him, and video game controllers designed for one-handed use — he says he tried them all — fell far short of his expectations.
While he studied sociology in UC's College of Arts and Sciences, Zust, now 26, never stopped thinking about how he'd make a better controller for people like him. In July 2015, he drew his first prototype. He worked with his sister Taryn, a fifth-year fine arts student in UC's College of Design, Architecture, Art, and Planning, to transform his drawing into a 3D-printed object. Twenty-seven iterations, 116 prospect interviews and three patents later, Zust is well on his way to making his dream controller a reality.
There is little variation in the design of video game console controllers from one system to the next. Two-handed controllers typically have four buttons on the right side of the controller's face, a directional pad on the left and two small thumb-controlled joysticks positioned on either side. The index fingers control a pair of trigger buttons on each side of the top of the controller.
Controlling that many buttons with one hand may sound daunting, but Zust's controller makes it easy. The hand rests on top of the controller, which is affixed to a table or other sturdy surface. Each finger rests next to two long, slender buttons, while the thumb controls joysticks on the side. The controller itself can be twisted left and right to provide even more control over movement.
Zust's company, Kodiak Designs, graduated from UC's Venture Lab pre-accelerator in September 2019. Zust says the program helped him learn to better manage his time, focus his efforts and better understand the needs of his potential customers.
The final step to graduating from Venture Lab is to present at the 1819 Innovation Hub in front of a room full of potential investors from Cincinnati's startup community, along with
UC faculty and staff. Venture Lab graduation may seem similar to a startup pitch day, but its purpose differs: Instead of simply asking for money, each presenting company explains what their business needs in order to succeed. Some ask for help with industry contacts, while others solicit help bridging their teams' talent gaps.
"The Venture Lab at 1819 is designed to accelerate outcomes for our UC community," says UC Chief Innovation Officer David J. Adams. "We have developed a talent platform to bring the necessary resources to support these entrepreneurs. UC is brimming with talent across all disciplines who just need a platform to support their ideas."
Questions from the audience vary wildly based on the ideas presented. Some focus on feasibility, while others can get into the technical weeds. When Zust fielded questions after the conclusion of his presentation, the first one
asked was a sure buying signal: "What will it take to make this happen?"
Since giving his presentation, Zust estimates that at least a dozen would-be investors and partners have been in touch with him, eager to help him cut into an estimated $2.4 billion market.
"It was very eye-opening to me that so many people want my product," he says.
Zust's first fully functional prototype is close to reality. He expects a limited production run for play testers this summer, with broader distribution planned for July 2021. But what he's looking forward to most is using his controller to play his favorite video games.
— M. Koesters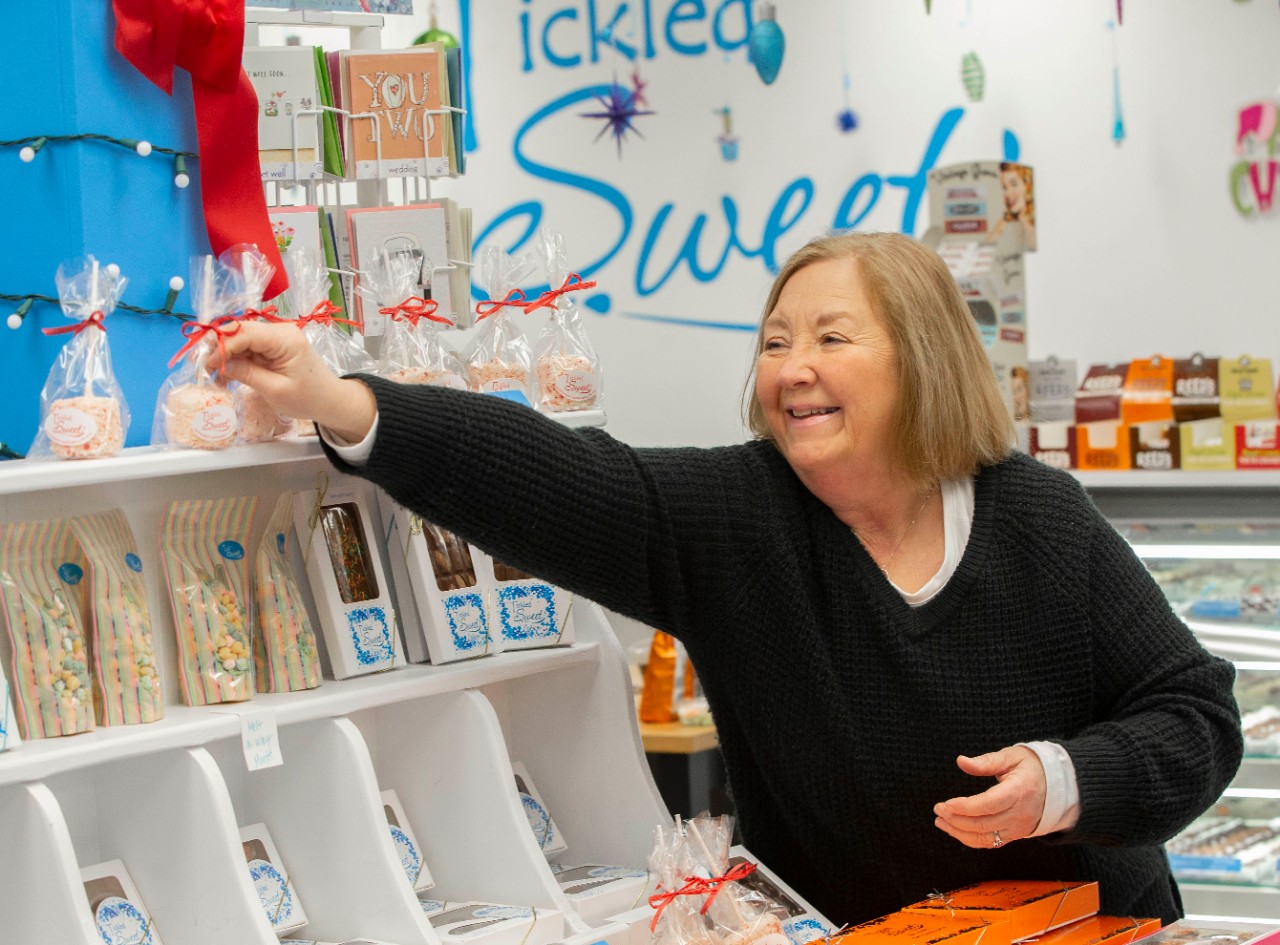 Sweet help for small business
Working under the supervision of faculty and attorneys, UC Law students go beyond the classroom to help real-world clients turn their startup dreams into reality
CHOCOLATIER BAMBI MERZ knows how to satisfy a sweet tooth. The owner of Tickled Sweet Artisan Chocolates and Candies has developed a loyal customer base since opening her Milford, Ohio, business in 2016.
But while Merz knows how to best temper chocolate and the exact time to cook fudge, she needed help with the business side of her new venture. The budding entrepreneur found that assistance at the University of Cincinnati's College of Law.
Two years ago, Merz signed on as a client in two of the college's five clinics: the Entrepreneur Community Development (ECDC) and Patent and Trademark clinics. Both allow law students, working under the supervision of law professors and practicing attorneys, to gain real-world experience representing local small business owners and aspiring entrepreneurs in transactional legal issues critical to their success.
The experience, Merz says, proved transformational for her award-winning business, which offers artisan chocolates, 30 varieties of housemade fudge and other whimsical candies.
"The UC students were phenomenal," says Merz. "They step in and fill a need that's incredible."
Rachael Rolfsen, a 2018 graduate who now works as an associate attorney at Cornetet, Meyer, Rush & Stapleton in Cincinnati, helped Merz draft vendor and employee contracts.
"The biggest challenge as a law student is you have no idea how to talk to clients," says Rolfsen. "Now in my practice, I have client meetings and call clients every day. Walking into my first day at work, I was far less scared about that first meeting because I had this experience already in law school."
Since the ECDC launched in fall of 2010, 240 students have helped nearly 350 local businesses, providing about $1.4 million in free legal assistance. The Patent and Trademark Clinic, launched in the fall of 2017, has enrolled 18 interns who have worked with 30 clients, providing about $170,000 in free legal services.
As for Merz, she returned in October to an afternoon clinic hosted by the ECDC where
she was able to meet for a half-hour with an attorney to discuss trademarking a new product. The attorney's advice?
"He said it can catch like wildfire," she says. "The attorney said, 'Here's the application for the Patent and Trademark Clinic. You need to go back.'"
— R. Richardson