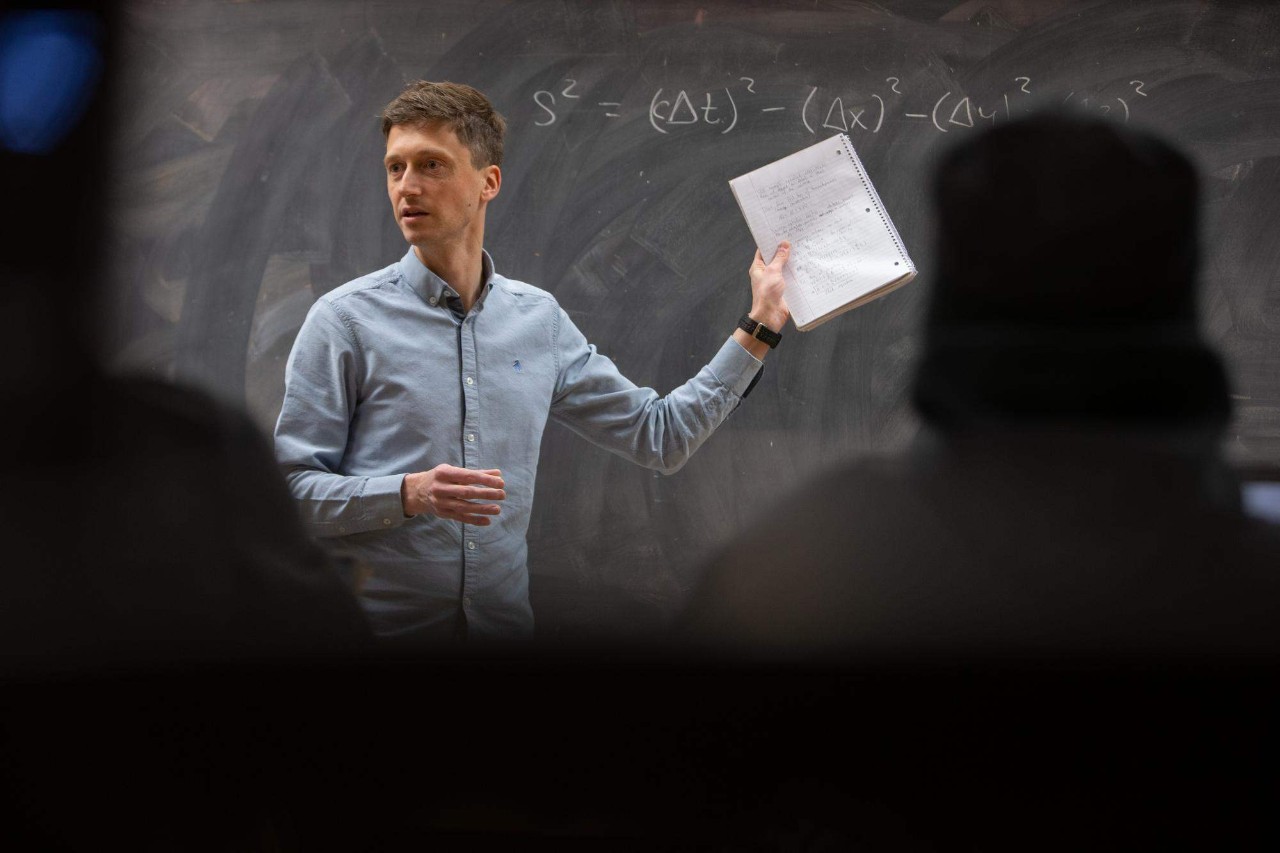 The University of Cincinnati is an Ohio Public Institution, and each of its programs are approved by the Ohio Department of Higher Education (ODHE).

Accreditation is the process whereby an outside organization certifies a college or university as meeting certain requirements of excellence. Accreditation is an important "stamp of approval," accredited colleges and universities prove to their peers that they are deeply committed to educational quality and improvement. The designation serves as public recognition that an institution has met accepted standards of academic quality.
What is the Higher Learning Commission (HLC)?
The Higher Learning Commission (HLC) is an independent corporation that was founded in 1895 as one of six regional institutional accreditors in the United States. HLC accredits degree-granting post-secondary educational institutions in the North Central region, which includes 19 states. The mission of the Higher Learning Commission is to "serve the common good by assuring and advancing the quality of higher learning.
What is the Process for Accreditation?
University of Cincinnati's review will be carried out through the HLC Open Pathway process. The University is currently accredited by the Higher Learning Commission with the most recent reaffirmation of accreditation received in 2018. Reaccreditation is conducted on a ten-year cycle. This process includes writing an Assurance Argument, demonstrating Federal Compliance, and hosting a site visit by a team of reviewers comprised of faculty and staff from other universities with similar missions. As part of the Assurance Review, the institution submits an Assurance Argument - along with materials of evidence - explaining how the institution complies with each Criterion and Core Component. The peer review team also uses the Assurance System to conduct its review of the materials.
Accrediting Organations and Associated Programs
Accrediting Organization
College - Program
Standing
Association to Advance Collegiate Schools of Business (ACSB)
Carl H. Lindner College of Business - All Programs
Accredited
American Bar Association (ABA)
College of Law - Juris Doctorate
Accredited
UC Clermont - Associate of Applied Business in Law and Paralegal Studies
Accredited
UC Clermont - Certificate in Law and Paralegal Studies
Accredited
College of Education, Criminal Justice, and Human Services - Paralegal Studies, BS
Accredited
College of Education, Criminal Justice, and Human Services - Certificate in Paralegal Studies
Accredited
Accreditation Board for Engineering and Technology (ABET)
College of Engineering and Applied Science - Aerospace Engineering, BS
Accredited
College of Engineering and Applied Science - Architectural Engineering, BS
Accredited
College of Engineering and Applied Science - Biomedical Engineering, BS
Accredited
College of Engineering and Applied Science - Chemical Engineering, BS
Accredited
College of Engineering and Applied Science - Civil Engineering, BS
Accredited
College of Engineering and Applied Science - Computer Engineering, BS
Accredited
College of Engineering and Applied Science - Computer Science, BS
Accredited
College of Engineering and Applied Science- Construction Management, BS
Accredited
College of Engineering and Applied Science - Electrical Engineering, BS
Accredited
College of Engineering and Applied Science - Electrical Engineering Technology, BS
Accredited
College of Engineering and Applied Science - Environmental Engineering, BS
Accredited
College of Engineering and Applied Science - Mechanical Engineering, BS
Accredited
College of Engineering and Applied Science - Mechanical Engineering Technology, BS
Accredited
College of Education, Criminal Justice, and Human Services - Information Technology, BSIT
Accredited
College of Medicine - Environmental Health: Industrial Hygiene, MS
Accredited
Accreditation Commission for Education in Nursing (ACEN)
UC Blue Ash - Associate of Applied Science, Nursing Technology
Accredited
Accreditation Council for Education in Nutrition and Dietetics (ACEND)
College of Allied Heath Sciences - Nutrition and Dietetics, BS
Accredited
College of Allied Health Sciences- Didactic Program in Dietetics, Certificate
Accredited
Accreditation Council for Genetic Counseling (ACGC)
College of Medicine - Genetic Counseling, MS
Accredited
Accreditation Council for Graduate Medical Education (ACGME)
College of Medicine - Occupational Medicine Residency
Accredited
Accreditation Commission for Midwifery Education (ACME)
College of Nursing, Master of Science in Nurse Midwifery
Accredited
Accreditation Council for Occupational Therapy Education (ACOTE)
College of Allied Heath Sciences - Master of Occupational Therapy
Accredited
Accreditation Council for Pharmacy Education (ACPE)
James L. Winkle College of Pharmacy - Doctor of Pharmacy
Accredited
American Chemical Society (ACS)
Arts & Sciences - BS in Chemistry with ACS Certification
Accredited
American Psychological Association (APA)
Arts & Sciences - PhD in Psychology
Accredited
College of Education, Criminal Justice, and Human Services - School Psychology, PhD
Accredited
American Speech-Language Hearing Association (ASHA)
College of Allied Health Sciences - Master's Degree in Speech Language Pathology
Accredited
College of Allied Health Sciences - Clinical Entry-Level Doctoral Degree Audiology
Accredited
American Veterinary Medical Association, Committee on Veterinary Technician Education and Activities (AVMA)
UC Blue Ash - Associate in Applied Science, Veterinary Technology
Accredited
Commission on Accreditation of Allied Health Education Programs (CAAHEP)
UC Blue Ash - Certificate in Medical Assisting
Accredited
UC Clermont - Associate in Surgical Technology
Accredited
UC Clermont - Certificate in Medical Assisting
Accredited
Commission on Accreditation of Athletic Training Education (CAATE)
College of Allied Health Sciences - Master of Science in Athletic Training
Seeking Initial Accreditation
Council for Accreditation of Counseling and Related Educational Programs (CACREP)
College of Education, Criminal Justice, and Human Services - Counselor Education and Supervision, Doctoral
Accredited
College of Education, Criminal Justice, and Human Services - School Counseling, M.Ed
Accredited
College of Education, Criminal Justice, and Human Services - Mental Health Counseling, MA
Accredited
Council for the Accreditation of Educator Preparation (CAEP)
College of Education, Criminal Justice, and Human Services - Curriculum & Instruction M.Ed
Accredited
College of Education, Criminal Justice, and Human Services - Special Education M.Ed
Accredited
College of Education, Criminal Justice, and Human Services - Middle Childhood Education, BSED
Accredited
College of Education, Criminal Justice, and Human Services - Secondary Education, BSED
Accredited
College of Education, Criminal Justice, and Human Services - Special Education, BSED
Accredited
Commission on Accreditation for Health Informatics and Information Management Education (CAHIIM)
College of Allied Health Sciences - Bachelor's in Health Information Management
Accredited
UC Clermont - Associate Degree in Health Information Systems
Accredited
Commission on Accreditation of Medical Physics Educational Programs, Inc. (CAMPEP)
College of Medicine - Doctor of Medical Physics
Accredited
Commission on Accreditation of Physical Therapy Education (CAPTE)
College of Allied Heath Sciences - Doctor of Physical Therapy
Accredited
UC Clermont - Associate of Applied Science Degree in Physical Therapist Assistant
Accredited
Commission on Collegiate Nursing Education (CCNE)
College of Nursing, Bachelor of Science in Nursing
Accredited
College of Nursing, Master of Science in Nursing
Accredited
College of Nursing, Doctor of Nursing Practice
Accredited
College of Nursing, Post-Graduate APRN Certificate in Nursing
Accredited
Council on Education for Public Health (CEPH)
College of Medicine - Master of Public Health
Accredited
Council for Interior Design Accreditation (CIDA)
College of Design, Architecture, Art and Planning - Bachelor of Science in Interior Design
Accredited
Council on Accreditation of Nurse Anesthesia Educational Programs (COA)
College of Nursing, Doctor of Nursing, Nurse Anesthesia
Accredited
Commission on Accreditation for Respiratory Care (COARC)
College of Allied Heath Sciences - Respiratory Therapy, BS
Provisional Accreditation
UC Clermont - Associate of Applied Science Degree in Respiratory Care
Accredited
Commission on Dental Association (CODA)
UC Blue Ash - Dental Hygiene, AAS
Accredited
UC Medical Center - Oral and Maxillofacial Surgery
Accredited
Council on Social Work Education (CSWE)
College of Allied Heath Sciences - Bachelor of Social Work
Accredited
College of Allied Heath Sciences - Master of Social Work 
Accredited
Federal Aviation Administration (FAA)
UC Clermont - Associate of Applied Science Degree in Aviation Technology
Accredited
Joint Review Committee on Education in Radiologic Technology (JRCERT)
College of Allied Heath Sciences - BS in Advanced Medical Imaging Technology
Accredited
College of Allied Heath Sciences - Certificate in Advanced Medical Imaging Technology: Magnetic Resonance Imaging 
Accredited
UC Blue Ash - AAS in Radiologic Technology
Accredited
Joint Review Committee on Educational Programs in Nuclear Medicine Technology (JRCNMT)
College of Allied Heath Sciences - BS in Advanced Medical Imaging Technology
Accredited
Liaison Committee on Medical Education (LCME)
College of Medicine, Medical Education Fellowship
Accredited
National Architecture Accrediting Board (NAAB)
College of Design, Architecture, Art, and Planning - Master of Architecture
Accredited
National Accrediting Agency for Clinical Laboratory Sciences (NAACLS)
College of Allied Heath Sciences - Medical Laboratory Science Program
Accredited
National Association of Schools of Art and Design (NASAD)
UC Blue Ash - Associate in Applied Graphic Communication
Accredited
College of Design, Architecture, Art, and Planning - Bachelor of Arts in Art History
Accredited
College of Design, Architecture, Art, and Planning - Bachelor of Science in Design - Fashion
Accredited
College of Design, Architecture, Art, and Planning - Bachelor of Science in Design - Industrial Design
Accredited
College of Design, Architecture, Art, and Planning - Bachelor of Science in Interior Design
Accredited
College of Design, Architecture, Art, and Planning - Bachelor of Fine Arts - Art
Accredited
College of Design, Architecture, Art, and Planning - Master of Arts in Art Education
Accredited
College of Design, Architecture, Art, and Planning - Master of Design
Accredited
College of Design, Architecture, Art, and Planning - Master of Fine Arts - Art
Accredited
College of Design, Architecture, Art, and Planning - Bachelor of Science in Communication Design
Accredited
National Association of Schools of Dance (NASD)
College-Conservatory of Music - Bachelor of Fine Arts in Ballet
Accredited
College-Conservatory of Music - Bachelor of Arts in Dance
Accredited
National Association of Schools of Music (NASM)
College-Conservatory of Music - Bachelor of Arts in Music
Accredited
College-Conservatory of Music - Bachelor of Music in Commercial Music Production
Accredited
College-Conservatory of Music - Bachelor of Music in Composition
Accredited
College-Conservatory of Music - Bachelor of Music in Jazz Studies
Accredited
College-Conservatory of Music - Bachelor of Music in Music Education
Accredited
College-Conservatory of Music - Bachelor of Music in Performance
Accredited
College-Conservatory of Music - Bachelor of Fine Arts in Musical Theatre
Accredited
College-Conservatory of Music - Artist Diploma in Instrumental Music Performance (Graduate)
Accredited
College-Conservatory of Music - Artist Diploma in Opera Vocal Performance (Graduate)
Accredited
College-Conservatory of Music - Artist Diploma in Piano or Harpsichord Performance (Graduate)
Accredited
College-Conservatory of Music - Master of Music in Collaborative Piano
Accredited
College-Conservatory of Music - Master of Music in Composition
Accredited
College-Conservatory of Music - Master of Music in Conducting
Accredited
College-Conservatory of Music - Master of Music in Jazz Studies
Accredited
College-Conservatory of Music - Master of Music Education (MME)
Accredited
College-Conservatory of Music - Master of Music (MM) in Music Education
Accredited
College-Conservatory of Music - Master of Music in Musicology
Accredited
College-Conservatory of Music - Master of Music in Performance
Accredited
College-Conservatory of Music - Master of Music in Theory
Accredited
College-Conservatory of Music - Doctor of Musical Arts in Composition
Accredited
College-Conservatory of Music - Doctor of Musical Arts in Conducting
Accredited
College-Conservatory of Music - Doctor of Musical Arts in Literature and Performance
Accredited
College-Conservatory of Music - Doctor of Philosophy in Music
Accredited
College-Conservatory of Music - Performance Certificate in Strings (Graduate)
Accredited
National Association of School Psychologists (NASP)
College of Education, Criminal Justice, and Human Services - EdS in School Psychology
Accredited
College of Education, Criminal Justice, and Human Services - PhD in School Psychology
Accredited
National Association of Schools of Theatre (NAST)
Bachelor of Fine Arts in Acting
Accredited
Bachelor of Fine Arts in Musical Theatre
Accredited
Bachelor of Fine Arts in Theatre Design and Production 
Accredited
Master of Fine Arts in Theatre Design and Production 
Accredited
National Cancer Registrar's Association, Inc. (NCRA)
UC Clermont –  Certificate in Cancer Registry Management
Accredited
National Fire Academy (NFA/FEMA)
College of Engineering and Applied Science - Bachelor of Science in Fire And Safety Engineering Technology
Accredited
Ohio Board of Nursing (OBN)
UC Blue Ash - Associate of Applied Science, Nursing Technology
Accredited
Ohio Peace Officer Training Commission (OPOTC)
UC Clermont - Associate of Criminal Justice Technology: Law Enforcement-Police Academy
Accredited
Planning Accreditation Board (PAB)
College of Design, Architecture, Art and Planning - Master of Community Planning
Accredited
College of Design, Architecture, Art and Planning - Bachelor of Urban Planning
Accredited