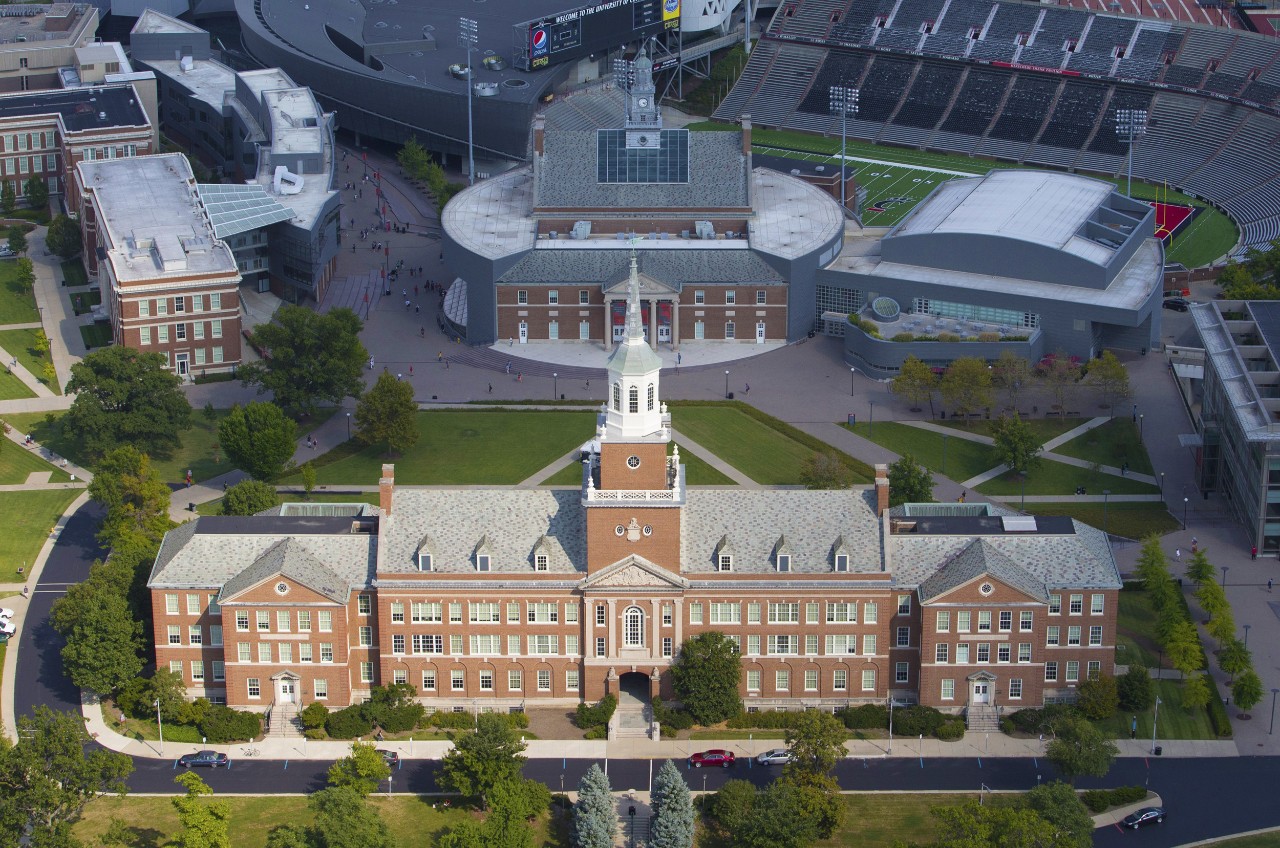 Founded in 1819, the University of Cincinnati is leading urban, public universities into a new era of innovation and impact through its strategic direction, Next Lives Here, underscoring the power of creativity, ingenuity, invention and inclusion.  
The university traces its origins to 1819, and recently celebrated its bicentennial. In 1819,  both Cincinnati College and the Medical College of Ohio were chartered. In 1870, the City of Cincinnati established the University of Cincinnati, which later absorbed the two predecessor institutions.
For many years, UC was the second-oldest and second-largest municipal university in the country. In 1968, UC became a "municipally sponsored, state affiliated" institution, entering a transitional period culminating on July 1, 1977, when the university joined the university system of Ohio.
Our drive to invent in and beyond the classroom has been the source of many breakthrough contributions, including the oral polio vaccine and the first antihistamine. In fiscal year 2022, the university and its affiliates – renowned for premier patient care, health-related research and training of health care professionals – spent a record $615 million on research, part of the university's commitment to discovery and innovation.
The National Science Foundation places UC at No. 33 among America's public research universities, and 51st in the nation in research spending among all institutions, topping counterparts such as Princeton University, the University of Kentucky and the University of Georgia. Moreover, UC is one of only 146 institutions classified as housing the very highest activity by the Carnegie Classification of Institutions of Higher Education.

U.S. News & World Report ranks UC in the Top Tier of America's Best Colleges. In the 2023 rankings, UC placed at No. 68 "most innovative among national universities." In addition, Reuters named UC among the world's top 100 most-innovative universities, one of only 46 U.S. universities to make that prestigious list.
Powered by a total annual FY24 budget of $1.77 billion and an endowment of nearly $1.8 billion (among the top 25 public universities in the U.S., and 79th largest in U.S. and Canada), UC has a regional economic impact of $10.6 billion – and statewide, UC increases the economic base by $22.7 billion. UC supports over 125,000 regional jobs. That means one out of every 12 jobs in the region is supported by the activities of the university.
UC serves a diverse community of 50,921 students across 14 colleges. UC is increasingly diverse, with racial and ethnic minorities making up 26% of this year's student body, an increase from 25.5% in Fall 2022 and also up from 24.1% in Fall 2021.   
As the global founder of cooperative education, UC remains a world-class leader in experience-based learning. U.S. News & World Report ranks UC's co-op program in the Top 5 in the country, and in the 2022-23 year, our students earned a collective $76.5 million via their co-op work placements, alternating academic semesters with professional, paid work directly tied to their majors.  
According to an Association of Public and Land-grant Universities (APLU) study on college affordability, the average student loan indebtedness is 12.2% lower for UC students than at peer institutions due to the universities top-ranked co-op program. The co-ops are also viewed positively by students — 93% of co-op participants report that their experience was good or excellent. These positive ratings are reflected in alumni surveys as well. Employers value the program, as it provides them with opportunities to test out students as employees. Building these relationships early on helps students navigate into full-time jobs upon graduation and strengthens retention and graduation outcomes.
Finally, our campus setting continues to garner worldwide acclaim, with The New York Times highlighting UC's dramatic campus renovation of the past quarter century as "the most ambitious campus design program in the country." In addition, Forbes, Delta Sky and Travel + Leisure magazines have all highlighted UC as one of the world's most beautiful campuses. It's also a sustainable one where all new construction and major renovations are completed to LEED Silver standards or higher whenever possible.
The university has a 200+ years of history as a research pioneer, with a culture strongly emphasizing collaboration in order to achieve innovative results that can be applied to solving complex problems and furthering scientific advancement. The university fosters early stage research and launches start-up companies via  an expanding  innovation incubator, the 1819 Innovation Hub, providing a key location amidst Cincinnati's rising Innovation Corridor. The UC innovation hub is the nexus for business and industry to partner with university faculty and students. Partnering with UC's 1819 Innovation Hub are a wide range of visionaries: From seed-stage investors like CincyTech (one of the most active in the nation) to established corporations like Procter & Gamble to consultancies.
Our endeavors as a university encompass science, medicine, business, education, engineering, technology, the humanities and the arts. Specific and cross-disciplinary areas of focus include analytics, digital media, precision cancer medicine, water and urban futures.
UC is located in "Uptown," which is the second largest employment center in the Cincinnati region behind the central business district. Adjacent to downtown, Uptown is a diverse and vibrant urban area made up of an eclectic array of small businesses plus five major medical and research institutions, including UC and the nationally-acclaimed Cincinnati Zoo & Botanical Gardens.
Uptown's five anchor institutions (Cincinnati Children's Hospital Medical Center, the Zoo, UC Health, Tri-Health, and UC), formed a non-profit development group in 2004 called the Uptown Consortium, Inc. To date, the Consortium's efforts have facilitated $1.4 billion in development projects (redevelopment, new construction, and neighborhood improvements) in Uptown Cincinnati.
The University of Cincinnati and its affiliates are home to over 6,000 full- and part-time faculty internationally recognized for innovative teaching and research, especially in the practical applications of their discoveries. Among our celebrated faculty have been pioneers like Cleveland Abbe, whose work at UC led to the National Weather Service; Albert Sabin, developer of the oral polio vaccine; astronaut Neil Armstrong; and Eula Bingham, environmental scientist and one-time head of OSHA.
Many UC faculty members have been awarded significant honors at the local, state, national and international levels. These include numerous National Science Foundation Career awards as well as Fulbright awards and Guggenheim grants. UC faculty and their work routinely receive support from the Ohio Board of Regents, Department of Health and Human Services, National Institutes of Health, Department of Defense, Department of Education, Department of Energy, U.S. EPA, National Science Foundation, National Endowment for the Humanities, National Endowment for the Arts, National Geographic Society, National Oceanic and Atmospheric Administration, U.S. Geological Survey, Andrew W. Mellon Foundation, Robert Wood Johnson Foundation, National Heart, Lung and Blood Institute and many others.
UC is home to a number of Ohio Centers of Excellence where faculty research as well as their scholarly and creative endeavors serve to advance innovation and entrepreneurial activity as well as draw gifted students seeking to augment and apply their skills. The university is home to Ohio Centers of Excellence dedicated to advanced energy and sustaining the urban environment; transforming healthcare in the 21st century; intelligent air and space vehicle energy systems; nanoscale sensor technology; design and innovation; and music and theater arts.
Students coming to UC find a campus setting that is exceptional for its internationally noted green spaces and architecture, giving rise to premier academic and research facilities to promote effective teaching and innovative research. The campus setting, teaching and research resources, as well as community and industry partnerships, showcase the university's commitment to the quality of student life, learning and growth.
Today, the university consists of multiple research and campus locations in the Greater Cincinnati region with an impact and reach that extends from the local to the global. This includes strategic partnerships in subject areas like engineering, economics, humanities and business administration with the University of Bordeaux, France; Chongqing University, China; Future University, Egypt, and more.
Throughout their academic careers, UC students earn many external honors and awards, including Fulbright and Goldwater scholarships as well as grants and research project support from internal and external entities as varied as the National Science Foundation, National Endowment for the Humanities, the U.S. Air Force and others. At UC, both undergraduates and graduate students receive both funding and mentoring support to pursue research through specialized programs like ROSE (Research, Observation, Service and Education Experiences) and SURF (Summer Undergraduate Research Fellowship). Such opportunities allow students to directly contribute to innovation, build a meaningful portfolio, engage with faculty and other thought leaders outside the classroom, and hone their inquiry and investigative skills according to the scientific method.
The number of living alumni of the university is tallied at more than 340,000 with approximately half residing in the greater Cincinnati region.
Among our notable alumni are President and later Chief Justice William Howard Taft; Nobel Peace Prize winner and U.S. Vice President Chargles G. Dawes; Joseph Strauss, chief engineer for the Golden Gate Bridge; Pulitzer Prize-winning cartoonist Walt Handelsman; soprano Kathleen Battle; prima ballerina Suzanne Farrell; Tony Award winner Faith Prince; author Thomas Berger ("Little Big Man"); sports greats Sandy Koufax, Kevin Youkilis, Oscar Robertson, Jack Twyman and Tony Trabert as well as Olympians Mary Wineberg (track) and Becky Ruehl (diving); architect Michael Graves; U.S. diplomat Pamela Bridgewater; civil rights activist Marian Spencer; Douglas Dayton, who helped design Apple's original mouse; Vinod Dham, father of the Pentium chip; one-time Unilever CEO Paul Polman; past Starbucks Chairman Mike Ullman; and Louise McCarren Herring, the mother of credit unions; as well as Austin Allison, creator of Dotloop; and Allbirds CEO Tim Brown.

The University of Cincinnati serves the people of Ohio, the nation, and the world as a premier public, urban research university dedicated to undergraduate, graduate, and professional education, experience-based learning, and research. We are committed to excellence and diversity in our students, faculty, staff, and all of our activities. We provide an inclusive environment where innovation and freedom of intellectual inquiry flourish. Through scholarship, service, partnerships, and leadership, we create opportunity, develop educated and engaged citizens, enhance the economy and enrich our University, city, state and global community.

Phil Collins, Chair, Board of Trustees
Neville Pinto, President
For more information about UC, contact: M.B. Reilly, Executive Director of Public Relations, (513) 556-1824, reillymb@ucmail.uc.edu
In 2023-24, the University of Cincinnati is home to students from all 50 states plus the District of Columbia (Washington, D.C.) and from 152 countries outside the U.S.  
Undergraduate: 38,748

Graduate & Professional: 12,173

Total Enrollment: 50,921

---
Full-time Undergraduate: 30,701

Full-time Graduate & Professional: 6,432
---
Part-time Undergraduate: 8,047
Graduate & Professional: 5,741
African American: 4,753 (9.3%)
Asian: 2,698 (5.3%)
Hispanic: 2,566 (5.0%)
International: 4,899 (9.6%)
Two or more races: 2,117 (4.2%)
Unknown: 724 (1.41%)
American Indian/Alaska Native: 65 (0.1%)
Native Hawaiian/Other Pacific Islander: 44 (0.1%)

White: 33,055 (64.9%)
---
Male: 22,801 (44.8%)
Female: 27,924 (54.9%)
Unknown: 166 (0.3%)

Ohio Residents: 35,345 (69.4%)
On-Campus Residents: 7,795 (15.3%)
---
September 2023 (includes affiliates but does not include volunteers)

Faculty Full Time: 3,696
Faculty Part Time: 2,852
Staff Full Time: 4,615
Staff Part Time: 307
Total (Without students): 11470

Student Workers and Graduate Assistants: 6,905
Grand Total :18,375
Associate (A.A., A.A.S., A.G.S., etc.): 72

Baccalaureate (B.S., B.A.,BSW, etc.): 132
Master's (M.A., M.S., MBA, etc.): 133
Doctoral (Ph.D., D.Sc., etc.): 88
Professional (MD, JD): 8
Total: 439 
Breakdown of UC's Annual Budget (FY24)

| Funds | Amount |
| --- | --- |
| General Funds  | $849.4 million |
| Restricted Funds    | $462.1 million |
| Designated Funds  | $265.4 million |
| Auxiliaries  | $188.6 million |
| Total  | $1.765 billion |
Economic Impact (2023): UC has a statewide economic impact of $22.7 billion and a regional economic impact of $10.6 billion. Regionally, this added income to the business community supports 125,057 jobs. For perspective, this means that one out of every 12 jobs in the region is supported by the activities of the university and its students.

Community Engagement Impact (FY16): 46,000 UC volunteers donated 700,000 hours with an equivalent $8.5 million impact in time, talent and philanthropic donations to our local, regional and global communities.  
UC Facilities by Campus

| Campus | Acreage | Gross SF | # of Buildings |
| --- | --- | --- | --- |
| Center Hill Research Facility | 27 | 32,029 | 4 |
| Clermont College | 91 | 220,985 | 9 |
| Reading Campus | 23 | 370,227 | 10 |
| UC Blue Ash College | 132 | 319,254 | 8 |
| Uptown Campus East | 59 | 3,678,608 | 21 |
| Uptown Campus West | 137 | 9,297,240 | 66 |
| Victory Parkway | 8 | 217,591 | 5 |
| TOTAL | 477 | 14,135,934 | 123 |
|   |   |   |   |
| Off-campus buildings | 101 | 842,377 | 17 |
|   |   |   |   |
| GRAND TOTAL | 578 | 14,978,311 | 140 |
New Buildings & Renovations (Since 1992)
Vera Clement Edwards Center, Engineering Research Center, Library Plaza, Aronoff Center for Design and Art, French Hall addition, Cardiovascular Research Center, Sigma Sigma Commons, College-Conservatory of Music, Albert H. Vontz Center for Molecular Studies, University Hall, Kingsgate Conference Center, Hastings and William French Building renovation, Science and Allied Health Building, Eden Avenue Garage addition, Campus Green, University Commons, Clermont College Educational Services Building, Clermont College Student Services Building, Center Hill Campus (Large Scale Test Facility, Combustion Research Lab, Leather Industries Research Building, Erosion Test Facility), Clermont College Facilities Management Building, Braunstein Hall renovation, Schneider Residence Hall, Turner Residence Hall, University Pavilion, Central Utility Plant, University Pavilion, Tangeman University Center expansion and renova- tion, College of Applied Science Classroom Building, Steger Student Life Center, Mews Garden, MainStreet open space, Schott Stadium, Gettler Stadium, Calhoun Street Garage, Clermont College Activities Center, Campus Recreation Center, Raymond Walters College Veterinary Technology Building, Van Wormer Library renovation, Varsity Village Garage, MRI Center, Trabert-Talbert Tennis Center, Lindner Center, Clermont College West Woods Academic Center, Eden Quad greenspace, CARE/Crawley, Stratford Heights Complex, Morgens Hall renovation, Nippert Stadium renovation; Scioto Hall renovation; Teachers College/Dyer Hall renovation; UC Blue Ash College Academic Building; Medical Sciences Building expansion and renovation; Kowalewski Hall; Marian Spencer Hall; the 1819 Innovation Hub; Fifth Third Arena renovation; Gardner Neuroscience Institute; Carl H. Lindner College of Business; Health Sciences Building renovation, and the Faculty Enrichment Center (Langsam Library); DAAP Studio Annex; Probasco Hall (auditorium for 300 and four classrooms); College of Law (renovation of former LCOB structure); Digital Futures Building; Biosciences Center (renovation of former coroner's office); Calhoun Residence Hall; and Clifton Court Hall.

Ongoing/upcoming projects
Shoemaker Varsity Basketball locker room renovations (expected completion by the end of the calendar year 2023);

YMCA Building stabilization, wall, roof and electrical improvements as well as storm window (expected completion by the end of calendar year 2023);

Former Shriner's Hospital and garage modernization for Blood Cancer Healing Center clinical, research and support space (expected completion by December 2024);

Siddall Residence Hall renovation (expected completion by Fall 2024);
Dabney Residence Hall plumbing and restroom renovations (expected competion by Fall 2024);

Old Chemistry building renovation and new addition (expected completion by Summer 2025):
East Campus Utility Plant infrastructure upgrades (expected completion in Summer 2025);
Athletics indoor practice facility and athlete performance center, located at existing Sheakley Athletics Center (expected completion by Summer 2025).
Clermont College McDonough Hall and Student Services roof and HVAC replacement (expected completion by Fall 2025);
First program of cooperative education – Herman Schneider (1906)
First oral polio vaccine – Albert Sabin
First observations leading to the National Weather Service – Cleveland Abbe
First antihistamine, Benadryl – George Rieveschl
First heart-lung machine – Samuel Kaplan, Leland Clark and James Helmsworth
First electronic organ – Winston Koch
First use of YAG laser to remove brain tumor
First bachelor's degree program in nursing
First emergency medicine residency program
First safe anti-knock gasoline
First degree program offered via satellite