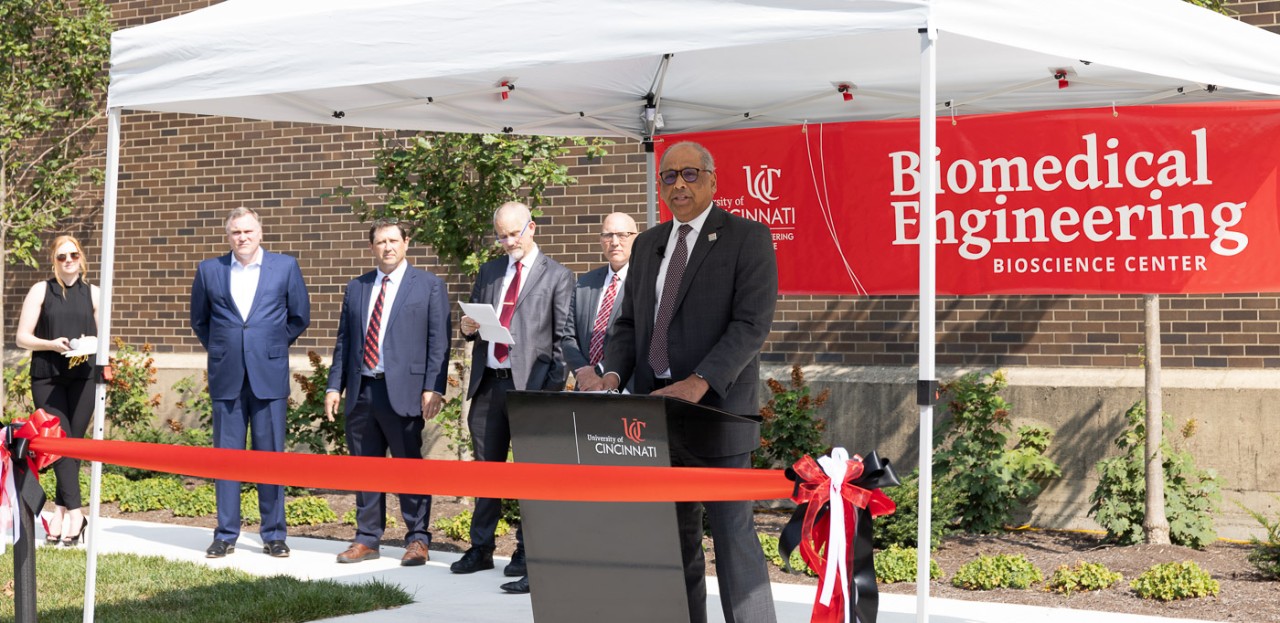 Local news highlights opening of UC Bioscience Center
Center promises future collaborations between biomedical engineering and area's medical experts
Cincinnati news outlets covered the opening of the University of Cincinnati's new Bioscience Center, which will collaborate with doctors to create groundbreaking medical technology.
UC President Neville Pinto thanked UC's Office of Planning, Design and Construction for overseeing the $11.5 million renovation of the former Hamilton County Coroner's Office.
"I just had a chance to walk through the building. It is truly a beautiful space," he said.
"It is wonderful to officially cut the ribbon on one of the most exciting new spaces on our campus," Pinto said. "This space is important for many reasons, but most significant is its location on the academic health campus in proximity to four of our health colleges and our clinical health partners, UC Health and Cincinnati Children's Hospital."
Pinto said the university's creation of a dedicated Bioscience Center was no accident. Collaborations across science and technology disciplines such as those envisioned at the Bioscience Center are a cornerstone of the university's strategic direction called Next Lives Here, he said.
"Advances in molecular and cellular sciences combined with advances in computational sciences and engineering and technology would be a major transformational force for society," Pinto said.
"This type of strategic thinking led to Next Lives Here and positions our university to play a major role in the future of our society," Pinto said.
It really is about the meeting of our two core missions: research and teaching.
Valerio Ferme, UC Provost
UC Provost Valerio Ferme acknowledged Dean Andrew Filak Jr. with the UC College of Medicine and Dean Christopher Surratt with the James L. Winkle College of Pharmacy who were in attendance. Both colleges will be working closely with researchers at the Bioscience Center, he said.
"It really is about the meeting of our two core missions: research and teaching," Ferme said.
UC College of Engineering and Applied Science Dean John Weidner noted that engineering faculty play a big role at UC's 1819 Innovation Hub and in UC's new Digital Futures building.
"The new Bioscience Center adds another focal point for pioneering breakthroughs within the Cincinnati Innovation District," Weidner said. "Most importantly, the research of our faculty, students and partners will play a vital role in reinforcing our standing as a Carnegie-1 research university.
"As we embark on this new chapter, let us embrace the opportunities that lie ahead, let us continue to strive for innovation, to push the boundaries of what is possible and to be relentless in our pursuit of knowledge," Weidner said. "Together, we will create a legacy of impact, one that will resonate through the halls of this building and beyond."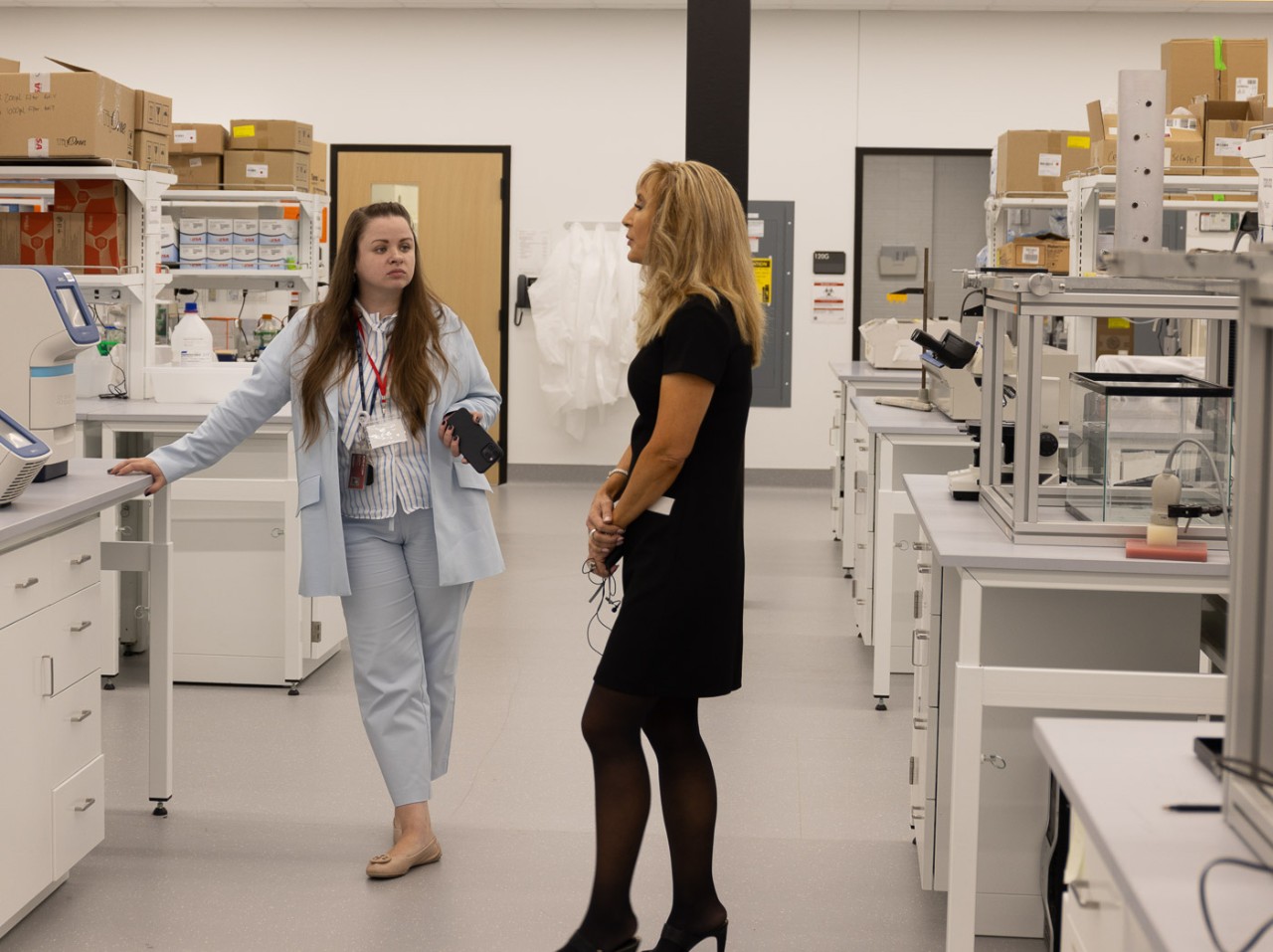 The center features 13 custom research labs, 12 offices, resources for co-op students, a lecture room and six study rooms.
In his Functional Neuroimaging and Neural Modeling Lab, Biomedical Engineering Department Head Thomas Talavage uses functional MRI to understand neural behavior and health.
Among his students' projects are studies in concussions in youth sports and cochlear implants that improve a patient's speech and language perception.
"I'm very excited about today. This represents the culmination of 40 years of research by some amazing faculty and staff," Talavage said. "We have a facility that allows us to have engineering, technology and sciences from the West Campus to be co-located within the UC College of Medicine."
"The Bioscience Center is just tremendous. We needed a facility where we could interact with clinicians from places like Cincinnati Children's Hospital, UC Health and the Veterans Administration," UC biomedical engineering Professor Eric Nauman said.
In his lab, he and his students are putting sports equipment such as football helmets to the test to find better ways to prevent injuries such as concussions.
"We're collaborating with doctors who are coming to talk to us every day," he said. "That's been a wonderful experience. It gives us the impetus to keep pushing."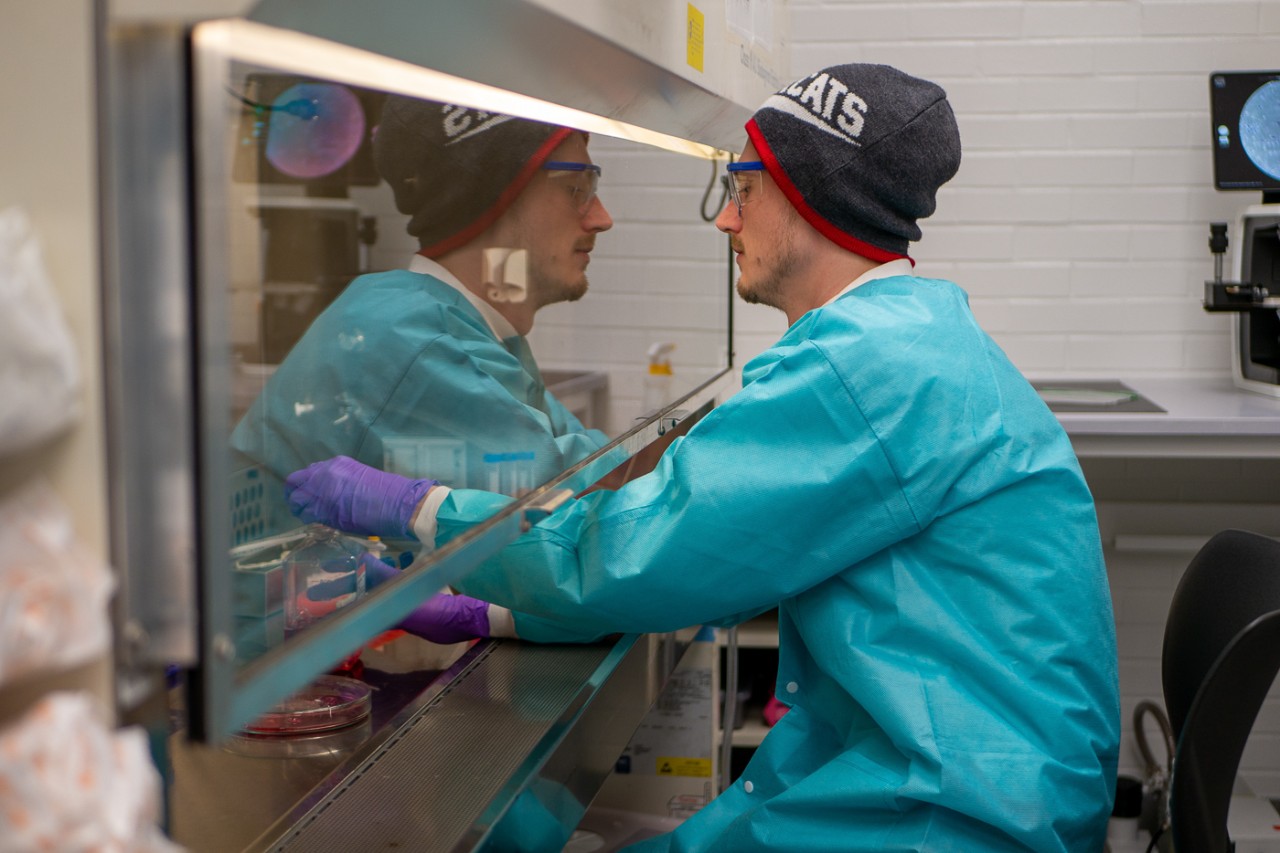 In his Bioresponsive Materials Lab, Assistant Professor John Martin and his students study "smart" materials that can help regenerate diseased tissue.
"The UC Bioscience Center is a state-of-the-art facility that truly enables our group to conduct top-class biomedical research," Martin said.
Martin said his lab has hired more staff, doubling its research capacity.
"The close proximity to the UC Medical Center and Cincinnati Children's offered by this new space has allowed us to create new collaborations and more easily take advantage of medical campus amenities," Martin said.
UC Assistant Professor Stacey Schutte also studies regenerative medicine in her Schutte Tissue Engineering Lab.
"Being on the medical campus allows us to work with faculty more easily in the medical school and UC Health, which improves the research we do and ensures that the focus is on improving health care," Schutte said.
"The location is also close to the many core facilities that we use for biomedical research while still being close to the main campus for classes and collaborations with our engineering faculty."
Featured image at top: UC President Neville Pinto talks about the role biomedical engineers will play in health care innovation. Photo/Corrie Mayer/CEAS Marketing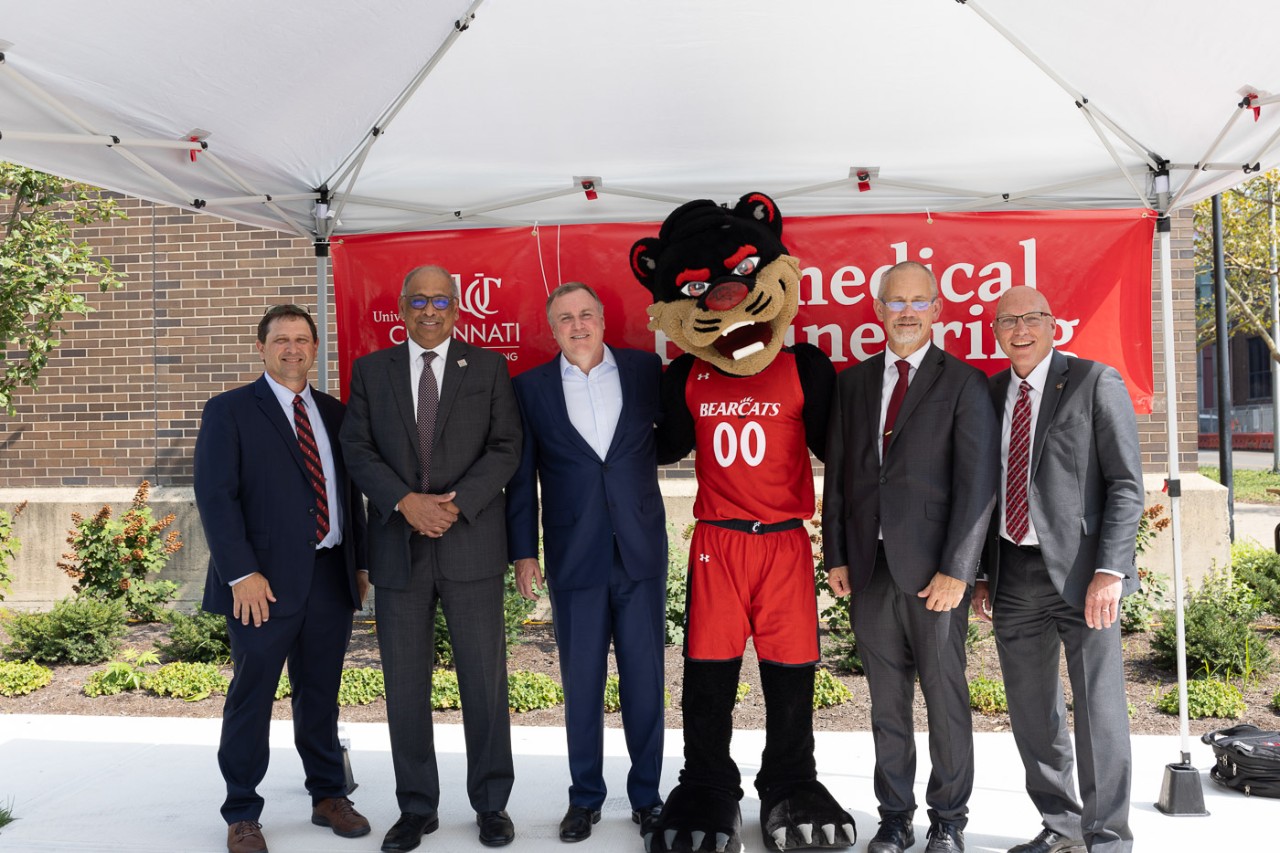 Biomedical Engineering in the News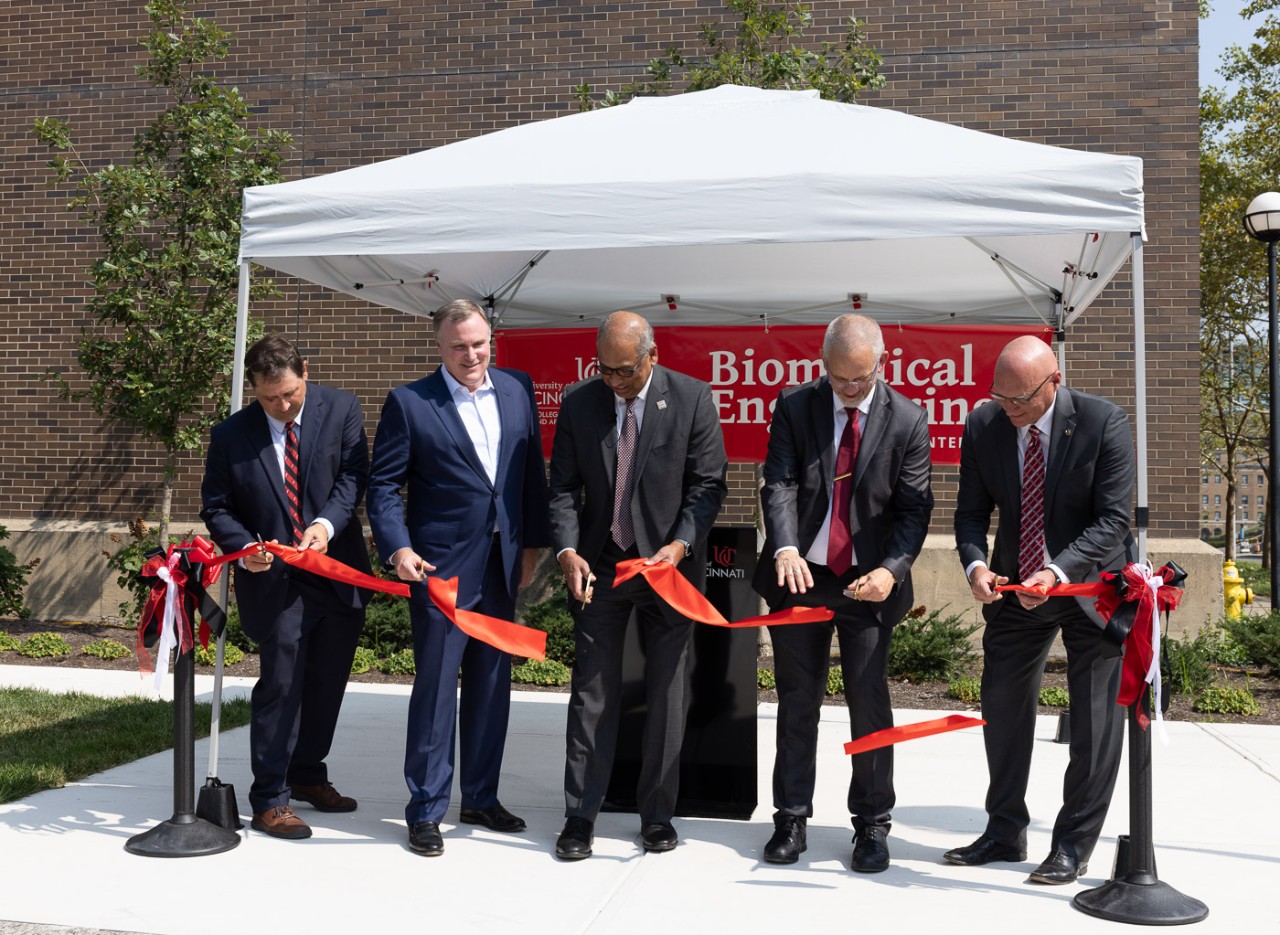 Next Lives Here
The University of Cincinnati is leading public urban universities into a new era of innovation and impact. Our faculty, staff and students are saving lives, changing outcomes and bending the future in our city's direction. Next Lives Here.
2
UC's $10.6 billion impact
May 9, 2023
The University of Cincinnati delivers a significant economic boost to the region and state of Ohio thanks to alumni impact, operations and research spending, student demand for goods and services, launch of startup companies and more.