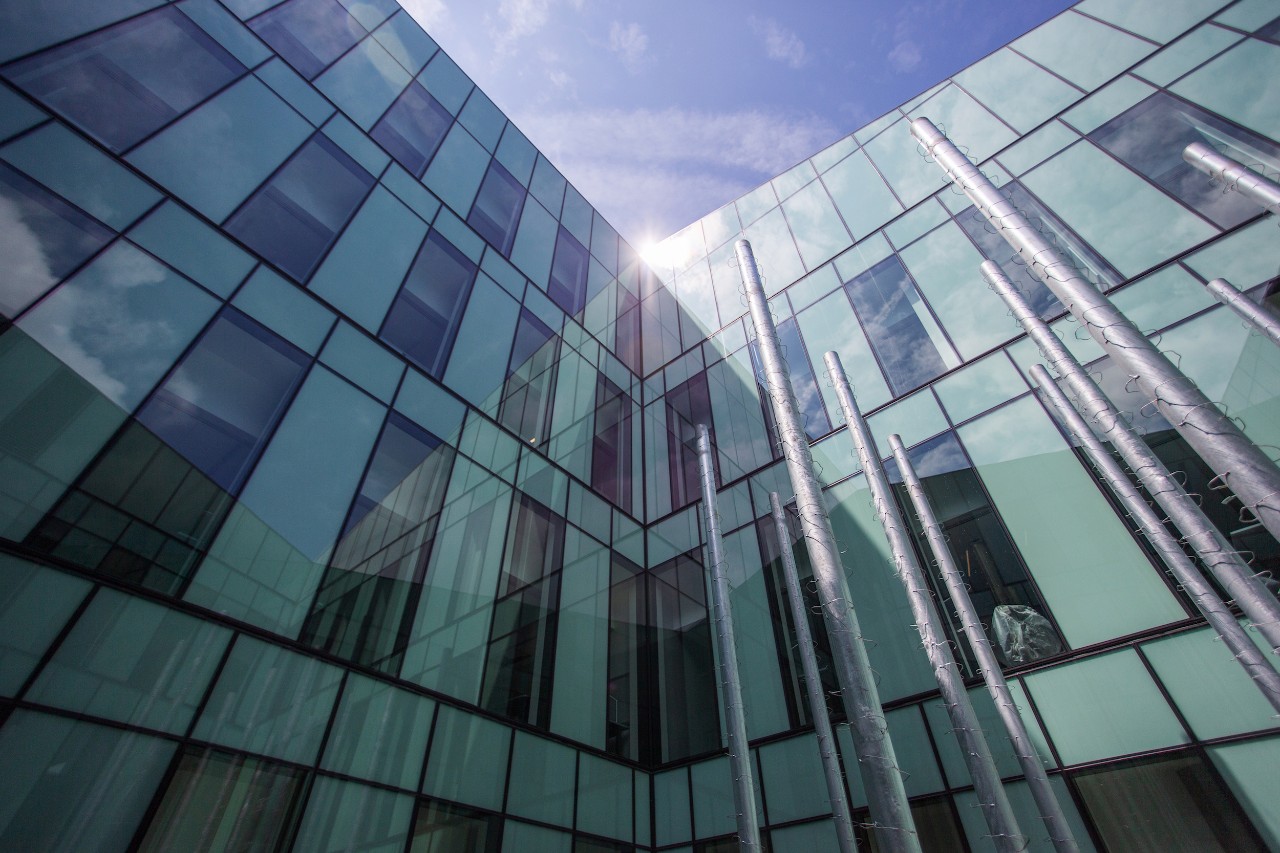 New UC buildings filled with light, opportunities
Lindner College of Business, College of Allied Health Sciences get new homes
New buildings signal that the future is bright at two University of Cincinnati colleges. The College of Allied Health Sciences (CAHS) and the Carl H. Lindner College of Business have moved into their respective new homes and are ready for the 2018-19 academic year. 
Natural light has been shown to improve student outcomes, and the new Lindner Hall and Health Sciences Building both have plenty of it. Thanks to its massive skylight, numerous windows and glass interior walls, there isn't a single office or classroom in Lindner Hall that natural light can't reach. 
"We all know that people are much happier in their spaces with natural light," says Tina Whalen, dean of CAHS. "People just have a general sense of well-being when they can see what the outdoors is like. It also saves a lot of money on electric to be able to allow in natural light, particularly with our sensors today." 
Like the Lindner College of Business' new home, CAHS's Health Sciences Building is constructed to maximize the amount of natural light entering the building. The skylight in the building's central atrium reaches a majority of the building's many classrooms, labs and offices. That's a welcome change, especially for the students, faculty and staff leaving behind the bunker-like French East — the former Shriners Burns Institute. When the building was originally constructed in the 1950s, windows were only installed on the top floor because at that time it was believed that direct sunlight delayed the healing of burns.
At 225,000 square feet, Lindner Hall has more than twice the space of the college's previous home. The newly constructed Health Sciences Building, a 117,000-square-foot structure near the University of Cincinnati's medical college, will provide some much-needed space for the college's 3,000-plus students. 
Both buildings are designed with improving the student experience in mind. Lindner Hall is intended to encourage collaboration, both inside and outside of the classroom. Even the largest space, a 245-seat lecture hall, makes working together in groups easy for students thanks to staggered rows of seating. Most of the smaller classrooms feature flat floors and wheeled furniture that can be easily reconfigured to suit the needs of any class. 
"This stunning addition to our campus transforms what we are able to offer our students, faculty, alumni and business partners," says Marianne Lewis, the new dean of Lindner College of Business. "Our faculty and staff are always exploring ways to reinvent the student experience, and I'm excited to see how they will take advantage of the numerous opportunities Lindner's new home unlocks."
Featured Image: The exterior of Lindner Hall, as seen from inside one of its two interior courtyards. Vining plants will eventually cover the metal poles in the courtyard. Photo/Andrew Higley/UC Creative Services
Back to school
A record 46,000 students will descend onto campus when classes begin Aug. 26. Read our full back-to-school package.
2
Ledger donates digital asset security to the University of...
October 2, 2023
A recent gift from Ledger, a global platform for digital assets, will benefit students and research at the University of Cincinnati. Ledger has donated the use of its Enterprise Platform, a cutting-edge digital asset security solution that will enhance the university's technological capabilities in the cryptoeconomics area. This generous donation supports student learning at the Kautz-Uible Cryptoeconomics Lab at the Digital Futures building.
Debug
Query for this