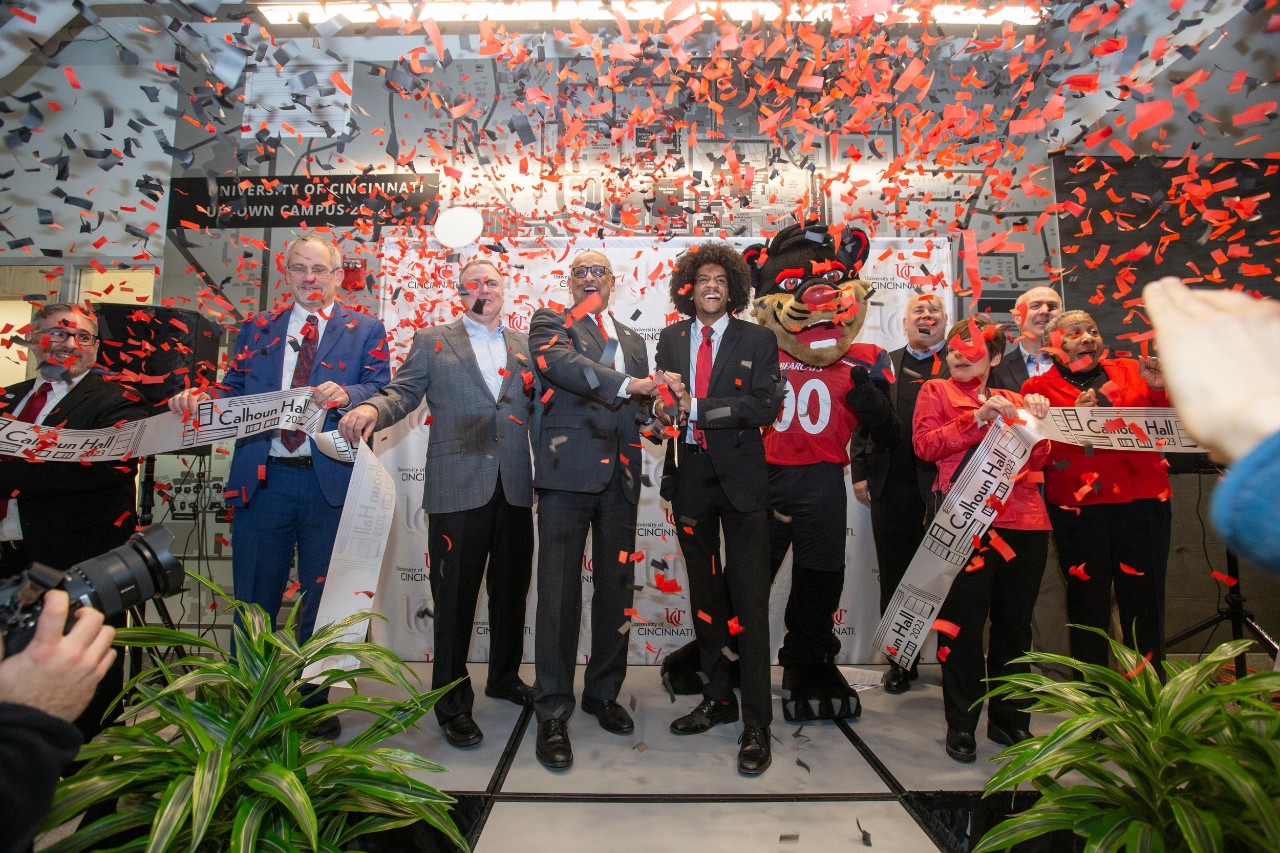 New Calhoun Hall points to the future of UC student housing
UC's newly renovated Calhoun Hall is a high point – both literally and figuratively
As the New Year begins, so does a new chapter for the University of Cincinnati's Calhoun Residence Hall. 
The hall will again house approximately 800 UC students after undergoing a top-to-bottom renovation that exceeds the standards in design and updated amenities that encourage student academic success as well as community/campus engagement.

Physical design and amenities help to boost both academic success and overall campus community building between and among students, faculty and staff. 
The on-campus experience matters because campus residence hall living is often a first step toward independence for many students. Living away from home, learning to balance obligations in and out of the classroom and creating and navigating new connections with classmates are all part of the experience. 
"Living and learning within the residential environment has a clear and profound impact on student success, engagement and retention," says UC President Neville G. Pinto. "This includes greater participation in academic activities and, overall, their sense of belonging to the university community. This is what we want for our students."
UC Undergraduate Student Government President Isaac Smitherman agrees based on his own experience serving as a resident advisor (RA) for the past four years, first in Daniels Hall and now in Bellevue Gardens. He states, "As an RA over several years, I've seen how my fellow students grow in important skills and in confidence thanks to living in residence halls as part of a community. We gain effective communication skills. We learn to negotiate differences while still maintaining relationships. And, importantly, we gain support."
He adds, "Friends, RAs and others are there when we go through personal or academic struggles. Our roommates and peers notice when something is wrong and when one of us needs help and support. In make-or-break moments, both highs and lows, there is always someone in the hall to reach out to, and it is in that space that the strongest relationships are formed."
And that is the purpose of the redesign for the university's Calhoun Hall, first opened in September 1967, and now renovated and revamped to meet the needs of today's college students.
A ribbon cutting, along with an open house and tours celebrating this new space, took place on Jan. 5.
Community, academic and social collaboration spaces
The former Calhoun Hall featured community space in the basement, neither inviting, spacious nor readily accessible.
"The basement space of the 1967 structure was not the most conducive to building social ties nor for study collaboration. This renovation is the opposite. It is the right environment to begin to make lifelong friends," explains Carl Dieso, assistant vice president, UC Housing.   
In the revamped space, each of the 13 residential floors features a light-filled common area, allowing students to socialize, collaborate and study together and enjoy the external views from all angles. These common areas also serve to redirect natural light down the widened residential corridors. 
The 21,200-square-foot lounge and lobby space on the ground floor includes classrooms, meeting and work/project spaces and communal kitchen and laundry areas. Calhoun residents may opt to participate in a first-of-its-kind experiment in a UC residence hall: For those students short on time, UC will offer a fee-based laundry service wherein students can hire a fellow student to do laundry on their behalf.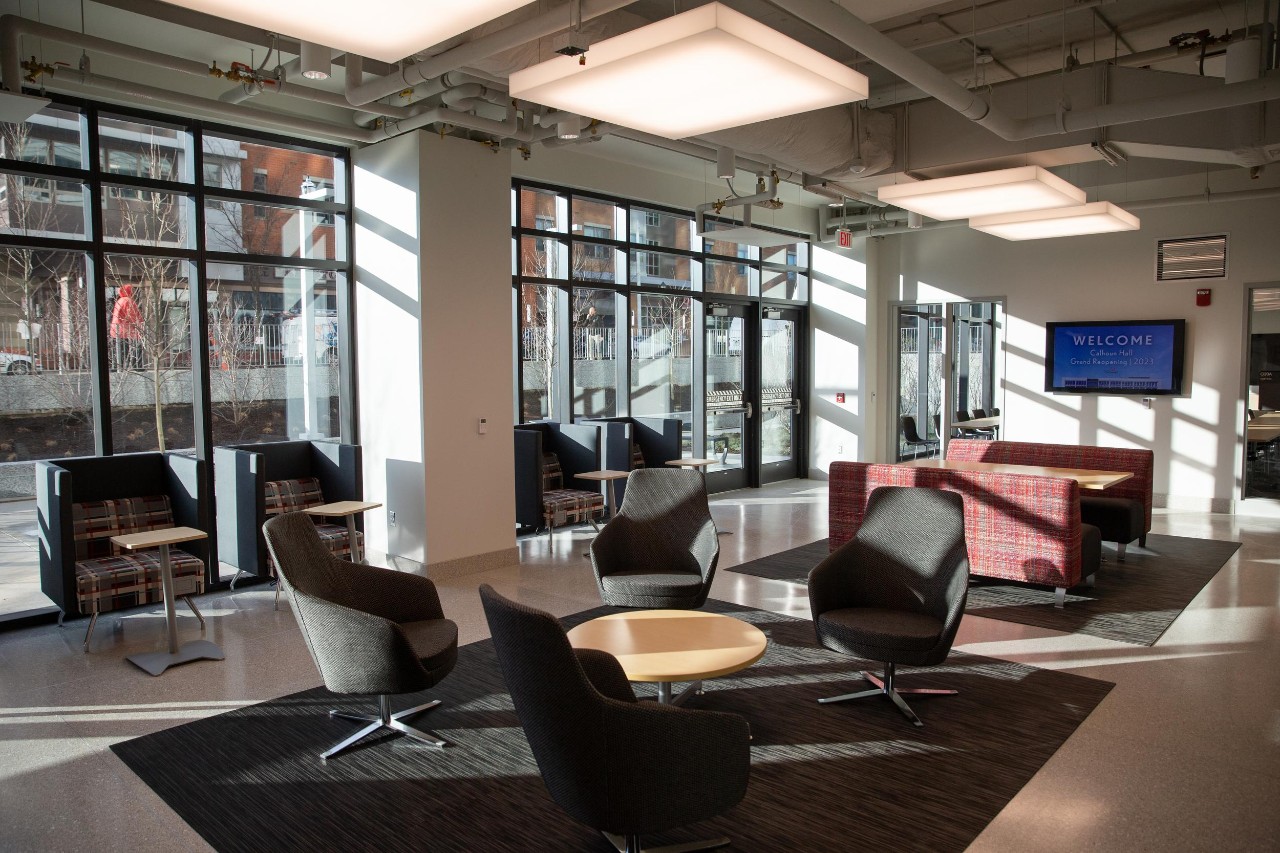 The main lobby also includes high-top tables for a bistro feel, along with plenty of seating and informal gathering spaces, some with televisions where students can set up gaming equipment or watch movies and share favorite programs. 
The lobby, the largest of any residential building on campus, is buttressed by a green space on the building's south side and an outdoor terrace on the north. 
Trent Pinto, director of UC resident education and development, explains, "The design of Calhoun Hall was imagined with the student experience front and center. Students today are accustomed to group projects and collaborations, working together within and across study disciplines. This design is indicative of the importance of space for collaboration and community connection." 
Among the new residents of the renovated hall are engineering students and students taking part in ROTC. These students will be part of what is known as Living-Learning Communities. 
"This evolution in design embraces and supports the university's Living-Learning Communities," explains Rob Knarr, senior project manager, UC Planning + Design + Construction. 
"These are communities where students from the same college and similar majors or with similar interests live together on the same residence hall floors to engage and learn through in-class and out-of-the-classroom connections with peers, faculty, and staff." 
Privacy where and when it is needed
Many of today's college students are accustomed to individual bedrooms and bathrooms at home. As such, the new Calhoun seeks to balance community connections and needed privacy opportunities. 
For instance, health club-style common bathrooms are placed on each floor, and each of these bathrooms features private facilities (modern and updated floor-to-ceiling enclosed showers and floor-to-ceiling enclosed lavatories). In addition, each floor also features two fully outfitted, fully private bathrooms.
Each residential floor of Calhoun, reserved for either male or female students, has 29 rooms, consisting of either singles (single occupancy room), doubles (two-person occupancy rooms) or quads (four-person occupancy rooms). Each room contains beds, desks and closet/wardrobe space.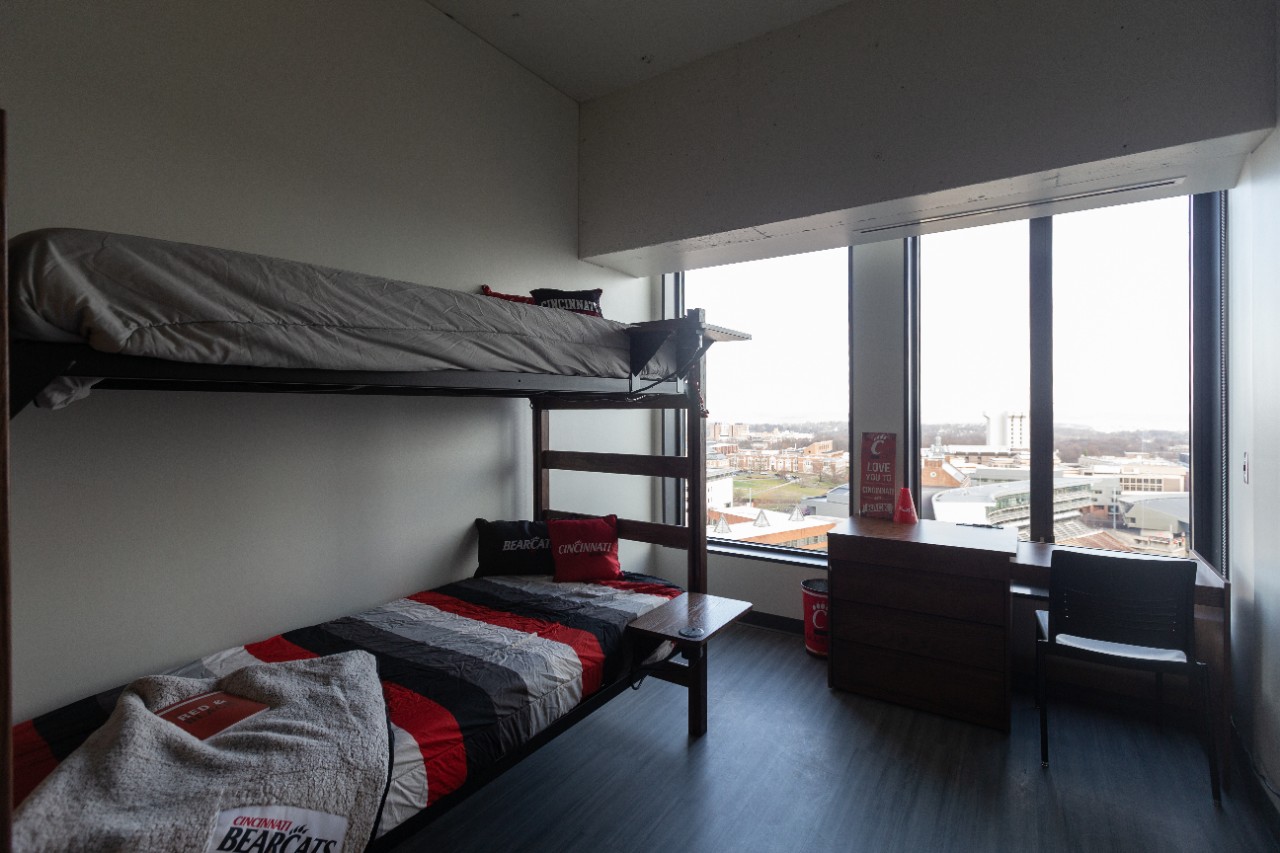 More space, light and an expected LEED Silver Certification for Sustainability
Designed by MSA Design and renovated by Messer Construction Co., the Calhoun renovation team includes at least one former student who lived in the hall. 
Civil engineering alum Nick Rosian, operations vice president for Messer, lived in Room 1126 of Calhoun Hall during his first year at UC in 1985-86.
His memories of his personal and academic growth, of the study groups among the engineering students, of friendships formed that endure to this day, the "awesome views" from Calhoun and even of certain mishaps — like when he and fellow students turned a hallway into a slip-and-slide after a water main break — are so meaningful that his colleagues removed the 1126 room number plate during the renovation process and presented it to Rosian, who now keeps the plate in his office alongside photos of his children. 
"My children are also enrolled at UC, and I insisted they live in the residence halls as first-year students. I told them that it is in that environment where you make lifelong friends. You're going to be involved in campus life. That was the case for me. I did a lot of growing up as the first in my family to go away to college and living five hours away from my family in Youngstown, Ohio, and I wanted the same for them," he recalls, adding, "Though they never lived in Calhoun. There were updated options like Marian Spencer Hall and Scioto Hall that they chose instead." 
And now, Calhoun will be another of the updated options for students. "The difference in the new Calhoun from the former building is night and day," says Rosian. "The new space is definitely not my generation's Calhoun Hall." 
During the renovation, the entire building was widened by 3 feet, resulting in more spacious hallways and rooms. 
In the renovated hall, light enters common areas from large exterior windows, and each room features large, insulated windows to bring in light.. These windows, in combination with the insulated black-and-white wall system (or panels) that dominate the building's exterior, also provide greater soundproofing related to outside traffic and street noise. 
"We were seeking light in each living and gathering space," says Knarr. "Moreover, the insulation value of the wall panels provides a much tighter and more efficient building envelope. This along with the insulated windows, the generous natural light and other energy-efficiency features related to energy use and water usage is expected to earn this building LEED Silver Certification from the Green Building Council." 
He adds that LED lighting is used throughout the structure, resulting in building lighting that is 30% more efficient than baseline code requirements, and overall energy consumption in the renovated building is 15% lower than current baseline code requirements. 
Moreover, the renovation reused approximately 87,000 cubic feet of concrete from the original structure, which prevented about 645 tons of new carbon dioxide emissions, and 75% of the original building's materials have been diverted from landfills due to recycling and reuse efforts.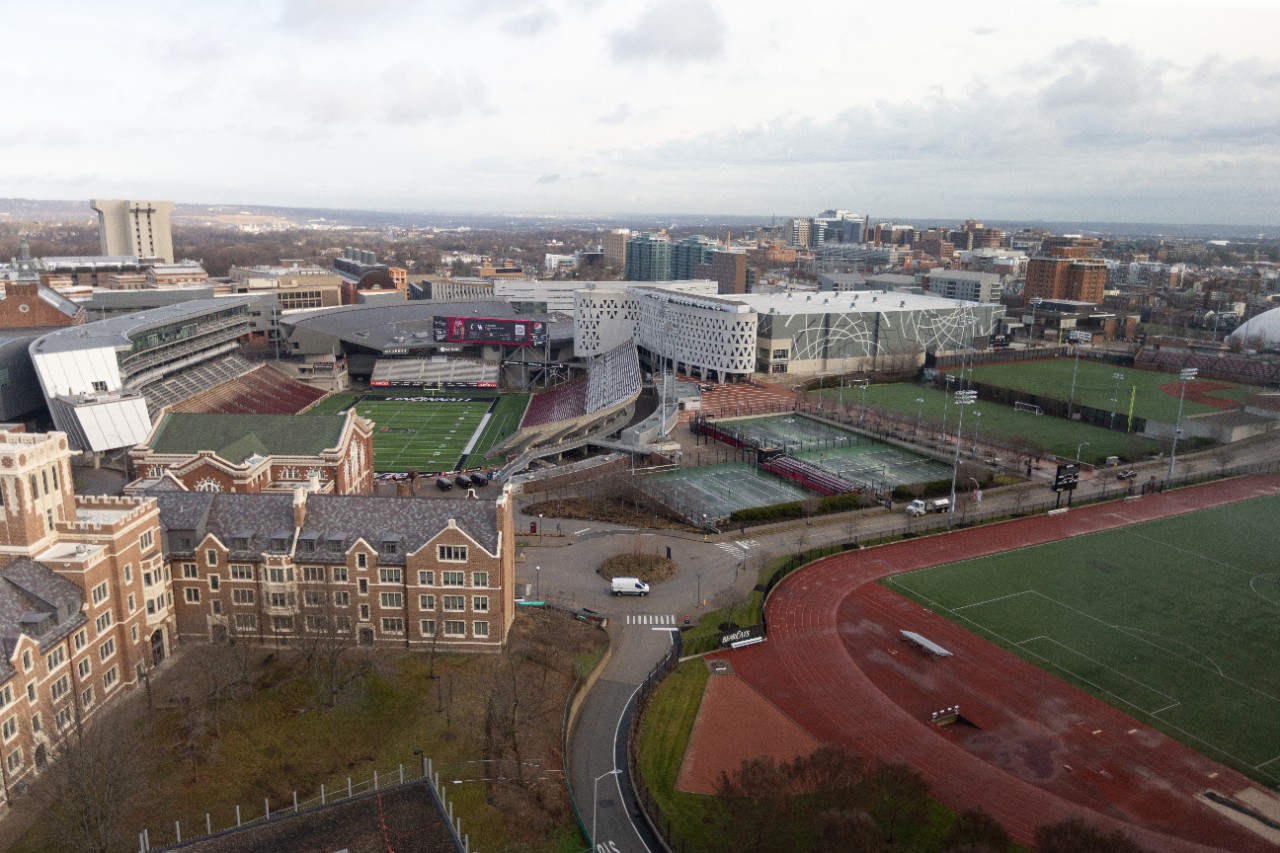 Built on a natural ridge elevation, Calhoun boasts dramatic views of downtown Cincinnati and the Ohio River from the south side of the building and equally dramatic views of campus — including the playing field at Nippert Stadium — from its north side. 
With its commanding elevation and building height, Calhoun Hall can be seen from as far away as 20 miles. 
"Calhoun Hall offers distinctive views from about the fifth floor on up," says Knarr, who recalls that his daughter once lived on the building's sixth floor and enjoyed "awesome views."  
Calhoun as a next step toward the future of UC Housing
Renovated and new UC residence halls have come on line in recent years, including Marian Spencer Hall, Morgens Hall and Scioto Hall.
 Upcoming projects include
Attached to Calhoun Hall on the north side is MarketPointe dining center, undergoing a renovation and the addition of a vending area. These will open for the start of school in August 2023.
The renovation of Siddall Hall, similar to that of Calhoun, is getting underway, set for completion by August 2024. Siddall first opened in 1964, and according to Ted Christian, senior director of projects, UC Planning + Design + Construction, who adds that buildings of the nature of Calhoun and Siddall need a mid-life renovation and replacement of mechanical systems after several decades, so these building updates are to be expected.
States Carol Metzger, UC vice president for finance, "UC is an in-demand campus with an equal demand for university housing. Our renovations and our overall planning and prioritizations will allow us to meet demand for campus housing by incoming, first-years students, though it's important to fully complete the housing application process by the May deadline."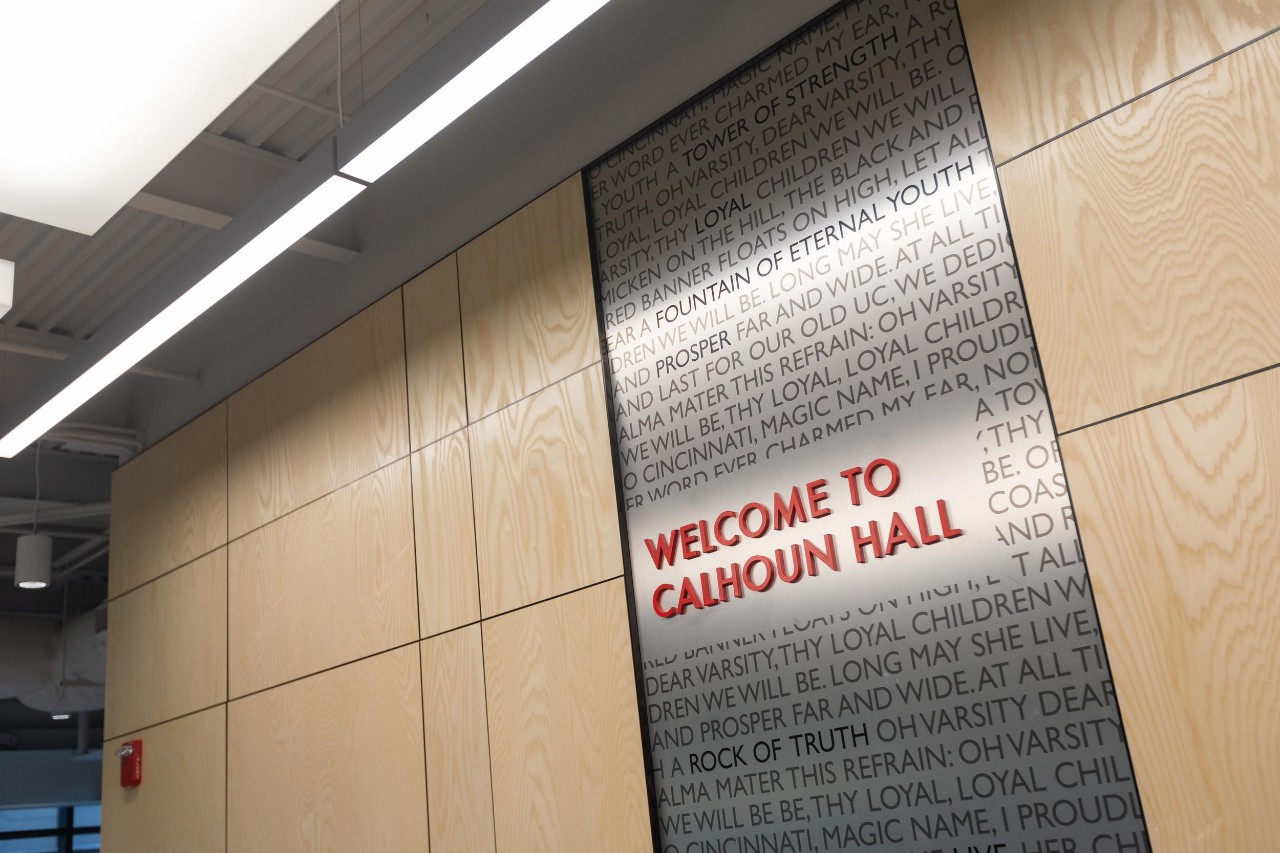 How to apply for UC Housing
On-campus housing is prioritized for first-year students, and the housing application will open for those incoming, first-year students on January 23, 2023. Completed applications are accepted on a first-come, first-served basis. In their applications, students can indicate housing preferences, including specific halls and room types. The university will seek to fulfill preferences but does not guarantee placements in specific facilities.
 The housing application deadline is set for the first week of May 2023, with the first room assignments made later that month for those incoming, first-year students who participate in Living-Learning Communities.
Most remaining incoming, first-year students housing assignments will be provided in June and July 2023.
Calhoun Hall: By the numbers 
Calhoun Hall rises 16 stories, 13 of those serving as residential floors. The structure measures approximately 200 feet high, consisting of 173,000 total square feet. 
Each residential floor features 29 rooms (four single rooms, four quads or 4-person rooms, and 21 doubles or two-person rooms.) 
The hall will house 772 students in 374 rooms and is UC's largest residence hall. Most of those students will move in over the weekend of Jan. 7-8, 2023, moving into Calhoun from Siddall and nearby hotel space that accommodated students for Fall 2022. This January student move-in will take place with assistance from university personnel. 
The building features 234 exterior mega-panels on the facade, panels that provide efficient insulation and energy conservation, along with 408 windows. 
The cost of the renovation was $80 million.  
Become a Bearcat
Whether you're a first-generation student or from a family of Bearcats, UC is proud to support you at every step along your journey. We want to make sure you succeed — and feel right at home.
1
New Calhoun Hall points to the future of UC student housing
January 5, 2023
Calhoun Hall, UC's largest residence hall, first opened in 1967 and needed renovation in order to meet the needs of today's college students. That $80 million renovation is complete and approximately 800 residents will move in over the weekend of January 7-8.
2
UC Serves 2023 underscores university's commitment to Cincinnati community
April 27, 2023
This year, the university is celebrating the return of UC Serves – a day for staff and faculty to share the experience of intentional, focused service to the communities surrounding the University of Cincinnati campuses and beyond. The day of service helps connect UC with community neighbors and build stronger connections among university employees. UC Serves brings staff and faculty to the front lines in supporting UC's institutional commitment to service and community impact in support of our local non-profit partners.
3
Just in: UC tops 50,000 students
August 21, 2023
The University of Cincinnati is anticipating a record fall enrollment with a projected 50,500 students. The growth represents a 5.39% increase and reflects the university's core values around academic excellence, access and inclusion, and affordability.