College of Pharmacy celebrates completion of Kowalewski Hall
A host of pharmacy industry professionals joined hundreds of James L. Winkle College of Pharmacy alumni, faculty, staff and students for the Sept. 14 celebration marking the completion of Kowalewski Hall, the college's permanent home on the University of Cincinnati's medical campus. The event was planned by an alumni committee co-chaired by Candace Kendle, PharmD '70, '72, '10 and J. Richard Wuest, PharmD '58, '71.
Festivities began with a ceremonial ribbon-cutting and program led by Dean Neil MacKinnon and featuring co-chair Candace Kendle; UC President Neville Pinto; University Architect Mary Beth McGrew; UC Foundation Board Chair Bob Fealy; UC Foundation Board Vice Chair Troy Neat; and Lucinda Maine of the American Association of Colleges of Pharmacy.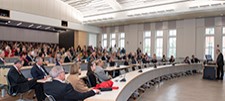 Afterward, the building opened for tours to showcase its $34 million renovation. Alumni and guests admired the bright spaces, highlighted by Wolfgang Ritschel paintings displayed in the lobby. Special features included a demonstration of the new Team-Based Learning Classroom, exclusive access to the Wuest Family Pharmacy Practice Skills Lab, and a video of the building's namesake, Dean Joe Kowalewski, plus portraits of other past deans of the college displayed in a new conference room.
"Our opening celebration event was arguably my favorite day to date as dean," said MacKinnon, who has led the college since 2013. "I know the building renovation meant so much to our alumni and it was fantastic to see so many return to the college for the event. The space provides our faculty, staff and students with state-of-the-art facilities which are so conducive to learning."
The landmark day concluded with the annual James L. Winkle College of Pharmacy White Coat Ceremony in which 88 first-year pharmacy students received white coats to symbolize their transition into the professional program. President Pinto joined Dean MacKinnon on stage to offer remarks and shake hands with each student as he or she received their white coat.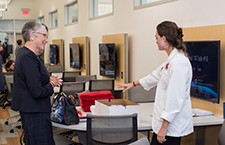 Each year, alumni and friends of the college have the opportunity to sponsor white coats and share words of wisdom with the first-year students. The program witnessed an overwhelming response this year, as 97 unique donors contributed $10,490 for the James L. Winkle College of Pharmacy White Coat Fund. As they left the stage, each student was presented with a card identifying and bearing an inspirational message from the donor who sponsored his or her white coat.
Find more information about supporting the James L. Winkle College of Pharmacy here.
2
With UC, you see the world
September 19, 2023
Study abroad is back to 75% of pre-COVID levels at the University of Cincinnati, and a wide variety of international study options is available to students in any program. Where do you see yourself in the world?
Debug
Query for this