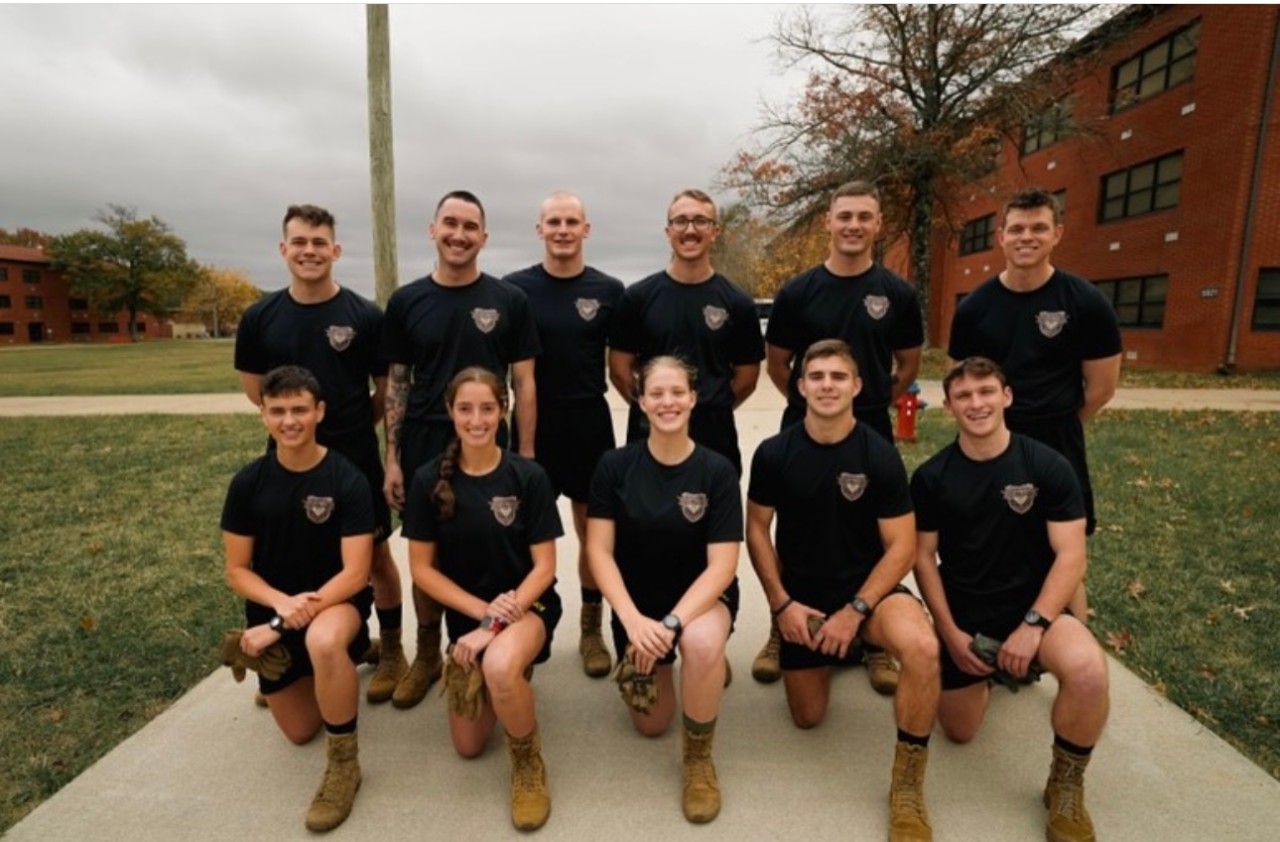 The German Armed Forces Badge for Military Proficiency is a decoration of the Bundeswehr, the armed forces of the Federal Republic of Germany, and is awarded to and worn by German soldiers of all ranks. In the United States military, the German Armed Forces Badge for Military Proficiency is one of the few foreign awards approved for wear on the uniform, and is one of the most sought-after.  7th ROTC Brigade, in concert with the German Liaison staff out of Fort Benning, sponsors a weekend-long competition every February, hosted by Indiana University, to afford Cadets the opportunity to earn this prestigious decoration, one of the very few awards a Cadet can earn that they are then authorized to wear on their uniform throughout their career. 
The competition itself is a rigorous test of physical ability and military skills.  Competitors must pass ALL of the following events:
An evaluation report from the Commanding Officer recognizing the Soldier's physical and moral standards, showing that the soldier is both physically and morally fit
A first aid test over Combat Lifesaver Training level 1 or equivalent
A Nuclear, Biological, and Chemical test where the soldier effectively dons all MOPP gear (gas mask and protective layers)

A basic physical fitness test consisting of a 11x10 meter sprint, flexed arm hang, 1000 meter run
Pistol marksmanship event, 6 shots at 3 targets from 25 meters
A foot march with 33lbs for varying distances depending on gold (12km in 120 minutes), silver (9km in 90 minutes), and bronze (6km in 60 minutes) awards
100 meter swim in ACUs
In the last three years, over 80% of UC cadets competing brought home either a gold, silver, or bronze badge.
The Ranger Challenge is an Army ROTC event that allows cadets from various regional schools to display their physical capabilities and military skills in a competitive environment. Ranger Challenge occurs every year at Fort Knox in Kentucky, pitting some of the best cadets from the 7th Brigade's 48 programs against one another, culminating in one team being crowned Ranger Challenge Champion. The competition itself generally takes the form of a grueling long-distance ruck march, in which cadets must navigate to various additional events that test your soldiering skills. Scoring is based on time as well as proficiency in each event. Previous events have included a Humvee Push/Pull, Distance Litter Carries, administering First Aid, constructing a One Rope Suspension Bridge, Orienteering, reconnaissance of enemy positions, managing Unexploded Ordnance, navigating a Zodiac Water Course, Obstacle Course, and PT test.
Exactly two months before the challenge, Ranger team begins a weekly physical fitness and training routine. Whether it is an insane abs workout, 6 mile team ruck runs, or crazy upper body workouts, maintaining good physical fitness standards is a key component to a successful Ranger team. Military skills that the team will train for include weapon assembly and disassembly, First Aid, Rope Bridge, and several others. All of the preparation goes towards competing against 40 different schools in the actual challenge. Overall, the Ranger team is a fun, casual club where many will form some of the best friendships they will have in college.
Society of American Military Engineers
The Society of American Military Engineers is the premier professional military engineering association in the United States. Founded in 1920, SAME unites public and private sector individuals and organizations from across the architecture, engineering, construction, environmental, facility management, contracting and acquisition fields and related disciplines in support of national security.
Headquartered in Alexandria, Va., SAME provides its more than 30,000 members extensive opportunities for training, education and professional development through a robust offering of conferences, workshops, networking events and publications. With a membership that includes recent service academy graduates and retired engineering officers, project managers and corporate executives, uniformed and public sector professionals and private sector experts, SAME bridges the gaps between critical stakeholders to help secure our nation.
SAME consists of 105 Posts and more than 50 Student Chapters and Field Chapters around the world along with a headquarters staff. Nationally, the organization is led by a volunteer Board of Direction that comprises five National Officers, 17 Regional Vice Presidents, the Chairs of the Mission Committees & Councils and 12 Elected Directors who serve three-year terms and are elected in groups of four annually.
Mountain Man Memorial March
The Mountain Man Memorial March consists of two main categories.  The March and the Run: The Run portion of the event consists of three events.  The full 26.2 mile marathon, a 13.1 half marathon and a 10 Km run.  The run events are divided into categories based on gender and age.  The March portion of the event has two distances the full 26.2 mile distance and the 13.1 mile 1/2 distance.  The event can be completed as an individual or as part of a five person team.

Cadets from the Bearcat Battalion travel down to beautiful Gatlinburg, TN during the Spring Semester.  It is a great opportunity for cadets to challenge themselves both physically and mentally, while also developing bonds between eachother.  After the march, cadets have the rest of the day to explore the town together and meet other service members from all over the country.