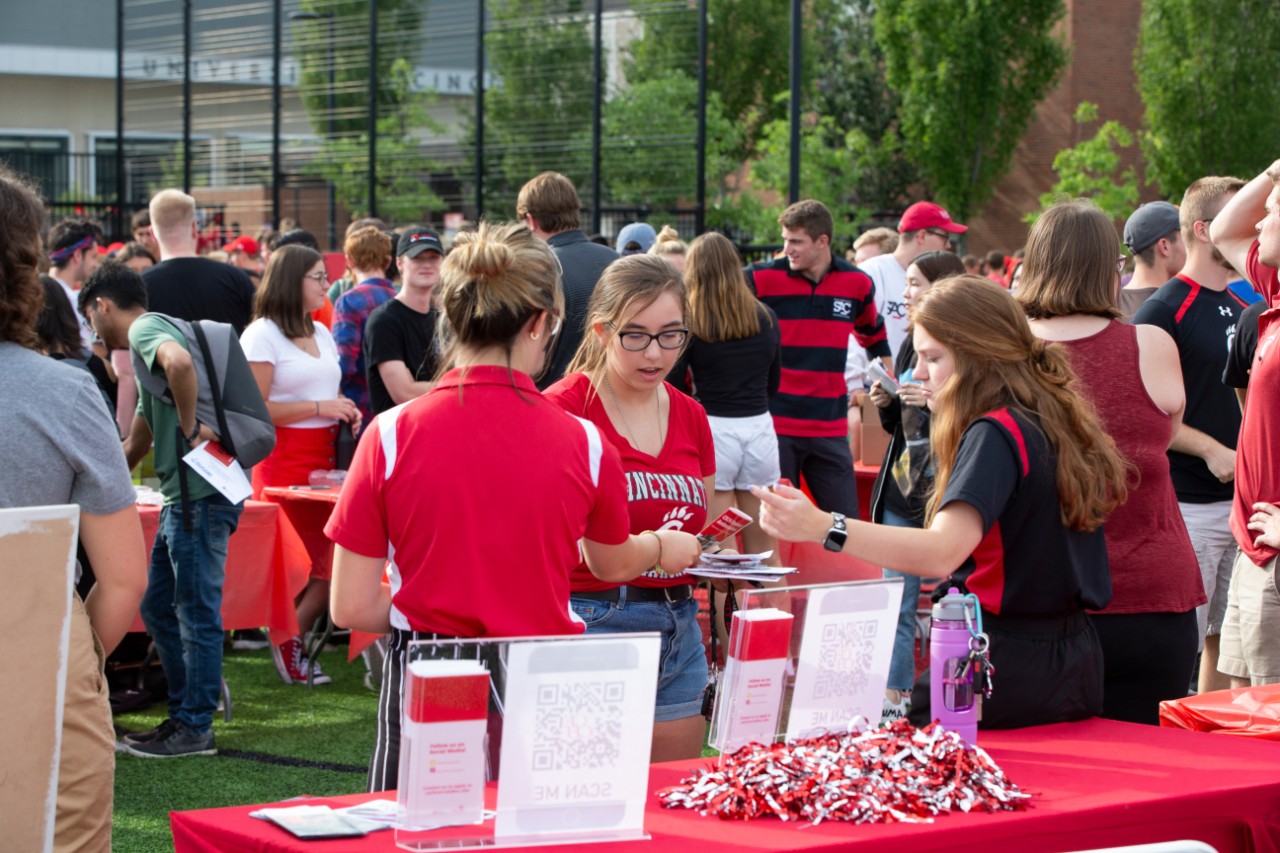 One of the best ways to get involved at UC is by joining a student organization!  The University of Cincinnati is home to over 600 student organizations that support a variety of interests. These interests range from political/activist, cultural, academic, social and many more!
If you are unable to find a student organization to join you are more than welcome to start one of your own! Becoming a recognized student organization comes with many privileges including but not limited to:
Reserve space on campus for meetings and activities
Conduct approved fundraising projects on campus
Participate in the fall and spring organization fairs
Have a university mailbox, when available and the use of a mailing address at the University of Cincinnati
Apply for funding through the University Funding Board (if eligible) for all campus projects and programs
Apply for university awards
Rent vehicles for organization travel
There are several requirements for becoming a registered student organization at UC. These requirements include:
Constitution and Bylaws consistent with University Policies
At least 10 matriculating University of Cincinnati student members
President
Treasurer
1 faculty or staff advisor
Unique Mission statement (duplication of organizations is prohibited)
Complete CampusLINK application
Present to SAB for approval
For more information about organization requirements, visit the Student Activities Board CampusLINK page!
*Searching for an advisor? Contact SAB to get a copy of the RSO Advisor Interest List!
Registration Period for New Organizations 
New Student Organizations are able to submit an application at two different time periods during the academic year.
The New Org Application for Fall 2022 will open on 8/22/22 until 10/4/22.
The applications process includes completing the New Organization Registration process on GetInvolvedUC.  To start this process, log in to GetInvolvedUC and navigate to the Organizations tab at the top of the homepage. If new organization applications are being excepted at this time, you will see a button that says Register an organization on the left side of the page underneath the search options.  The following requirements are needed to start a New Student Organization and will be submitted through the online process.
Clicking Register an organization will start your organization registration process.  
Once Student Activities Board reviews the new organization application on GetInvolvedUC, a member of the board will reach out to the president of the organization.  This Student Activities Board member will serve as liaison for the potential new organization.  The liaison will work with the group to refine their application, prepare to present to the board.  At the SAB meeting where the new org will present, the board has the opportunity to Approve, Deny, or Table the new organization based on the aforementioned criteria and university policy.  
R.E.S.E.T. stands for Registration Enrichment Support and Educational Training.
All registered student organizations are required to complete the RESET or re-registration process each year. 
All Registered Student Organizations must complete RESET annually. RESET must be completed by the president of the RSO. Organizations that have not completed RESET in two years must apply as a new student organization.
Find more about the new organization process on the top of this webpage. 
Club Sports and Fraternity & Sorority Life Organizations have different deadlines and requirements than the general RSO RESET process. 
Stay tuned for information on FSLs RESET process.
Competitive Organization re-registration opens April 1 through May 15.
For questions regarding competitive organization re-registration requirements contact the Program Manager for Competitive Organizations or the CSI main office 513-556-6115
RSOs have TWO options to complete RESET: April 1 - May 15 or August 1 - Septmeber 15.
The process will be accessible from 12:00 am on the day the phase starts and close at 11:59pm the day that it closes. 
Organizations that have already transitioned to the President for Fall should complete the RESET process during the Phase 1.
The application for submissions during this time frame will close May 15 at 11:59pm. 
Once the application closes, organizations that have missed the deadline will need to submit during Phase 2.
Competitive Organizations will also complete re-registration during this phase, but will NOT   have the opportunity to make up missed registration during Phase 2.
RSOs that wish to participate in Bearcats Welcome including the Involvement Fair must complete Phase I. 
Organizations that transition to a new president after May 15 should utilize this registration (this is only about 25% of RSOs).
RSOs that missed the May 15 deadline will have the chance to complete RESET at this time. 
RESET is completed through GetInvolvedUC by the incoming president for the upcoming academic year. If your organization transitions presidents more than one time a year, the president for the fall semester should be completing RESET.
The registration process does not need to be completed in one sitting, and can be resumed at anytime (prior to the deadline) by going to My Submissions > Organization Registrations. 
RESET Instructions
In order to re-register, you must be listed as the President of your RSO on GetInvolvedUC

If you are not – email sab@mail.uc.edu or traci.steehler@uc.edu and we can make that change

Log into CampusLink and go to your organization's page

Click "Manage Organization"

You should see a blue button that says "re-register this organization" click on it
Complete all the steps that it prompts you to complete
If you need assistance, or want a visual walk through please view this How To Tutorial
Upon receiving your submission, Student Activities Board will review your application is complete and compliant with RSO policies.
If your application is complete and compliant it will be approved and all updates made during the process will be reflected on your GetInvolvedUC page.
Every Friday there will be an updated list of approved RSOs that can be found on SAB's Website. 
It is common to get your application denied. This does not mean you cannot be an RSO for the year!  When your application is denied, and SAB member will attach comments to your submission letting you know what changes are requested.  
You do not need to start a new submission to make changes!
To make changes on a denied submission access the submision by going to My Submissions > Organization Registrations. From there, click on the denied submission and navigate to the part of the process that needs to be updated. Resubmit your application and SAB will review it again.
RSOs that do not complete the required changes after the September 15 deadline within 10 days of being asked to submit changes are not eligible to be a Registered Student Organization for that academic year. 
If your organization fails to complete RESET by the Septmeber 15 deadline, you may fill out an appeal form on GetInvolvedUC no later than September 30th at 11:59pm to be considered by Student Activities Board. 
SAB will bring the appeal to the board for a vote at their next meeting and decide whether or not to honor the appeal. 
Organizations will be notified of their appeal status within 48 hours of the board meeting. Organizations that are granted an appeal must complete RESET within 7 days of notification by the board.