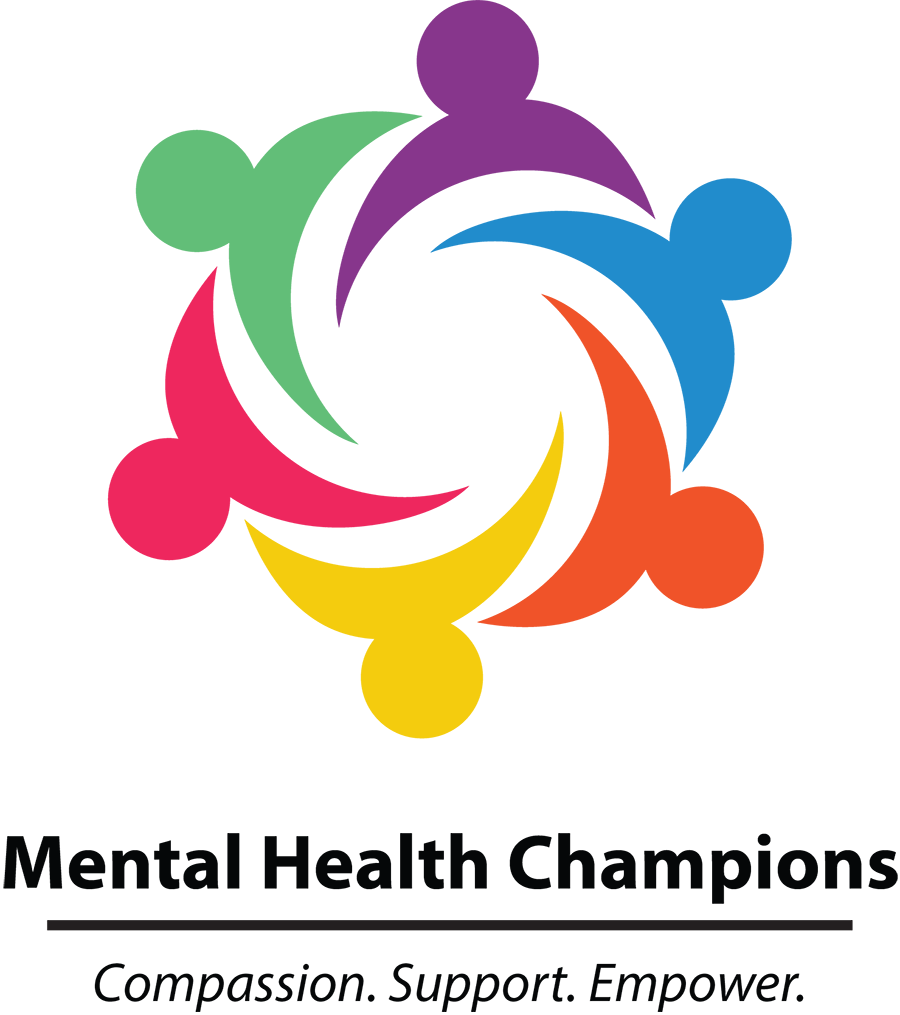 Our university community is filled with empathetic and compassionate Bearcats who care about supporting each other. Many of these individuals are designated Mental Health Champions who have gone through training to learn more about supporting student, faculty, and staff mental health.
Many recall this initiative was founded by Student Government and Counseling and Psychological Services (CAPS) with the first cohort of 135 faculty and staff attending an all-day training in January 2020.
All involved know this is a necessary investment, so Healthy UC, the university-wide well-being collaborative, committed to sustaining this program. This aligns with Healthy UC's mission to educate, support and empower our community to make healthy choices while building an overall culture of well-being.
All Mental Health Champions pledge to a commitment to support students, faculty and staff with their mental health. 
Mental Health Champion Commitment
As a Mental Health Champion, I understand the importance of creating a culture of care in the greater UC Community. I will contribute to this culture by making an on-going effort to implement practices in my work that are conducive to the mental well-being of myself, UC students and my colleagues. I will be a proactive university ambassador for mental wellness, educate myself on the resources that are available to those in need, and be an advocate when I have the opportunity to assist or refer someone who is struggling, with the goal of de-stigmatizing and promoting mental health for all Bearcats.
Mental Health Champion Application
Recruitment for a new cohort or group of Champions along with training will be offered each academic year. Applications open in the fall and are due by Dec. 1. Faculty and staff are encouraged to discuss with their supervisor for approval and demonstrate support.
Bearcats who apply to become Mental Health Champions will be added to the Microsoft Teams channel, where the access to trainings are located.
The following modules are part of this training and multiple opportunities will be offered to attend the trainings every year. Trainings must be completed by March 31 to graduate with the next cohort. If trainings are not completed, the individual may graduate with the next cohort.
QPR (Question, Persuade, Refer) training 
Supporting Bearcats in Distress training
Personal wellnes session of choice with the Be Well UC employee wellness program
Mental Health Champion graduation ceremony and panel discussion
Cohort 1 - Graduated January 2020
Graduates in January 2020

| Graduate's Name | Area |
| --- | --- |
| Lora Alberto | DAAP College of DAAP |
| Gowtham Atluri | CEAS Electrical Engineering and Computer Science, College of CEAS Engineering and Applied Science |
| Carrie Atzinger | COM College of Medicine, Department of Pediatrics |
| Katelynn Barnett | CEAS College of Engineering & Applied Science, Academic Advising |
| Nadia Bayyari | COM Department of Psychiatry and Behavioral Neuroscience; Addiction Sciences Divison |
| Aurora Bennett | COM Student Affairs, UC College of Medicine |
| Stacey Benton | UCBA Veterinary Technology Department |
| Brittany Bibb | Office Student Affairs African American Cultural & Resource |
| Lorri Blanton | Office UC International |
| Elizabeth Boiman | COM Department of Surgery, Division of Research |
| Amelia Bowdell | CECH American Sign language and Deaf Studies |
| Kelly Brunst | COM Department of Environmental Health |
| Aaron Bryant | College of Law |
| Suzanne Buzek | LCB Marketing & Communications, College Relations at the Lindner College of Business |
| Alexia Callihan | A&S Biology Department, 902 Rieveschl Hall, Biological Science Greenhouse |
| Julie Campbell | College of Nursing |
| Josh Chal | CCM-college office |
| Sarah Charles | UCBA Blue Ash, Veterinary Technology |
| Tiffany Chin | CECH College of Education, Criminal Justice and Human Services (CECH) - Office of the Dean |
| Megan Church-Nally | A&S Psychology - Organizational Leadership |
| Niki Cianciola | Office Athletics |
| Emily Cloud | A&S Arts and Sciences |
| Angie Cook | Lindner Graduate Programs |
| Terri Corbett | College of Nursing |
| Mychael Cornett | Lindner College of Business Graduate Programs Office |
| Jeannie Cummins | COM Pharmacology & Systems Physiology |
| Andrew Czaja | A&S Geology |
| Shelby Dance | Arts and Sciences Advising |
| Holli Deems | LCB Business Affairs |
| Laura Dell | CECH |
| Sighle Denier | CAHS College of Allied Health Sciences (CAHS) - Center for Educational Technology and Instructional Support (CETIS) |
| Lesley Dorhout | A&S English, Language, and Fine Arts; Academic Affairs |
| Jennie Edelstein | COM College of Law Student Affairs |
| Aura Elder | COM OTO H/N Audiology |
| Brian Fanelli | Lindner Career Services |
| Brittany Fishburn | LCB Undergraduate Programs, Lindner College of Business |
| Elizabeth Frierson | A&S History Department in A&S and my office is 340A, already announced as safe haven for those struggling with mental illness in class for many years now. |
| Ellie Graham | DAAP |
| Allie Greene | COM Neuroscience Graduate Program |
| Clair Green-Schwartz | CECH Dean's Office |
| Dianna Greivenkamp | CECH / School of Education |
| Lisa Griffith | Office Exploratory Studies |
| Lynne Haber | COM Environmental Health |
| Richard Harknett | A&S Political Science, A&S. I am Head of the Department |
| Lori Harris | Office University of Cincinnati Libraries, Donald C. Harrison Health Sciences Library |
| Kimberly Hasselfeld | COM Orthopaedic Surgery Department |
| Mary Jo Heintz | LCB Accounting Department |
| Katie Hicks | CECH/ ECEHD |
| Stacie Holloway | A&S Psychology |
| Katharine Holm | Office University Health Services |
| Nora Honken | CEAS Department of Engineering Education |
| Bria Howard | Office University Honors Program |
| Cammie Hulett | A&S College of Arts and Sciences Dean's Office |
| Dawn Hundley | UC Clermont One Stop |
| Jodie Hunter | A&S Department of Physics |
| Jherilyn Hutton, M.A. | CECH Department of American Sign Language and Deaf Studies |
| Nadia Ibrahim-Taney | Lindner College of Business Career Services Center |
| Sarah Jernigan | Lindner College of Business Undergraduate Programs |
| Kaitlyn Johnson | CECH Office for Education Innovations & Community Partnerships |
| Matt Keaton | Lindner College of Business |
| Kyle Key | CECH Student Services |
| Gail Kiley | A&S CARES |
| Lauren Kirgis | CECH School of Information Technology |
| Stephanie Knox | Office Center for Exploratory Studies |
| Kathleen Koenig | A&S Physics |
| Susan Kotowski | CAHS Department of Rehabilitation,Exercise, and Nutrition Sciences |
| Tiffany Leazer | DAAP Student Affairs |
| Jessica Lee | Lindner Career Services |
| Jacqueline Lewis | College of Nursing |
| Joseph Link | CECH - School of Education - Special Education |
| Amanda Lynch | CECH: School of Human Services |
| Krista Maddox | College of Nursing |
| Tina Mahle | Office Staff Success Center, Central Human Resources |
| Laura Malosh | COM College of Medicine Student Affairs |
| Sarah Manchak | CECH School of Criminal Justice |
| Carrie Martin | COM Office of Student Affairs- COM |
| Amberly Maryo | DAAP |
| Suzanne Masterson | Lindner College of Business; Associate Dean for Faculty and Research |
| Mack Maynard | A&S College of Arts & Sciences Advising |
| Julie McCullough | College of Nursing, Office of Student Affairs |
| Rebekah michael | CECH School of Information Technology |
| Sally Miller | Office of Gender Equity & Inclusion |
| Valerie Miller | CAHS College of Allied Health Sciences, Department of Rehabilitation, Exercise and Nutrition Sciences |
| Kim Miller, MD | Office Department of Family and Community Medicine, COM and Executive Director of University Health Services |
| Lindsey Mills | CAHS, rehabilitation, exercise, and nutrition science |
| Nicole Mori | COM College of Medicine-Department of Psychiatry and Neuroscience |
| Katie Mosure | CAHS College of Allied Health Sciences Office of Student Affairs |
| Meghan Murray | Office University Honors Program |
| Heather Nester | ELCE Experience-Based Learning and Career Education, Multidisicplinary Initiatives |
| Dr. Rachael Nolan | COM College of Medicine, Division of Public Health Sciences |
| Sarah O'Connell | Office UC International |
| Nathanael O'Der | Office Graduate School IT |
| Alexandra Owensby | COM Neurology |
| Rachel Parks | LCB Undergraduate Programs Office, Lindner College of Business |
| Liz Pawley | Lindner Career Services |
| Sarah Pixley | COM Pharmacology & Systems Physiology |
| Lindsay Preseau | A&S German Studies |
| Jennifer Radt | UC Clermont - Student Affairs & Services |
| Meera Rastogi | UC Clermont, Social Sciences, Psychology |
| Dr. Patty Raube Keller | CECH - Human Services, Sport Administration |
| Kimberly Rhyan | CECH |
| Liliana Rojas Guyler | CECH Health Promotion and Education in the School of Human Services in CECH |
| Staci Rucker | College of Law |
| Meagan Schalk | UC Clermont Academic Affairs |
| Kelly Schiller | Office Center for Exploratory Studies |
| Megan Schneider Dinnesen | CECH, School of Education |
| Sarah Schroeder | CECH School of Education |
| Stephanie Schuckman | COM CCTST |
| Rachel Shah | College of Nursing Office of Student Affairs |
| Sarah Shepherd | Office of International Admissions |
| Carolyn Shisler | UC Clermont Science and Health Department  |
| Mandy Shoemaker | Office University Honors Program |
| Annu Sible Prabhakar | CECH School of IT |
| Krista Smilek | Department of Geology |
| Bryan Smith | Office CET&L, Undergraduate Studies, Provost Office |
| Candice Snyder | COM Obstetrics and Gynecology, Maternal Fetal Medicine |
| Julie Stacey | A&S Biological Sciences |
| Jim Steggeman | COM Department of Internal Medicine, Divisions of Endocrinology and Digestive Diseases |
| Lauren Steinmann | Office International |
| Brent Stoffer | A&S Biological Sciences |
| Max Tallman | COM Department of Psychiatry and Behavioral Neuroscience |
| Lindsay Taylor | A&S Classics and History Departments |
| Lacey Tomlinson | Office Center for Pathways Advising, Advising and Academic Office Services |
| Ruth Anne Van Loon | CAHS School of Social Work |
| Kelly Vearil | UCBA Veterinary Technology Department |
| Sadhna Verma | COM Radiologist, Abdominal Imaging |
| Daniel Waddell | A&S Chemistry |
| Julie Walson | CECH Early Childhood |
| Julie Weast-Knapp | A&S Department of Psychology |
| Jenny Wohlfarth | A&S Department of Journalism |
| Kerri Wolfer | CECH |
| Roger Worrell | COM Pharmacology & Systems Physiology, COM |
| Trever Wright | Office Athletics Compliance |
Cohort 2 - Graduated April 2021
Graduates in April 2021

| Graduate's Name | Area |
| --- | --- |
| In Memory of Liz Aumann​  | HR, Benefits and Wellness​  |
| Hannah Barnhorn​  | Clermont-Paralegal Studies​  |
| Rhonda Bastian​  | Sponsored Rsrch-Accounting​  |
| Amy Bernard​  | CECH-Human Services​  |
| Madeline Bible​  | CEAS-Advising​  |
| Brooke Bolton​  | UC Online-Retention​  |
| Alexander Borisov​  | LCB-Finance​  |
| Debbie Brawn​  | University Honors Program​  |
| Jeff Brewer​  | A&S-Geography​  |
| Molly Bromen​  | HR, Employee Wellness​  |
| Michelle Burbage​  | MED-Environment & Public Hlth​  |
| Terra Butler​  | CECH-Student Services Ctr​  |
| Livvy Cameron​  | LCB-Undergraduate Advising​  |
| Isabel Castro​  | CCHMC Corporate​  |
| Leah Chamberlain​  | CECH-Student Services Ctr​  |
| Hong Cheng​  | Univ Libry-CEAS​  |
| Roger Chiang​  | LCB-Ops, Bus Analytics, & IS​  |
| Pam Chin​  | CECH-Business Office​  |
| Megan Church-Nally​  | A&S-Psychology​  |
| Shari Coffey​  | LCB-Undergraduate Prgms​  |
| Marcell Crawford​  | University Honors Program​  |
| Carmen Culotta​  | CECH-Evaluation Svcs Ctr​  |
| Adrienne Davis Zapfe​  | CAHS-Clinical & Health Info​  |
| Gary DeVoe​  | MED-IT​  |
| Nancy Diemler​  | A&S-Mathematical Sciences​  |
| Anna Donnell​  | CET&L​  |
| Eden Driscoll​  | CECH-Student Services Ctr​  |
| Elaine Dunker​  | A&S-Romance & Arabic Languages​  |
| Zag ElSayed ​  | CECH-Information Technology​  |
| Beth Faller​  | CET&L​  |
| Valerio Ferme​  | A&S-Arts and Sciences​  |
| Jill Flood​  | Career Education​  |
| Daniel Floyd​  | Acad Affairs-Learning Commons​  |
| Margaret Fogler​  | Campus Svcs-Housing​ |
| Samantha Foltz​  | CECH-Student Services Ctr​  |
| Lisa Forbes​  | LCB-Career Services​  |
| Barb Fox​  | Research Ofc-Business Office​  |
| Kathy Fryman​  | Enrollment Mgmt-Registrar​  |
| Doe Gavin​  | Enrollment Mgmt-Advising​  |
| Danielle Gingrich​  | LCB-Management​  |
| Gabrielle Golden​  | Enrollment Mgmt-Registrar​  |
| Dianne Hardin​  | LCB-Marketing​  |
| Cammie Hulett​  | A&S-Administration​  |
| Kaitlyn Johnson​  | CECH-Business Office​  |
| Regan Johnson​  | CECH-Human Services​  |
| Colleen Joyce​  | UCBA-Academic Affairs​  |
| Mary Justice​  | UCBA-Nursing​  |
| Kamila Kasparian ​  | MED-Peds-BMCP​  |
| Bene Khoury​  | University Honors Program​  |
| Grace Kroner​  | Athletics-Compliance & StuSvcs​  |
| Kelly Kwiatkowski​  | Campus Svcs-Campus Rec Ctr​  |
| Shannon Lehwald​  | Career Education​  |
| Robin Lindquist-Grantz​  | Institute for Policy Research​  |
| Joseph Link​  | CECH-Education​  |
| Keisha Love​  | Provost-Fac Affrs & Acad Pers​  |
| Kelly Lyle​  | MED-Operations & Finance​  |
| Yu Mao​  | Univ Libry-Business Office​  |
| Stacey Martin​  | Learning Commons​  |
| Kelly McCullough​  | LCB-Instructional Design​  |
| Samantha McMahon​  | Acad Affairs-Learning Commons​  |
| Greg Metz​  | UCBA-Academic Affairs​  |
| Karen Meyer​  | CAHS-Comm Sci & Disorders​  |
| Lindsey Mills​  | CAHS-Rehab, Exercise & Nutr​  |
| Laura Molander​  | CCM-Costume Shop Production​  |
| Robyn Mullen​  | A&S-Chemistry​  |
| Lizzie Ngwenya-Scoburgh​  | UCBA-Business & Economics​  |
| Tamika Odum​  | UCBA-Behavioral Sciences​  |
| Loren Papin | A&S Advising |
| Scott Pena​  | CECH-Recruiting​  |
| Danielle Petermann​  | A&S-Biological Sciences​  |
| Stefanie Pettys​  | UCBA-Art & Visual Comm​  |
| Emily Piercey​  | Campus Svcs-Campus Rec Ctr​  |
| Adrienne Piontek​  | Acad Affairs-Learning Commons​  |
| Jim Pross​  | LCB-Information Technology​  |
| Rachel Randall​  | SA-Couns & Psychological Svcs​  |
| Kelly Rawe​  | CECH-Student Services Ctr​  |
| Brandy Reeves​  | Student Affairs-Wellness Ctr​  |
| Teresa Roig-Torres​  | UCBA-Foreign Languages​  |
| Melissa Ryan​  | CEAS-Mech Eng & Materials Eng​  |
| Ashley San Diego​  | HR, Employee Wellness​  |
| Kim Schmidt​  | Campus Svcs-Campus Rec Ctr​  |
| Beth Shelton-Hountz​  | CEAS-Advising​  |
| Susan Sipple​  | UCBA-English & Communication​  |
| David Spatholt​  | MED-Emergency Medicine​  |
| Peyton Stensland​  | CECH-Human Services​  |
| Jennifer Sturm​  | Athletics-Student Athlete Supp​  |
| Emilee Suchomski​  | CCM-Admissions & Student Svcs​  |
| Christopher Sullivan​  | CECH-Criminal Justice​  |
| Amy Tasset ​  | Enrollment Mgmt-Stu Fincl Aid​  |
| Lauren Tate​ | DAAP-School of Art​ |
| Lisa Timman​  | UCBA-Art & Visual Comm​  |
| Christine Tonnis​  | Career Education​  |
| Colleen Uscianowski​  | CECH-Education​  |
| Tricia Vonderahe​  | DAAP-Business Affairs​  |
| Zoe Wagner​  | Graduate Assistant​  |
| Rebecca Williamson​  | LCB-Instructional Design​  |
| Heather Wischer​  | Enrollment Mgmt-Registrar​  |
| Angie Woods​  | UCBA-Foreign Languages​  |
| Betsy Yeakle​  | CECH-Criminal Justice​  |
| Kim Zimmerer​  | CEAS-Advising​  |
Cohort 3 - Graduated April 2022
Graduates in April 2022

| Graduate's Name | Area |
| --- | --- |
| Alexandra Allee | College of Allied Health Sciences |
| Meg Anderson | UC Blue Ash College |
| Kyle Augustitus | Conference and Event Services |
| Lisa Barlow | Experience-Based Learning and Career Education |
| Lisa Beckelhimer  | College of Arts and Sciences |
| Matt Behrman | College of Education, Criminal Justice, and Human Services |
| Jenny Benkert | College of Medicine |
| Jason Blackard | College of Medicine |
| Erin Bove | Experience-Based Learning and Career Education |
| Ryan Brinkman | College of Nursing |
| Clarence Brown | College-Conservatory of Music |
| Maureen Buri | Experience-Based Learning and Career Education |
| Kelly Cantwell | Public Safety Department |
| Kim Clifford | UC Clermont College |
| Crystal Clough | College of Arts and Sciences |
| Erin Cochran | College of Education, Criminal Justice, and Human Services |
| Corinne Cook | College of Engineering and Applied Science |
| Taylor  Coughlin | College of Medicine |
| Stacey Denson | Accessibility Resources |
| Asawari Deshmukh | College of Business |
| Kate Durso | Experience-Based Learning and Career Education |
| Julie Eagen | Provost Office |
| Amy Farley | College of Education, Criminal Justice, and Human Services |
| Allison Ferreri | College of Medicine |
| Elina Fonseca | Enrollment Management |
| Jeffrey Franke | College of Business |
| Jeri Gatch | College-Conservatory of Music |
| Arin Gentry | College of Arts and Sciences |
| Patrice Gillespie | UC Blue Ash College |
| Jessica Graves-Rack | College of Arts and Sciences |
| Doreen Grontkowski | Experience-Based Learning and Career Education |
| Bella  Gullia | College of Business |
| Emma Hage | College of Education, Criminal Justice, and Human Services |
| Tonya Hampton | College of Law |
| Helene Harte | UC Blue Ash College |
| Brian Hatch | College of Business |
| Lainie Ipsa | UC Blue Ash College |
| Zach Jung | College of Business |
| Maureen Koo | College of Nursing |
| Beth Kouche | College of Education, Criminal Justice, and Human Services |
| Katheryn Lane | Division of Student Affairs |
| Ann Latham | Office of the Registrar |
| Debra Love | Division of Student Affairs |
| Stella Luggen | Enrollment Management |
| Jodie Mader | Provost Office |
| Kara Markham | College of Medicine |
| Anissa Moussa | College of Medicine |
| Cristofer Muench | College of Medicine |
| Tiffany Murray | College of Nursing |
| Melissa Neeley-Nicolini | College-Conservatory of Music |
| Michael Norton | Admissions |
| Shawna Obregon | UC Clermont College |
| Andres (Andy) Obregon-Mantilla | Division of Student Affairs |
| Daniel Peat | College of Business |
| Miriam Poteet | College of Arts and Sciences |
| Sierra  Rankin | Division of Student Affairs |
| Carrie Raterman | College of Allied Health Sciences |
| Victoria Regan | College of Business |
| Cheli Reutter | College of Arts and Sciences |
| Diana Riggs | College of Engineering and Applied Science |
| Anne Rohlfer | College of Arts and Sciences |
| Jennifer Rowe | Public Safety |
| Raechel Scarchilli | Experience-Based Learning and Career Education |
| Ryane Sickles | College of Medicine |
| Amanda Simmons | College of Allied Health Sciences |
| Dawn Skirpan | College of Medicine |
| Jaymee Smiddie | College of Business |
| Kamellia Smith | College of Arts and Sciences |
| Shaunece Smith | UC Athletics |
| Madeline Stine | Division of Student Affairs |
| Bridget VanLandeghem | UC Athletics |
| Barbara Walker | COM and A&S |
| Catherine Weidner | IT@UC |
| Tangie  Welton | College of Arts and Sciences |
| Lauren White | College of Education, Criminal Justice, and Human Services |
| Adam Wiles | CES |
| Heather Williamson | College of Medicine |
| Laurie Wilson | College of Design, Architecture, Art, and Planning |
| Donald Wittrock | College of Engineering and Applied Science |
Cohort 4 - Graduating April 2023
Graduates in April 2023

| Graduate's Name | Area |
| --- | --- |
| Shawn Adkins | College of Medicine |
| Kimber Andrews | Undergraduate Academic Affairs |
| Ashley Anneken | College of Arts and Sciences |
| Weston Atchison | College of Business |
| Amanda Bachus | College of Education, Criminal Justice, and Human Services |
| Emily Bacon | College of Education, Criminal Justice, and Human Services |
| Gema Bahns | College of Business |
| Sheri Barksdale | UC Blue Ash College |
| Core Black | Division of Student Affairs |
| Caitlin Borges | Division of Student Affairs |
| Manuela  Botaka | Advising & Academic Services |
| Tonkia (Coach Tee) Bridges | Experience-Based Learning and Career Education |
| Lacey Campbell | College of Arts and Sciences |
| Laura Carnaghi | College of Education, Criminal Justice, and Human Services |
| Ruth Ann Carpenter | UC Online |
| Erick Carrero | UC Blue Ash College |
| Reid Caryer | Office of General Counsel |
| Erynn Casanova | College of Arts and Sciences |
| Nick  Castro | College of Business |
| Rhea  Castrucci  | College of Medicine |
| Lisa Claypool | College of Education, Criminal Justice, and Human Services |
| Sara Cohen | College of Medicine |
| Jacob Cole | College of Engineering and Applied Science |
| Temesha Corbin | UC Blue Ash College |
| Suzy Culbertson | Division of Student Affairs |
| Amanda Darling Caballero | UC Blue Ash College |
| Alana Dillon | UC Blue Ash College |
| Delaney Dodds | College of Engineering and Applied Science |
| Katie Doxtader | International Services |
| Teneisha Dyer | College of Education, Criminal Justice, and Human Services |
| Halee Edwards | College of Education, Criminal Justice, and Human Services |
| Carolyn Egbert | College of Medicine |
| Angela Eicher | Human Resources |
| Maddie Exton | College of Nursing |
| Michael Ferguson | College of Business |
| Abby Foltz Hottle | College of Allied Health Sciences |
| Grant Freking | College of Business |
| Lauren Glaser | College of Engineering and Applied Science |
| Shanna Gray | DTS |
| Crystal Hambrock | College of Business |
| Abby Harder | College of Engineering and Applied Science |
| Roseann Hassey | College of Business |
| Kevin Haworth | College of Medicine |
| Leslie Head | College of Medicine |
| Gina Heinsohn | Division of Student Affairs |
| Katie  Hess | UC Clermont College |
| Rose Hofstetter | College of Arts and Sciences |
| Kristina Irby | Division of Student Affairs |
| Jessie Jefferson | College of Medicine |
| Mercedes Johnson | Division of Student Affairs |
| Leah Jonas | College of Business |
| Larissa Jordan | College of Allied Health Sciences |
| Chauncey Joyce | College of Business |
| Samantha  Kaetzel | Campus Services |
| Michele Kay | College-Conservatory of Music |
| Vikki Kowalczyk | Honors |
| Maddy Kramer | College of Medicine |
| Kathy Ladell  | UC Clermont College |
| Kris LoFrumento | UC Clermont College |
| Catherine  Lusky | College of Education, Criminal Justice, and Human Services |
| Elliott Manzon | College of Business |
| Megan McCarren | Transfer and Transition Advising Center |
| Sarah Grace McCollough | UC Blue Ash College |
| Rob McLeod | College of Engineering and Applied Science |
| Brian Metcalf | College of Arts and Sciences |
| Noah Moore | Admissions |
| Christine Nicholson | Enrollment Services  |
| Joseph Nyakundi | Office of Research |
| Natalie Ochmann | Provost Office |
| Maura O'Connor | College of Arts and Sciences |
| Jack O'Toole | College Credit Plus |
| Afton Palmer | Experience-Based Learning and Career Education |
| Katie Pealer | UC Blue Ash College |
| Maggie Peters | UC Athletics |
| Kelly Plazibat | UC International |
| Brenda Poynter | UC Clermont College |
| Brenda  Refaei | UC Blue Ash College |
| Kaylynn  Rimblert (Hill) | College of Arts and Sciences |
| Jordan Salinsky | College of Arts and Sciences |
| Christina  Schoonover  | Hoxworth Blood Center |
| Mae Seay | Office of Research |
| Mona Sedrak | UC Clermont College |
| Ashley Setters | Adminsitration and Finance |
| Serene  Smith | College of Arts and Sciences |
| Nicholas Snyder | College of Arts and Sciences |
| Joshua Stamper | College of Business |
| Stormi Stevens | College of Business |
| Gregory Stewart | College of Allied Health Sciences |
| Maddi Stiles | Campus Services |
| Emma Sule | College of Arts and Sciences |
| Hannah Thompson | UC Blue Ash College |
| Iryna Topolyan | College of Business |
| Nicole Towe | College of Business |
| Reese Triana | College of Medicine |
| Robbie Trittschuh | UC Athletics |
| Mary Uhl | Human Resources |
| Jivanto van Hemert | Division of Student Affairs |
| Amanda Watkins | UC Online |
| Susan Watts-Taffe | College of Education, Criminal Justice, and Human Services |
| Jill Webster | College of Engineering and Applied Science |
| Hannah Williamson | Provost Office |
| Danielle Winget | UC Clermont College |
| Sarah Wolfe | UC Blue Ash College |