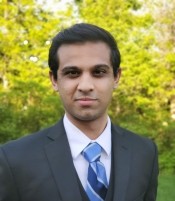 Chinmay Bakshi is a recent summa cum laude graduate of the College of Arts and Sciences where he earned a BS in Neurobiology, a BA in Liberal Arts (Medicine, Health, & Society Track) and graduated with a perfect grade point average. Chinmay joined the University of Cincinnati (UC) as a Cincinnatus Scholar, Provost Scholar, a member of the University Honors Program, and a member of the Connections Dual Admissions BS/MD program - a highly competitive program that grants acceptance to the UC College of Medicine directly from high school.
As an undergraduate student, Chinmay pursued meaningful activities that attested to his passion for healthcare innovation through biomedical science and public health. He was extensively involved in conducting medical research projects through the Cincinnati Children's Hospital, UC College of Medicine, Howard Hughes Medical Institute, Dana-Farber Cancer Institute, Brigham & Women's Hospital, and the National Institutes of Health. His work led to publications in Molecular and Cellular Biology, the FASEB Journal, and the Journal of Biological Chemistry, along with presentations at local, state, and national research conferences.
Apart from research, Chinmay dedicated his time to inspiring positive change in the community. On campus, he served as President of multiple public health - focused student groups, and was also actively involved in the University Student Government, serving as Vice President of the Student Safety Board. Off campus, Chinmay's passion for alleviating socioeconomic health disparities led him to volunteer with several low-income communities, and co-found a nonprofit called Rooting4Recovery, aimed at increasing health literacy in vulnerable populations.
At graduation, Chinmay was awarded the UC Presidential Leadership Medal of Excellence, the university's highest undergraduate honor awarded to 6 graduating seniors who best exemplify scholarship, leadership, character, service, and the ideals of the University of Cincinnati. He also received the Robert McKibbin Medal, given to the top performing male student in the College of Arts and Sciences.
Outside of his professional achievements, Chinmay is a black belt in Tae-Kwon-Do, has nationally ranked in speech and debate, and performed as a first violinist in the UC Symphony Orchestra. In his free time, he enjoys spending time with his family and friends, weightlifting in the gym, and watching LeBron James win championships. He is currently pursuing his Doctor of Medicine (MD) degree at Harvard Medical School with a focus on healthcare management and innovation.