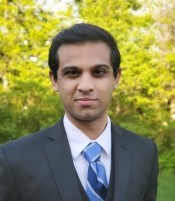 Chinmay Bakshi is a senior in the College of Arts and Sciences majoring in Neurobiology and Liberal Arts with an emphasis in public health and a finalist for the Rhodes Scholarship. He is a Cincinnatus Scholar, and a member of the Connections Dual Admissions BS/MD program at the UC College of Medicine and the University Honors Program. He is extensively involved in medical research, having independent research stints at the Cincinnati Children's Hospital, Harvard Medical School, and the National Institutes of Health.
Apart from research, Chinmay is devoted to public service both on and off campus, whether it be through leading several college organizations or conducting high impact projects through his nonprofit organization.
Additionally, he is passionate about alleviating socioeconomic health disparities, leading him to volunteer with several low-income communities. He has won numerous awards at the national level for his work, including being named a 2019 Barry Goldwater Scholar and a 2020 Harry S. Truman Scholarship national finalist.
Chinmay is a trained violinist, a black belt in Tae-Kwon-Do, and has nationally ranked in speech and debate. In his free time, he enjoys spending time with his family, cooking somewhat edible dishes, and watching Lebron James win championships. He plans to attend medical school after graduation.