UC Dining Services is now Cashless
Effective Aug. 1, 2023 all University of Cincinnati Food Service locations will become cashless. We will continue to accept Bearcat Card, credit cards and mobile payment.
Diversity | Sustainability | Convenience | Healthy Choices
University of Cincinnati Food Services is committed to providing a wide variety of delicious meal options to meet students tastes and dietary needs.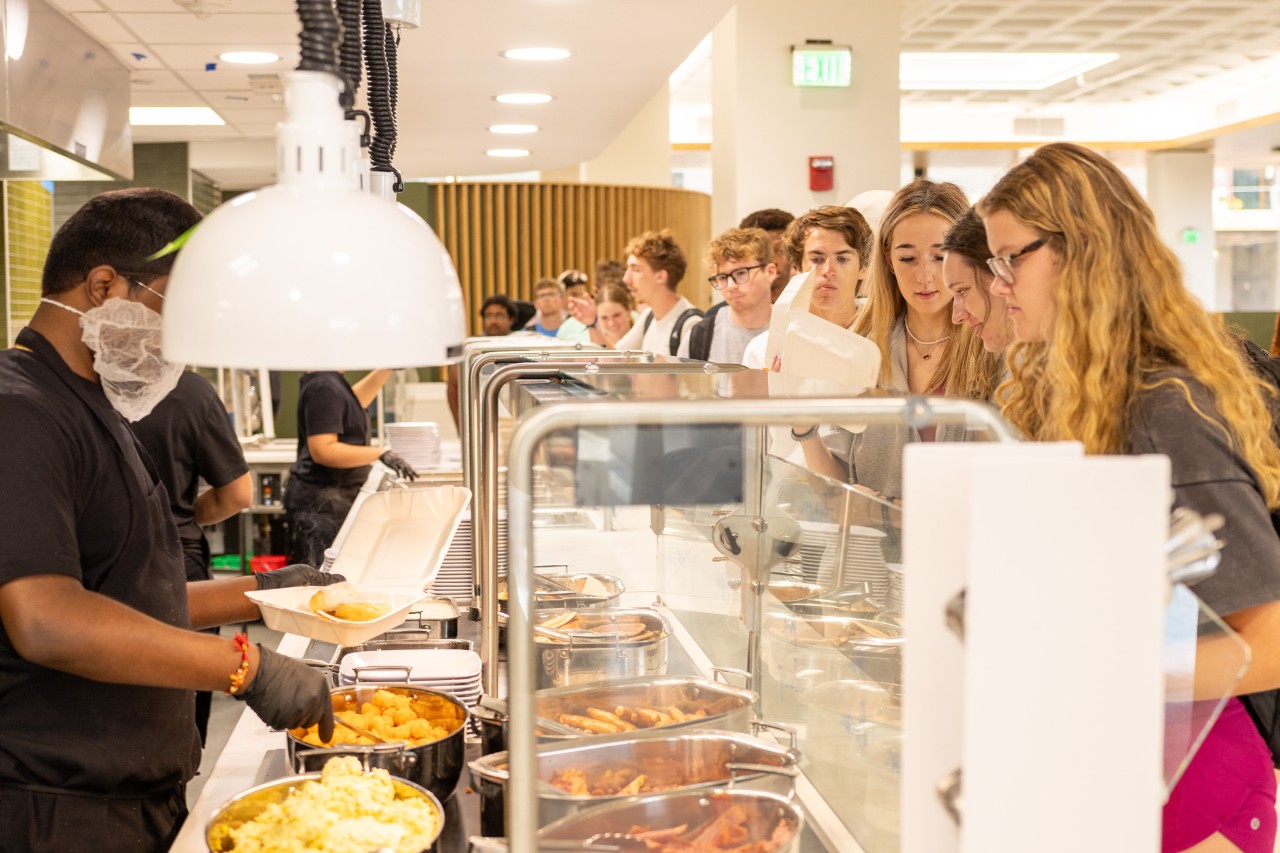 Our dining center selections include favorites such as stir-fry, made-from-scratch pizza crusts and so much more. Some of the most popular options include traditional favorites like Chicken Tender Tuesday and Wing Wednesday at MarketPointe.
Each dining center offers vegan, gluten-friendly and allergy-sensitive options. And when time is in short supply, students have grab-and-go options across campus.
Our on-campus dietitian offers special health and wellness events throughout the academic year in our dining centers to educate students on healthy meal choices and add variety for meal plan holders.
We serve nearly 2.5 million meals a year, and strive to support all taste preferences, schedules and budgets.
Commitment to Quality and Safety
The opportunity to deliver experiences that enrich and nourish lives is a privilege and responsibility that we work hard to meet everyday.
When possible, locally-sourced food items are used in the dining centers to ensure the freshest ingredients possible. Our dietitian works with students to make sure their special dietary needs can be met as well as to offer general education for meal plan holders. Our dining centers utilize Ozzi, a reusable to-go containers to provide a convienent and sustainable option to students. 
Part of the dining experience is good customer service. Ensuring food, environmental, and workplace safety is the responsibility of every team member. We empower and expect everyone in University Dining Services to serve with passion and take pride in ensuring safe food delivery and service environments.
Join Our Team
Looking for a job ON CAMPUS, with FLEXIBLE SCHEDULING and VALUABLE WORK EXPERIENCE? Apply online today! Search University of Cincinnati. Questions? Contact us at UCDiningServices@aramark.com.

Tell us about your dining experiences. Join the Food Feedback Committee to give your feedback directly to Food Services leadership.
If Food Service operations are impacted due to inclement weather, changes will be communicated to meal plan students via their UC email accounts and posted on the @uofcincydining Instagram account.