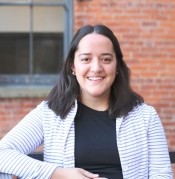 Anna Armao, a December 2019 University of Cincinnati graduate, was a finalist for the Marshall Scholarship. While at UC, Anna completed her major in Business Economics as a member of the Lindner Honors-PLUS program and also earned her minor in Environmental Analysis & Policy.
Anna was a Co-Founder and Vice President of Students Consulting for Nonprofit Organizations and an involved member of the University Honors Program as an Ambassador and Welcome Retreat Coordinator. She also participated in the co-op program, completing internships with PwC, the City of Cincinnati, Braintree Payments, and a Research Experience for Undergraduates at Penn State University. Through these experiences, Anna developed an interest in the ability to use data to solve problems affecting our communities.
Currently, Anna is a student at The Ohio State University Moritz College of Law, where she is interested in studying energy law, election law, the overlap between law and data, and ways to improve access to legal services.