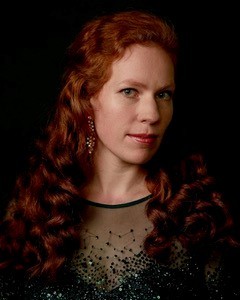 Fulbright Finalist for Ireland, Annie Barr McAllister is a Doctorate of Musical Arts candidate in Voice in CCM. Annie also earned a Masters of Music in Voice (2017) and a Bachelor of Music in Voice (2015) from CCM where she performed in CCM operas and a 4 year Artist in Residence at the Twin Towers Retirement Community in College Hill which culminated in 40 performed recitals. As an operatic soprano, Annie is a student of Tom Baresel. Annie's primary research for her Doctorate focuses on vocal chamber music written by women composers of the 20th and 21st centuries.  
Annie found the inspiration for her Fulbright project during her doctorate, researching new music for a recital. In Ireland, Annie will be researching and performing the music of the unknown Irishwoman composer, Ina Boyle (1889-1967). Annie's project has two aspirations: typesetting Ina Boyle's song manuscripts for voice and piano into an edited collection and performing monthly recitals throughout her residency. Annie's recitals will include premieres of the songs for voice and piano by Ina Boyle that she typesets each month, as well as compositions by American composers, both current and from eras past. It will be a culmination of our two countries' identities—a unifying performance of song. 
A native of Buffalo, NY, Annie currently resides in Cincinnati, OH. Annie is so looking forward to the opportunity to perform in Ireland and work with her colleagues at Trinity College Dublin. Annie is honored to be a part of Ina Boyle's journey and cannot wait to share her songs with the world.