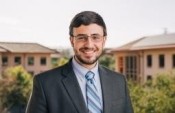 Mohamed Elzarka, from Cincinnati, Ohio, is pursuing an MD at Stanford School of Medicine. He graduated from the University of Cincinnati (UC) with bachelor's degrees in neurobiology and liberal arts, and with a master's degree in public health.
Mohamed aspires to expand mental healthcare access for traditionally underserved communities, especially those affected by war or conflict.
As the recipient of a Fulbright scholarship, he spent a year investigating post-conflict trauma, mental healthcare infrastructure, and psychosocial support services in Bosnia and Herzegovina. Inspired by his experience interning at a community clinic in an underserved Cincinnati neighborhood, he has also conducted research on expanding mental healthcare access among Spanish-speaking patients in his city.
At UC, Mohamed developed a new mental health curriculum for first-year students, and founded the Mental Health Ambassadors – a peer support system for mental health. He was awarded a Truman Scholarship and the UC Presidential Leadership Medal of Excellence.