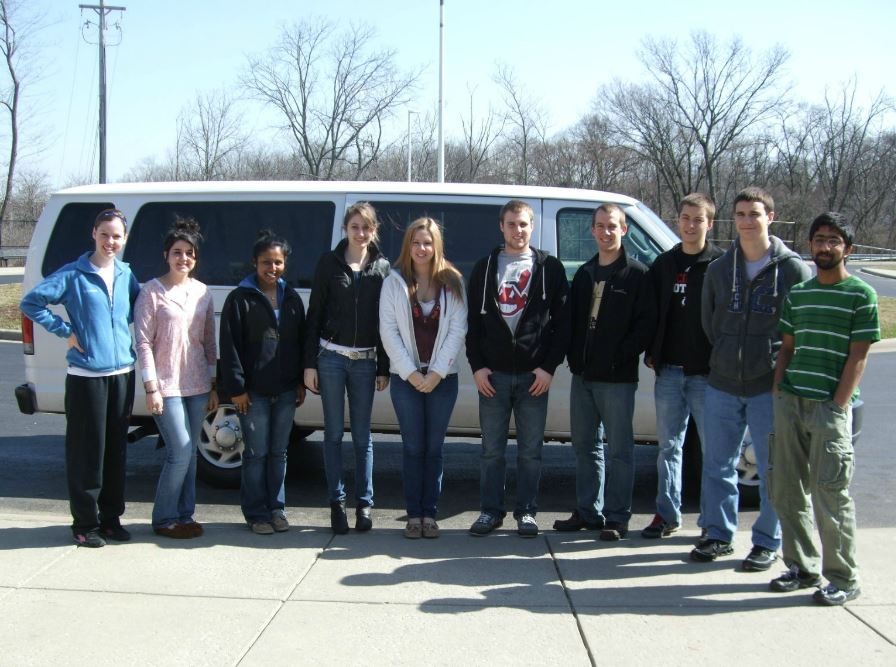 As a volunteer in Cincinnati, you will learn to navigate the city. Luckily, there are many resources for you to explore. 
The University offers a diverse array of transportation options to students, staff, and faculty that promote sustainability through reducing one's carbon footprint, build community, and save individuals money.
UC provides the community with a car-sharing service, ride-sharing service, campus bike workshop, campus bike share system, city bike share system, EV charging stations, free shuttles, and subsidized bus passes through Cincinnati Metro. Through providing the campus community with a diverse array of alternatives to the personal automobile, the University strives to provide its community with options that are more environmentally, socially, and economically sustainable to the personal, conventional automobile.
UC Transportation Resources
The Bike Kitchen is a free service provided to the community by the Office of Sustainability at the University of Cincinnati that offers repair services, tune-ups, and workshops that are free to the community. The Bike Kitchen seeks to promote bicycle culture, safety, and a sustainable form of transportation that builds community and fosters healthy lifestyles. The Bike Kitchen is located at 101 West Daniels St. by Dabney Hall. Learn more about the Bike Kitchen through the Office of Sustainability.

NightRide is a free nighttime shuttle service provided to the UC campus community. Learn more about NightRide via Transportation Services.
UC*Metro is an agreement between UC and the Southwest Ohio Regional Transit Authority, which operates the region's Metro bus service. The EZ Ride Fare Card is open to students, staff, and faulty. The program allows members of the UC community to take local bus transportation at a substantial discount! The card itself is free and secures you $1 rides and 50-cent transfers. Visit UC's Metro Page for more information or to register.
This car sharing service maintains 24-hour access for students, faculty, and staff over 18 years of age to reserve a car by the hour or by the day. It provides the convenience of a car without the hassle. Membership is open to all UC faculty, staff, and students. There are currently six Zipcars located on UC's main campus and one Zipcar on East Campus. Join Zipcar today!
Zimride by Enterprise is an online ride-matching service that easily connects drivers and passengers heading to the same area, making it a great solution for those who don'€™t have cars on campus to find rides for weekend trips or going home to visit on breaks or for those who have cars to share travel costs. Zimride users can also use it to form carpools with other students, faculty or staff who are looking to share rides back and forth to campus. Sign in to access Zimride.
Cincinnati Transportation Resources
Clermont Transportation Connection (CTC)
CTC is the primary provider of public transportation in Clermont County. CTC offers three fixed routes in addition to Dial-A-Ride services. Learn more about CTC routes.
Red Bike is a Bike Share program with 50 stations in Cincinnati, Covington, Newport, and Bellevue. It is designed for short, point-to-point trips, increasing mobility for residents, workers, students, and visitors. Sign up for Red Bike today!

Transit Authority of Northern Kentucky (TANK)
TANK is the regional bus service of Northern Kentucky. It extends into downtown Cincinnati and can be taken to the Cincinnati/Northern Kentucky International Airport (CVG) as well as many other destinations. UC does not currently have any program for discounted services from TANK. Visit the TANK website for more information about routes.
Good, Old-Fashioned Carpooling
When in doubt, connect with your peers and carpool whenever possible! If you are signed up to volunteer at a community organization, reach out to the volunteer coordinator and ask if any other students are also coming from UC. This is a great way to find folks to ride with.