The Student Wellness Center offers a variety of programs and services for UC students. From peer educator facilitated programs to awareness events, the SWC offers something for everyone so that they can make choices to live a healthier life. If you have questions about any of the programs or services provided, call us at 513-556-6124.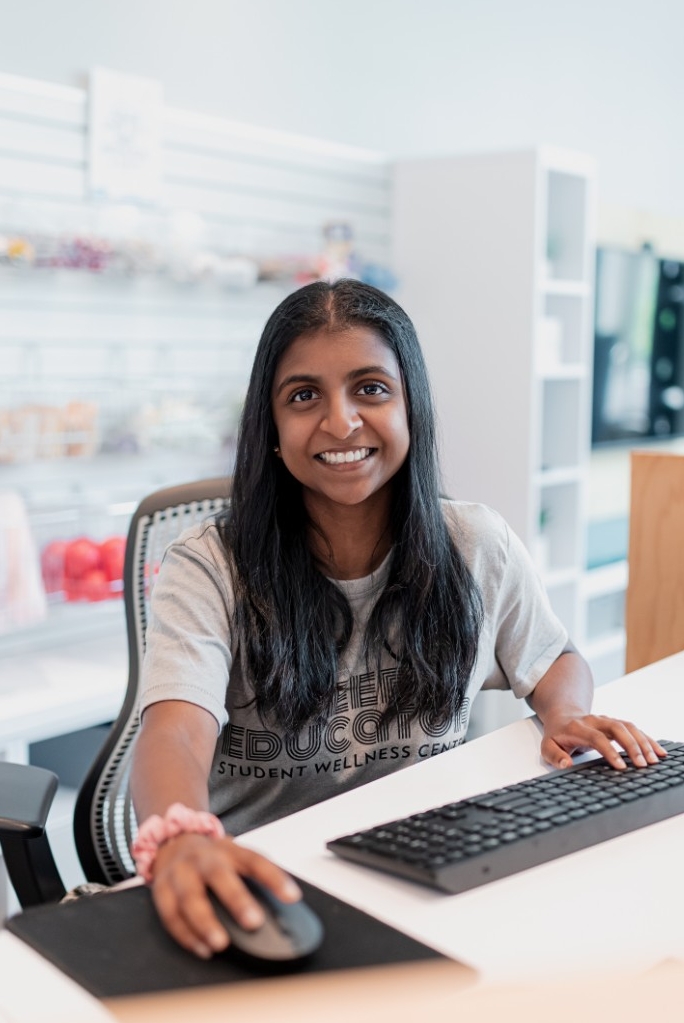 If you would like to have the Student Wellness Center assist with a special program, provide educational materials, or donate give-a-ways for your event or group, please email us at wellness.center@uc.edu ! 
If you would like to have the Student Wellness Center assist with a special program, provide educational materials or donate giveaways for your event or group, please email wellness.center@uc.edu to request.

Do you have a personal health and wellness question or concern? Ask a Health Educator! All correspondence is confidential and answered within 2 business days.
The Student Wellness Center peer educators can present a program of your choice to your group or class. Programs include topics such as alcohol, mental health, sexual health, general health and wellness, financial wellness, nutrition & fitness, stress management, tobacco & drugs, freshman wellness, and gender-based violence prevention.

Each Health Hut will have the same products and resources that are available in the Student Wellness Center, plus there will be a special theme each month featuring more in-depth activities, resources, and information pertaining to that particular topic.  
The Student Wellness Center offers free and private personalized financial coaching and planning sessions from trained Peer Financial Coaches. Contact us to set up your appointment today! To assist UC students in becoming financially literate and independent, we provide general information and education.
The University of Cincinnati wants your college experience to be safe and successful. College is a time when many students choose to use alcohol when celebrating and spending time with their friends. However, many of us know someone who has gone too far and gotten themselves into trouble or hurt themselves or somebody else because of their alcohol use. Be Wise is a collaboration of campus entities coming together for the greater good of our campus community. Whether you're the "party thrower" or a "party goer" we have something for you! If you have questions about hosting a responsible party or need to know how to help a friend who has consumed too much, we can help!
The Gotcha Covered condom distribution program is designed to increase condom distribution on and around campus for UC students. According to the Centers for Disease Control and Prevention (CDC), condom distribution programs are effective at increasing condom use, increasing condom carrying, promoting delayed sexual involvement, and reducing incidence of STIs. Currently, students can get free condoms from the Student Wellness Center, but only during business hours. This program allows UC students to become a certified Gotcha Covered volunteer by attending a 1-hour sexual health education workshop. Once certified, the student will be provided with a supply of condoms to have available for fellow students and residents. By displaying your Gotcha Covered sticker on your door, you're allowing students to stop by to pick up condoms, lubricant, and/or information on sexual health.
Free pre-made bulletin boards are available in the Student Wellness Center for Residence Hall Advisors. With over 35 topics to choose from, they are bound to appeal to your audience. All bulletin boards have accurate information, catchy designs, and come printed out and ready to be posted on your bulletin board. Specialty bulletin boards can be made upon request with at least a 3 day notice. Free 11 x17 posters are also produced by the SWC on a variety of wellness topics! Stop in the SWC or email Wellness.Center@uc.edu to make a selection and request a printed copy of a poster for your residence.
This monthly publication is produced by the Student Wellness Center and includes health and wellness information and upcoming events. The publication is available to the UC community with the purpose of displaying in the bathroom stalls around campus. Information can be submitted to Wellness.Center@uc.edu from student organizations, staff, and faculty to be featured in upcoming issues of Commode Chronicles. Feel free to print and post yourself or request printed copies from the SWC.
The Student Wellness Center partners with Caracole to provide FREE & Confidential HIV testing to students on campus the first Monday of each month. Their Outreach Educators offer testing, referrals, counseling, and harm reduction and prevention education. No appointment necessary. Walk-in, complete a rapid test (no needles), and receive results in 15 minutes!  
Words of Wellness is a monthly newsletter dedicated to one topic important to the health and wellness of students at UC and beyond! The newsletter is written for family members and support systems of college students and includes resources, conversation starters, as well as strategies to support college students!