It's alive in our best and brightest. Marian's tenacity echoes and reverberates within the hearts of a new generation of torch-bearers, ready and willing to continue the fight. And for those who have what it takes, we have your launchpad.
University of Cincinnati is proud to partner with Cincinnati Public Schools to offer the Marian Spencer Scholarship Program, specifically reserved for CPS students in the top 10% of their senior class. Do you know a student who has the Spirit of Spencer? Invite them to reach, rise, and roar as a Marian Spencer Scholar.
Nov. 18, 2021, 6-7 p.m. – Information Session (remote) about the Marian Spencer Scholarship
Dec. 1, 2021 – Deadline to apply to UC
Jan. 10-14, 2022 – Interviews (in-person)
Jan. 24, 2022 – Cincinnati Decision Day
Feb. 7, 2022 – 10 Award recipients notified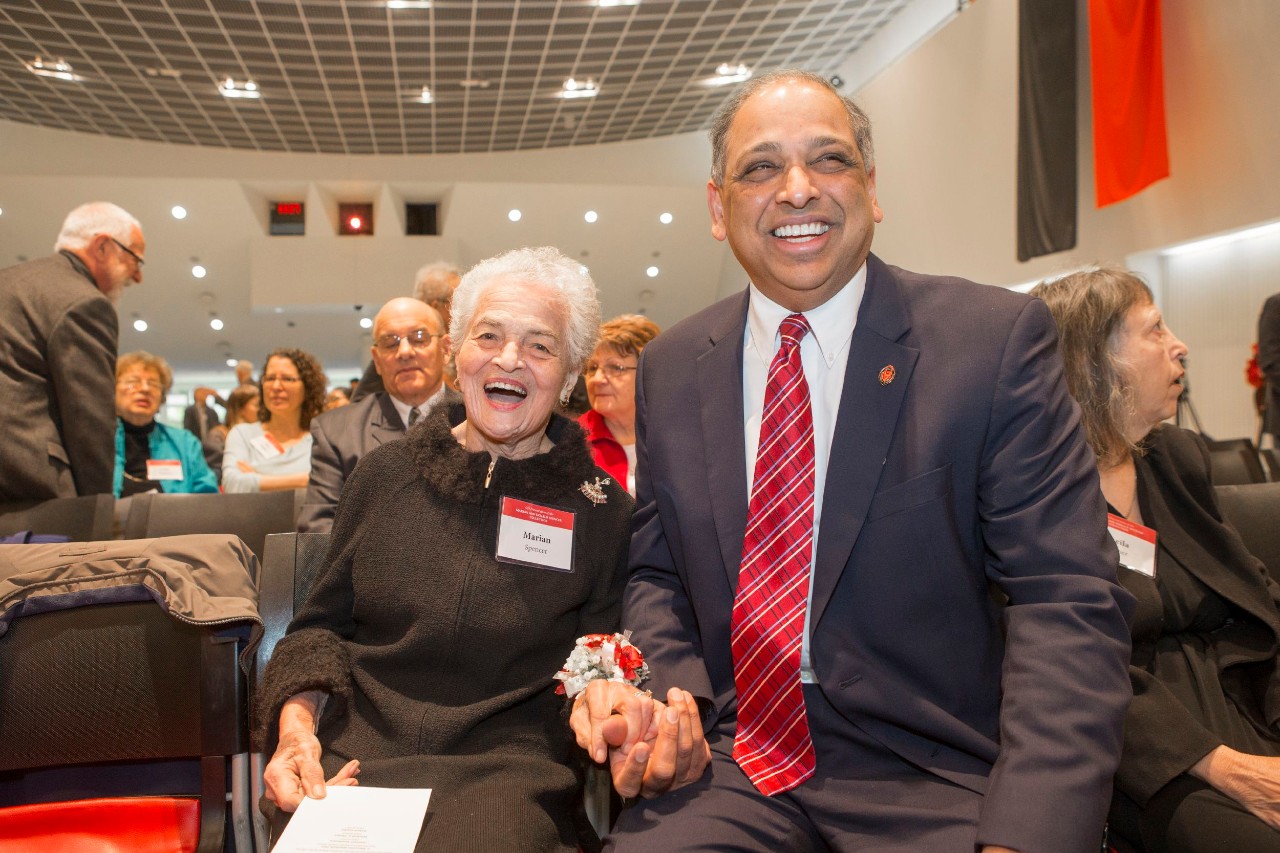 The Marian Spencer Scholarship: Igniting the fearless pioneer in our CPS students

Full cost of attendance (tuition, room and board, books)
Additional support for study abroad, co-op, summer opportunities
Residential living community in Marian Spencer Hall
Enhanced advising support, student success resources, and career coaching
Study abroad service trip to Tanzania with Village Life
Networking and mentoring opportunities with UC's President and other university leaders
Service project with CPS students in future years
"You've got to have spirit. You've got to be unafraid. Because how else can you venture?"
—Marian Spencer
Marian Spencer: Fearless Pioneer, Cincinnati Treasure
---
Her fight for equality began early, as a University of Cincinnati student campaigning for an inclusive prom. And it remained personal—she chaired legal action to desegregate Coney Island Amusement Park after her two young sons were denied admittance. Above all, Marian Spencer's lifelong dedication to civil rights and racial justice have served to inspire the fearlessness in us all.
 
First female president of the Cincinnati branch of the NAACP
First African American elected president of the Woman's City Club
Vice Mayor, City of Cincinnati
Twice served as a delegate for the Democratic National Convention
Named a "Great Living Cincinnatian" by the Chamber of Commerce
"Woman of the Year" by the Cincinnati Enquirer
Served on the UC Board of Trustees
Worked tirelessly to end racial isolation in schools and to achieve educational parity