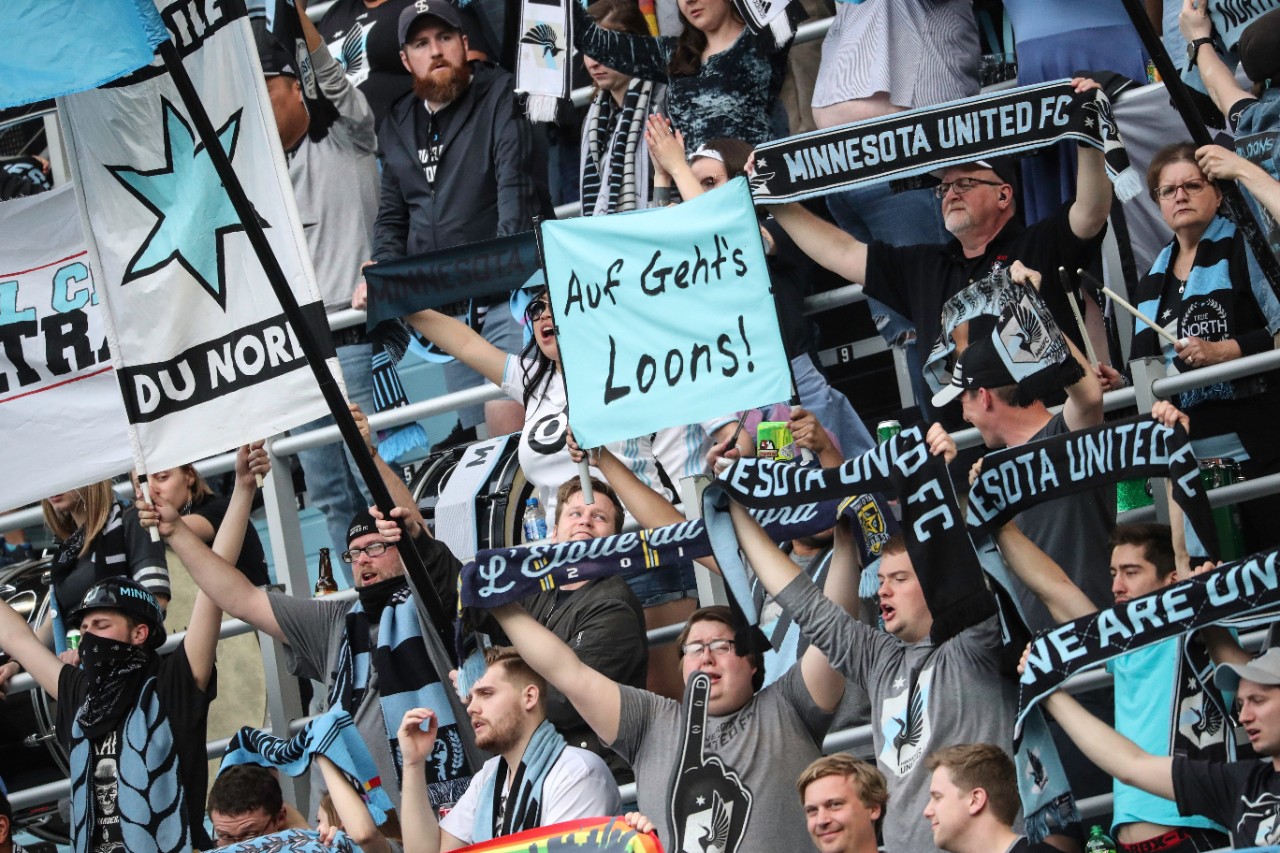 Minnesota United hires UC alumna as lead nutritionist
Pro-athlete dietician Angela Bruzina (CAHS, '17, '18) helped develop UC course on nutrition
University of Cincinnati alumna Angela Bruzina is living her dream job.
As one of only a handful of full-time dieticians in Major League Soccer, Bruzina occupies a highly specialized niche where elite performance and nutrition intersect. Her mission: to ensure that each member of the Minnesota United Football Club gets the most effective nutrition from the time of the first weigh-in each morning to the post-recovery period following the final weigh-in after practice.
She designs menus and hydration, helps players select the right foods and monitors body composition, all while balancing the personal tastes and traditions of 26 players representing 11 different countries, from Paraguay to Slovakia to New Zealand.
"I always joke that this was meant to be my career," says Bruzina, who maintains her role as adjunct instructor in UC's Department of Rehabilitation, Exercise, and Nutrition Sciences in the College of Allied Health Sciences. "I love food and I love cooking, but I also love the nerdy science aspect of it as well — what happens when we put certain foods in our body and how does that make us feel."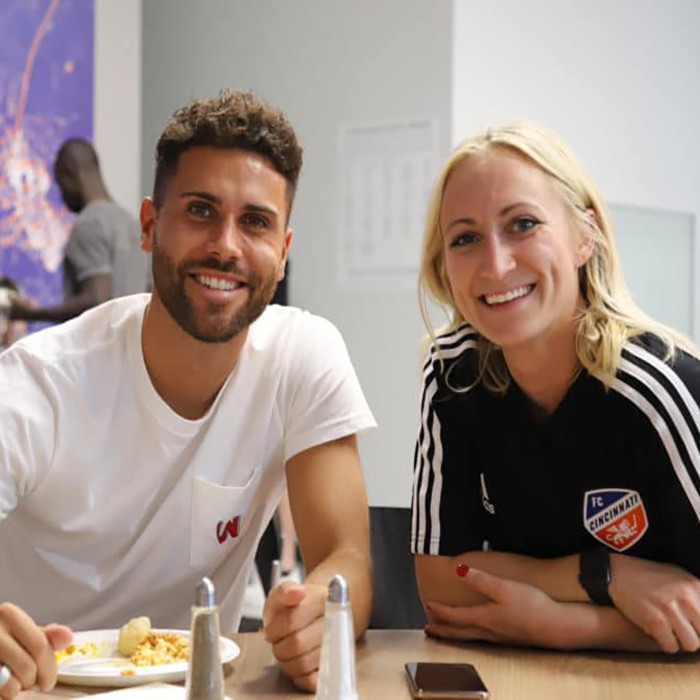 Although not an athlete, Bruzina is well versed in the discipline and demands of performance through her previous experience as a professional vocalist and pianist. She earned her undergraduate degree in music education from the Baldwin Wallace Conservatory of Music in Berea, Ohio.  

Bruzina, a Cincinnati native, was two weeks from embarking on a graduate degree in music at the New England Conservatory of Music in Boston when, following an instinctive warning — "Wait, I don't think this is a good idea" — she withdrew and "did a 180," opting instead to pursue a master's degree in nutrition at UC. In a fateful turn of events, UC's athletic department created a graduate assistantship soon after her arrival, and Bruzina got her start in sports nutrition by becoming the first person to fill it.
"They had never had a designated nutrition person there before, so I was the graduate assistant there for two years," Bruzina says. "We started a program called Bearcats in the Kitchen, which was my thesis project, and did various things in the department to promote better nutrition among the athletes."
With a background in education, Bruzina was especially interested in the behavioral aspects of nutrition in young adults who for the first time in their lives are becoming independent eaters "because they don't have their parents cooking and grocery shopping for them." In addition, she notes, many lack basic cooking skills.
Bearcats in the Kitchen continues today as a 16-week academic course and is a popular offering available to any UC student — not just student-athletes. Each weekly session involves a presentation and hands-on experience, with students tackling recipes at cooking stations in the Ellen Marie Rember Food & Nutrition Sciences Laboratory, a state-of-the-art teaching kitchen. The program's potential value is lifelong. The course seeks not only to increase students' knowledge of nutrition but also their confidence as everyday cooks.
"Knowledge alone is not going to change someone's dietary behavior," Bruzina explains. "We do know that. We need to instill what many people now call food literacy, the idea that individuals need to have not only the knowledge but also the skills. There's the social component of eating food as well, and you need to have all of those combined to make up someone's food literacy. Without one of those, someone's dietary choices or behavior may suffer, or not be optimal for long-term health."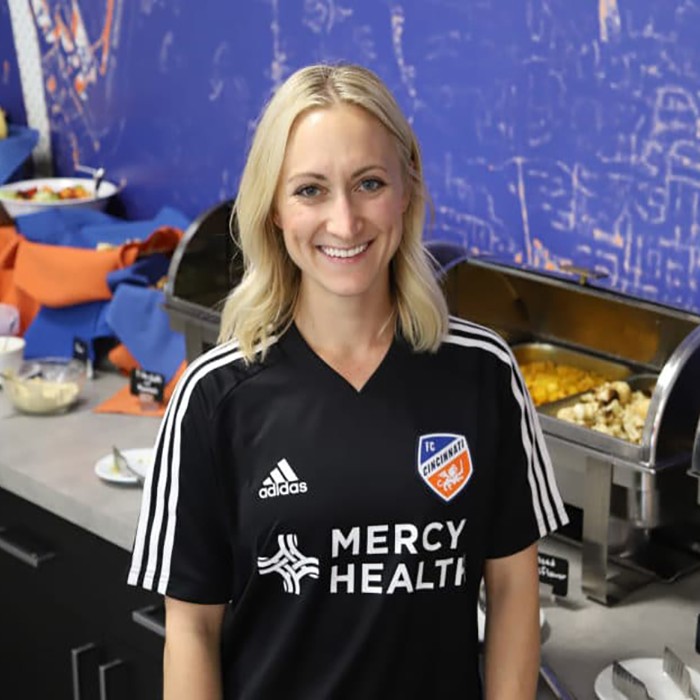 Bruzina continued her work at UC last year while working as the consulting dietician for FC Cincinnati. She moved to Minnesota in 2019 after landing the full-time position with Minnesota United.
Her work is as much an art as a science. In addition to designing meals, Bruzina manages weigh-ins three times a day — once in the morning and then again before and after workouts. Maintaining hydration is crucial, she says, because players can lose as many as six or seven pounds of water during a single training session. Players also fill out a questionnaire each morning, answering questions about their nutrition and hydration during the past 24 hours.
Bruzina, who estimates she takes 15,000 steps during a typical workday, is a visible presence on the training field. "I handle any hydration requests," she says. "Players have individual hydration buckets. Some are straightforward; others who are heavy sweaters or salty sweaters have individualized bottles in their buckets."
Among Bruzina's most memorable challenges with Minnesota United was the 40 days spent in the bubble with the team at Disney World, site of the MLS is Back Tournament. Teams and staff were confined to one hotel and bussed back and forth to the training and tournament site. They wore PPE the entire time when outside their hotel rooms, and all were tested for COVID-19 every other day. Keeping the athletes fueled with hotel food three or four meals a day while social distancing, Bruzina says, "will be the pinnacle" of her career. She feels sharing that experience with the players was amazing "because many dieticians don't get to experience being fully immersed with a team."
Her role as an educator also continues as she works individually with athletes ranging in age from 16 to 34 with diverse nutritional backgrounds.  
"Sometimes they come here and they're totally unfamiliar with Americanized food or the Americanized food system — even what an American grocery store looks like," Bruzina says. "It's overwhelming when they go to the grocery store for the first time. Like, what's an Oreo? Because some of our players are coming from very small towns in Uruguay or Paraguay or very small villages in Africa and they don't have exposure to the large Americanized grocery stores and food chains. I've had interesting conversations about jelly. I have to explain that there are jellies with a lot of added sugar, but you need to look for jam or a preserve without a lot of sugar."
So what's on the menu for MLS players, who can easily burn more than 3,000 calories in a day? "We have quite a few Central or South American players, Eastern Caribbean players," Bruzina says. "We do a lot of rice and beans; that tends to go well over with everybody. We also do a lot of chicken, steak. We only serve pasta on one day, which is game day. Honestly, that's just preference. I think lot of players prefer potatoes or rice, or quinoa and other various grains. They see pasta as something specific to game day or the night before game day. In general my players eat very well. I don't have to twist anybody's arm to get them to eat vegetables."
1
Construction management alumna honored for impact in her field
December 5, 2023
Gloria Samuel entered the construction industry more than 20 years ago as a University of Cincinnati co-op student and never looked back. Since then, she has earned both undergraduate and graduate degrees at UC and has taken great pride in giving back to the college by sharing her education and experiences with others as an adjunct faculty and serving on numerous community boards and committees. Currently, she is the Senior Vice President and Director of Construction Program and Project Management for Fifth Third Bank.
Debug
Query for this