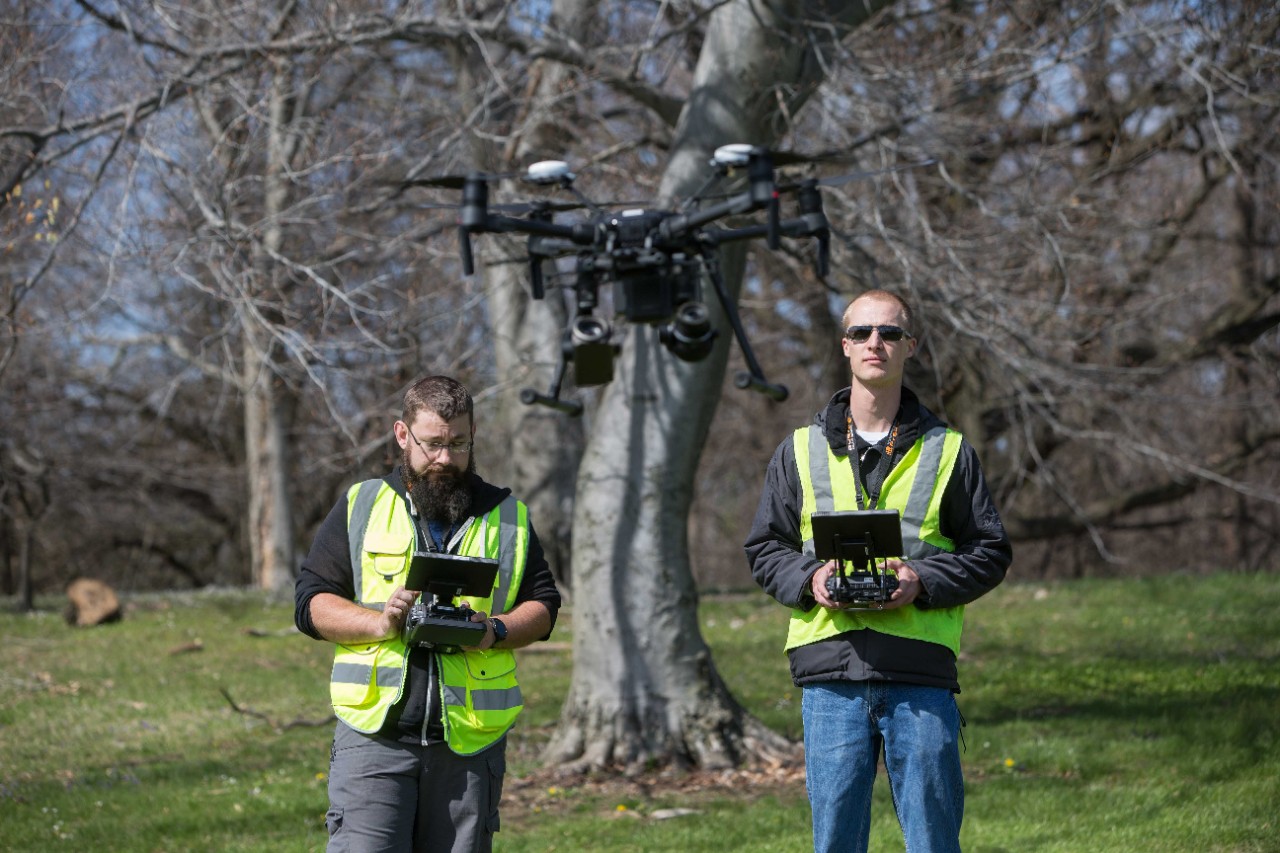 UC to study economics of drones in Ohio
From deliveries to air taxis, UC will help ODOT shape Ohio's unmanned aerial systems
The University of Cincinnati will study the economics of deploying autonomous drones to perform a variety of important tasks for Ohio's Department of Transportation.
UC will help Crown Consulting and NEXA Capital Partners examine the use of drones, autonomous cargo aircraft, medevac organ transplant delivery and air taxis in Ohio, particularly along the I-71 corridor between Cincinnati, Columbus and Cleveland.
"This study is one of the first of its kind in the United States and will be watched across the country. Our UC UAV Team is extremely excited to participate in this important work" said Kelly Cohen, head of the Department of Aerospace Engineering and Engineering Mechanics in UC's College of Engineering and Applied Science.
Cohen directs UC's UAV Master Lab, where students engineer innovative unmanned aerial vehicle technology and applications.
The study will estimate the economic impacts of introducing and maintaining urban and regional air mobility and unmanned air traffic management systems connecting Ohio's biggest cities.
The project will support ODOT's DriveOhio initiative, which is focused on advancing smart mobility in Ohio and being a one-stop shop for those looking to develop, test and deploy advanced mobility solutions in the state. The study will provide data to help ODOT leverage advanced autonomous aircraft technologies to benefit the state.

Cohen said ODOT is a national leader in investing in innovation to spur new businesses in the service of its mission to improve public safety and transportation.
"ODOT is at the forefront of investing in these technologies in a thoughtful way to enable viable business cases while assuring the public that operations will be safe and valuable to its citizens," Cohen said. "Columbus' SmartCity initiative is a path finder within the U.S. and they are thinking about how to connect transportation modes to include advanced air mobility."
As we were establishing the team to perform this important study, UC was a clear choice as a partner due to its rich history in advancing aerospace.
Rubén Del Rosario, Crown Consulting, Inc.
Ohio is the birthplace of the Wright Brothers and 21 astronauts, including the late John Glenn and Neil Armstrong. It's home to aerospace assets such as NASA's John H. Glenn Research Center and the Air Force Research Laboratory at Wright-Patterson Air Force Base, along with more than 600 aerospace companies that make Ohio the nation's biggest aerospace supplier.
UC Aerospace has an equally storied history. Armstrong came to UC to teach aerospace engineering after being the first person to set foot on the moon during NASA's historic Apollo 11 mission.
UC engineers have worked on some of the world's most ambitious aerospace projects, from the space shuttle program to the International Space Station.
"As we were establishing the team to perform this important study, UC was a clear choice as a partner due to its rich history in advancing aerospace and the impactful work by the UAV Master Lab in support of many Ohio initiatives," said Rubén Del Rosario, senior director for aerospace systems at Crown and a former director of aeronautics at the NASA Glenn Research Center.

"Ohio is rich in aviation from the Wright Brothers to John Glenn and Neil Armstrong to being the largest state supplier to the aviation industry," Cohen said. "Many states and cities are hoping to launch various uses of unmanned aerial systems and small passenger and freight carrying vehicles, powered by batteries rather than gas, to serve the public in many ways."

Cohen said UC will examine these technologies for use in both urban and rural areas to help chart a path toward a robust, environmentally friendly transportation mode and will provide guidance for Ohio's future investments and research in these technologies.
"Ohio is a leader and one of only a handful of locations in the country setting an ambitious path toward advanced air mobility," said Crown Chairman and CEO Al Khan. "The state's political and financial commitments match its rich aviation heritage. We are honored to help the state advance to the next strategic level with data and analysis of these transformative technologies."
Advanced air mobility technologies are already being deployed for pipeline, power line, rail and road inspections. Meanwhile, companies like UPS and Google Wing are pursuing package delivery with autonomous drones. Others such as Uber are pursuing the future of air taxis.
"We believe their use will become more common once more of these vehicles become certified and companies like UPS, Amazon and others scale toward routine operations," Del Rosario said. "All of this fits well with Ohio's urban landscape and the need to efficiently connect rural areas. Through this study we will examine how Ohio can capitalize on these benefits and we are delighted to have UC as our partner."

Featured image at top: Bryan Brown and Austin Wessels operate a drone UC used for an Ohio Department of Transportation project. Photo/Andrew Higley/UC Creative + Brand
Impact Lives Here
The University of Cincinnati is leading public urban universities into a new era of innovation and impact. Our faculty, staff and students are saving lives, changing outcomes and bending the future in our city's direction. Next Lives Here.

Stay up on all UC's COVID-19 stories, read more #UCtheGood content, or take a UC virtual visit and begin picturing yourself at an institution that inspires incredible stories.
1
Touchdown for sustainability
October 2, 2023
In an ongoing pursuit to maintain an eco-friendlier campus and stadium, UC Sustainability is rallying as much fan support as possible to properly dispose of the mass of bottle and can recyclables too often left behind inside and around Nippert Stadium.
2
UC Makerspace to host Maker Evenings, open house
October 2, 2023
Calling all makers and doers! The University of Cincinnati Ground Floor Makerspace, located in the 1819 Innovation Hub, is hosting a series of events to foster creativity and innovation for the UC community and beyond. On Oct. 9, Makerspace staff will host an Open House and Club Night from 4 to 7 p.m. Then, from Oct. 10-14 from 5 to 7 p.m., they'll offer Maker Evenings, with multiple make-and-take workshops each night.
3
DAAP's Step Up to Art cuts ribbon on Fig Alley and Ohio Avenue...
October 2, 2023
In 2019, DAAP's grant accelerator program paired Bonansinga, a professor and director of UC's School of Art, within the College of Design, Architecture, Art, and Planning, with Muhammad Rahman, an assistant professor of design, to research and develop a community enrichment program. The result was Step Up to Art.
Debug
Query for this