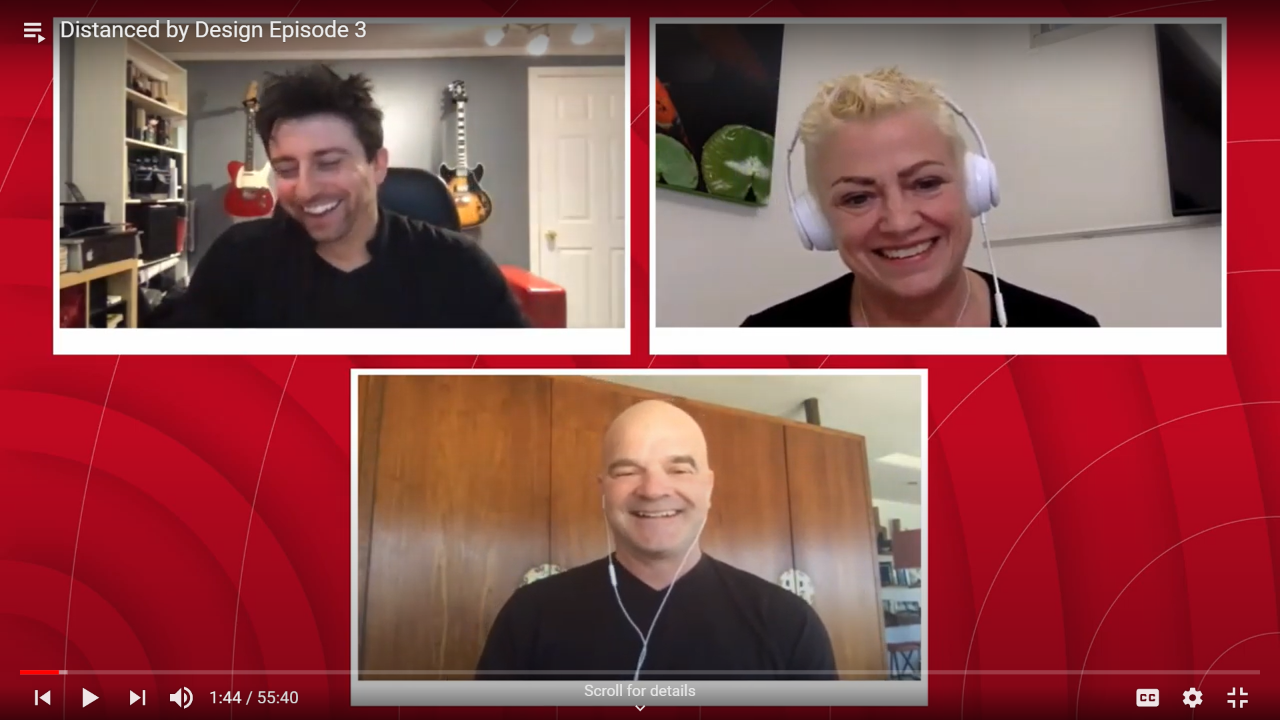 New web series explores how COVID-19 is impacting creative industries and more
Distanced by Design is a series of open-ended conversations among professional designers on how the COVID-19 pandemic is affecting creativity, innovation, and collaboration and how industry sectors or communities might change as a result. And as COVID-19 has evolved, so has the series. With over 9 episodes complete and more scheduled, the series has broadened from the, "How is the pandemic affecting your industry," to the simple question of, "What creative and innovative things are happening in your field." And the conversations continue to deliver content that is interesting to UC students, alumni and industry partners.
Alumni of the University of Cincinnati's world-class College of Design, Architecture, Art and Planning are the guests, and each conversation is led by Aaron Bradley, associate professor and director of creative, culture and social impact Initiatives with UC's Experience-Based Learning and Career Education division.

From conversations about how new constraints might drive innovation, to rebuilding communities and filling the void of serendipitous interactions in workplace design, these thought leaders are solving problems in real time providing insights you don't want to miss. Hop on the couch and listen in!
Find all episodes at Distanced by Design on YouTube.
Many thanks to sponsor Cincinnati Bell for production support.
1
Clean Earth Rovers cofounders named to Forbes 30 Under 30 list
November 30, 2023
A pair of graduates of the University of Cincinnati's Venture Lab program were recognized as being among the top entrepreneurs in North America as part of the 2024 Forbes 30 Under 30 list. Clean Earth Rovers cofounders Michael Arens and David Constantine were named to the 13th annual Forbes 30 Under 30 list in the energy category.
2
UC Learning Lab inspires College of Medicine to SIT
November 29, 2023
In a convergence of academic integration, the University of Cincinnati's renowned colleges — Design, Architecture, Art, and Planning, Lindner College of Business, College of Engineering and Applied Sciences and College of Medicine — recently joined forces at the 1819 Innovation Hub for an ideation session that exemplifies the institution's commitment to interdisciplinary collaboration.
3
National media highlight newest US World Heritage site
November 28, 2023
For nearly two decades, professor emeritus John Hancock helped lead a team of archaeologists, historians and Native American scholars, including staff at the National Park Service and Ohio History Connection, to have the Hopewell earthworks recognized on par with other World Heritage sites such as the Great Wall of China and Stonehenge.
Debug
Query for this