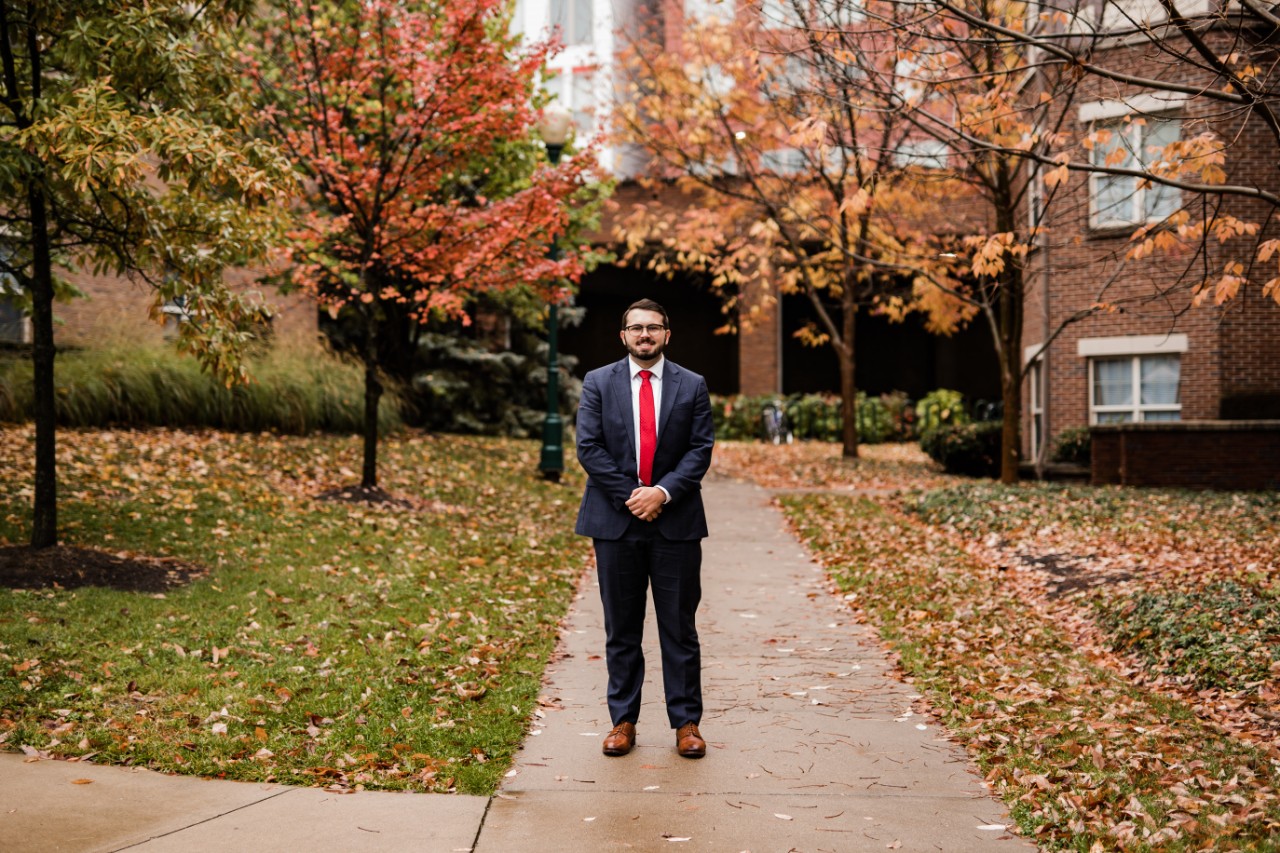 'Fight to the finish' has new significance in 2020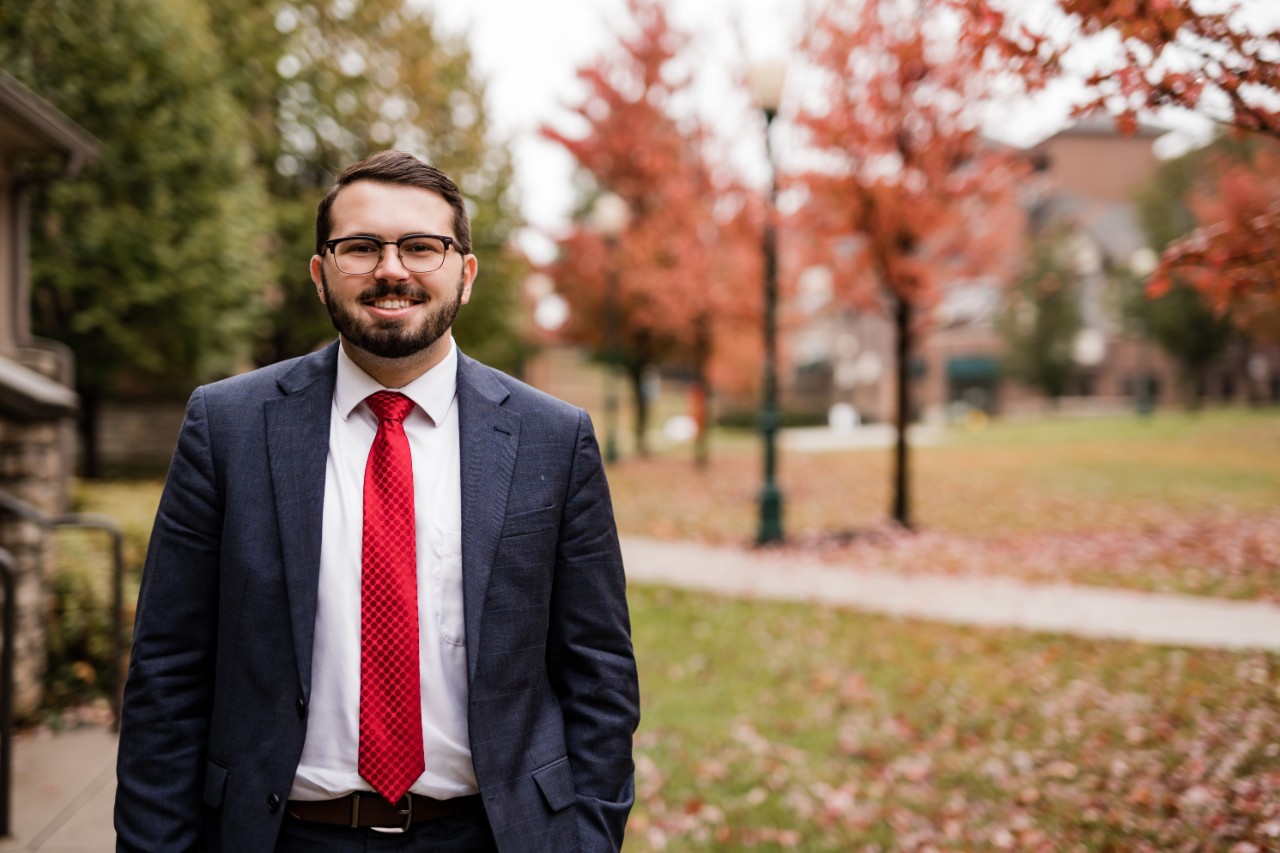 It wasn't supposed to be this way. 
Logan Lindsay had big plans for his final year at UC. It would be the culmination of all that he loved most about college: building and celebrating friendships and, as undergraduate student body president, seeing his newly created initiatives come to life in the well-being of his fellow students.
Lindsay and his running mate, Karl Dierking, had run on a Student Government platform of 12 initiatives they called "Fight to the Finish" — an enlightened master plan named for UC's fight song and designed to ensure that fellow students had the resources and access they needed to achieve their academic and personal goals.
But with the arrival of COVID-19, "Fight to the Finish" morphed into a fight to support UC students. "It has definitely taken a different tone, considering everything that has happened," Lindsay says ruefully. "In the beginning we were struggling to fight to the finish of spring semester by simply staying safe and handling this pandemic."
Just like the rest of the world, UC students were required to act quickly when faced with many life-altering restrictions.
"We were focused on the day-to-day, wanting to help," Lindsay says. "We were able to help launch the Student Emergency Relief Fund, provide transportation to the airport, help students move out of their residence halls and make sure they had enough to eat after the dining halls closed. We were able to be very versatile in what we needed to achieve."
A computer engineering major, Lindsay felt the pandemic's punch both personally and in his role as a campus leader. In the spring of 2020, he was forced to transition from his in-person co-op to remote work from home. Daily in-person interactions with colleagues and co-workers vanished instantly in the cloud of COVID-19.
"That was a huge adjustment in itself, just being all by my lonesome in my room all spring and summer," Lindsay says.
The loss of peer-to-peer interactions continued after fall classes got underway.
"The hardest part for me — and it aligns well with how others feel — is the lack of interaction with peers," Lindsay says. "One of main reasons I've invested so much time in student involvement is the relationships. Being in those shared spaces. If you're in these organizations, you tend to have common goals, and that helps grow those friendships. I haven't been able to do that as much as I would like this year. I definitely miss those conversations. You don't really understand the importance of it until it's gone."
Beyond his personal responsibilities, Lindsay was forced to assume a student government role that had no precedent. "You come into this with the expectation that things will be how they were the last few years," he reflects. "But that whole idea of having a normal presidency very quickly got thrown out the window. So, we had to change all focus toward the pandemic. We had to ensure that student voices are heard, and we wanted to be included in the plans for how we might return to campus safely."
Setting aside disappointment, Lindsay, Dierking and their leadership team addressed the challenges before them. Unemployment, deteriorating mental health, and food and housing insecurity were among the most urgent issues requiring their attention. And all this amidst an 8 percent budget cut across the university.
With the help of virtual meetings and support from Daniel S. Cummins, assistant dean of students, the student voice was shared and heard. Positive steps were taken.
An expansion of the Bearcats Pantry to include a delivery option and extended hours — a goal of Lindsay's before the pandemic — became a priority as suddenly jobless students found themselves short of income and food. Seeing those needs met, Lindsay says, ranks among his most important accomplishments as student body president.
Lindsay savors other signs of resilience as well. Deprived of interaction in the classroom, many students have found social connection in small group gatherings (limited by state law to 10 individuals) and through increased online programming.
"Organizations are not letting the pandemic define them," Lindsay says. "They're tackling all the odds and producing great programs, no matter the situation they're in. The Student Alumni Council and their podcast is a great initiative. And our Equity & Inclusion Committee did an amazing job with all virtual programs and activities during Equity & Inclusion Week."
Of course, it wasn't supposed to be this way. Lindsay says he's the first to admit that his role as student body president hasn't been "the most fun this year." At the same time, his mission could not have been more crucial to the university during the most far-reaching public health emergency in America in a century. 
"At end of the day, there's a job at hand, and students who need help," Lindsay says. "We ran on 12 platform points and rapidly switched our focus to COVID. Being able to very quickly change our focus and to change course to meet what the students want has been gratifying."
What's Next Starts With You
Thank you for lending a hand to UC students in need. By supporting the University of Cincinnati, you are joining a team of alumni and donors committed to making a meaningful impact on our students' lives and thereby the world. It is only through the collective support of people like you that we can realize our vision of what can be accomplished at the University of Cincinnati. Consider making a gift to the UC fund you are most passionate about today.
1
WVXU: Tech CEOs talk AI with lawmakers
September 22, 2023
Professor Richard Harknett is a guest speaker on WVXU's Cincinnati Edition on the topic of AI and the need, or lack thereof, for government regulations. Professor Harknett is the head of UC's School of Public and International Affairs and is an often sought out media resource on technology, cybersecurity and governmental affairs.
2
UC celebrates Marian Spencer Scholars
September 22, 2023
The University of Cincinnati celebrated the legacy of UC alumna Marian Spencer by recognizing 20 students awarded her namesake scholarship during a Sept. 9 induction ceremony. The Marian Spencer Scholars are all high-achieving graduates of the Cincinnati Public School system.
3
UC and GE partner to introduce high schoolers to engineering
September 21, 2023
Rising 9th and 10th graders experienced a free, weeklong, immersive engineering camp at the University of Cincinnati as part of GE's Next Engineers program. Students completed hands-on engineering design challenges while being mentored by GE Aerospace volunteers, industry professionals and current College of Engineering and Applied Science (CEAS) students.
Debug
Query for this