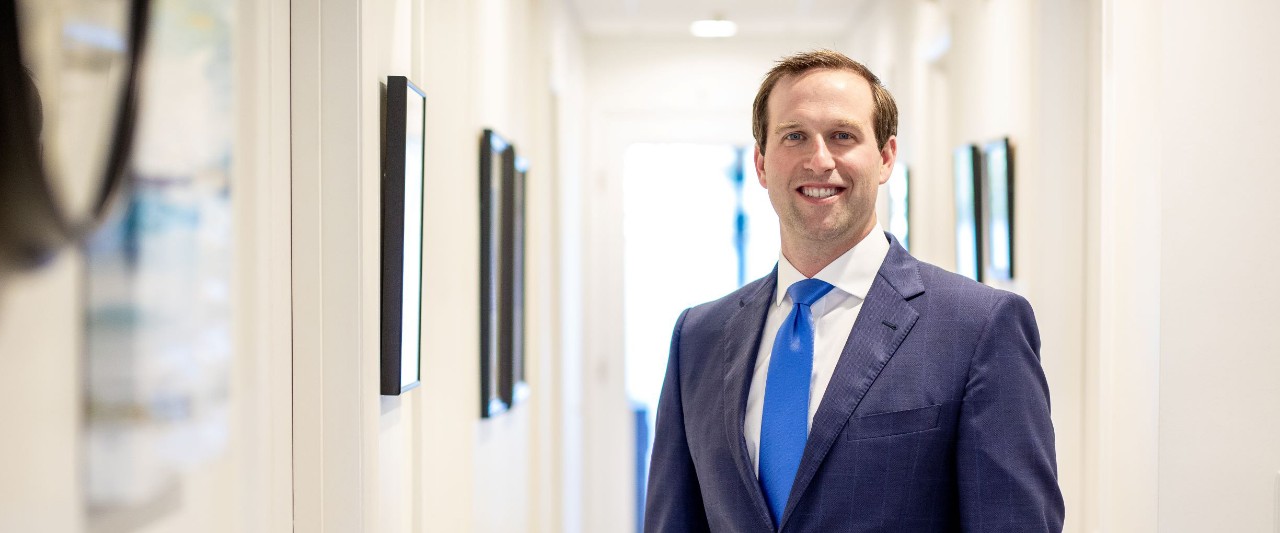 Lindner Alumni Spotlight - Cory Sims '11
Meet Cory Sims, managing member and investment advisor representative at Sims Investment Management LLC. Sims is a proud Lindner alumnus who graduated in 2011 with degrees in finance and real estate. During his time as a student, Sims was a member of Delta Sigma Pi Professional Fraternity, a men's basketball manager, and a Kolodzik Business Scholar.  
Sims has a series 65 registration and holds AWMA®, CRPC®, and CES designations. In his personal time, Sims enjoys spending time with his wife, Emily, giving back to the community through Junior Achievement, and being a part of several committees and groups with the University of Cincinnati, including serving as president of the Lindner College of Business Alumni Council. His other interests include travel, music, supporting Cincinnati sports teams, and general aviation.
Why did you decide to get a degree in business — and why did you choose Lindner?
I might be the only Lindner graduate who arrived not with a focus on business, but rather coaching basketball. I was blessed with the opportunity to be an equipment manager for the Bearcats and Coach [Mick] Cronin, and quickly keyed on the repeating themes of leadership, teamwork, perseverance, communication and a sound work ethic. They were what drove me into wanting to coach basketball, but were also surfacing in the classroom when examples of sound business practices and successful models emerged.
I made that "a-ha" click, combined the financial component, and realized it wasn't simply coaching that called me; it was running an organization and its various components that really drove my interest. In terms of choosing Lindner, this was a no-brainer. My Bearcat blood runs generations deep, and my great-grandparents were the owners of the Clifton Café, a neighborhood bar on the corner of Victor and Warner dating back to the 1930s. It's changed hands since then, and the building still remains, but what will never run its course is our Bearcat pride and love for this university.
What lesson did you learn at Lindner that seems to be repeating (or "rhyming") with your professional experience?
This is a hard question to answer, as I could give a handful of seminal examples. While business was the major, however, philanthropy and benevolence are what I take away from Lindner. Good business is not a pure capitalistic venture absent of the human component. I sometimes feel that supply and demand curves are too rigid in their explanation of how goods and services are exchanged and communities developed. Lindner put the human component front and center — giving back to your community, helping current and future generations to succeed as previous generations helped us.
Successful businesses support their communities not only through quality products or services and employment, but also via a host of other social-driven ways. Education, volunteerism, and civic activities are too often overlooked business practices that Lindner instilled in me. I can't think of a more poignant takeaway than this. 
I feel strongly that no matter the obstacles presented in life, our ability to overcome them is what separates fulfilled from unfulfilled people.
Cory Sims, Bus '11
What problems are you working to solve in your industry?
I feel strongly that no matter the obstacles presented in life, our ability to overcome them (and not relying on others or the government) is what separates fulfilled (emotionally, spiritually and financially) from unfulfilled people. I work in finance and one of the most stressful things for any person or household to manage is money. We all have our own personal histories and likely know others. The mismanagement of finances can have disastrous effects on family life, but it doesn't have to.
I am steadfast in my pursuit to educate clients and the public at large on financial concepts and tools to make money an easier subject to manage. Personal finance courses at a high school level are scarce if not completely absent in many places. This is (and has been) a recipe for disaster. Thanks to Carol Burns, I have had the pleasure of teaching Junior Achievement, I regularly post on my blog and vlog, and will continue to put financial education at the forefront as an issue I can tackle over my lifetime.
What advice would you give to a current student looking to start a career in your industry?
It's natural to associate number-crunching and analytical skills with finance. There is indeed quite a bit of the two. But decisions and actions are made by human beings, and human beings by definition do not always behave rationally. To be successful in this business you need to understand what makes people tick. My number one piece of advice would be to make sure your electives focus on psychology or behavioral sciences classes. If you're already out of school or spent your electives on other things, take some online courses in these areas. A firm grasp of the "why" behind any number is crucial.
Second is goal setting. This is certainly not industry-specific, but again, very important for succeeding in finance. Spend some time on yourself, reflect on what you want to achieve 6 months, 2 years and 5 years from now. Write those goals down and allow them to be a guiding post in your day-to-day progression. I absolutely love this quote by Aristotle: "An unexamined life is not worth living." If you're simply going through the motions goalless, you don't get another chance after this life. Put in the time and make it worth your while now.  
What achievement are you most proud of?
Early on I knew I wanted to center on being a life-learner. At its core, being a life-learner sounds relatively simple — almost like being on auto-pilot, as every waking day presents a range of new things that can be learned. But once you're an adult with a career and a steady routine, learning new things isn't always welcome. In fact, learning something new can frequently result in questioning pre-held beliefs. And that can lead folks into admitting something disastrous and downright embarrassing … I might have been wrong! Gasp!
I am not saying I am a perfect life-learner. In fact, I go through bouts where I wish that new thing learned did not conflict so heavily with what I had held to be true. But I work at this, and exercising the muscles needed to continue being a life-learner is something I am quite proud of. Ultimately, I want to be able to look God in the eye when I am called home and have him say to me, "Well done, good and faithful servant." 
What ways do you give back to your community? Why do you believe this is important?
As I previously mentioned, philanthropy and benevolence are what I take away from Lindner. I feel strongly that to live a well-balanced life, giving back to your community is fundamental. Lindner played an important role in my life, and the time and effort I put into being the best student I could (in and out of the classroom) was bolstered by an unwavering sea of support from faculty, alumni and fellow students. 
I have been fortunate to be involved with the Alumni Association, the Athletics Department, and now president of the Lindner Alumni Council. I have also been involved with Junior Achievement for about 15 years, as well as serving on the executive board for Victory Aviation. These are activities that fall in line with my "pay-it-forward" mentality. Everything we experience on a day-to-day basis was created by great men and women before us. It is our responsibility to continue improving the world around us in the distinct ways God has blessed us. Ultimately it can be summarized as simply as Luke 12:48: "From everyone who has been given much, much will be demanded; and from the one who has been entrusted with much, much more will be asked." 
Featured image: Cory Sims '11/Provided.
Where Are They Now – Alumni Spotlight Series
With over 46,000 Lindner College of Business alumni worldwide, Lindner graduates are making their mark around the globe! To read other alumni stories check out the Where Are They Now alumni spotlight series page. Are you willing to share your Lindner story? Reach out to Cynthia Miller to learn more. 
1
New year habits entrepreneurs should adopt
The beginning of a new calendar year is a time to look ahead and set new goals. Entrepreneurs can commit to staying on track throughout the coming year by adopting quick habits to take their business to the next level of innovation.
2
The future of work: How should we view work-life balance?
February 7, 2023
The COVID-19 pandemic, an increase in remote work and other disruptions to the way people work have led many employers and employees to reconsider issues surrounding work-life balance. Two professors and a staff member from the University of Cincinnati's Carl H. Lindner College of Business discuss how employees and employers can take steps to improve work-life balance, how paid time off should be handled and the potential for a four-day workweek.
Debug
Query for this