Professor builds organ-on-chip technology for personalized medicine
3D-printed human organs-on-chip could revolutionize the study of disease
Riccardo Barrile, assistant professor of biomedical engineering at the University of Cincinnati College of Engineering and Applied Science, is combining three powerful technologies — stem cells, 3D bioprinting and organs-on-chips — to create living human tissues and organs for use in drug screening, disease modeling and regenerative medicine.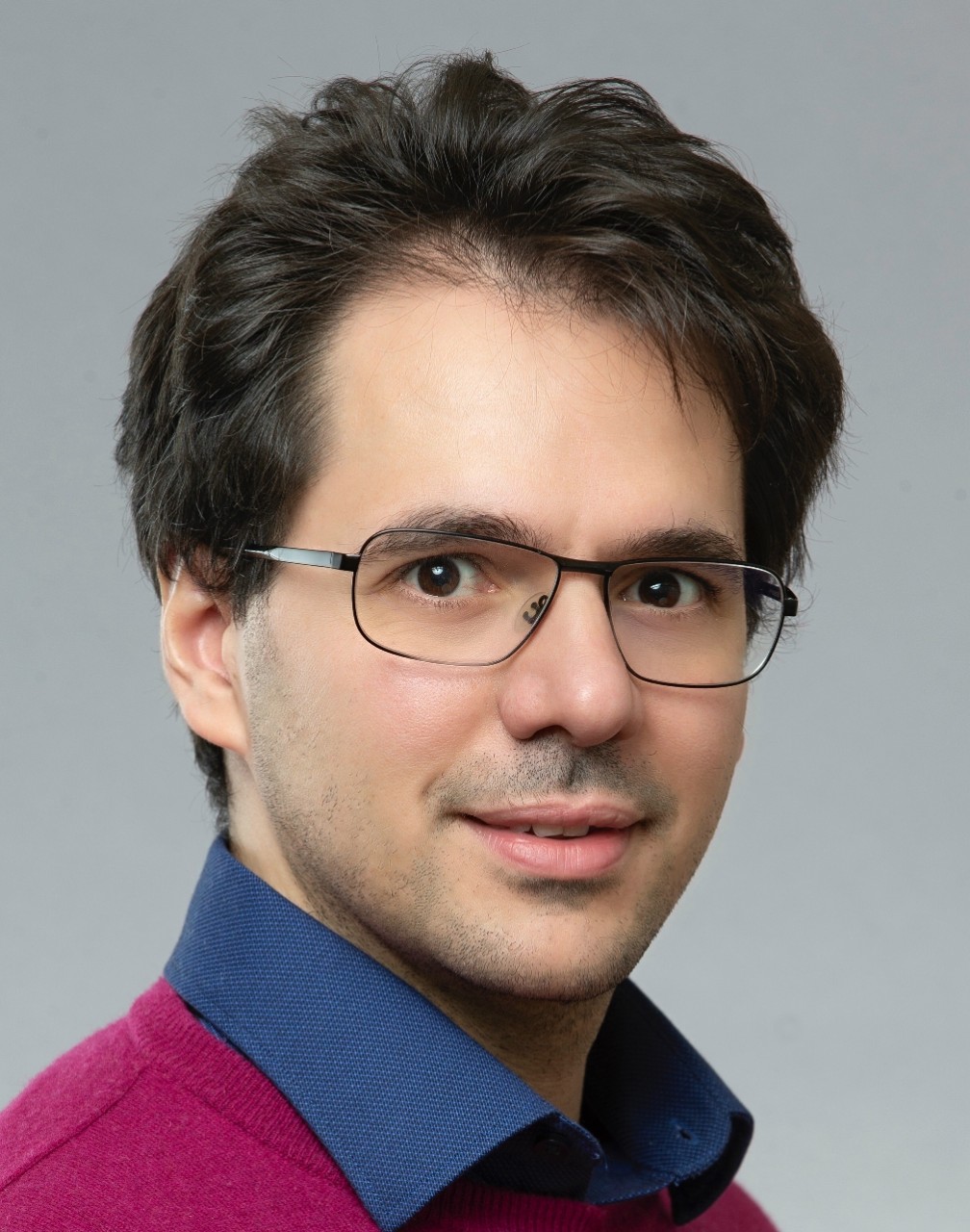 "This synergistic approach enables us to build in laboratory high-fidelity human tissue constructs that replicate patient's specific genetic disorder, match the biochemical and mechanical properties of the native tissue in health and disease, or even enable us to test drugs and treatments on individual patient's cells," Barrile said.
This research may someday lead to personalized medicine breakthroughs, fast-track development of new drug treatments, and eliminate the need for animal testing. 
Barrile's efforts demonstrate UC's commitment to research as described in the university's strategic direction, Next Lives Here.
Barrile's work at UC advances the previous research he performed at Wyss Institute for Biologically Inspired Engineering at Harvard University and Emulate, an organ-on-chip company that spun off from Harvard. Barrile developed vascularized organ-on-chip models of human lung and blood-brain barrier, which in contrast to conventional cell culture dishes, are designed to mimic the three-dimensional architecture and dynamic nature of human tissues. 
"We are able to engineer microchips incorporating human cells and blood and simulate the mechanical forces that act on the human body, such as how blood flows through the vessels," Barrile said. "These models have been shown to respond to various inflammatory cues and to sustain human blood flow, providing a unique platform for modeling of human biology and pathophysiology."
These in-vitro solutions better match how our bodies would react to medications or other treatments compared to testing in animals, like mice. Ultimately, such devices could be created with cells obtained from individual patients to test which treatment to disease will work best in that specific patient — before they even take a dose. 
It would also be a more economical and effective method of testing pharmaceuticals. 
"The modern drug development process is long and expensive. Animals are used as standard preclinical models to screen for and exclude any potential toxic molecules and to select for highly efficient drugs. However, the reality is that nearly 95% of compounds fail before reaching the market, which argues for the use of better preclinical models," Barrile said. "An accurate human-cell-based model could mean that a drug that is ineffective or unsafe could be discovered early in the testing phase instead of during human clinical trials, which could be a huge cost savings."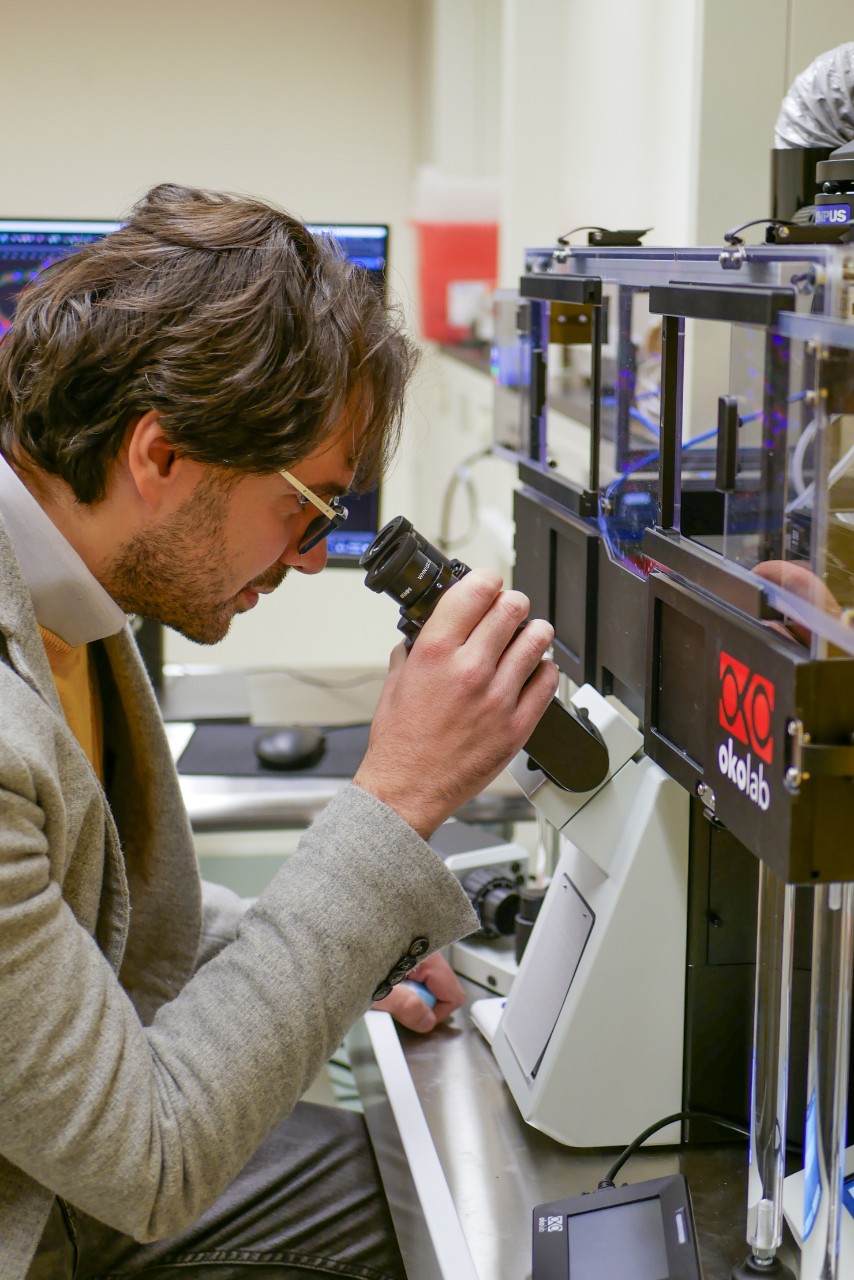 His research work at UC builds on his past experience working at the interface of industry and academia. Barrile will continue to focus on how to target personalized treatments to the cellular and molecular mechanisms that govern organ functions during health and illness, specifically stroke and cancer. 
Barrile is also part of the Center for Stem Cell and Organoid Medicine at Cincinnati Children's Hospital, which the hospital describes as a multidisciplinary team of scientists, clinicians and entrepreneurs using advances in developmental biology and stem cell technologies to revolutionize personalized medicine and improve patient care. 
"I want my research to have an impact in the real world," Barrile said. "I don't want my research work just to stay on my bench." 
He is working on several projects collaboratively across UC, UC Health and Cincinnati Children's. With Soma Sengupta, UC Health physician and co-director of the UC Gardner Neuroscience Institute's Brain Tumor Center, Barrile is collaborating on a model for glioblastoma, the most common and aggressive brain cancer. He is working with Ryan White, associate professor of chemistry and electrical engineering to implement White's biosensors into a chip to detect changes in biomarkers. He also joined forces with Agnes Luo, associate professor of molecular genetics in the College of Medicine, to study stroke and comparing in-vitro models using human cells with mice, which are frequently used in preclinical drug testing. 
Barrile, who grew up in Sicily in Italy, has a bachelor's degree in biology and a master's and Ph.D. in cellular and molecular biology. He earned his Ph.D. at the University of Siena in Italy through a program at Novartis Vaccines and Diagnostics, where he conducted all of his doctoral research on the subject of in-vitro cell biology. He was a post-doctoral fellow at Wyss Institute in Boston, where he was later a research associate, and a post-doctoral researcher at Cedars-Sinai in Los Angeles. He also worked as principal investigator and associate director of preclinical development at Emulate Inc.
Barrile was drawn to Cincinnati because of the leading stem-cell research that is taking place. He was seeking a university environment that would encourage him to focus on innovation that isn't driven by a specific business goal, as in the private sector. 
"Here in Cincinnati, I think there is an opportunity to bring this technology to the point that it could be further developed into precision medicine and later even commercialized," Barrile said. "You have this vibrant research community and accelerators within the university and the hospital that I think will enable much more innovation in a short time." 
1
Touchdown for sustainability
October 2, 2023
In an ongoing pursuit to maintain an eco-friendlier campus and stadium, UC Sustainability is rallying as much fan support as possible to properly dispose of the mass of bottle and can recyclables too often left behind inside and around Nippert Stadium.
2
UC Makerspace to host Maker Evenings, open house
October 2, 2023
Calling all makers and doers! The University of Cincinnati Ground Floor Makerspace, located in the 1819 Innovation Hub, is hosting a series of events to foster creativity and innovation for the UC community and beyond. On Oct. 9, Makerspace staff will host an Open House and Club Night from 4 to 7 p.m. Then, from Oct. 10-14 from 5 to 7 p.m., they'll offer Maker Evenings, with multiple make-and-take workshops each night.
3
DAAP's Step Up to Art cuts ribbon on Fig Alley and Ohio Avenue...
October 2, 2023
In 2019, DAAP's grant accelerator program paired Bonansinga, a professor and director of UC's School of Art, within the College of Design, Architecture, Art, and Planning, with Muhammad Rahman, an assistant professor of design, to research and develop a community enrichment program. The result was Step Up to Art.
Debug
Query for this