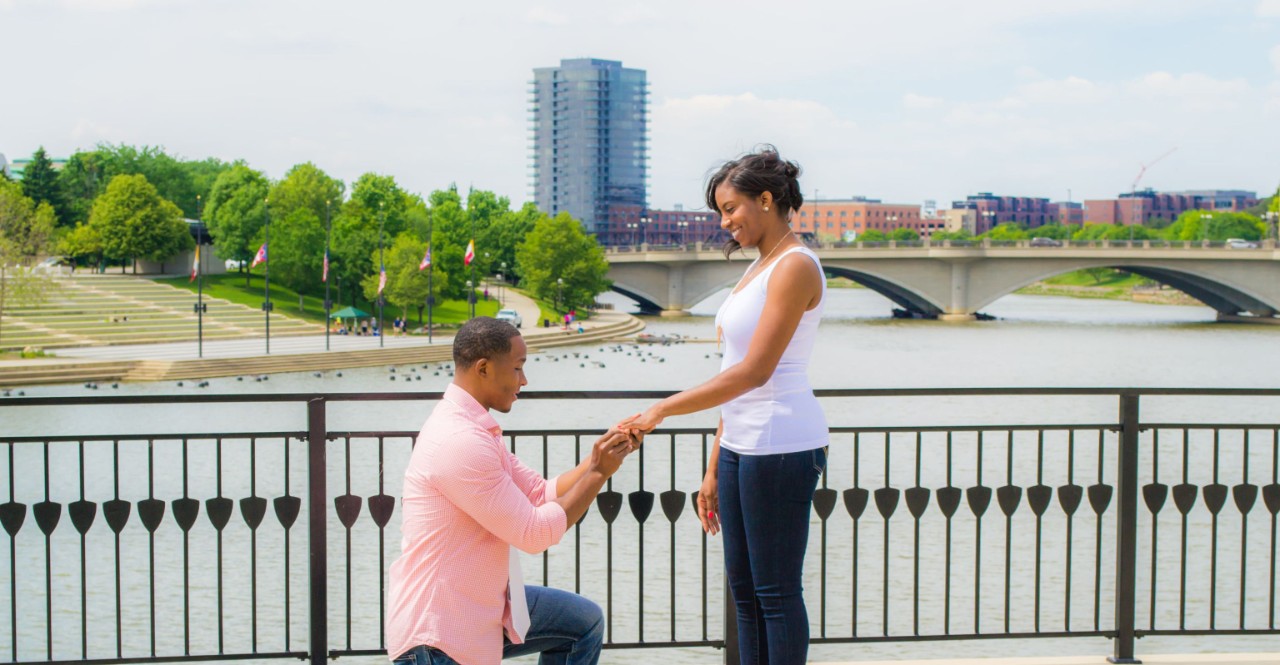 Maj. Victor (Bus, '05) and Stephani (CECH, '06) Shepherd share life of service to their country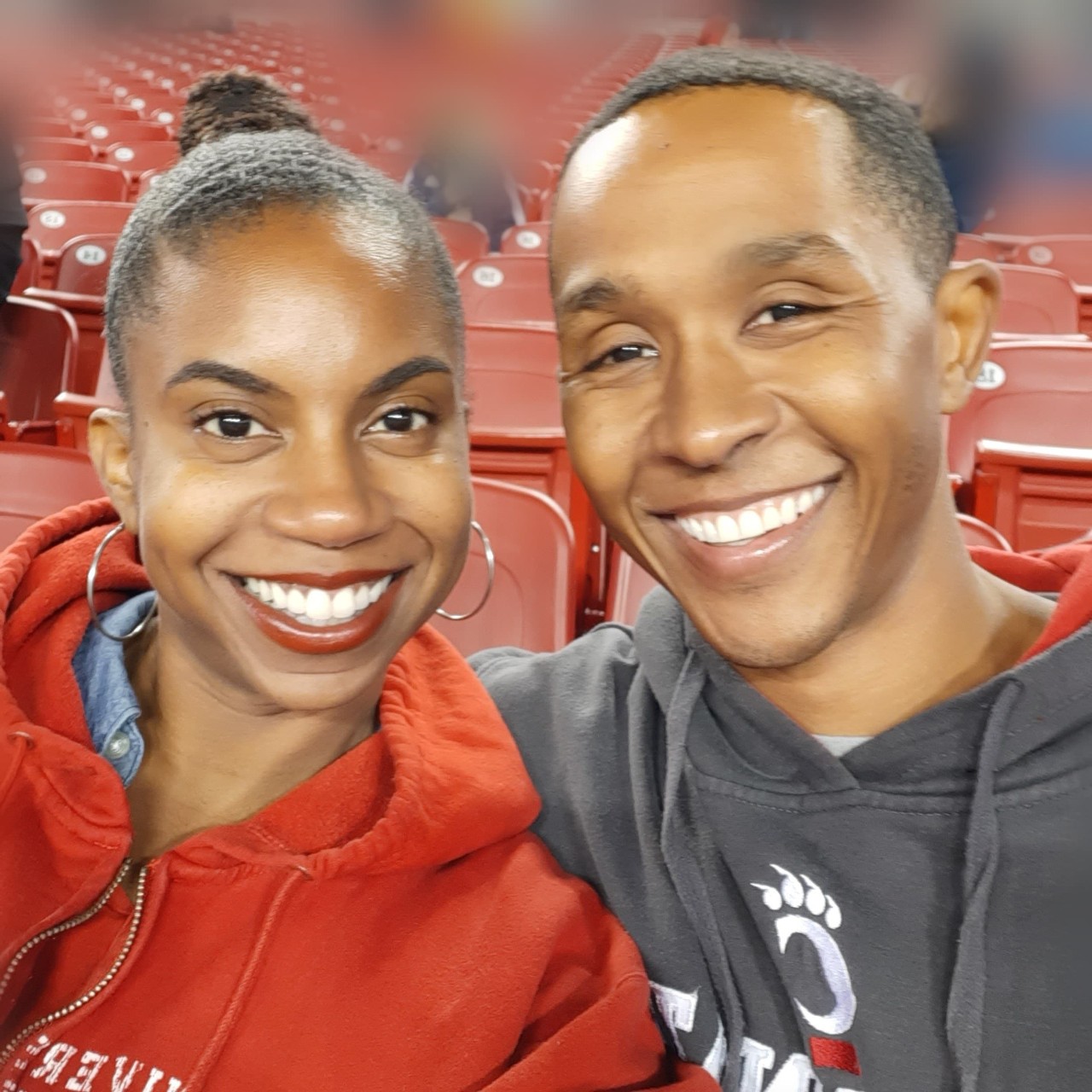 He came to the University of Cincinnati from Harlem, via New York City's prestigious High School of Economics & Finance. He came for a college education, to launch his military career in the ROTC, and to revel in the nationally ranked Bearcat basketball team. She came to UC from Columbus, Ohio, a Darwin T. Turner Scholar. She came for a college education, for the honors program, and to participate in activities sponsored by the African American Cultural and Research Center (AACRC).
They met at the AACRC. But Victor Shepherd (Bus, Finance '05), now a Major in the United States Army, and Stephani Lambert (CECH '06) did not date each other. They did not hang out. Victor already had a girlfriend, and Stephani, respecting that, simply admired him from afar. Their romance would not blossom until years later, on a fateful day in 2012, when Victor, deployed to Afghanistan, sent Stephani a Facebook message to check in and say hello.
"I was excited, but didn't think anything of it," Stephani recalls. "He was probably bored and talking to who knows how many women. Then he messaged me again the next day. And the next day. And it turned into every day."
"When I came home, we started dating," Victor says. "And that's all she wrote."
They wed in 2013. 
Today, Victor and Stephani Shepherd are the parents of two young children and are stationed at MacDill Air Force Base in Tampa, Fla. Maj. Shepherd, with three deployments behind him — one to Iraq and two to Afghanistan — manages IT capabilities while assigned to the Defense Intelligence Agency within the United States Central Command headquarters. Stephani is a family blogger who also helps companies locate event venues, all while fulfilling a unique role as a military spouse. (Read her blog posts at www.greatlifeisamust.com.)
At UC, the AACRC played an important role for both of them. Victor was part of the Transitions program for freshmen, which took a personal interest in him and, in his words, held him accountable for his grades. "I was kind of rough around the edges being from New York; at least that's what I was told," he says with a laugh. "And then people started to take care of me and show me that I didn't have to have that attitude about everything."
Victor served as a steering committee member and mentor at the AACRC during his sophomore and junior years, developing an affinity for mentoring and a skill for leadership in the process. He also helped to establish the United Black Student Union. "UC made me who I am, that's for sure," he says.
Stephani also spent many enjoyable hours at the center, a small building "where everyone knew each other." 
Victor's eye toward a military career went from aspiration to mission the day the terrorist group al-Qaeda attacked the United States on September 11, 2001. Victor's high school, located across from the World Trade Center, was still standing after the Twin Towers collapsed but was badly damaged. "Fortunately for me, I had graduated a year earlier," he says wistfully. The school was closed for two years.
Following graduation, Victor was commissioned as a Signal Officer into the Army, and Stephani returned to Columbus, where she held a series of administrative positions in the private and public sectors. Victor was soon on his first deployment. He will never forget the experience of deplaning, a young man eager for this deployment, and walking into desert heat that he could not have fully imagined. "It was like someone takes a blow dryer and turns it on and blows it in your face."
Maj. Shepherd does not share memories of specific locations or heartbreak in combat zones in Iraq and Afghanistan, but he treasures memories of the camaraderie that bonded soldiers to each other.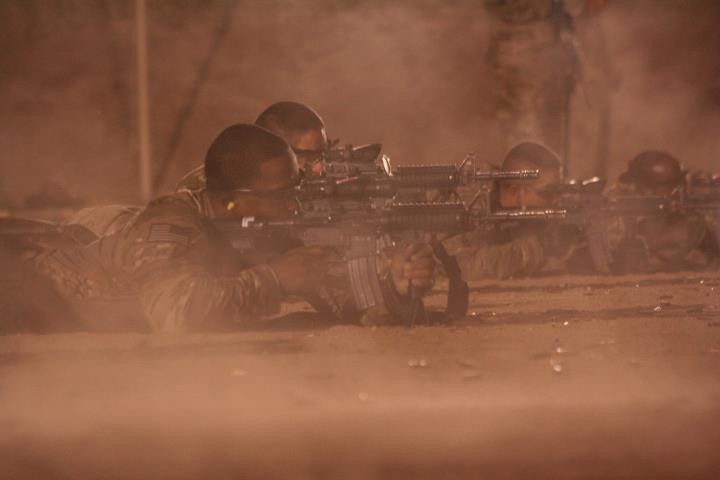 One night while in Iraq, he recalls, "We were attacked with somewhere between 100 or 150 rockets. They hit close, they hit far, they hit all over the Forward Operating Base. There was no real aim; that's what it felt like. I remember us sitting in a bunker. And after maybe rocket 60, we just started laughing, and telling jokes. And we did that for the remainder of the night. And it was kind of like, in what world — or where are you in your mind — where you can find joy or happiness among other people, even though you're actively being attacked?"
Maj. Shepherd also savors the memory of coming home. "We had redeployed, and fortunately we hadn't lost anybody during our deployment. When you leave a combat zone, you don't necessarily fly straight back to the States. There's a transition place you go to. I won't say where, but we were pretty much out of the combat zone. And we had three or four days to decompress from a year away and feel normal again and talk and know that it's over and we're coming home."
In 2012, Victor invited Stephani to join him during a period of R&R in Germany. To her great regret, Stephani did not have sufficient vacation time to make the trip. In a twist of fate, however, she and Victor found themselves stationed in Germany a few years later as a married couple. Stephani remembers that three-year period as a highlight of her experience as a military spouse. She loved the bakeries, the proximity of other countries and cultures, the $75 plane tickets to Italy, and Germany's more laissez-faire approach to child-rearing. 
"In America we have all these milestones and we push the kids to achieve them, whereas in Germany it's not like that," she says. "They let kids be kids, let them learn through play."
Stephani uses the word "fluid" to describe the life of a military spouse. She and Victor have lived in several different cities, and each move requires an adjustment. "You have to start your life over no matter where you are," she says. "We moved to Kansas four days after the birth of our daughter. I had no friends, and we were only going to be there for a year. If you're an introvert, it's really hard. I'm a mix, but I have to force myself out of my comfort zone so I'm not lonely."
Uncertainty is another reality. As Maj. Shepherd says, the potential for a new deployment "is never really done."
Also ongoing are the deeper concerns over his family's well-being, the security of the United States and global developments that most of the civilian population is unaware of. "It rattles my brain a bit when I think about the what-if's and the events going on in the world that aren't on our local TV broadcasts," he says.
Stephani worries about the "what-if's" as well. She is keenly aware that some veterans — homeless, depressed, suicidal — can become domestic casualties of war. "You can't always have an open conversation with a military member because of classifications of information," she says. "But I do wonder, is he OK? After having deployments, are you mentally healthy still? There are things I'm sure I will never know about. But you want to make sure your spouse is OK."
To those who are considering a military career, Maj. Shepherd offers encouraging words.
"If you want to be part of a team, if you want to be part of something that's bigger than yourself, then why not give it a try? Service to this country is the best thing I've ever done in my life. I have no regrets in that regard because, outside of being a husband and a father, it's given me a purpose that I can look back on and say I'm proud of all of it. I didn't like all of it, but I'm proud of all of it.
"I will also say — and this is beyond the military — whatever you do, do it because you love it. Don't do it for a paycheck, because money is never going to be enough. Honestly, do it because there's something about it that gives you purpose, that makes you happy. Because it's the purpose that will drive you through those tough times. Whatever your profession is, do it like you love it." 
1
New year habits entrepreneurs should adopt
The beginning of a new calendar year is a time to look ahead and set new goals. Entrepreneurs can commit to staying on track throughout the coming year by adopting quick habits to take their business to the next level of innovation.
2
The future of work: How should we view work-life balance?
February 7, 2023
The COVID-19 pandemic, an increase in remote work and other disruptions to the way people work have led many employers and employees to reconsider issues surrounding work-life balance. Two professors and a staff member from the University of Cincinnati's Carl H. Lindner College of Business discuss how employees and employers can take steps to improve work-life balance, how paid time off should be handled and the potential for a four-day workweek.
Debug
Query for this