UC researchers build data network to minimize flooding impact
Funded by a $5 million NSF grant, the network enables better flood preparedness and response
Flooding in the United States costs billions of dollars in economic impact annually, and those losses have increased over the years as flooding has become more prevalent. 
A team of University of Cincinnati researchers is working to predict how flooding will impact cities and how to mitigate the resulting economic and human suffering. 
With the backing of a $5 million grant from the National Science Foundation, UC associate professor of environmental engineering Lilit Yeghiazarian is leading phase two of the research project with a multidisciplinary team to create the Urban Flooding Open Knowledge Network. The network merges data that can provide reliable flood-related information to anyone who needs it. Phase one of the project, now complete, was funded by an additional $1 million award from NSF. 
The components of urban infrastructure — including a city's transportation system, communication networks, water system, power grid, sewage and sanitation — are all interrelated, but their information is not connected. The Urban Flooding Open Knowledge Network will connect data from all of these sources into a digital tool that can make the information easily available on a computer or tablet to the people impacted by a flood.   
The goal of the network is to help in the midst of a flooding situation, for example rescue workers can determine which streets are flooded so they can plan their route and whether they should take a boat or a truck. But it will also be used as a prevention and design tool for policymakers to prepare for potential future floods in their cities and to understand the many ways in which a flood could affect communities.
The multidisciplinary research project demonstrates UC's commitment to research as described in its strategic direction called Next Lives Here.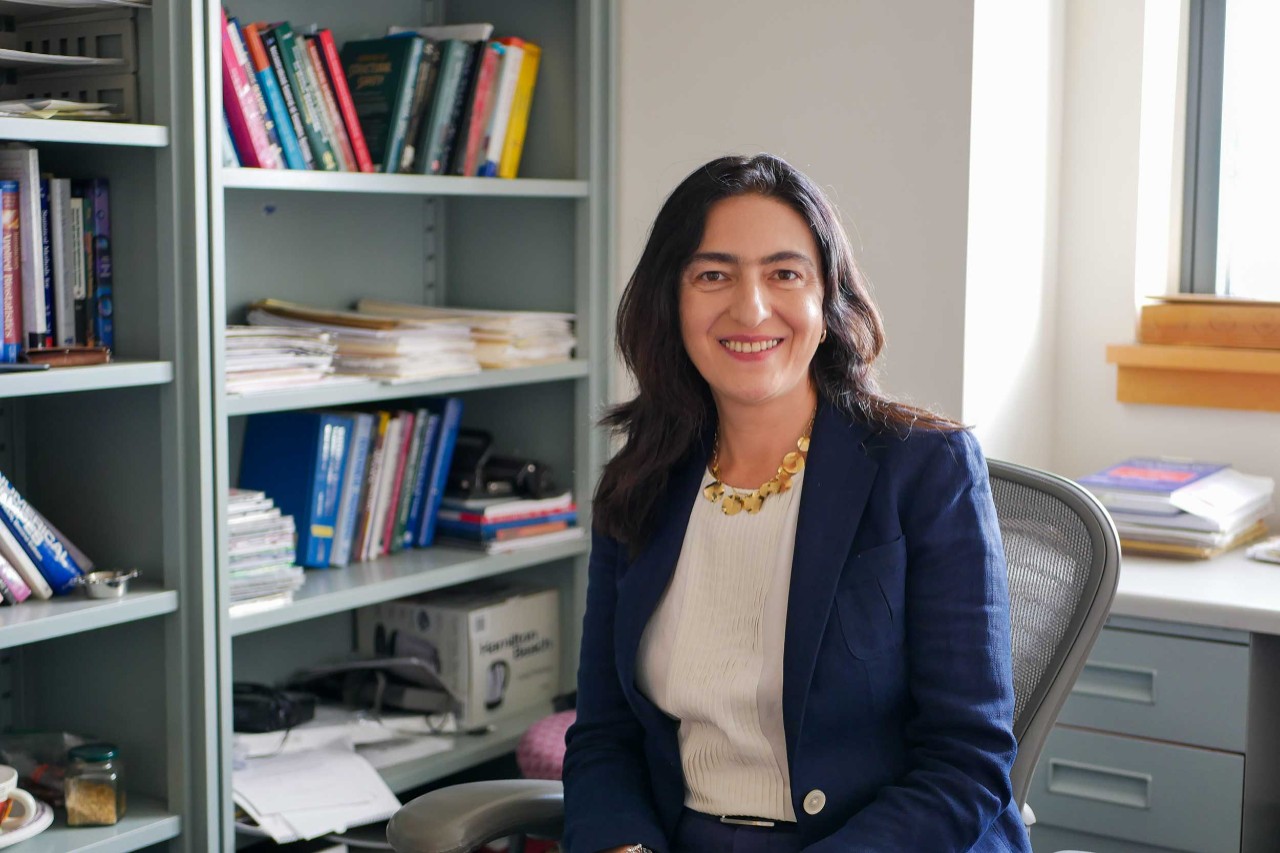 Yeghiazarian described a potential cascade of failures that can occur in a city during a powerful storm and flood, and the questions that arise that the network will address. Will my street flood? Will the stormwater system fail? Which power stations should be shut down in anticipation of a flood? Which neighborhoods should evacuate first? Which areas are likely to experience repeated flooding? How can we design for more resilient cities?
"There is data on sewage and stormwater systems, on drinking water infrastructure, on roads and bridges, on rivers, but they all live in different places and are not connected, so we cannot tell how these failures will move across urban infrastructure," Yeghiazarian said. "Every time we see the devastation we say, 'We didn't know this was going to happen.' Well, we didn't know because the data are not connected. So, the mission of this project is to connect the data and deliver flood impact information to anyone, anytime, anywhere."
The researchers identified all the players involved when a major flood strikes and will tailor the data so that they are useful to each of those groups, which include everyone from private citizens to utility companies to city policymakers to federal agencies and beyond. 
They surveyed potential users and hosted sessions with first responders, urban planners and other stakeholders in flood-prone cities to discuss their pain points and needs when faced with flooding. These groups will also test out a prototype. 
"We are now focusing on digging deeper and developing the system customized to a few pilot counties. We are talking to those people and trying to understand exactly what they need so that we can customize it for them," said Sadegh Riasi, project coordinator.
Riasi is also using his expertise to decipher the connections within the "urban multiplex" — how all of a city's infrastructure components intersect during a natural disaster. He joined Yeghiazarian's lab at UC in 2011 as a PhD student — he has since earned his doctorate in environmental engineering in 2019 — and has continued as a post-doctoral fellow.  
The funding for the project comes from the National Science Foundation Convergence Accelerator, which supports team-based, multidisciplinary efforts that address challenges of national importance and show potential for deliverables in the near future. 
"Many societal, scientific and engineering problems are very complex, so you really want to have the best people from multiple fields coming together to develop solutions," Yeghiazarian said.
The mission of this project is to connect the data and deliver flood impact information to anyone anytime anywhere.
Lilit Yeghiazarian UC environmental engineering professor
The Urban Flooding Open Knowledge Network comprises an interdisciplinary team of more than 80 partners and stakeholders from academia, industry, nonprofits, municipalities, states, counties and federal agencies across the country. Creating the knowledge network requires expertise in hydrological and hydraulic engineering; systems analysis; optimization and control; machine learning; computer science; public health; geography; urban planning; entrepreneurship; socioeconomics; and transportation, civil and electrical engineering.
Phase one of the project included creating a prototype of the network. Now, in phase two, the focus is on developing the product. 
Yeghiazarian called upon other UC researchers outside of the College of Engineering and Applied Science to join the collaborative project she is leading as principal investigator. 
Charles Matthews, UC professor of entrepreneurship and strategic management in the Carl H. Lindner College of Business, is exploring how to make any future product financially viable. He is assessing what business model might make the most sense and whether it should it be a revenue or non-revenue model. 
"We're looking at making something valuable that can provide real-time information to avert the cost of urban flooding," Matthews said. "That's a great goal, but then how do we take that into a sustainable practice? How do we ensure this becomes a valuable product to a user?"
Lindner economics professor Olivier Parent and Rainer vom Hofe, professor of planning in UC's College of Design, Art, Architecture and Planning, are tasked with measuring the scope of the impact of a flood on a society. They are building an economic model that will simulate the possible costs associated with different flooding scenarios. 
"The model will probably provide you some reasonable answers on who is mostly impacted by those different scenarios and what the magnitude of the socioeconomic impact might be," vom Hofe said.
This would allow decisionmakers using the tool to anticipate the potential financial costs of a future flood and determine where to invest in precautionary measures. 
"Using modeling, we can analyze the disruption in the economy from a flood and how that disruption can impact all of the economic actors, including the industries, households, government, and so on," Parent said. 
They hope to uncover the cascade of socioeconomic impacts across a community if, for example, roads are damaged during flooding. Beyond the cost of repairs to the infrastructure, the researchers seek to measure other effects, such as how that alters the flow of goods and services within the region, the ability of the people to get to work, rescue operations, or the long-term economy of the city.
With flooding expected to increase across the country due in part to climate change, the Urban Flooding Open Knowledge Network will provide valuable data to cities to limit devastation by predicting the impact of these natural disasters.
"The knowledge network will provide actionable information and answers to questions related to real-time flood mitigation, as well as response and long-term design, planning and research. With broad access to connected information, we hope to help save lives, time and money," said Yeghiazarian. 
Video courtesy of Urban Flooding Open Knowledge Network. Featured image at top: Cars line a flooded street. Photo/Jim Gade/Unsplash.
1
WVXU: UC study examines hesitancy to treat childhood anxiety...
February 3, 2023
The University of Cincinnati's Jeffrey Strawn and Jeffrey Mills and Cincinnati Children's Hospital Medical Center's Angela Scott joined WVXU's Cincinnati Edition to discuss a recent study examining hesitancy to treat childhood anxiety with medication.
2
Strategies for Small Businesses Considering Expansion
February 3, 2023
There are so many great things about being a small business: the close-knit working environment, contributing to your local economy, seeing your vision come to life and thrive. The ultimate goal – of course – is to grow into a bigger venture, whether it means buying commercial land to build on or leasing local office space to grow into. You need to have the right small business growth strategies in place if you want your business to expand in a stable way; strategies that will set you up for long-lasting success and take your bottom line into consideration.
3
Family business – 'the quiet giant' – gets leadership voice on...
February 3, 2023
You might call family businesses in America the "Quiet Giant." "Quiet" because up until recently, the family business sector did not have a dedicated seat at the table in Congress. "Giant" because America's family-owned businesses are the foundation of the US economy, contributing nearly 60% of the country's private employment, accounting for 78% of new job creation, and representing $7.7 trillion per year to GDP.
Debug
Query for this