Digital Fabrication Lab aids pandemic response
3D-printing lab supports UC and the community during COVID-19 and beyond
Like most everyone at the University of Cincinnati in mid-March 2020, Sam Antoline, director of the Digital Fabrication Lab (DFL) in the College of Engineering and Applied Science (CEAS), was instructed to shut down and work from home as Ohio moved into lockdown from the threat of the novel coronavirus. 
His time at home didn't last long. Less than a week later, Antoline was asked by Frank Rybicki, M.D., from UC Health and the College of Medicine, if he could reopen the 3D-printing lab and join a team of others across the university to work on creating personal protective equipment and other items that could aid healthcare workers bracing for an onslaught of patients. 
Antoline, who has been director of the lab since it launched in 2006, received approval from the university to reopen his lab located at UC's Victory Parkway Campus. He rearranged some of the 35 3D printers within the lab so that he and two graduate research assistants could work in a socially distanced manner. 
The lab was part of a team that came together from College of Design, Art, Architecture and Planning; other CEAS labs; College of Medicine; 1819 Innovation Hub; Office of Research; UC Medical Center; Cincinnati Children's Hospital Medical Center (CCHMC); and industry partners. 
"It was an all-hands-on-deck crisis, especially in that first few weeks," Antoline said. 
Antoline and his graduate students set to work researching and testing 15 different potential mask designs and materials, and printing prototypes and other items that could be helpful in a hospital setting. They also explored making ventilator parts and they printed nasal swabs and mask strap tensioners of different designs to test what might work. 
The lab ultimately produced and distributed 2,000 hands-free door openers for CCHMC and 1,000 replacement grommets for N95 respirator masks that were being reused after sterilization by Ohio-based company Battelle due to a shortage. 
"There was a three-month period that was kind of a whirlwind of trying different things and coordinating with a lot of people," Antoline said. 
As the demand for 3D-printed pandemic supplies has slowed, Antoline said the Digital Fabrication Lab is getting back to a more typical schedule utilizing the myriad of 3D printers to support undergraduate design curriculum, graduate research work, faculty, staff, UC Medical Center and CCHMC, as well as some projects for local businesses and entrepreneurs. 
Antoline, who has been an adjunct professor of mechanical engineering technology since 2007, said the lab came into existence to consolidate expensive and potentially underutilized industrial 3D printers under one roof in a service center. 
The lab's 35 machines include small desktop units, full-color acrylic printers, machines that print multiple materials at once, and massive equipment that towers over its operators. The additive manufacturing capabilities at the lab are extensive.   
"When we started, it was only us and a small team at DAAP doing this at the university," Antoline said. "Now there's the makerspace [at 1819 Innovation Hub] and small 3D printers everywhere. After 12 years of printing tens of thousands of parts to support undergraduate curriculum and research, we've shifted more to research and printing the high-quality parts that require larger, high-tech equipment."
Historically, medical printing accounts for a large percentage of the lab's output. The Department of Biomedical Engineering has been one of their largest internal customers. Antoline was an early advisor to EnableUC, a UC student group that creates no cost prosthetics for children in need. The lab also frequently works with faculty and student researchers from the mechanical engineering and aerospace engineering departments. Aerospace engineers, for example, often print a prototype of an engine part in polymer resin at the Digital Fabrication Lab before having it metal 3D printed or machined, which is more expensive.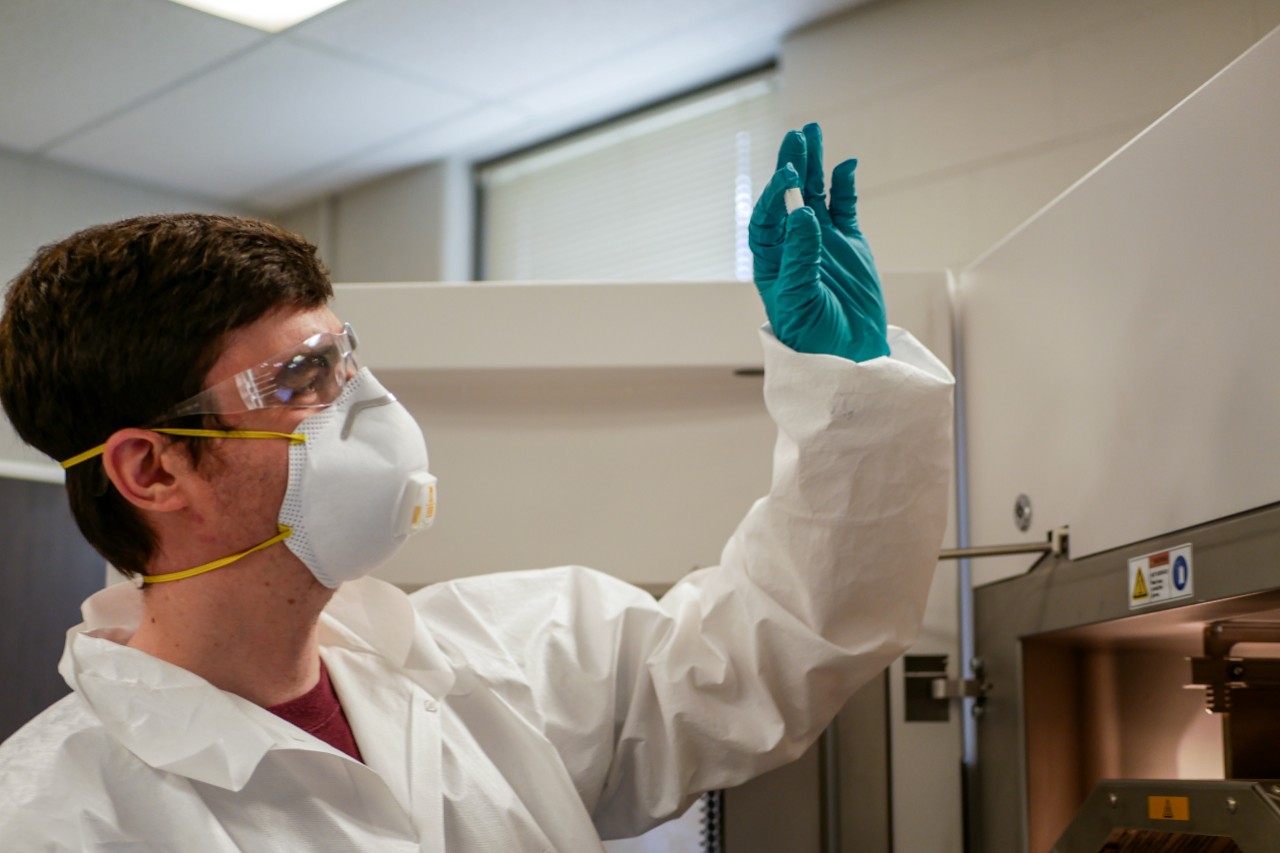 Antoline said they've printed several projects for the Cincinnati Museum Center, including a touchable moon surface for the Destination Moon exhibit that opened in late 2019. For the Mummies of the World exhibit in 2015, the lab 3D-printed the skull and portions of the spine of a 500-year-old Incan child mummy that had been scanned at CCHMC for a non-invasive forensic study.   
The lab has also printed projects with the College of Medicine (COM), including vascular and skeletal models. A recently concluded five-year collaboration with CCHMC resulted in the creation of several hundred patient-specific organ models created from an MRI or CT scan that are used for surgical planning and practice. The lab also produced training models that simulate the respiratory tract for the purpose of practicing procedures such as bronchoscopy.
Antoline is always on the lookout for similar partnerships and is currently working with area veterinarians to create canine prosthetics and bone models for corrective surgery. The DFL is also working with several COM molecular genetics and microbiology laboratories to print a library of 1:15,000,000 scale models of biological molecules characterized via X-ray crystallography. Visualizing these proteins will help these researchers to understand their function, how they are involved in different human diseases, and how they could potentially manipulate them to enhance life.
In a typical year, Antoline has a half-dozen undergraduate and graduate students from all areas of engineering operating the equipment in the lab. Some undergraduates work with him as part of their required cooperative education (co-op) rotations that are built into the CEAS curriculum. Since the establishment of the DFL, the more than 40 student lab alumni have found the experience gained working there has greatly improved their job prospects and opportunities.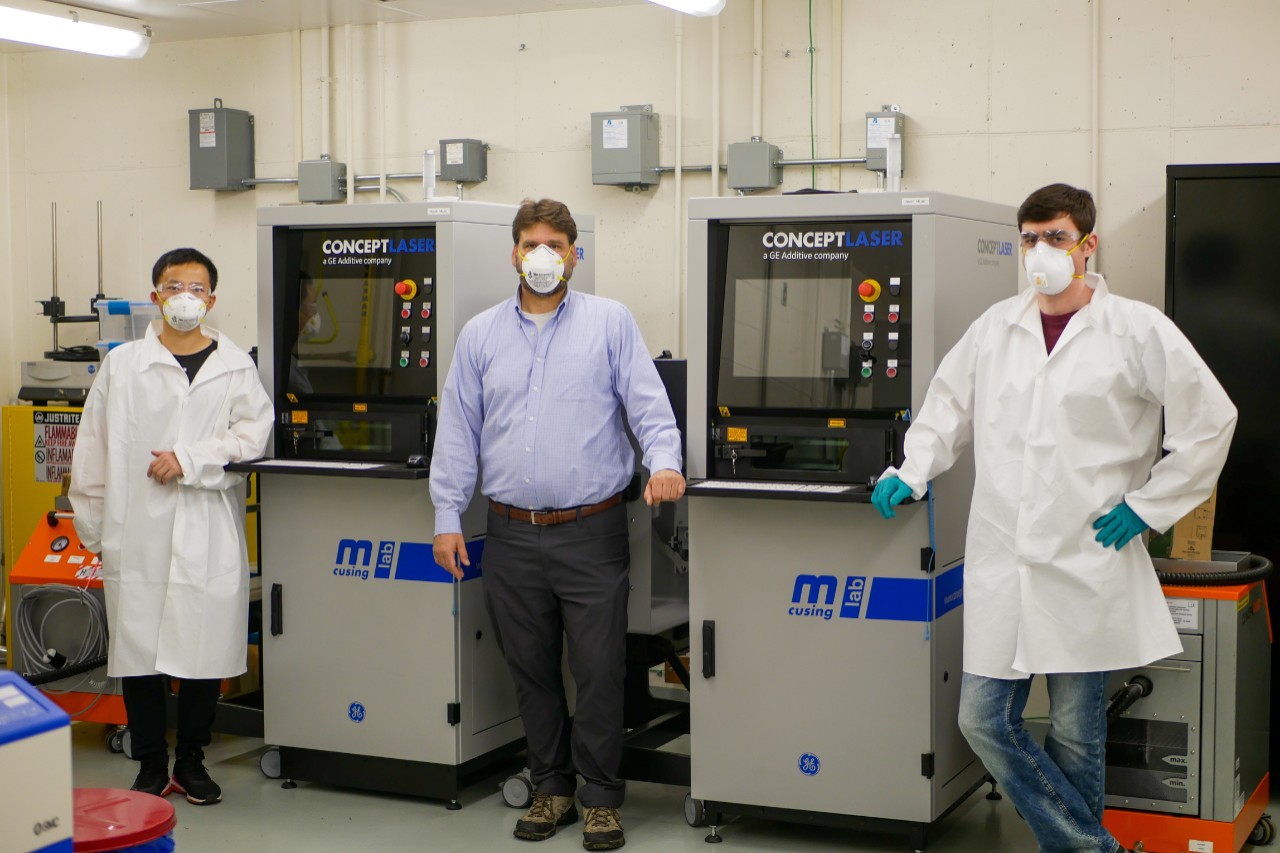 Featured image at top: Sam Antoline displays 3D-printed items from past projects. Photos/Corrie Mayer/CEAS Marketing. 
1
WVXU: UC study examines hesitancy to treat childhood anxiety...
February 3, 2023
The University of Cincinnati's Jeffrey Strawn and Jeffrey Mills and Cincinnati Children's Hospital Medical Center's Angela Scott joined WVXU's Cincinnati Edition to discuss a recent study examining hesitancy to treat childhood anxiety with medication.
3
WVXU: After decades of efforts, researchers hope they're closer...
February 2, 2023
It has been more than 40 years since five patients in California developed symptoms of a mysterious disease. The virus that causes AIDS was identified a few years later, and a blood test for HIV became available in 1985. In the 1980s and early 1990s, contracting HIV was practically a death sentence. Nothing seemed to stop the virus from attacking a patient's immune system and progressing into AIDS. And while there are now treatments that can render the virus undetectable in a patient's bloodstream, a cure for HIV has been elusive. WVXU's Cincinnati Edition explored the history of AIDS and the latest on treatments, with one of the featured experts being Carl Fichtenbaum, MD, of the Division of Infectious Diseases at the UC College of Medicine.
Debug
Query for this