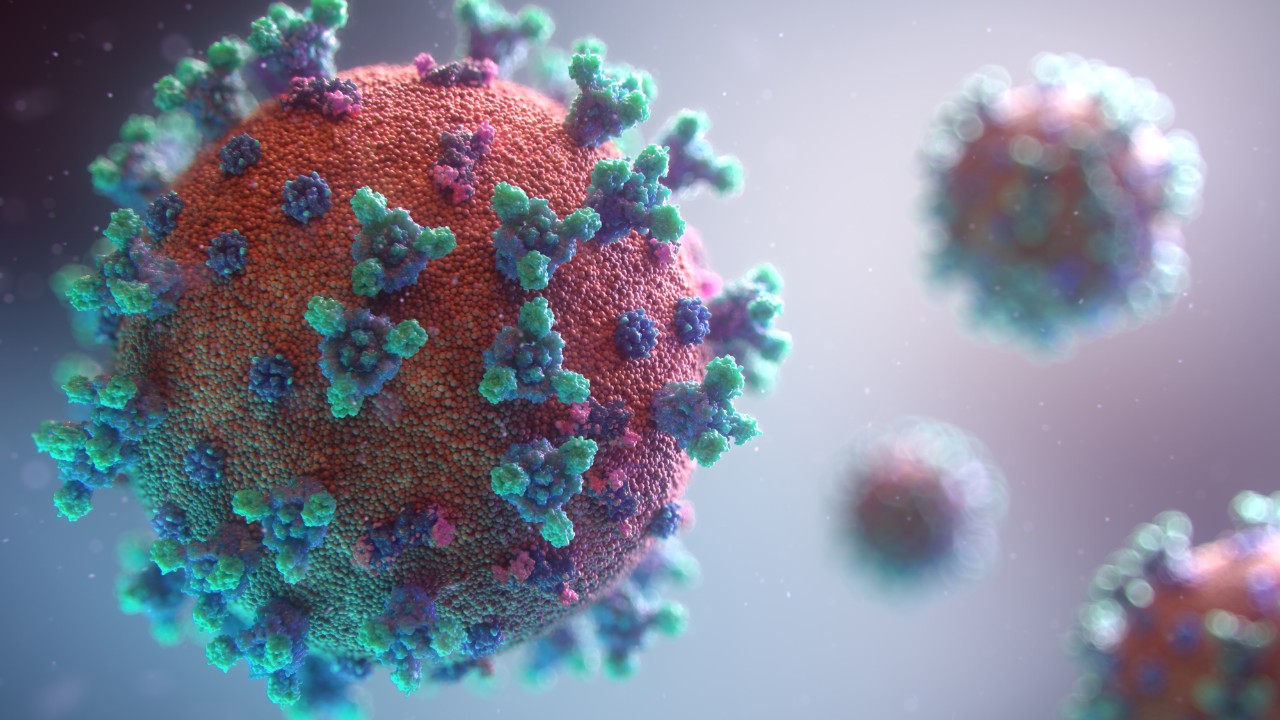 UC professor develops dry disinfection for COVID-19
Device offers a safer, simpler method for sanitizing
As the COVID-19 pandemic was starting to unfold in the U.S. last year, Donglu Shi, University of Cincinnati professor of materials science and engineering, began thinking about a better way to clean soft materials that can harbor virus particles. 
The CDC-recommended methods to disinfect are wet — spray cleaners, hand sanitizers, alcohol wipes — which are impractical for items such as clothing or the upholstered seating on mass transit. So, Shi set out to create a dry disinfection process. 
He was awarded $200,000 from the National Science Foundation for the project. Shi, along with his research team in his Energy Materials and Nano-Biomedicine Lab, created a handheld device that resembles a hair dryer and emits cold plasma, a gas of charged ions generated by radio frequency power at room temperature. Unlike many wet disinfectant products, cold atmospheric plasma is benign — it has no environmental or health concerns.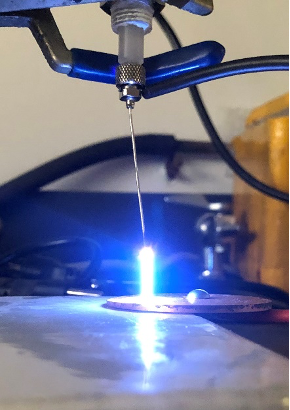 Plasma is already used in other applications, including as a method to limit bacteria growth on meat in the food industry.
In 2000, Shi created a cold atmospheric plasma device for surface modification as part of his research on nanoparticles. That research and expertise informed the concept to utilize plasma on viruses. 
Shi is partnering with Paul Spearman, M.D., director of the Division of Infectious Diseases at Cincinnati Children's Hospital Medical Center. The prototype device is now awaiting efficacy testing at Cincinnati Children's.
The idea was also supported through UC's Venture Lab business pre-accelerator, which provided Shi the opportunity to learn how to build the concept into a marketable product. Once proven successful in inactivating coronavirus, Shi said the plasma treatment would be ideal for use in public spaces, particularly in the travel industry, such as on trains, airplanes, rental cars and hotels.   
Shi, who first joined UC in 1995, was recently named a 2020 Fellow of ASM International, a professional organization for materials engineers and scientists. He was recognized for pioneering contributions to superconducting materials, magnetism and magnetic materials and novel nanostructures for photonic, biomedical and drug delivery applications.
1
Construction management alumna honored for impact in her field
December 5, 2023
Gloria Samuel entered the construction industry more than 20 years ago as a University of Cincinnati co-op student and never looked back. Since then, she has earned both undergraduate and graduate degrees at UC and has taken great pride in giving back to the college by sharing her education and experiences with others as an adjunct faculty and serving on numerous community boards and committees. Currently, she is the Senior Vice President and Director of Construction Program and Project Management for Fifth Third Bank.
2
In Memoriam: Dion Dionysiou, PhD
December 4, 2023
Dionysios (Dion) Dionysiou, PhD, professor of environmental engineering in the University of Cincinnati College of Engineering and Applied Science, died unexpectedly Nov. 20. He was 57 years old. He was a world-renowned researcher, who was frequently lauded for his work developing technologies and strategies to identify, monitor, and treat water pollutants and toxins.
3
Clean Earth Rovers cofounders named to Forbes 30 Under 30 list
November 30, 2023
A pair of graduates of the University of Cincinnati's Venture Lab program were recognized as being among the top entrepreneurs in North America as part of the 2024 Forbes 30 Under 30 list. Clean Earth Rovers cofounders Michael Arens and David Constantine were named to the 13th annual Forbes 30 Under 30 list in the energy category.
Debug
Query for this