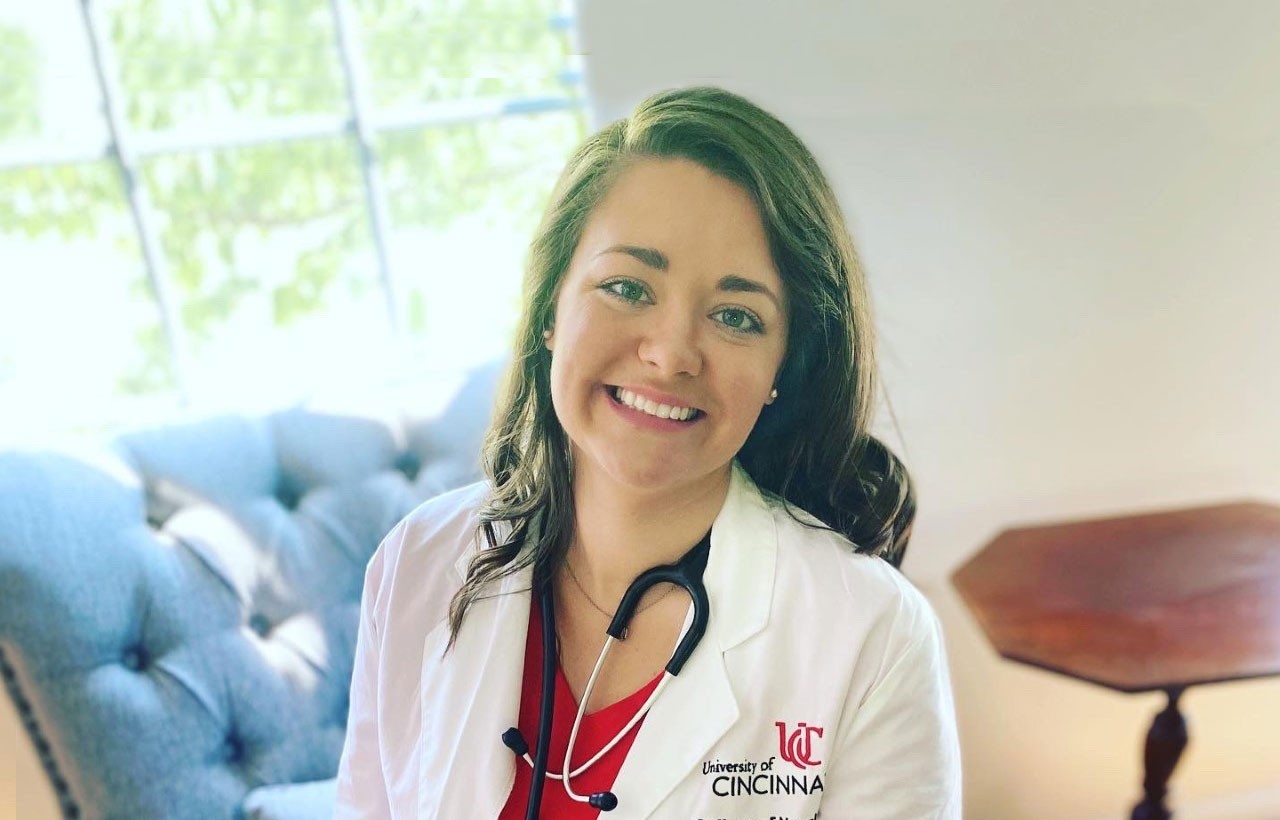 UC Clermont degree offers individualized education
Individual Studies option meets variety of student needs
At the end of 2016, Kirstin Parker Whitcomb found herself a newly single parent, uncertain of her future, with a newborn and toddler. A few months later, she enrolled at the University of Cincinnati Clermont College.
Although she had started her college career on UC's Uptown Campus right after high school, Whitcomb had lacked focus and dropped out in her first year. Because of her previous college experience, an academic advisor directed her toward the UC Clermont's Individual Studies (INDS) program. She chose the Batavia campus because it was conveniently located close to home and affordable — about half the price of main campus tuition. She soon found the support she needed, too.
"I didn't know what I wanted to do, but I had ideas," says Whitcomb, who chose to double major in INDS and biological sciences. "I was scared. I had young children. I didn't have a solid footing. I felt like having a community was important, and I knew would get that at Clermont. And the INDS program gave me flexibility I needed when I was unsure what I was going to do and needed to ease back into school."
UC Clermont's INDS program offers a tailored approach to meet individual student needs by providing opportunities for students to combine classes taken in a previous program with classes from other fields of study. The program opens a wide range of doors for graduates, providing a path to pursue a variety of advanced degrees or acting as a foundation for increased earning potential and elevated job placement.
I felt like having a community was important, and I knew would get that at Clermont.
Kirstin Parker Whitcomb UC Clermont alum; UC nursing student
"The process of figuring out the next step toward your future can feel overwhelming," says Sharon Burns, UC Clermont associate professor of English and chair of the college's English, Languages and Fine Arts department. Burns was once a nontraditional student at UC Clermont herself. She went on to complete her bachelor's, master's and doctoral degrees at main campus. "Individual Studies is an opportunity to complete a degree that fits your future, whatever it might be. Students can focus in disciplines they are the most passionate about — even when a traditional degree does not meet that need."
The individualized studies program allowed Whitcomb to complete additional classes toward her bachelor's degree and accelerated her journey. In May 2019, she earned her double associate degrees INDS and biological sciences. She then transitioned to UC's College of Arts and Sciences, where she graduated with her bachelor's degree in biological sciences a year later. Whitcomb was immediately accepted into UC's master's of science in nursing program. She graduated in December 2021 with her registered nurse license and master's degree and now works as a labor and delivery nurse at Cincinnati's Christ Hospital.
"I always felt called to the field," says Whitcomb. "Now that I've completed some rotations, I know that I want to work with women during a very vulnerable time in their lives."
As Whitcomb looks ahead, she is thankful for the foundation she found at UC Clermont.
"Everyone knew me and cared about what I was doing at Clermont. UC Clermont advisors helped navigate my plan, even when it was unsure. Student Affairs checked on me even after I transitioned to Uptown," Whitcomb says. "Classes are smaller, so you get to know your professors, who can be great resources and references for you. If you're looking for an individualized education, I recommend starting at UC Clermont."
For more information about the Individual Studies program, visit https://ucclermont.edu/individual-studies.html or contact Admissions at 513-558-8316 or clermont.admissions@uc.edu.
1
UC celebrates Marian Spencer Scholars
September 22, 2023
The University of Cincinnati celebrated the legacy of UC alumna Marian Spencer by recognizing 20 students awarded her namesake scholarship during a Sept. 9 induction ceremony. The Marian Spencer Scholars are all high-achieving graduates of the Cincinnati Public School system.
2
UC and GE partner to introduce high schoolers to engineering
September 21, 2023
Rising 9th and 10th graders experienced a free, weeklong, immersive engineering camp at the University of Cincinnati as part of GE's Next Engineers program. Students completed hands-on engineering design challenges while being mentored by GE Aerospace volunteers, industry professionals and current College of Engineering and Applied Science (CEAS) students.
3
UC Blue Ash to host fall open houses
Event: October 18, 2023 5:00 PM
The University of Cincinnati Blue Ash College will host two open house events this fall that are free and open to prospective students and their guests.
Debug
Query for this