UC college uses 3D 'task trainers' for virtual instruction
Devices allow for remote teaching of crucial nursing skills
One of the biggest challenges of educating students in health care fields during the COVID-19 pandemic is providing hands-on training, critical for skill development. Thanks to a partnership with a suburban Cincinnati company and the UC 1819 Innovation Hub, the UC College of Nursing is overcoming that challenge with 3D-printed task trainers, or lifelike models of human body parts such as an anatomical replica of a hand, arm, knee or torso.
When COVID-19 first hit and impacted in-person teaching at the College of Nursing, program directors had to quickly come up with a plan to transition in-person experiences to remote learning. One of those leaders is Eileen Werdman, DNP, director of the accelerated direct-entry master of science in nursing (MSN) program, designed for students who hold a bachelor's degree in an area other than nursing.
"Our fundamentals course focuses on the development of both skills and critical thinking. Beyond learning and practicing several techniques, students need to learn to analyze several patient scenarios in which these techniques will be applied," Werdman says. "The thought process behind skills such as administering medications, giving injections, inserting nasogastric tubes and inserting urinary catheters is as important, if not more, than learning these step-by-step processes."
While UC's 1819 Innovation Hub, home to 3D printers and other makerspace equipment, was initially busy producing more than 5,000 personal protective equipment face shields for frontline health care workers in the early days of the pandemic, Werdman turned to her son, a machinist at Clippard Instrument Laboratory on Cincinnati's west side, to see if they could begin the manufacturing process.
Clippard, which manufactures pneumatic valves, had already shifted production to supply ventilator parts but agreed to support Werdman and her students by designing and 3D printing the task trainers needed for free. The College of Nursing only had to pay for the cost of the resin needed for Clippard to produce 40 of each of the three different task trainers — a wound with a slit, a square of various depths for packing gauze and a lower torso for inserting a urinary catheter.
With fall semester approaching, the College of Nursing knew they needed to step up the process for creating the anatomy kits on a larger scale and in a short amount of time.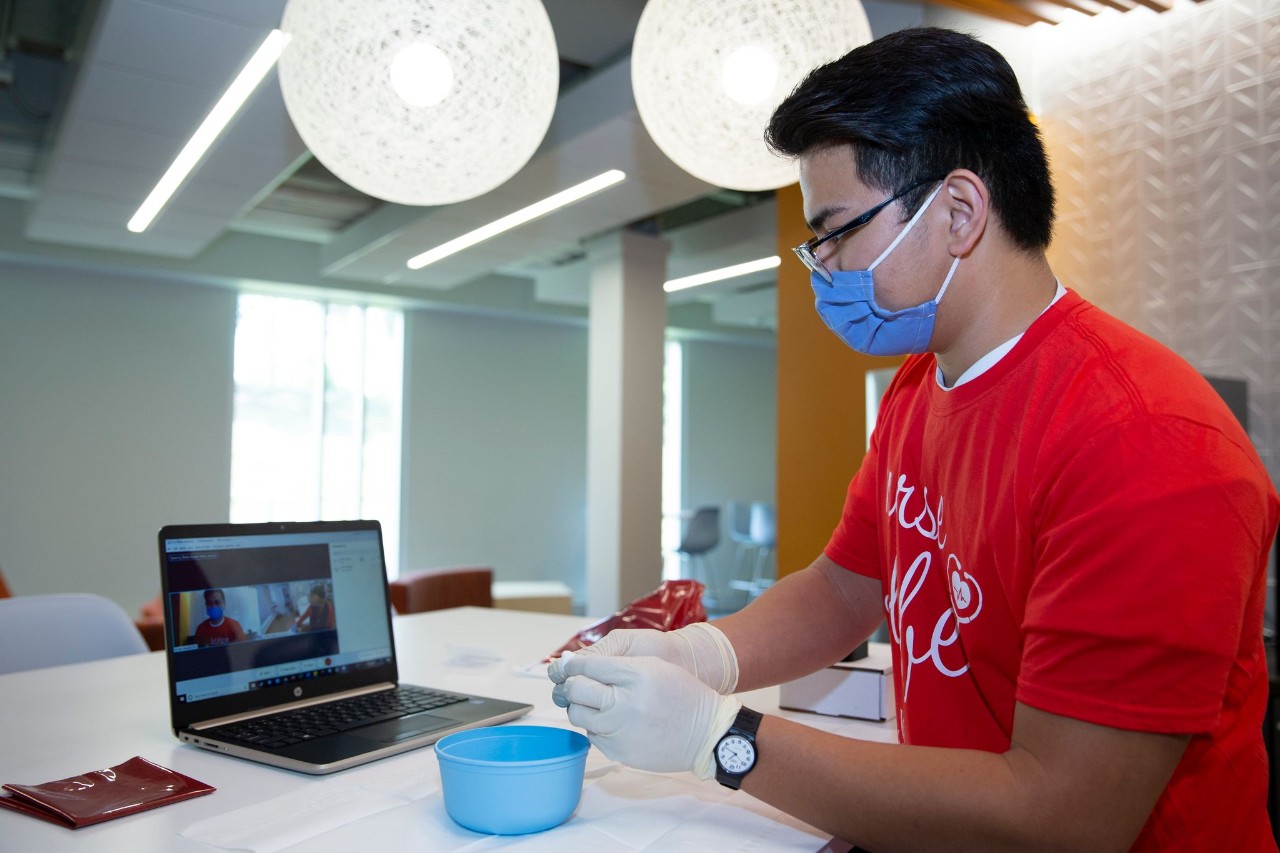 "When nursing came back to us we were able to step in and change the initial process," says Ben Jones, director of the 1819 Makerspace. "We were able to speed the process and more than double the number of units overnight. In addition, we designed and produced the cardboard boxes that not only contained the parts but also served as the frames to anchor the anatomical parts so the students could practice packing the wound or inserting the tubes."
The impact UC's 1819 Innovation Hub had to quickly deliver on this kind of request is truly the point of the Makerspace and the program, adds Jones.
"With the College of Nursing staying mostly remote for the remainder of the academic year, these are certainly going to come into play as we work on skills for the students," says Werdman. "If they have these in their hand at home, they can follow along with the faculty member and then ask questions."
The team is currently working with the Office of Innovation to commercialize the anatomy kits, with the office recently filing for a provisional patent. 
The accelerated MSN students are required to purchase a "skills bag" with all the materials they need to use in the development of skills, according to Robin Wagner, DNP, assistant professor and director of the simulation and skills lab at the College of Nursing.
"The bag includes catheters, a suction kit, tracheotomy kits, a central line," says Wagner. "The college supplements other products such as disposables and consumables as needed, and now we include the task trainers."
Angie Clark, PhD, assistant professor and executive director of undergraduate and prelicensure programs in the College of Nursing, says it is noteworthy that Clippard, with no previous experience in health care, stepped up and committed to supporting the nursing pipeline.
"We are growing our program to contribute to the nursing pipeline to support our community," says Clark. "We have to figure out new ways to provide all our students with a lab-like experience and one of the ways to do that is with task trainers. We're not just flipping the way we're doing things, we're expanding it, we're adding to it. We're providing experiential learning to students when we wouldn't have normally been able to do this given the current circumstances. We are thankful for Clippard's ability to think out of the box to support us at this time. It is really innovative."
Werdman adds that being able to make this happen so quickly was crucial to support the students' education.
"I think it's amazing how we've managed to transition from a physical setting to a virtual setting. For someone who can't make it to campus, they can definitely use these as an alternative for participating in class.
Nursing student Kyle Lascano
"The direct-entry MSN program is accelerated with students in the program for just five semesters," says Werdman. "We have a lot of work to do very quickly, so these task trainers are going to be extremely helpful to students and faculty members."
Second-year nursing student Kyle Lascano is one of the first students to learn how to use the task trainers by way of a virtual teaching session with Wagner.
"I think it's amazing how we've managed to transition from a physical setting to a virtual setting," says Lascano. "For someone who can't make it to campus, they can definitely use these as an alternative for participating in class. You get the experience, you get what you're supposed to do for clinicals but you're not there physically, you're virtually there. It follows our motto, 'UC Nurses. We See Leaders.'"
Featured image at top of Kyle Lascano and Robin Wagner/Lisa Ventre/UC Creative + Brand
Impact Lives Here
The University of Cincinnati is leading public urban universities into a new era of innovation and impact. Our faculty, staff and students are saving lives, changing outcomes and bending the future in our city's direction. Next Lives Here.

Stay up on all UC's COVID-19 stories, or take a UC virtual visit and begin picturing yourself at an institution that inspires incredible stories.