Here's what it's like to major in nursing at UC and serve in a U.S. military role
A time of excitement, transition and challenges, college years play an influential role, not only in nursing students' knowledge expansion and professional preparation, but also in their character development and personal growth. Despite the demands and commitment required to succeed in nursing school, some students choose to pursue a parallel military career by joining the Reserve Officer Training Corps (ROTC) or Air National Guard.
Motivated by the challenge, the call to serve, the leadership impact, the ability to travel and experience new things or financial independence, Arielle Keller (ROTC), Tina Rozman (ROTC), Mariah Cornett (National Guard) and Lydia Powell (National Guard) share their biggest motivators, challenges, moments of pride, deployment stories and plans for the future.
Why did you choose UC for your Bachelor of Science in Nursing (BSN)?
Keller: I wanted to stay local to Northern Kentucky and really aspired to get into UC's highly competitive BSN program because of the amazing hospitals I could go to and the opportunities the college offers.
Powell: My initial decision was based on location: when I was nine years old my family moved away from Cincinnati and I promised myself that I would move back the first chance I had. I knew that UC had a four-year BSN program so, without hesitation, I applied. Little did I know I had selected one of the most highly rated nursing schools in the country.
Cornett: My decision was based on researching top nursing colleges in the state. Also, UC is a public university which would allow me to use military benefits to cover tuition and fees.
Rozman: UC ranks nationally as a top nursing school. The degrees and experiences of the faculty I met during my campus tour proved that UC is truly a school of excellence in nursing. I also cared about the opportunity to have my clinical experiences in local hospitals including Cincinnati Children's and the VA Hospital, which made my rotations exciting and full of new skills.
Why did you choose to join the ROTC/National Guard as you pursued your BSN?
Keller: I initially joined ROTC to try it out during school. I honestly don't have an exact reason or story behind choosing ROTC. It has become very rewarding and is very promising for a future career in nursing and the military.
Powell: I decided to enlist in the Air National Guard after watching my older brother join. I was ready for an adventure, wanted to travel and experience new things, and was seeking financial independence. The Air National Guard was able to provide all of those things.
Cornett: I chose to join Air National Guard at 17 years old, right before my senior year of high school. Joining the Air National Guard allowed me to go to school without getting into financial debt from tuition and fees. They also pay me monthly to go to school.
Rozman: I was very competitive in high school and enjoyed participating in club leadership and varsity athletics. I performed my best academically and otherwise with these things on my plate, and I wanted to continue challenging myself in college. Furthermore, I felt a calling to be in the military after graduation, following in the footsteps of my older brother, and ROTC allowed me to pursue a bachelor's degree and earn a commission synchronously. Seeing how strongly ROTC's leadership training impacted my brother as a leader gave me a desire to become a strong leader and role model as a future nurse.
I have learned how to fear less about the possibility of failure and celebrate the beautiful space of possibility more.
Tina Rozman Student and MS4 Senior Cadet
What is the biggest challenge you have faced as a student and military member?
Keller: Balance. Nursing school by itself already requires a lot of time and effort and I had to add the extra activity and time required toward ROTC. Balancing the time I put toward my school work and studying, maintaining physical fitness for ROTC and giving time to myself has been something I have worked on throughout my entire college career and still do.
Powell: Balancing both programs at the same time. Throughout my enlistment there have been times where I have had to put school on hold completely for my duties. [Lydia was deployed to Kuwait between October 2018 and March 2019. She was assigned to maintain a C-130 H model aircraft between noon and midnight with five days on, one day off, unless things were busy – then no off days. The plane she worked on was used for transportation of anything from troops to Humvees, depending on what mission they were supporting. As a C-130 crew chief, she worked with others running inspections and ensuring the plane was ready to be released for flight. When the planes returned, they were marshalled into a parking spot to be refueled, inspected and prepped for the next flight. In the summer of 2017, Lydia spent a month in Hungary supporting a newer Hungarian base with training operations and in the fall of 2017, she went on a brief mission to Puerto Rico as part of a hurricane relief team.]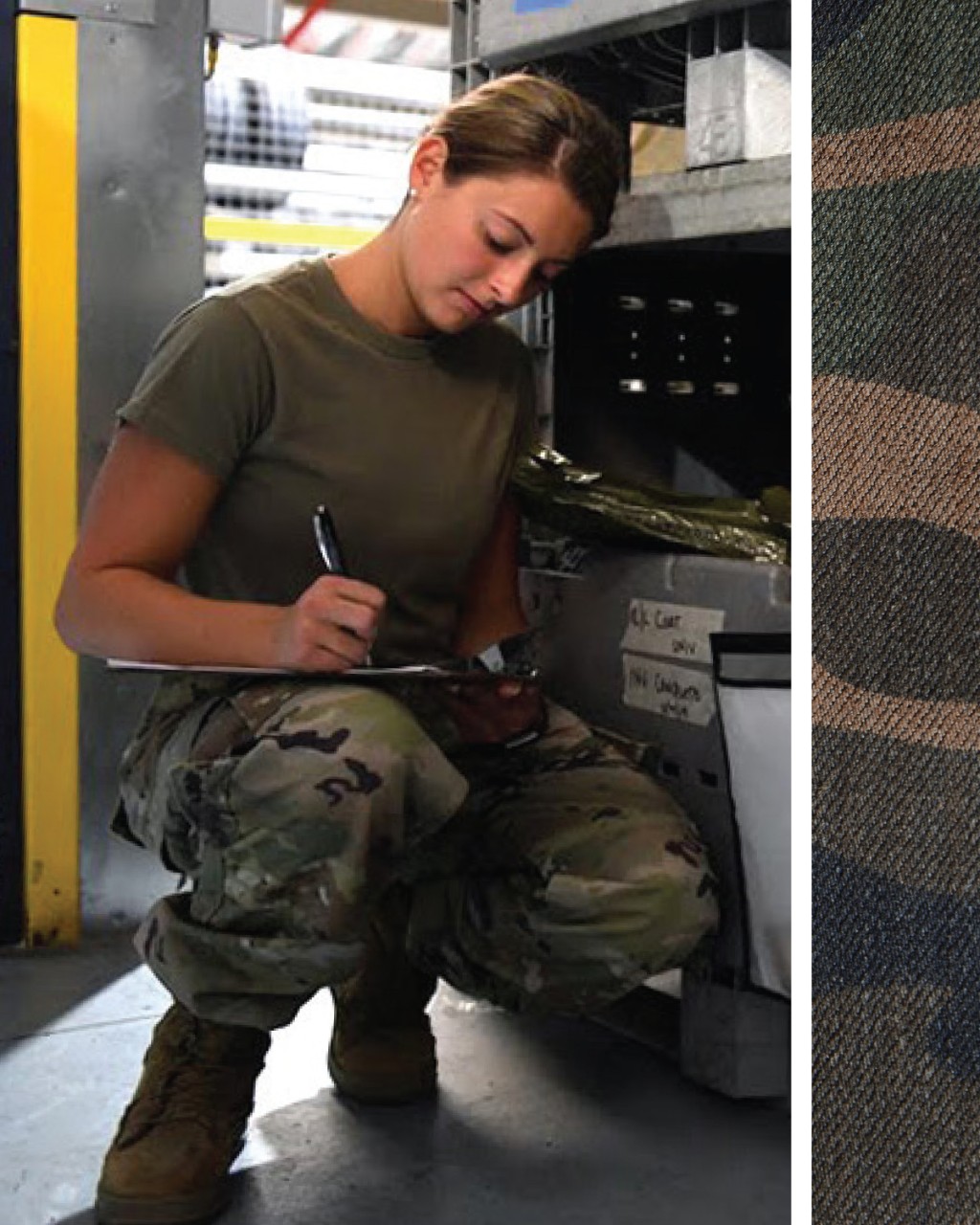 Cornett: Being deployed for over six months in 2018 right before my junior year was devastating, but it turned out to be an amazing experience. It was also challenging to get back into the groove of school in my junior year after the deployment, but I have made it through. [Mariah was deployed to Al Udeid Air Base, in Qatar, as part of the logistics readiness squadron. She maintained the aircraft parts store, the largest warehouse in the area of operation, which supported eight different weapon systems. Her jobs consisted of issuing parts, returning parts to their designated location in the warehouse and conducting several inventories and reports each day/week/month.]
Rozman: Being underestimated in my abilities to excel in both nursing and ROTC. Thankfully, this lights me up! I am fierce in the goals I set for myself in things such as GPA, physical fitness and extra training opportunities or clubs. I have been told that it's impossible to do all these things well at once, or that "nurses don't/shouldn't do that," but I love proving the opposite. It is difficult to keep up your momentum toward reaching big goals when it feels like those around you – and sometimes even yourself – are waiting for you to fail or give up. I have learned how to fear less about the possibility of failure and celebrate the beautiful space of possibility more.
Of what have you been the most proud on this journey?
Keller: That I have stuck with it and done well in classes and in ROTC. I have seen plenty of people drop out of nursing school and ROTC, so I am proud of myself for getting this far, sticking with it, and soon graduating.
Powell: The positive impact that both nursing and the National Guard have on people's lives.
Cornett: Making it through the deployment, coming back home and starting back into my junior year. Although I really struggled during fall of my junior year, I never gave up and passed all my classes. I'm also very proud of the deployment itself; it was my first one and the best experience I could have asked for.
Rozman: For stepping out of my comfort zone and realizing that learning truly takes place outside of that bubble. You cannot get away with just dipping your toe into the waters of either of these programs, so I have leaned into the concept of diving right in. I used to back away from things that I thought I would fail at, or things that were unknown to me, but now I try anything once. As a result, I have practiced hands-on skills in the hospital with the encouragement of my clinical preceptors and met great Army nursing mentors who push me to do great things. Overall, I am proud of simply finding my place as a future nurse in the Army. It delights me to envision myself and the legacy I want to start forming as an officer in just a few months.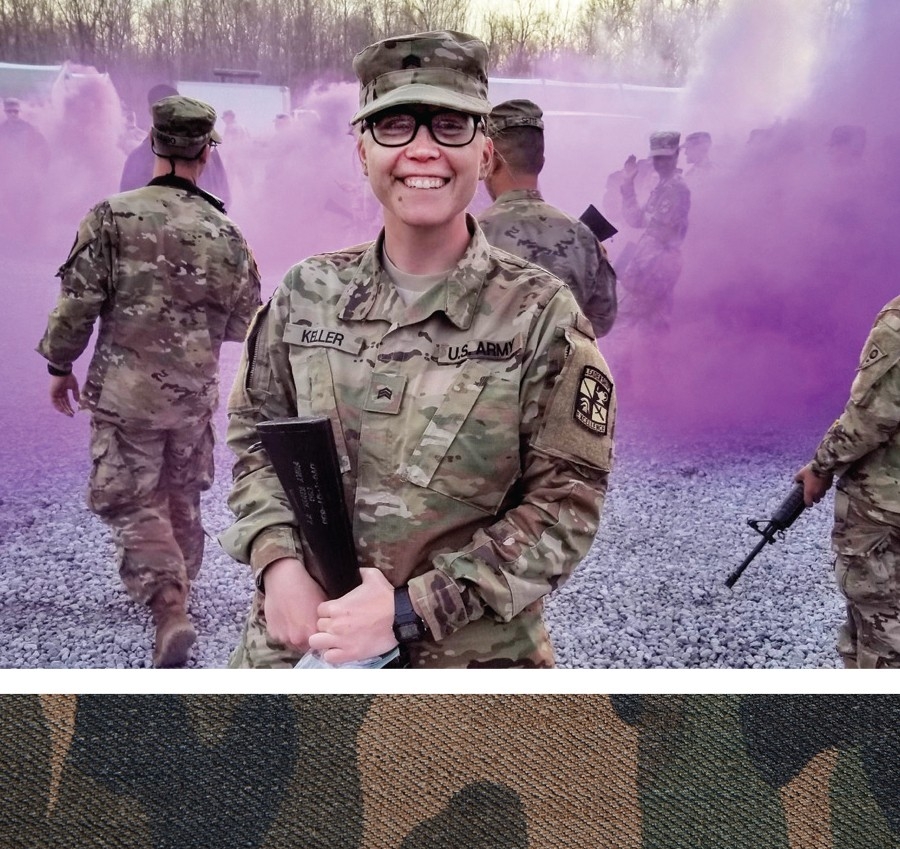 Do the BSN and ROTC/National Guard compliment each other?
Keller: For the most part, yes. But scheduling could be a challenge: there have been a good number of times that I have had to miss physical training with ROTC because of clinicals. Thankfully, ROTC is very understanding that school always comes first.
Powell: Yes, the two complement each other. Both programs have taught me discipline and given me responsibility. In the Guard, I am a C-130 Aircraft mechanic and, in many ways, it is similar to working as a nurse. My job is to inspect the aircrafts and ensure that they are flight ready. Mechanics are the ones in charge of checking the vitals and ensuring that we are documenting any maintenance we preform or discrepancies that we identify. While I am not a specialist, I have a broad enough understanding of how to perform general maintenance, and who to call if the problem is outside of my line of duty.
Cornett: Yes. The BSN program has been very easy to work with when military duties have come up.
Rozman: 100% yes. Civilian nursing is not far from military nursing: as a civilian nurse, you start off as a floor nurse with the expectation that over time, you will step into the charge nurse, graduate nurse, nurse manager, etc. role. ROTC gives leadership qualities the most weight in their assessment of cadets and from day 1, leadership classes are initiated, then continuously evaluated and perfected until these attributes and competencies are just second nature. You are a leader first in ROTC, and there is no question that our instructors give us clear instruction on how to execute this role. So, when you go into your nursing career, you have all the skills needed to step into the aforementioned roles with confidence and competence.
The Air National Guard has taught me how to remain calm in stressful situations and given me confidence in my own abilities.
Mariah Cornett Student and Staff Sergeant
How will your military experience help you after you graduate?
Keller: One of the biggest things I have learned from ROTC is leadership. Before starting the program, I did not really have what is called "command presence." I could not just walk into any situation and be (first) comfortable – but more so make it my own and take charge. I have gained so much confidence in myself and in others. I have learned how important teamwork is and having trust in those you work with. I know that I will take these skills with me wherever I go in life.
Powell: Joining the National Guard and leaving for basic training three weeks after graduating high school took me out of my comfort zone and forced me grow up fast. After training, I had several opportunities to travel and, in some of the trips, I was the only mechanic that traveled with the air crew. The Air National Guard has taught me how to remain calm in stressful situations and has given me confidence in my own abilities.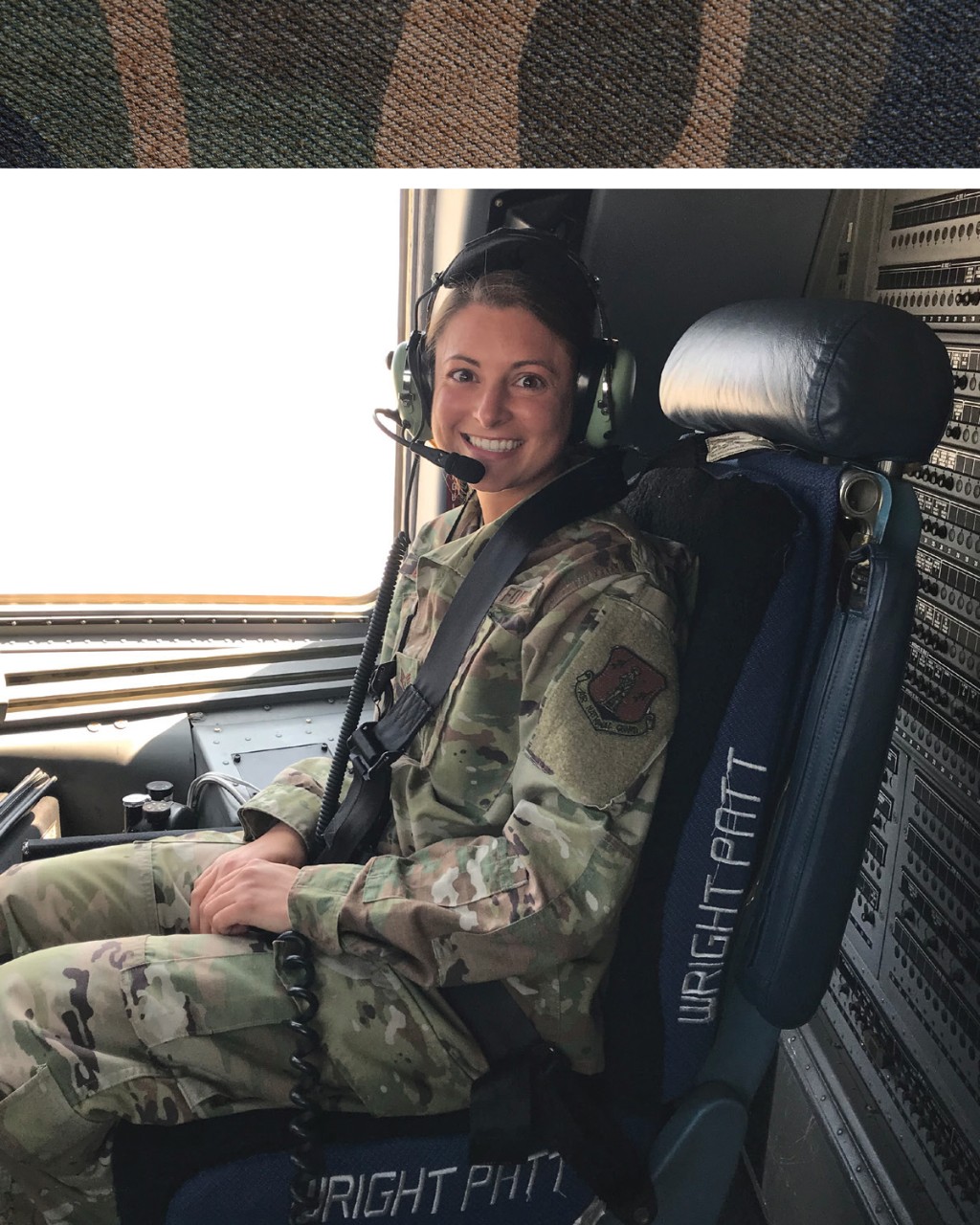 Cornett: The Air National Guard experience has taught me a lot about leadership and quick decision-making skills. These are both very important in the nursing profession.
Rozman: I think the greatest takeaway from ROTC that I have implemented in the hospital setting is time management and task prioritizing, as well as how to stay resilient and flexible when things do not go as planned. Being able to balance ROTC and nursing required me to be more serious about time management to be successful and stay on top of my responsibilities and deadlines. This same skill applies to planning your day as a nurse, especially when you already have a heavy patient load and additional admissions come in, you have to call a code, or a patient requires a lot of interventions throughout the shift. Critical thinking also helps with this task and is emphasized in both ROTC and nursing but is constantly tested and practiced in ROTC. By being able to quickly assess a situation and then identify the steps you need to take accordingly, you can smoothly reach your end goal without becoming frazzled.
What are your plans after graduation?
Keller: After passing the NCLEX, I will find out which military hospital in the U.S. I will be stationed at and when I am expected to be there. Most likely in August or September, I will start working as a nurse on a medical surgical unit of a military hospital. I am very excited to start working and gaining experience as a nurse and also very excited to move somewhere new and get a change in scenery. It will be pretty awesome to start a "big-girl job" and live somewhere besides Cincinnati and the tri-state area for the first time in my life.
Powell: I hope to become an emergency room nurse in the Cincinnati area.
Cornett: I plan to work at the Cincinnati VA Medical Center. I currently work there as a nursing assistant and absolutely love it. Serving other veterans has shown me my purpose for choosing the nursing profession.
Rozman: I will commission into the Army Nurse Corps as a 2nd Lieutenant (2LT). After passing the NCLEX, I will attend the Basic Officer Leaders Course in Fort Sam, Houston, Texas, where I will learn how to be a nurse to the Army standard. I will work as a floor nurse/charge nurse for several years, then I plan on attending school to become a Certified Registered Nurse Anesthetist (CRNA) through the Army and, hopefully, going on a deployment to test my skills. I am most excited about all the places I will visit, facilities with cutting edge technology I will be able to use and, more importantly, the relationships I will develop from place to place. I am incredibly excited and proud to be able to tell my parents and family, as well as my future children, about all the dreams I have brought to fruition and all the joy I have found in this profession.
Featured photo of Arielle Keller, Lydia Powell, Mariah Cornett and Tina Rozman, who balanced demands of UC's bachelor's in nursing program and Army ROTC or Air National Guard responsibilities.

2
Cincinnati.com: Ohio decriminalized fentanyl test strips. Here's...
January 11, 2023
Public health agencies and advocates in Ohio will no longer be breaking the law when they hand out potentially life-saving fentanyl test strips. Cincinnati.com reported that Governor Mike DeWine signed a bill into law Jan. 3 decriminalizing the paper test strips that detect fentanyl and its analogues in drugs. The law takes effect sometime in April. Tasha Turner-Bicknell of the UC College of Nursing was one of the experts interviewed for the story.
Debug
Query for this