Hoxworth launches new social media challenge
Hoxworth Blood Center, University of Cincinnati is announcing the launch of a new social media campaign to spotlight the importance of blood donation and encourage members of the Tri-State community to roll up their sleeves and save lives.
Individuals are invited to participate in the #FillTheBag Challenge by donating blood at a Hoxworth Neighborhood Donor Center or mobile blood drive, sharing a mid-donation or post-donation selfie on social media with the #FillTheBag hashtag, and tagging three or more friends to complete the challenge.
Five donors who post on social media using the #FillTheBag hashtag will be randomly selected at the end of each month to win a pair of Kings Island tickets. 
"All of us at Hoxworth, as well as our community partners, are so excited to be launching this new campaign—as the only steward of the blood supply in the Tri-State area, we thought it was an important initiative to educate the community about the ongoing need for donors and encourage eligible individuals to make blood donation a regular part of their lives," said Alecia Lipton, spokesperson for Hoxworth Blood Center. "The #FillTheBag challenge offers a life-changing opportunity to do a good deed on a grand scale, and every single participant will be advancing our mission of Saving Lives Close to Home."
According to Lipton, Hoxworth Blood Center needs to collect 400 units of blood and 50 units of platelets a day to fulfill the needs of more than 30 local hospitals. There is no artificial substitute for blood or a way to create it in a laboratory, she added; all blood transfusions have to come from volunteer blood donors.  
Limited-edition #FillTheBag stickers, as well as signs for selfies, will be available at all of Hoxworth's seven Neighborhood Donor Centers and donor buses. Donors can tag Hoxworth with @HoxworthUC on Twitter and @hoxworthbloodcenter on Facebook and Instagram.
Appointments are recommended, and masks are required of all donors and Hoxworth staff. To learn more about the #FillTheBag Challenge and schedule your donation, visit https://hoxworth.org/donors/fillthebag.html.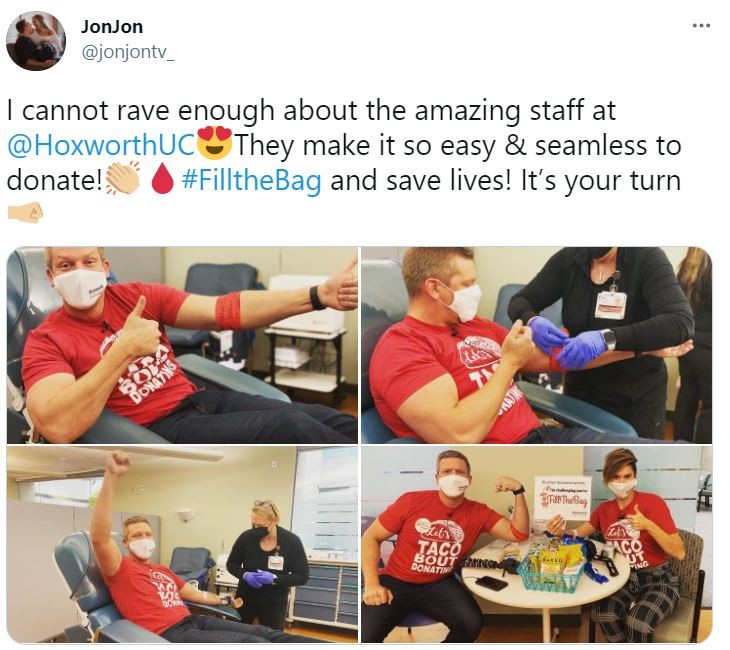 Hoxworth Blood Center, University of Cincinnati was founded in 1938 and serves more than 30 hospitals in 18 counties in Southwestern Ohio, Northern Kentucky and Southeastern Indiana. Annually, Hoxworth collects more than 90,000 units of blood from local donors to help save the lives of patients in area hospitals. Hoxworth Blood Center: Saving Lives Close to Home.