Rooted in the Past, Inspiring the Future
UC College of Nursing's nurse anesthesia program celebrates 75 years of making an impact
The University of Cincinnati College of Nursing's nurse anesthesia program—in the Year of the Nurse and Midwife and amid a pandemic—celebrated the 75th anniversary of its founding as the Cincinnati General Hospital School of Anesthesia.
The pandemic, coincidentally, interweaves the program's past and present. Nurse anesthetists were ventilating patients during the polio epidemic in the early 1950s and now they are caring for COVID-19 patients, says Beth Ann Clayton, DNP, CRNA, FAAN, director of the College of Nursing's nurse anesthesia program.
"Whatever the profession has needed, the program has produced graduates to answer that call."
In the decades since the program was founded, nurse anesthesia education and the Certified Registered Nurse Anesthetist (CRNA) profession have changed on many fronts. The program has evolved from a 12-month diploma to a Doctor of Nursing Practice; new drugs, processes and techniques have emerged; CRNA practice has ballooned outside the operating room. But, one aspect has not changed: the program's tradition of producing top-notch nurse anesthetists who make an impact wherever they go.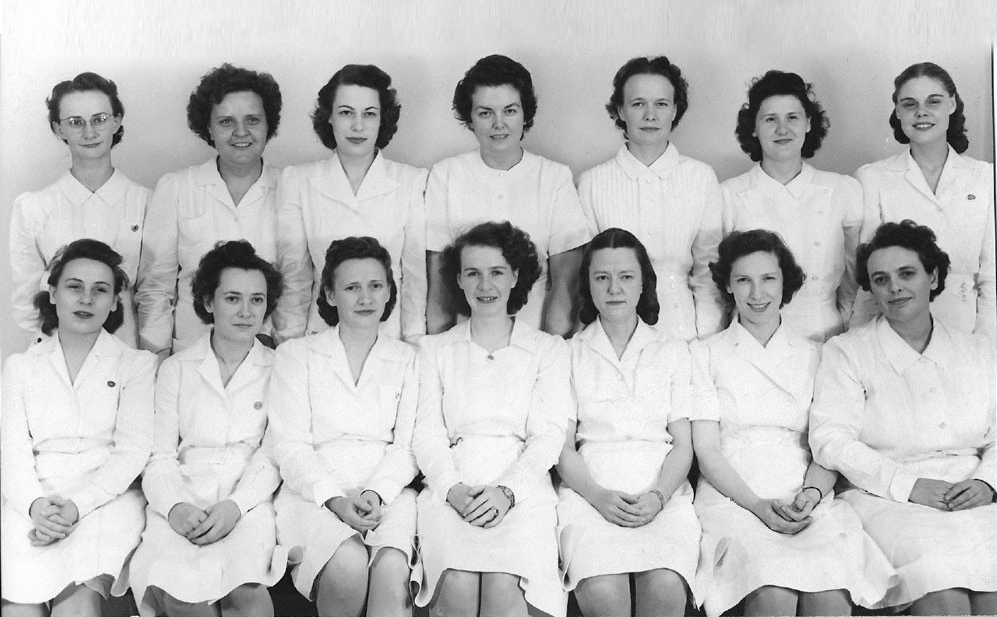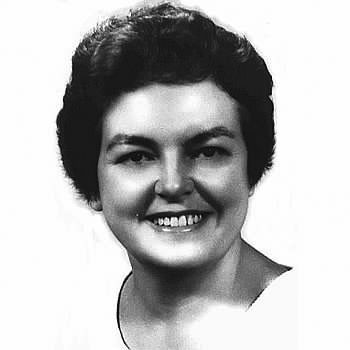 UC College of Nursing's program started in June 1945 under the direction of Mary Alice Costello, CRNA. One of the first in the field to become adept at spinal anesthesia, Costello was widely considered a "true pioneer of nurse anesthesia," according to the American Association of Nurse Anesthetists (AANA). She served as the program director for 27 years and as the AANA president from 1963-1964, passing on her skills to nurses across the nation.
The program at Cincinnati General Hospital, now University of Cincinnati Medical Center, started as a rigorous 12-month diploma program wherein students worked long hours in the operating room, delivery room and on the contagious ward where they were called to intubate patients with polio, according to a program history written by alumni Geraldine Jones and Vera Griner, who went on to serve as program director from 1991 to 1998.
During her time at the helm, Costello bolstered the school's curriculum by traveling across the country to observe ground-breaking surgeries and medical procedures that impacted anesthesia practice. Her expertise helped expand students' skills to include administering anesthesia for heart and lung procedures. In 1948, when Costello became the director of nurse anesthesia at Cincinnati Children's, she added a pediatric rotation to the General Hospital nurse anesthesia program, which extended training to 15 months.
Costello's efforts quickly brought the school an enduring reputation of excellence. Alumna Carolyn Nicholson, BSed, CRNA, remembers her impression of the school when she applied in 1970: "It had a long history of excellence. If you were a graduate, it was almost assured you would be hired by any hospital you interviewed for."
Nicholson started the program with a brief orientation, but within a few days, she was performing spinal and general mask anesthetics on patients. "I was petrified, to say the least, but there was little time to think about it because we were immersed in clinical assignments and didactic studies," Nicholson says. After three months, she was assigned her first on-call rotation in the obstetrics unit with only a student with six months' experience in the program to help her, unless an emergency happened.
"Needless to say, we were trained to think for ourselves and prided ourselves on our ability to handle any emergency by the time we graduated."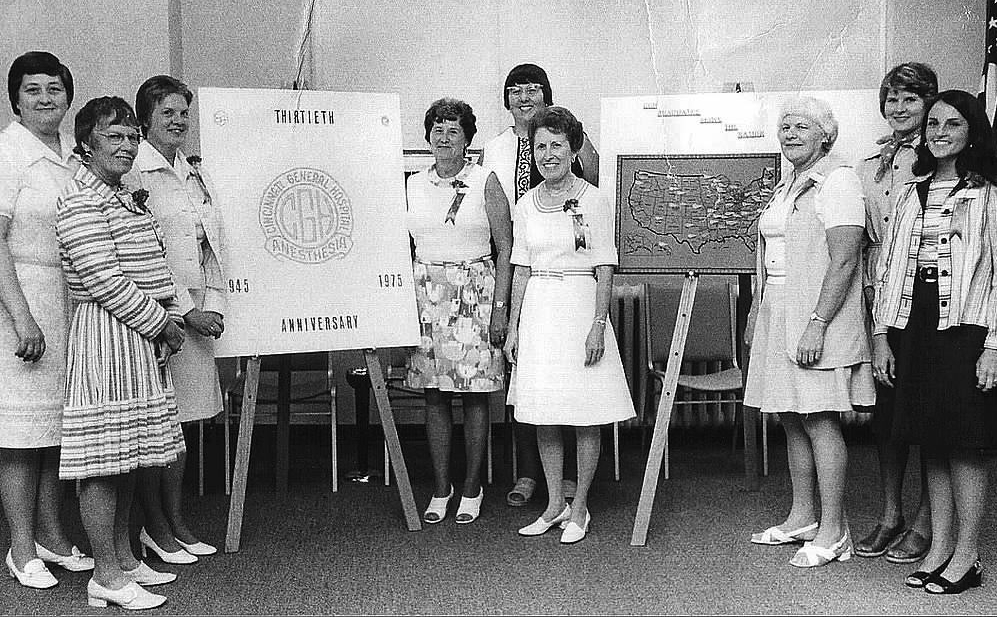 A New Era of Nurse Anesthesia Education
In the mid-70s, the AANA began to tighten its accreditation standards. It formed the Council on Certification of Nurse Anesthetists (CCNA) and Council on Accreditation of Nurse Anesthesia Educational Programs (COA), raising the bar for the profession and its practitioners and educators.
Among the new standards, nurse anesthesia schools were required to extend their programs to 24 months and instructors were expected to begin completing continuing education in curriculum, instruction and testing by 1978. In addition, all full-time instructors were encouraged to have a bachelor's degree.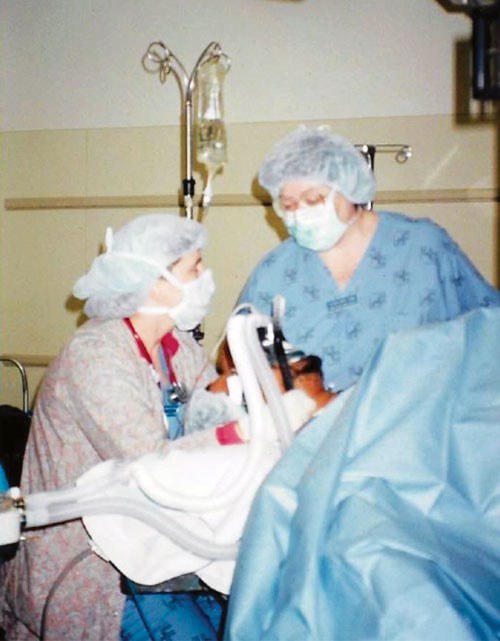 "The need for change and advancement impacted not only our students, but also clinical instructors and educators. We began to appreciate the need for documentation and advancement of our own education and technical skills," says Nicholson, who became an instructor at the school after she graduated. By the time she retired in 2014, she had helped train more than 650 students.
General Hospital's nurse anesthesia school quickly met these new standards and, in the coming decades, the school remained well ahead of the COA in its educational requirements. In the summer of 1991, the school became part of UC College of Nursing and advanced the program to the graduate level, awarding a Master of Science in Nursing (MSN) with an anesthesia major—seven years before the COA required programs to teach at the master's level.
"We really wanted our students to do well and having them in the college at that level was the best thing for them," says Wanda Wilson, PhD, CRNA, an instructor at the time of the transition. Wilson later served as program director from 1998 to 2009, AANA president from 2007 to 2008 and AANA CEO from 2010 to 2017. As program director, Wilson and other faculty administrators continued to focus on graduating top-quality nurse anesthetists to meet the growing needs of the health care community.
"We were having to address sicker patients, new techniques and faster surgeries. Everything the health care arena wanted, we tried to jump in and do our best to meet that," she says. "The hospitals wanted our graduates because they knew we produced good CRNAs; if you were a Cincinnati graduate, you were expected to be top of the line."
As health care became more complex and nurse anesthetists continued to take on more responsibility in the workplace, the college chose to convert the program to a Doctor of Nursing Practice (DNP) in 2016, nearly a decade before required by the COA. The DNP curriculum prepares students to promote evidence-based practice, patient safety and quality improvement in health care settings. Students also develop organizational and systems leadership skills.
"We were the hidden treasure in the operating room, but now people are seeing what we can contribute across the health care enterprise. The DNP has facilitated the leap for nurse anesthetists to have a place at the table," says Clayton, who became program director in 2015 and oversaw the transition to the DNP.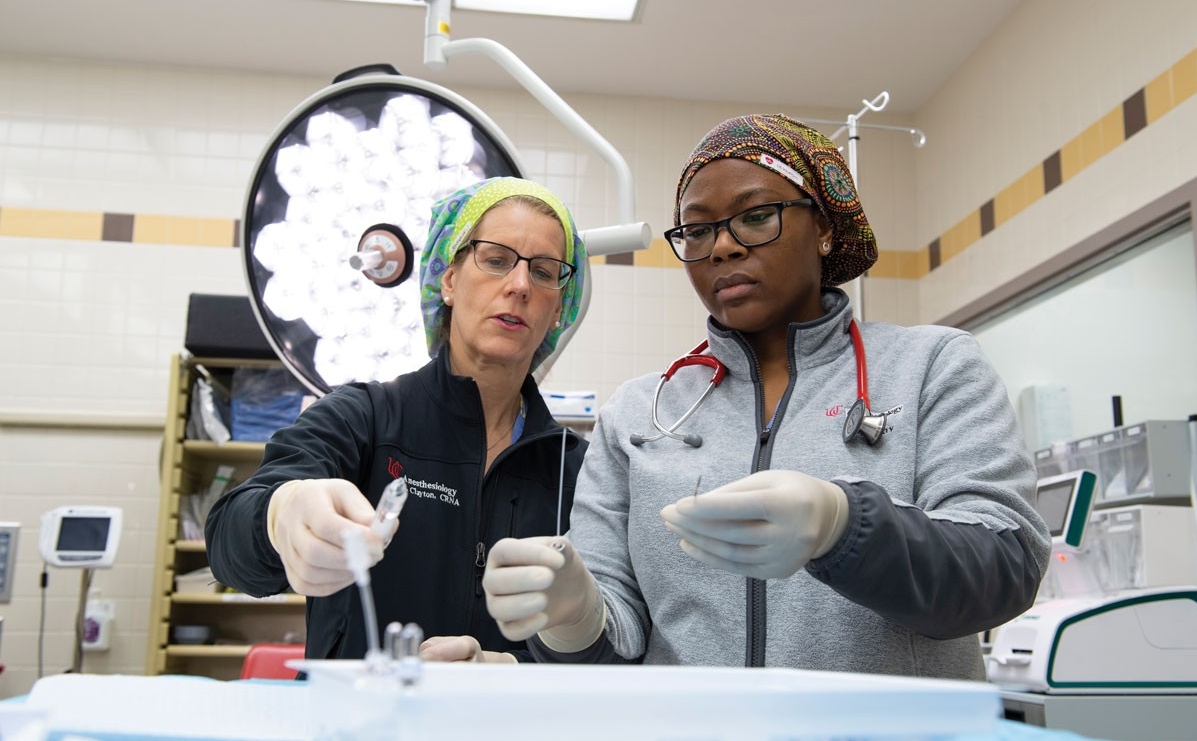 Nurse Anesthetists of the Future
Following decades of growth and evolution, nurse anesthesia education and the profession still are changing at a rapid pace, spurred by the increasing need for anesthesia providers, new technology, process improvements, and the onset of the opioid epidemic and COVID-19 pandemic. In keeping with tradition, the college has adapted its education and training to prepare students for the future of the profession. Students are learning more focused, technical skills in regional anesthesia and multi-modal anesthesia—using multiple medications to control pain and reduce the need for opioids—along with the business side that comes with working as an independent provider.
We were the hidden treasure in the operating room, but now people are seeing what we can contribute across the health care enterprise.
Beth Ann Clayton, DNP, CRNA, FAAN Nurse Anesthesia Program Director
As part of the DNP curriculum, students bring their expertise to the local community with targeted quality-improvement projects. Clayton and other faculty collaborate to find needs within the region and work with students to implement related projects. For example, projects have focused on implementing and evaluating enhanced recovery after surgery (ERAS) protocols; providing hands-on, ultrasound-guided intravascular access and peripheral nerve block education; creating preoperative processes to decrease surgical case cancelations; creating anesthesia protocols for transplant surgery; improving the birthing experience through optimal post-cesarean pain management, maternal hemorrhage response and assessment of maternal health disparity; and addressing environmental concerns, including waste management and inhalational ozone effects.
"The various quality improvement projects support the Institute for Healthcare Improvement's (IHI) quadruple aim approach to optimizing health system performance through improvement of patient outcomes, improvement of the patient and provider experience and a reduction of costs. These projects also address IHI's forgotten aim of health care equity." Clayton says. "Our students are making a significant impact; we're advancing care and decreasing costs by hundreds of thousands of dollars, and this excites us very much."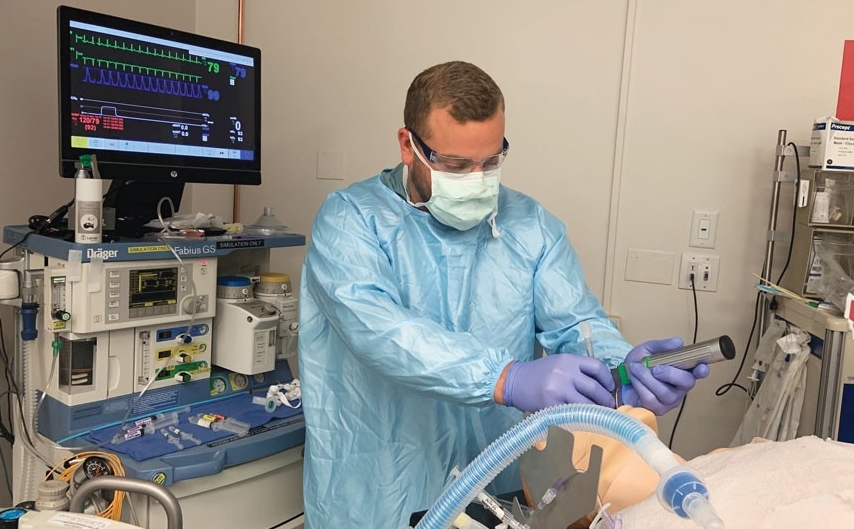 In the past few years, the nurse anesthesia program has expanded its horizons to form international partnerships and develop students' cultural competency. The program is one of only 13 non-physician anesthesia programs/schools in the world to receive level three accreditation—the highest level—by the International Federation of Nurse Anesthesia (IFNA), an organization dedicated to the advancement of educational standards and practice for anesthesiology across the globe. In addition, program leaders have aimed in the past few years to admit a diverse group of students by adding Multiple Mini Interviews (MMI) to the application process. Through short, independent interviews in a timed circuit, MMI help assess a candidate's non-cognitive skills, such as professionalism, leadership aptitude and moral/ethical judgment.
"With exposure to other cultures, students gain better understanding. That's important," says Rachel Smith-Steinert, DNP, CRNA, assistant program director of clinical services. "While the U.S. delivers anesthesia safely and with the latest techniques, we have much to learn about delivering health care equitably and economically." The college is developing an affiliation with the Institute of Theodore Simon, a Nurse Anesthesia Program in France. UC's program is planning its first trip to Paris with students once travel restrictions are lifted.
Looking ahead to the future of the program, Clayton says its 75-year reputation for excellence in the profession speaks volumes for what's next. "I came from Boston because of the reputation of this program. It has led the profession, not just the community, and I wanted to be part of that," Clayton says. "Not everyone is born to be a leader, but for those in this country who want to be a leader in anesthesia, we are the program for them."
Featured image at top of photos from UC College of Nursing's Wedbush Centre archive. Photo/John Massey/UC Creative + Brand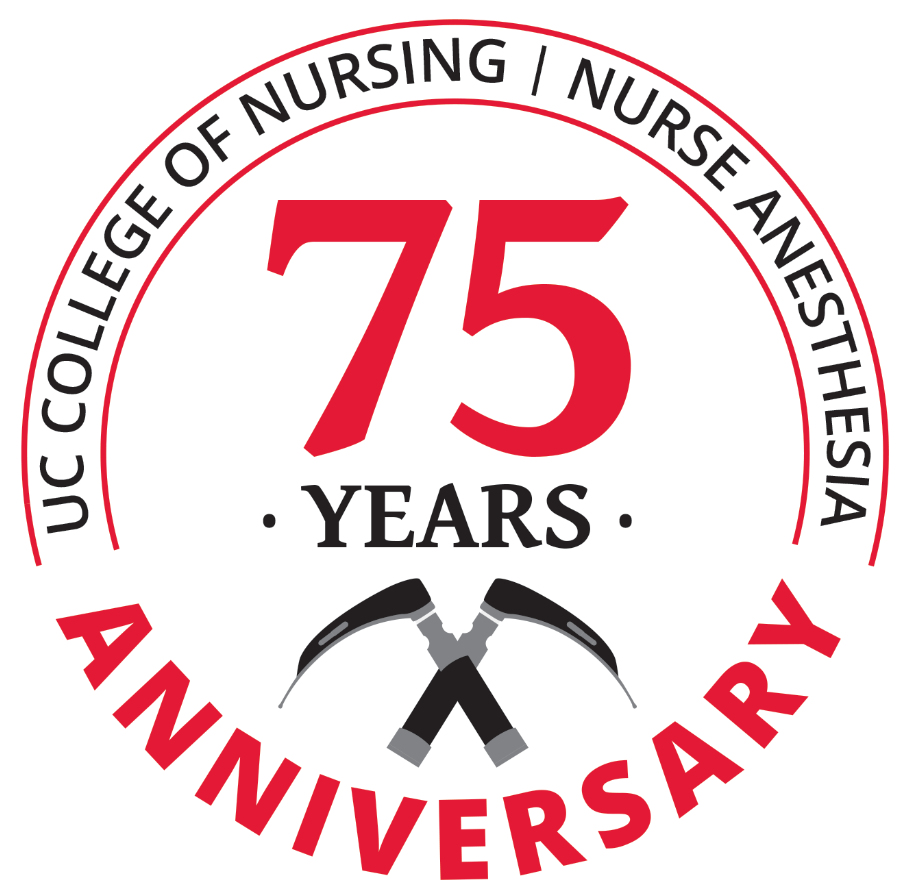 Support the Future of UC Nurse Anesthesia
The Mary Alice Costello Research and Education Fund annually provides student scholarships, covers the cost of equipment and other program needs and supports the Dr. Wanda O. Wilson CRNA Lectureship. Your support will ensure our graduates are prepared to lead the profession clinically and beyond as they have been for more than 75 years.

For more information, contact Matt Pearce, senior director of development, at matt.pearce@uc.edu.

1
With UC, you see the world
September 19, 2023
Study abroad is back to 75% of pre-COVID levels at the University of Cincinnati, and a wide variety of international study options is available to students in any program. Where do you see yourself in the world?
Debug
Query for this