Sports injury inspires biomedical engineering professor's research
Jason Shearn is seeking new solutions to common injuries like ACL tears
Jason Shearn's career in biomedical engineering was kicked off by his own painful knee injury he experienced as a high school soccer player.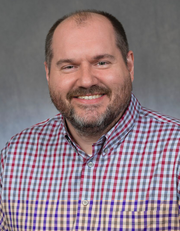 Shearn, associate professor of biomedical engineering at the University of Cincinnati, was 16 when he visited an orthopedic surgeon with an injured anterior cruciate ligament (ACL). Today, Shearn's research is aimed toward uncovering how we might be able to coax our bodies to heal such tendon and ligament injuries.
"I'm really interested in understanding a broad area of orthopedic issues, particularly tendons and ligaments — that's what I destroyed — how they work, how they heal and how we repair them," Shearn said.
We know that the human body has some regenerative capabilities. Surgeons can remove portions of a rib in a young child, use the cartilage to repair a craniofacial defect, and the rib with regrow. But we don't know why that capability decreases as we age, Shearn said. 
"Bones heal pretty well. Skin, maybe or maybe not. But if you look at other areas inside the knee — I tore the ACL — and it won't heal on its own. But if I tear the medial collateral ligament (MCL), it will heal itself in three to six weeks," Shearn said. "So, the body has the capability to heal things, but for some reason chooses not to return it to native."
Shearn is trying to determine if there is a way to work with what the human body wants to do and adjust the process to actually regenerate or fully restore function after injury. In his lab, Shearn and his two biomedical engineering doctoral students (Rebekah Deardurff and Sunghyun Jun) are studying different types of mice, one that heals its own tendon injury and one that doesn't, to determine their genetic differences. 
"Once we understand the underlying mechanism of how these animals regenerate tendon tissue after injury, we could take that knowledge and create clinically relevant therapies," Shearn said. 
They are focused on the early healing process because if they can understand that, they can potentially manipulate it early on to train the cells to transition from a typical scar formation to regenerative pathways.
Shearn envisions various potential future treatments. 
"Somebody comes in with an injury, in the future we could potentially take their cells from them, take it into the lab and treat with an FDA-approved method and then we could then put that back into the patient to improve their repair. Or it could be something where there's a patch that's an off-the-shelf device that actually elicits the response from the host's cells to produce the repair that we want," Shearn said. 
Outside of his research, Shearn teaches courses in tissue and joint biomechanics. He came to UC for his Ph.D. in biomechanics in 1996 and never left, joining the faculty of UC's College of Engineering and Applied Science in 2002. 
Shearn's ACL soccer injury as a teen initially inspired him to want to become a doctor. Shearn's father, a chemical engineer and UC alumnus, encouraged his son to consider engineering as a precursor to medical school since it would be a valuable degree on its own. Shearn attended Wright State University in Dayton to study biomedical engineering and he quickly discovered he was well-suited for the problem-solving nature of engineering.
"In college, I realized that I didn't need to be a doctor to do medical research — I could do it as an engineer," Shearn said. "In the process of looking for grad schools, I went to a biomedical engineering meeting in Dayton and a professor there said the University of Cincinnati was one of the best institutions in the world to get biomechanical training and it just happened to be 45 minutes away."
Featured image at top: A student works in Jason Shearn's lab. Photo/Corrie Mayer/CEAS Marketing. 
Explore Research Labs at CEAS
Discover the cutting-edge research taking place at UC and the College of Engineering and Applied Science.
1
UC Makerspace's 'hands-on' approach for occupational therapy...
March 28, 2023
Innovation in action occurs regularly inside the University of Cincinnati's Ground Floor Makerspace. Designing or adapting devices for individuals with unique needs is an essential skill for students to develop as they pursue their master's degrees in occupational therapy through the UC College of Allied Health Sciences.
2
Inspiring others as a UC NEXT Innovation Scholar
March 23, 2023
A Latina student at University of Cincinnati is paving the way for future generations by breaking cycles. Being the first in her family to attend college came with a myriad of challenging experiences for Yulia Gimena Martinez, a student at the College of Engineering and Applied Sciences (CEAS).
Debug
Query for this